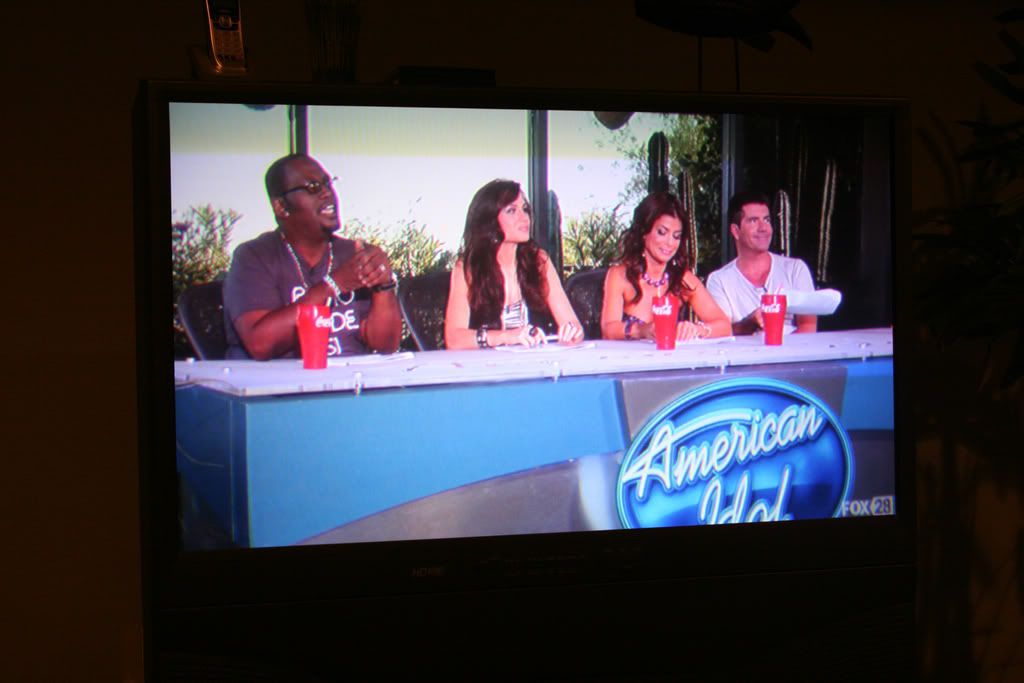 We are die hard American Idol junkies! Tonight was the premier of season 8 and we were so excited! Camille even prayed about it last night. I struggled with which photo to use tonight because I really didn't have any great ones. I finally decided to put myself out of my torment and use two, both of which highlight our "idol" night.
This will be the fourth season the kids and I have watched together. It's become a fun tradition. It's the only nights I let them stay up past 8 PM. We get snacks and blankets and hunker down. They remember Taylor Hicks win in '06, Jordin Sparks and runner up Blake Lewis (the beatboxer Connor rooted for) in '07, and the "Davids" in '08. We all liked David Archuleta, but in the end were ok with Cook taking the win. (Both had amazing natural talent, but Cook had better stage presence.)
Tonight's show had some questionable scenes. Paula and Simon kissing, bikini girl, and sexual chocolate tattoo guy are a few that come to mind. I might have to start taping them like I did last season and screen the inappropriate junk out. It's too bad they can't just keep it clean. Last season right away they had some crazy girl they had to bleep about a hundred times. She was a bit disturbing and even used inappropriate hand gestures. Luckily they blurred that out as well.
Although Simon says cruel comments at times and I have to screen the show to make it a PG rating for the kids, there are great aspects of American Idol in my opinion. I think it's great how they've rejuvenated the music industry. They let contestants with raw talent have a place to be heard. They turn ordinary people into familiar names and faces. Some of the contestants that weren't even in the top 3 have gone on to be successful in the music or film industry. In season 5 Elliot Yamin (3rd place), Chris Daughtry (4th), and Kelly Pickler (5th) all signed amazing record deals. In season 2 Kimberly Caldwell finished 7th, but went on to become an entertainment reporter and host for TV Guide channel. In season 3 Jennifer Hudson finished 7th as well, but was later chosen to do the musical Dream Girls. She earned an academy award & golden globe for that performance.
My children both love music and it's been fun to watch them pick out the idol they like and follow them. They are both so different and like different kinds of music. They've even downloaded some of the previous winner's music to their ipods. Connor's excited to download some new American idol itunes from his $10 card he got from Santa.
This season has a fourth judge, Kara DioGuardi, who I knew little about before tonight. There are also going to be some format changes with the show this season. If you've never watched it before it's a great time to start!
We don't get too excited about tv around here, but for now just know you'll probably get our voicemail on Tuesday nights for awhile.