DAY 115 "Smores & Scrapbooking"

"Life brings simple pleasures to us every day. It is up to us to make them wonderful memories." -Cathy Allen
This is the picture of the day. Camille has been wanting smores for some time. Whether it's not enough time or too much wind or rain, which is the case today, it just hasn't worked out. Like Camille I also really love smores, but it's just not the same done over the stove or in the microwave. If you're gonna do it, ya gotta do it right. She found a recipe in her Betty Crocker kids recipe book for Indoor Smores. We had all the ingredients needed, so we tried it. It's a fun, child friendly, yummy alternative to the real thing so I thought I'd share.
Indoor S'mores
Cooking spray
12 graham cracker squares
3 cups milk chocolate chips
2 Tbsp peanut butter
3 cups miniature marshmallows
Spray 13x9 pan with the cooking spray. Crush up the graham crackers in a plastic bag. Put chocolate chips and peanut butter in a saucepan. Cook over low heat, stirring constantly until the chocolate chips are melted. Take saucepan off heat. Stir in graham cracker pieces and marshmallows. Spread the mixture in the sprayed pan. Put pan in refrigerator for about 1 hour or until firm. Cut bars. Wrap any leftover bars with plastic wrap and put back in the refrigerator.
Camille made it almost entirely by herself. She even stuck around and helped wrap them in the plastic wrap at the end.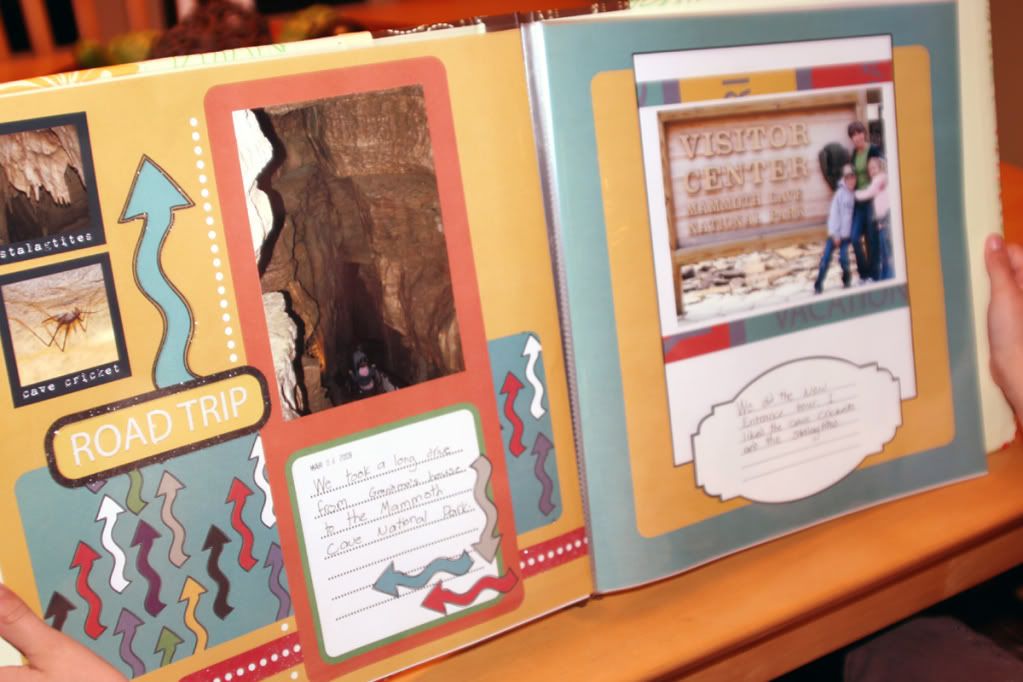 I found these 2 minute pages (named appropriately) awhile back for 50% off at Michaels. It was shortly after Connor decided he wanted to see all of the National Parks. They're fun travel pages that will be easy for the children to put together themselves. All they have to do is stick the pictures on and add some journaling. I also got some 6 minute pages which will be slightly more involved for later that allow for a little embellishing. It might not be enough to finish the book, but it will give them a great start. I got each of them 2 sets. Haldan was concerned that I wanted Connor to scrapbook, but I convinced him that it wasn't exactly scrapbooking if you only add pictures. Tonight Camille worked on her Mammoth Cave National Park pages.
In other news:
I think my cold has turned into a sinus infection. I've had enough over the course of my life to know that whenever I feel super low on energy, am a little dizzy, and have pressure in my face and ears it's most likely an infection. I took my sister's advice and have been using the mucinex DM. I think I'll try the neti pot tonight too. The good news it that I survived our girl's week and had fun with Camille inspite of my sickness.

Highlights of our week together include: lunch with my neighbor Carrie and her daughter Emma at a unique place called "Farmer's Daughter's Market", Camille's playdate with Kate, shopping at various places (Camille's favs were Bath & Body and Claire's), new Hannah Montana/American Idol downloads for Camille, movie night together with special treats, learning to knit, the walkathon, and scrapbooking, etc. It was a fun 4 days without the boys.

My house is smelling better, but there's 3 cabinets that still smell really bad. I've tried absolutely everything I could find on the internet with the google search. I've had friends suggest leaving bowls of vinegar out, using vinegar and baking soda to wipe the cabinets, and using charcoal absorbers. Yes, I've even tried that. My mother in law suggested I give it time. I'm trying.

We still have not closed on the house. To make a long story short, the VA funding fee was more than originally quoted so we cancelled the transaction after we signed. They waived the origination fee and we are now closer to the original disclosed amount. We are now scheduled to close on Monday, which will make it more than 3 months since we started this loan process. We are still not sure it's the right thing. If we knew we were going to be in this house 3+ years it'd be a dream loan, but I'm very concerned about middle school for Connor. We are in the Roosevelt district (the worst middle school in the city) and after talking to Cedar Rapids school administration about open enrollment I learned that it was closed to Taft this year. I'm not sure we can afford a private school with 2 mortgage payments. I would home school before I put him in that school and I really don't want to home school!! There's so many variables to a house when you have children. I just always assumed that elementary and middle school would have open enrollment. The kids at Madison seem to be getting worse with age. When the kids were little I didn't notice it so much. I also know that middle school is a crucial time in a child's life. Not only are they going through changes, but it's such an impressionable time. Friends or lack of can make such an impact on a their life. Maybe I'm thinking too much into this, but it's really been weighing on my mind.