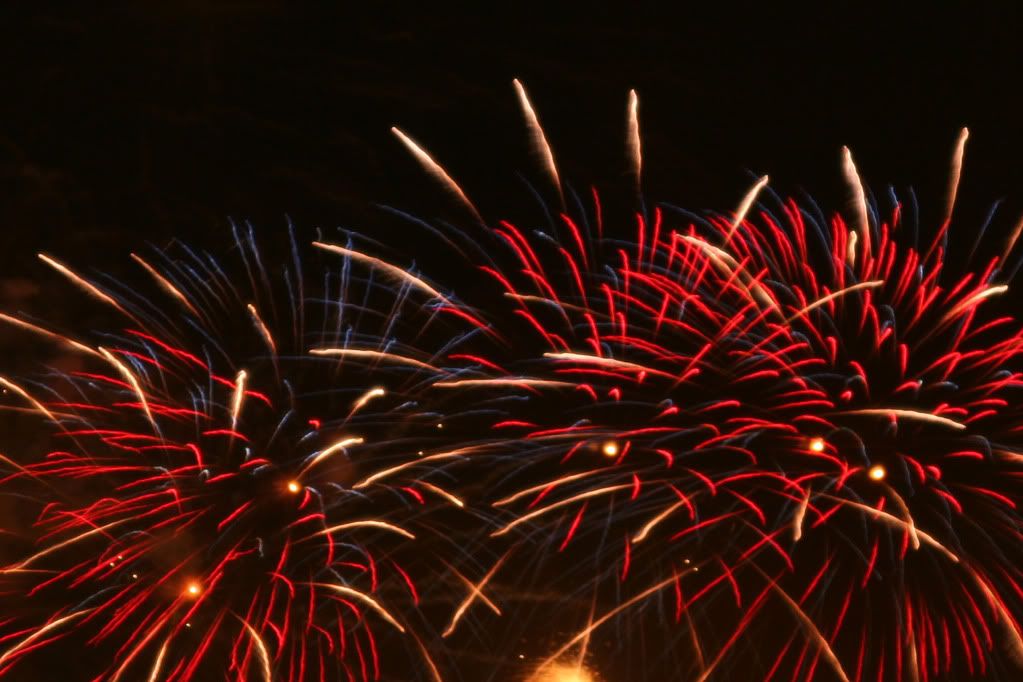 "Freedom has its life in the hearts, the actions, the spirit of men and so it must be daily earned and refreshed - else like a flower cut from its life-giving roots, it will wither and die."
-Dwight D. Eisenhower
This is one of those days that just keeps going and going. Will it ever end? It's been a cool, rainy day with a high of only 65. The rain finally subsided in the evening and we were able to go to the kirkwood fireworks show. The city cancelled the fireworks downtown for the 2nd straight year, something about flood related issues. I think it's a cop out. They had more than 2000 participants in the runs downtown this morning. Don't really see the difference. The kids both participated in the fun run. Little Man did the mile. He was hoping for that trophy this year, but placed 6th in his age group. They only give trophies for the top 5. Maybe next year. Pokey did the .6 mile run and Haldan ran with her. It was about 60 degrees and I was definitely not dressed adequately. Haldan tried to rig my camera with a plastic covering to protect it since my camera bag broke on the trip, but it proved to be more of a frustration than a help. He used two rubber bands to attach it and somehow the front one got stuck in the extension part of my lens at the same time the other band was preventing my flash from working. In that split second I couldn't get it to work Little Man finished his run and I managed to miss it completely. We went home and had hot cocoa... on the 4th of July. We got warmed up and lounged for a while and then we had a yummy lunch about 2 PM. I even made potato salad, which seemed to be a big hit with the kids. I decided to have the fireworks picture be the photo of the day only because I probably put the most effort into that one. There were many other good photos for the day. The following are some of my favorites.