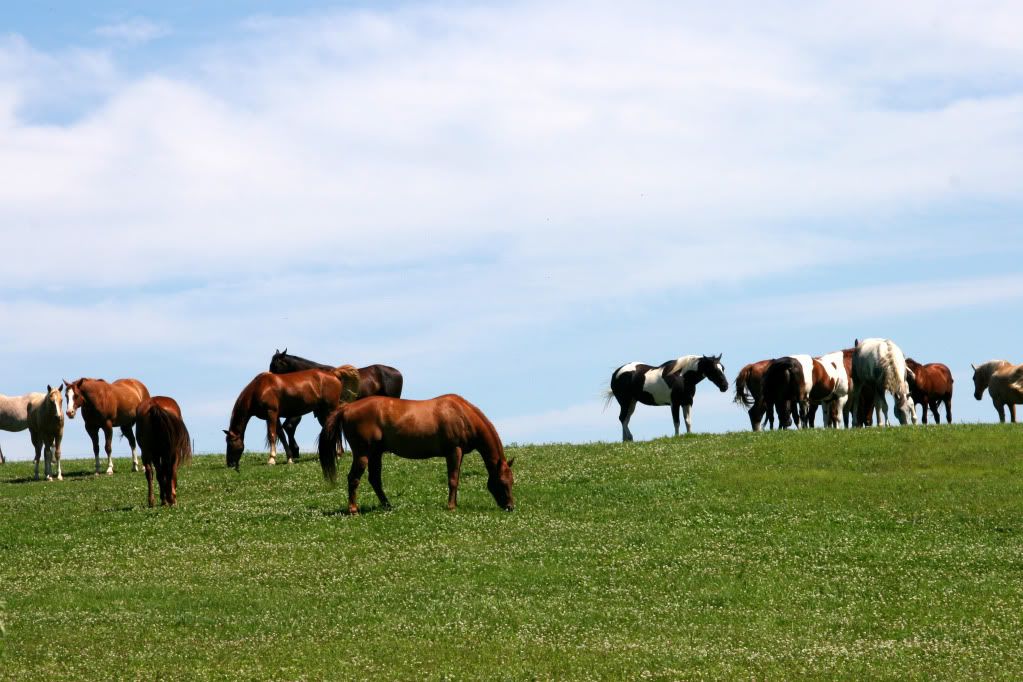 "The essential joy of being with horses is that it brings us in contact with the rare elements of grace, beauty, spirit, and fire."
-Sharon Ralls Lemon
I'm too tired to decide which picture. I like the one with the flowers, but my husband likes the one without. I'm still mulling this one over. Feel free to share your thoughts. We saw these horses on the way to the pool today. Luckily we stopped when we did because they were gone on the way home.
We finally had a lovely day at the pool today. It was in the low 80s and it was the first day that it was sunny and I wasn't covered in goosebumps shivering. The kids both made amazing progress. They both did front flips in the water. This is a huge feat for Little Man. His fears are slowly fading.
On another note, today I'm putting the love and logic book to practice. I've been reading it again, desperate to find answers to help me be a better parent. Tonight my husband called the children to dinner, twice. Then I called them. They were watching something on the disney channel. We decided not to wait. We had given them three calls. We had a prayer and had eaten half of our dinner when they mosied up. We told them that they missed the window and that they were too late. Hard core. I was struggling. I've never made the children go without dinner before, but I had just read a chapter about this very thing and it is a constant problem at our home. Whether it's time to go or time to eat... they are never ready. After dinner we were going to watch "Inkheart" with movie snacks. They were able to watch, however no treats were given. We don't let them have treats if they don't eat dinner. Surprisingly there was very little squabbling about it. There was no yelling and it actually seemed more peaceful. We were not punishing them, rather this was a consequence of their doing. Now we wait and see if these extreme consequences measure up.