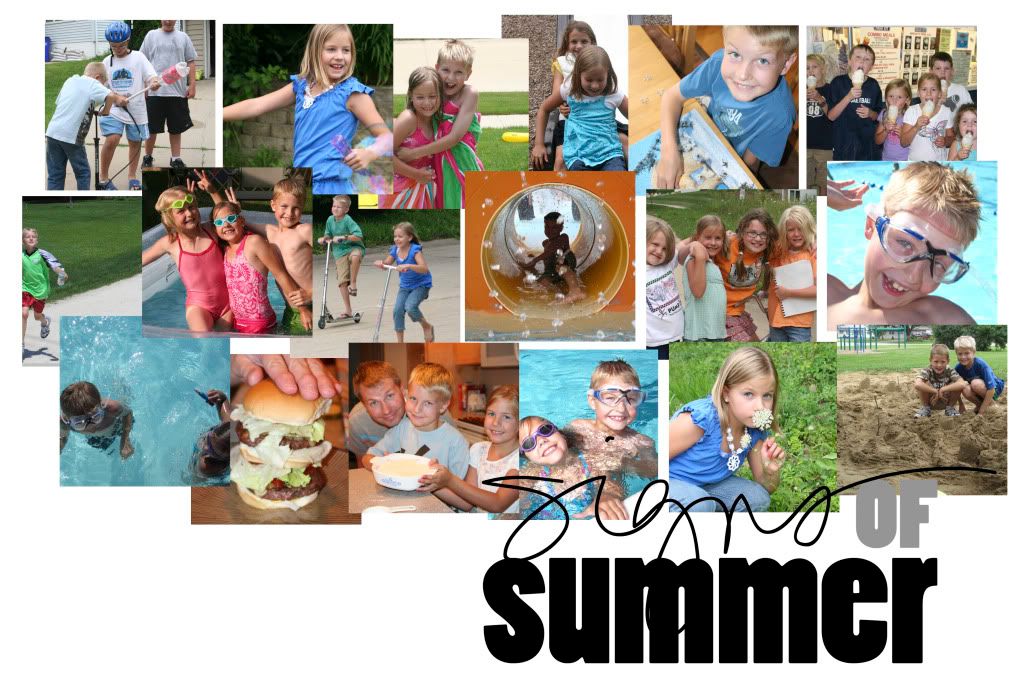 I know, not my conventional picture of the day. I do actually have one pic in there from today, but it's with my point and shoot. It's the photo in the middle with Little Man inside the yellow tube. We went over to Noelridge Pool late in the day because I had an errand on that side of town. It's not the pool we normally go to and when we arrived we ran into the Callisters. Totally weird, they were just getting there as well. Pokey was thrilled.
I guess there's two reasons for this picture of the day. One, I'm getting bored with one picture a day so I wanted to mix it up. Two, I've been trying to convince myself that it really is summer. I gathered random pictures from the last two weeks that didn't make the POTD cut. We have done lots of fun things, it's just been unusually cool and hasn't always felt like summer. Today was the high of 76 degrees. The pool was cool, but doable.
Other highlights include: Little Man & friends making a bottle rocket, puzzles on rainy days, ice cream with cousins, pioneer day games with friends, yummy burgers, scootering, hangin with neighbor kids, making sand castles at playgroup, running, blowing bubbles, trying new goggles, playing on the slip n slide, getting more brave in the water, and baking with Dad. Definitely fun summer things.
We've even gotten a little lazy as of late. This is the first summer I can remember that the kids have slept til at least 8AM. I've been sleeping as long as they allow and lovin it!
Today we went running as a family again down at Donnelly Park in Marion and we only ran about 1.5 miles. I haven't run in a good couple weeks now and it was hard. Little Man ran with me and was giving me breathing pointers and kept saying, "This is such an easy run." He of course blew right by me at the end and left me in the dust. I wish I had that kind of effortless energy. I feel a little embarrassed that my 9 year old son is giving me running pointers and making me look bad. Maybe that's just the incentive I need to get my butt in gear though.