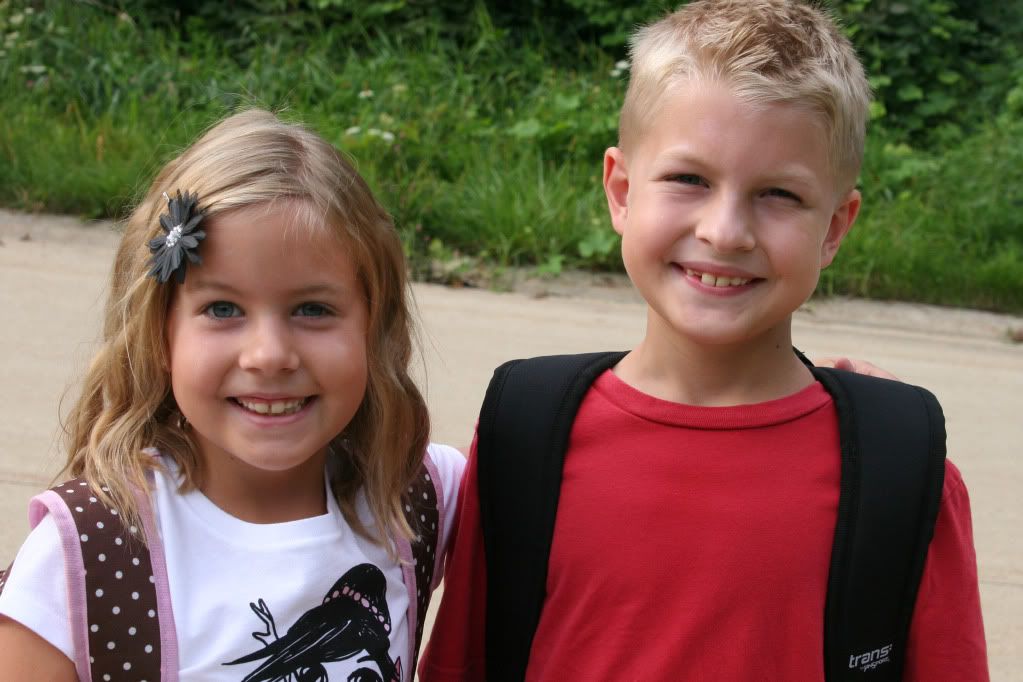 "Education's purpose is to replace an empty mind with an open one."
It's FINALLY here! We survived yet another summer and the kids are another year older. Today as I watched them leave for school I realized this was the last school year they would both be at this elementary school together. They didn't seem to care much, but it's a big deal to me. They are growing up too fast!
The last picture was one of the first I took at the house (hence, the smiles). The top photo was at the school and by then they were done. I shouldn't have tried classroom pics. I got one of Little Man with a sheet of paper hiding his entire face and Pokey with her hand up and some serious attitude. I guess with all of the anxiety maybe it is too much to have mom taking pictures as well. I should know better by now.
Pokey
Age: 8
Grade: 3rd
Teacher: Mrs. Patterson & Mrs. Engelbrecht (co-teachers)
Favorite Food: macaroni
Favorite Friends: Abbi, Rachel, and Sierra M., Kate, and Brooke (last 3 have moved away or will be soon)
Favorite Color: periwinkle and lavender
Favorite Character (TV Show): Hannah Montana
Favorite Primary Song: I love To See the Temple
Favorite Song on Radio: Makes Me Wonder by Maroon Five
Favorite Toys: fashion cutter, polly pockets, littlest pet shops
Favorite Activities: monkey bars, splits, catching bugs, playing with friends, and swimming
Favorite Subjects: gym, recess, reading, and science
Personal Style: capris/jeans, skirts, lips gloss
Strengths: funny, determined, passionate, affectionate
Things I'm Working On: biting nails, getting along with brother, whining less
What I Want to Be: Veterinarian, Teacher, babysitter
Height/ Weight: 49 in 59 lbs
Little Man
Age: 10
Grade: 5th
Teacher: Mr. Cornell
Favorite Food: pizza at Olive Garden
Favorite Friends: Eli, Raymond, & Gunner
Favorite Color: Hot Pink
Favorite Character (TV Show): Dillan Sprouse/ Zac & Cody
Favorite Primary Song: Baptism
Favorite Song on Radio: Crazier by Taylor Swift
Favorite Subjects: math, reading, and gym
Favorite Toys: nintendo DS, legos (Star Wars Clone Wars/Agents)
Favorite Activities: soccer, running, fishing, and air hockey
Personal Style: shorts, t-shirts, ball caps
Strengths: attention to detail, cautious, thoughtful, inquisitive
Things I'm Working On: being a better swimmer/runner, getting along with sister, and making a star wars battle
What I Want to Be: Professional Soccer Player, Engineer
Height/ Weight: 53 in 60 lbs