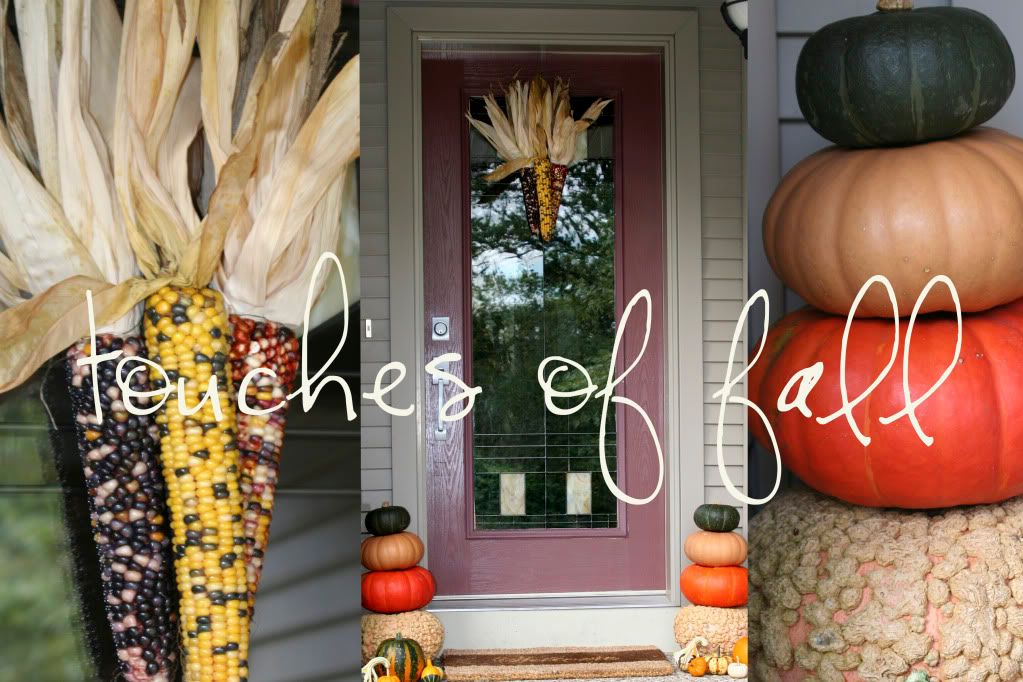 "There is no season when such pleasant and sunny spots may be lighted on, and produce so pleasant an effect on the feelings, as now in October." -Nathaniel Hawthorne
For family night we put out our pumpkins and gourds we selected at the pumpkin farm. Every year we try to do a new kind of stack. We've been doing this for at least 4 years now. This year we found these gnarly ones that look like they're covered in warts. Love them. The rains have definitely helped the pumpkins. They looked amazingly healthy and such a wide assortment too. We also got other ones for the kids to carve later, but we still are undecided if we will carve or paint the ones in our stacks. So many decisions...
I've had a couple questions regarding the acorn squash we tried a few days ago. It comes from Tiffany Ivanovsky's blog. Click here to see the recipe or go to http://theivanovskys.blogspot.com/2009/01/acorn-squash-pauls-favorite-side-dish.html. It's a pretty straight forward recipe. Cut them, add butter, brown sugar, and bacon, and bake. Didn't think there was any going wrong with this one, but evidently I was wrong.
In other news:
Our plans to go to South Dakota this week (to the Badlands and Mount Rushmore) may no longer be a viable option. It would seem that a snow storm is headed that way and it will be in the low 30s with possible freezing rain as well. The kids are pretty bummed. I'm kicking myself about now because I knew better than to tell them before it happened. It's like I'm a rooky or something. Hopefully we can think of something, but we also found out that the ITBS tests are this week as well. We haven't decided if those are something really all that important for them or if it's more for the school. If we do decide to do something it might have to be next week now and the weather isn't looking like it is going to improve. There's really not many national parks nearby and a trip that entails driving more than 20 hours or flying is pretty much out right now due to time and money restraints. Decisions, decisions... life seems to have too many these days. Too bad Haldan couldn't have taken time over the summer months when weather wouldn't have been such an issue. Such is life though. No going back now.