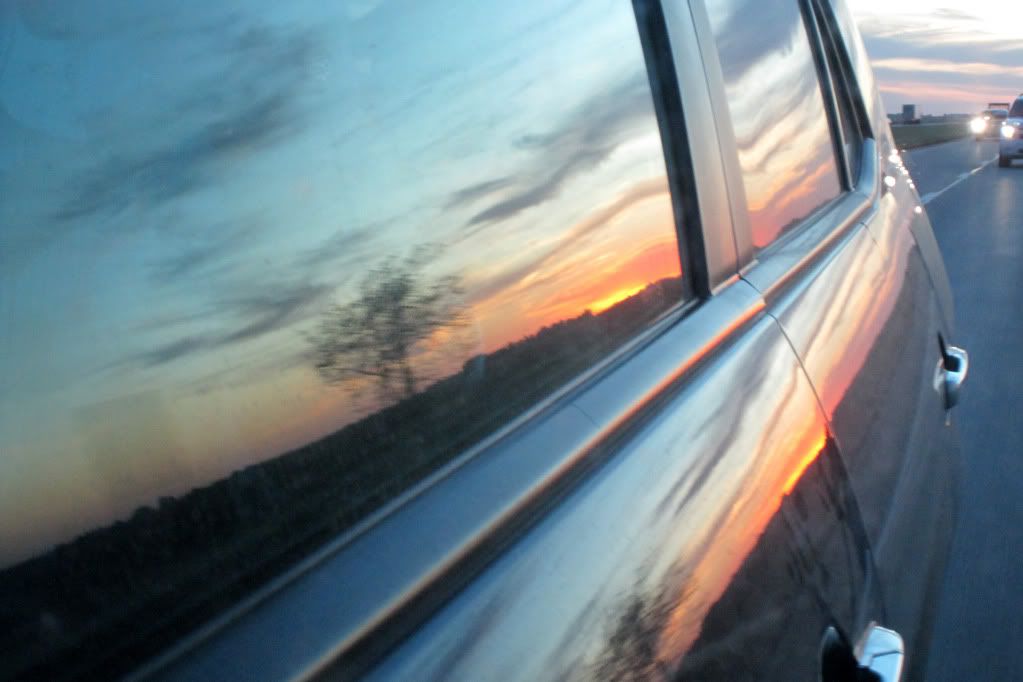 "All good things must come to an end."
-English Proverb
Such is the case for our adventure. It's been a full, fun filled week and I'm really sad it's over. Now we must go back to the grind of everyday life. I hope we've had enough fun and sunshine to get us through the next rain spell that's headed our way.
Today was a very long day in the car. Unfortunately there's not much on I-80 in Nebraska. Haldan looked up things to do and it's pretty sparse for activities along the way. He did manage to find this little restaurant that he thought the kids would like. It was in Paxton, NE just off the road; a very old, strange little place. It was called the Ole's Big Game Steakhouse and Bar. It had all sorts of mounted animals randomly placed around the restaurant (polar bear, giraffe, baboon, jaguar, elephant, buffalo, elk, and jackalope- to name a few). The other thing Little Man noticed were the pictures of naked women all along the bar area, so we had to ask to be moved. It was nice to get out and stretch a bit, even if we did scar our son for life. The restaurant also had a piano… under an elephant and I played Beethoven's Fur Elise there. It felt a little odd, definitely not something you do everyday.
The only other thing there was along the way was the Great Platte River Rd Archway Monument, which happened to be closed. I think this is the 3rd time we've tried to stop and it's always closed. Annoying.
Other highlights: Pokey sobbing out of nowhere due to a gas bubble in her ribs, Little Man having a near melt down when he realized he had accidentally deleted his DS hours played, and lots of nothingness. We did see a wind farm near Walnut, IA- which we were all excited to see after the hours and hours of corn fields. I got to drive 4 of the last hours. Otherwise Haldan has done all of the driving. (I think he prefers it that way and I'm ok with that.)
Some may say we're crazy (I've heard this from several people this week) for driving so far for an unplanned trip. Maybe they say this because it's so unlike me… to have such an adventure, but I think everyone should have at least one trip like this in their lifetime. Of course a shorter drive would have been more ideal, but the sun didn't come out until we got through Armarillo, TX. So we powered on and found ourselves in the lovely state of NM. It was in the mid 70s and sunny everyday.
The most surprising part of the trip was the beautiful deciduous trees in abundance there. Who knew? I was under the impression that NM had only cactus and tumbleweed. The trees were much more vibrant than the trees back in IA and the state had a wide variety of different landscapes. You can drive just 10 or 20 miles and the scenery changes drastically. The mountains are all so different, formed by a variety of elements- earthquakes, erosion, and volcanic activity… contributing to the varying activities. While we were in the Bandelier National Monument we learned that it was an "ecotone", a transition area between two adjacent communities (offering a wider variety of plants and animals). It's no wonder the Pueblo Indians settled there. Beautiful and sensible.
We are so blessed to live in such a beautiful country in a time when travel is so easy, comfortable, and readily available.