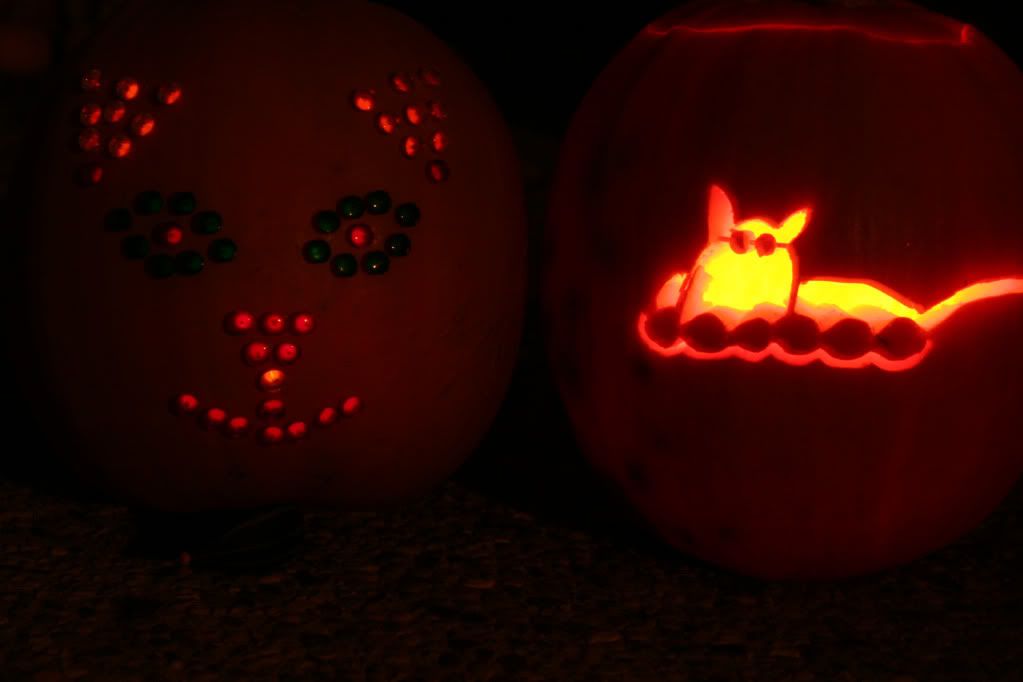 "Perhaps the most famous icon of Halloween is the jack-o-lantern. Various authorities attribute it to either Scottish or Irish origin. However, it seems clear that it was used as a lantern by people who traveled the road this night, the scary face to frighten away spirits or faeries who might otherwise lead one astray. Set on porches and in windows, they cast the same spell of protection over the household." -Mike Nichols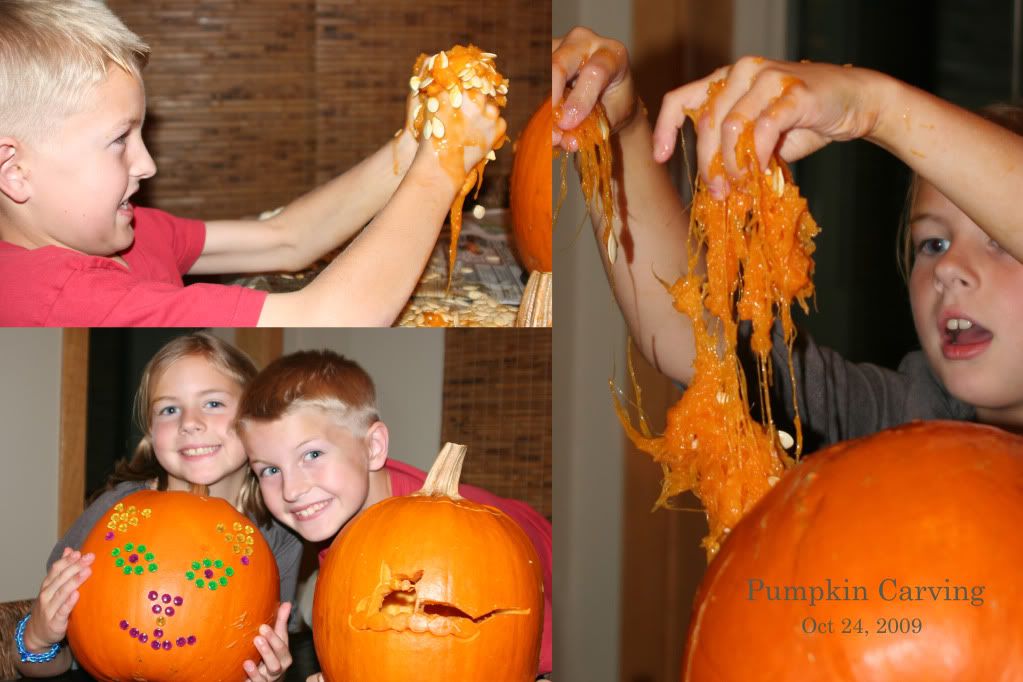 I've had some requests for photos of the pumpkins. So, here ya go. They both ended up doing cats this year. Pokey used a template for her lite-brite set and Little Man's is his own creation. We have to prop Pokey's a bit so you can see the face lit up. (She placed it a little low on the pumpkin.) I think all in all they both did a great job, especially for doing almost all of it themselves.
This above picture is actually the page I'm putting in my scrapbook for yesterday. It's actually been harder than you can imagine to pick just one photo a day. There's been times I can't resist for my blog, but I've stuck to it pretty well. I've been secretively making multiple pictures on my own pages, particularly for trips and birthdays (anything with lots of photos). It's so hard when you have hundreds to pick from to just use one to represent a day.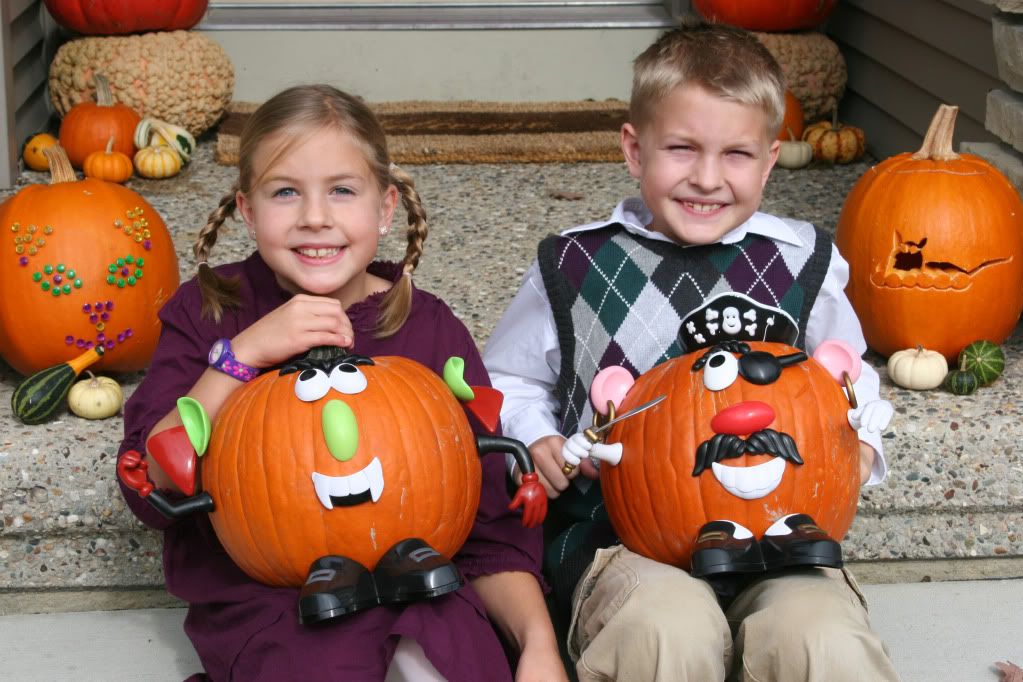 This is the other pumpkins they did. These were a cinch. Aren't they cute? One of these pumpkins is what they are going to be for Halloween this year. (Hint, hint.) All of these photos turned out blurry last night. I tried again after church and even though it wasn't that sunny their eyes are all scrunched up.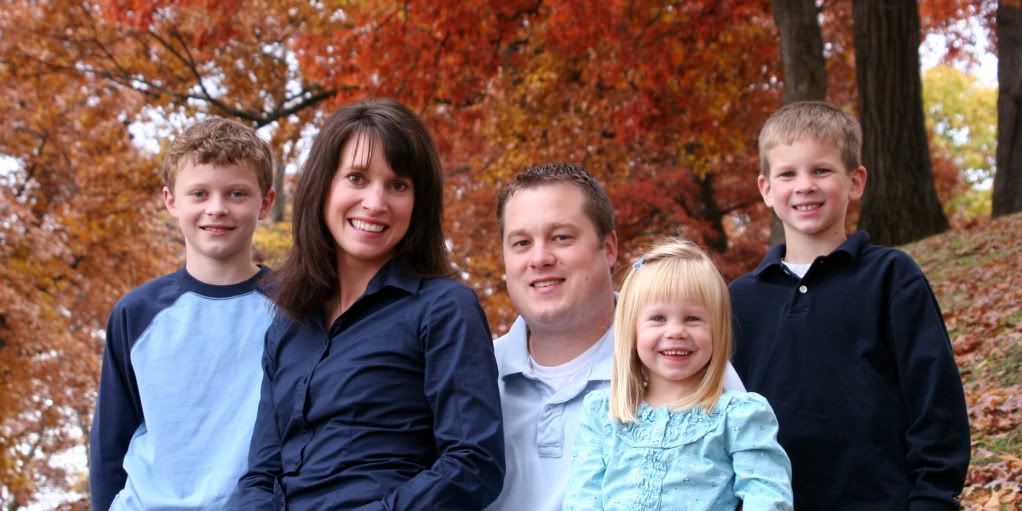 In other news, I finally did the Ford's family photo shoot today. We've been waiting for the weather to cooporate and them to get healthy again. This is one of my favorite ones. I had fun playing around with them. For those of you who remember, Nick Ford went to high school with Haldan. Now his kids go to school with my kids. They are a sweet family and the kids did great today. We had a hard time finding nice foliage. It would appear that most of the leaves have dropped in the last couple days. We worked up until the first drop of rain.
Now I just need to coordinate with my friend Missy to get her photos done. If only it would stop raining...