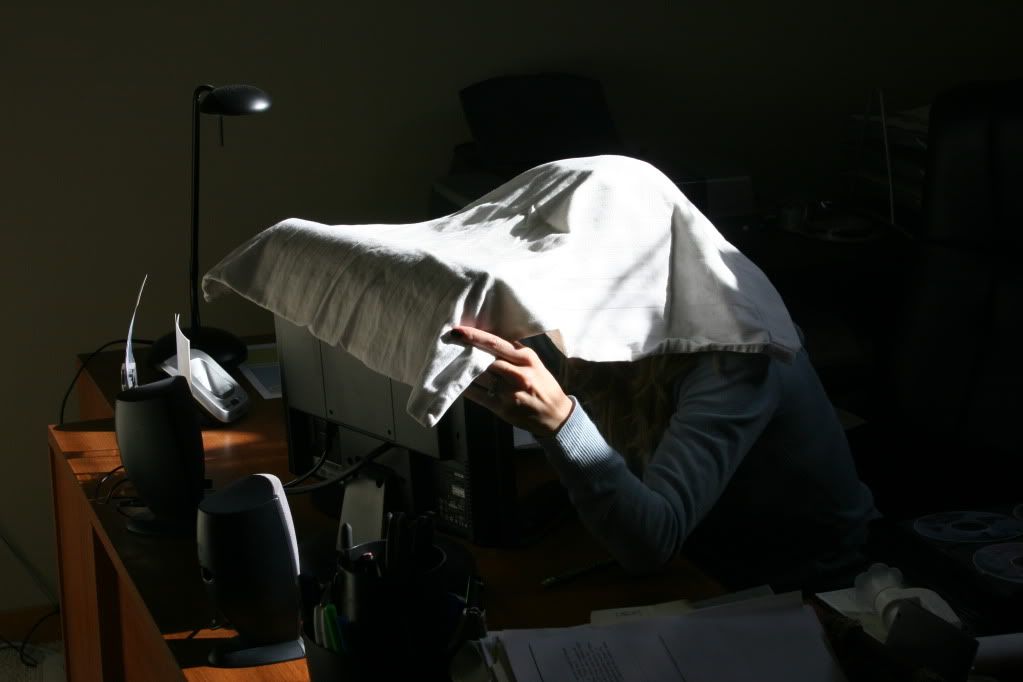 "Never tell people how to do things. Tell them what to do and they will surprise you with their ingenuity."
-George S. Patton
That's what I'd like to call it. We were enjoying another unseasonably warm, sunny day here in Eastern Iowa today. I don't often spend time in the office in the afternoon with the bright sun that comes in the large picture window, but I have many projects brewing and I really needed my desktop. I was sorting through cds of pictures for one project and getting very frustrated with how difficult it was to see the photos. So, I concocted a plan. It was rather warm and I didn't want anything too thick, so I grabbed a pillow case. Perfect solution. (It was just large enough to cover me and the screen.) That is until Haldan got home from work early and surprised me. He grabbed the camera before I realized what he was doing... and that is how the POTD came to be.
On another note, Haldan and I had health assessments today. Cigna will discount insurance premiums for all Duane Arnold employees and spouses that get these done, so Haldan scheduled them. It was supposed to be a quick finger prick and an immediate print out of the results. Unfortunately there is no such thing as quick and painless for me. After milking two different fingers for some length of time and coming up with not enough blood another nurse was called in to prick yet another finger. Luckily the 3rd try was the charm, but tonight my fingers are bruised and a little sore. Luckily my results came back great. Haldan was a little jealous because his numbers were not as good, but he's gentically predisposed to high cholesterol. I told him it wasn't a race, but after reading through his results I'm a little concerned and he's more determined to get back into a fitness regimen.
Haldan and I spent the afternoon catching up on V (for "Visitors"). For those of you who haven't heard of it, it's a spin off the original V from the 80s. House has been the only show that we both watch together and I really only do it because Haldan likes it. We're hoping that this might be another one that we can watch together. So far we both like it, but only 2 episodes in. It's on Tues nights on ABC if you want to DVR it.
In honor of Veteran's Day, I just want to thank all the veterans, both past and present that work hard to serve and protect this country. Today I am particularly thinking about families who have lost a loved one or have sent them into harms way to ensure our freedoms. My heart goes out to you. You, too, should be honored.
I also want to thank my husband who spent 6 years serving in the US Navy. As I wrote out those 17 memories the other day, I revisited some of those days in the military. It was definitely not the easiest road we could have taken; some memories good and others painful. I think it is great that communication is so much easier and more affordable these days for military families. I got 8 family grams/patrol and they had to be 50 words or less (including my name and his name). Many times by the time the message reached him it was completely different. We also didn't have cell phones yet and phone calls were about 10 cents/minute. If he did get to port he would call and we would have to keep them brief because of the expense. Some ran over $200, which was a lot of money on a military budget. Often times I wasn't home when he would port and was unreachable. So, emails and cell phones are a blessing in a time when so many loved ones have to be away from their families.