"As we express our gratitude, we must never forget that the highest appreciation is not to utter words, but to live by them." John Fitzgerald Kennedy

Today I am thankful for family.
It was a wonderful Thanksgiving filled with all the traditional comfort foods, family and friends, and a lot of nothing. It was wonderful. It was such a treat to have Dave's sister, Laura, and her family there today. We don't get to see them much. All the girls had a fun time together and Sean is really getting big.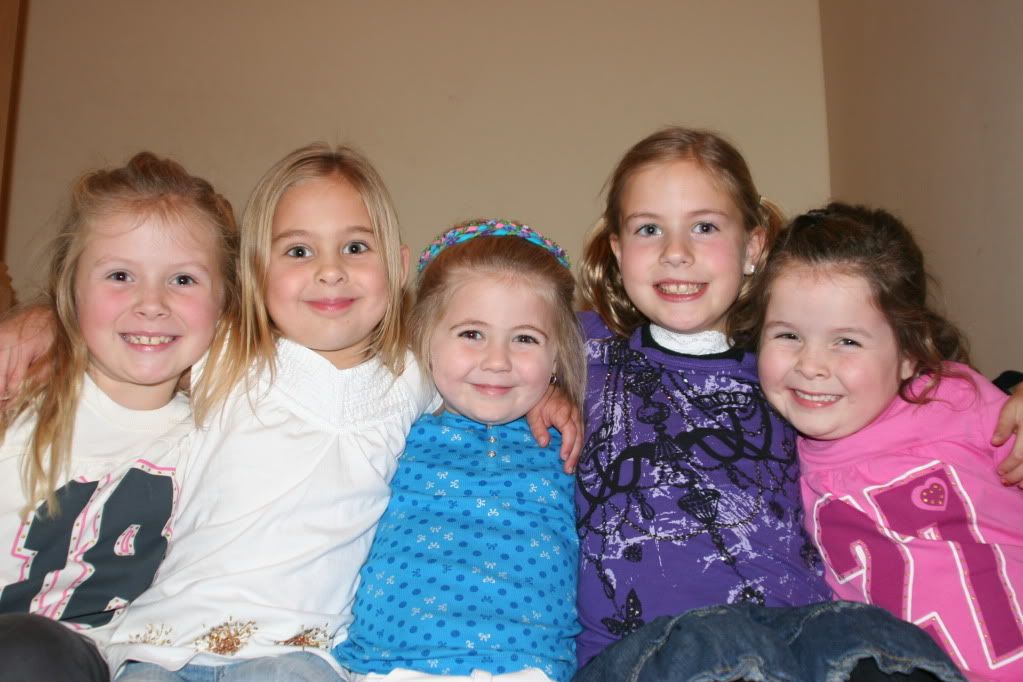 Brooke, Casey, Chandler, Pokey, and Gracie. These 5 little girlies had fun together.
These 4 missionaries shared a little Thanksgiving skit. It was creative and amusing and kept the children's attention.
Me and my sister, Tonya. Poor girl was feeling under the weather today, but hosted a meal at her house for 20+ people. She is a beautiful person.
The girls spent a large portion of the day in the playroom. This is their art work on the chalkboard.
The traditional olive pose. I get at least one of these every year. They're a favorite and they sure don't last long.
This is the kid's table and Little Man showing off a mouthful of food. It's nice that Tonya's house is large enough to accomodate so many people together. Thanks Tonya for having us.

Over the last couple weeks I have been sharing daily blessings on facebook. If you've followed my posts you can skip this section. There's really no way to properly express all that I am thankful for and I am glad that I took on this challenge. It has reminded me of the endless blessings in my life that I take for granted on a regular basis. It is something that I am going to try to continue on my own. Some of the things I am grateful for include:
Being with family, being able to chew Thanksgiving dinner (my jaw is better), and sleeping in, interstates that make for safe and efficient travel, Stephanie and Chrisian Nielson, hard times (that make the good even better), good memories, seasons, family, and kindness of strangers, my external hard drive, http://www.mylitterofsix.blogspot.com/, good workouts, warm showers, and weekends, each new day, my camera, artists and musicians that inspire me and enrich my life, friends that lift your spirits and accept you for who you are, an understanding husband who doesn't freak out when I wake up screaming at 2AM, Sunday naps, job stability and good health, a good night's sleep and a good pillow, great communication that allows me to email friends half way around the world in seconds and make phone calls to family for next to nothing, and the sun.
The list is endless. I have much to be grateful for!