"To appreciate the beauty of a snow flake, it is necessary to stand out in the cold." Unknown
I received a phone call at 5:42 AM with the jolly news that school was closed for the day. I looked outside and was a little confused... there was maybe an inch of snow. Seriously? The kids, of course, were ecstatic.
I remember as a kid loving the snow days. I'm learning that I owe my mom a big thank you for the sacrifices she made for us on those snow days. It's not all that great for us moms, particularly when it's not planned. By the time I got up the kids were already outside shoveling. Neither one had snow pants and Little Man didn't even have his winter coat on. They came in freezing and very wet. So began the "snow circus" if you will. 10 minutes to get all the snow garb on, 20 minutes outdoors, then inside to warm up. Off the wet clothes come. New clothes on. Hot cocoa requests. Then the cycle continues all day long... snow gear, outside, inside, cocoa, etc. The dryer runs continuously making it difficult to get laundry done. I nearly broke my neck trying to get the ladder down so I could get the sleds down from the top shelf inside the topper.
Little Man learned a couple new Christmas songs on the piano today and Pokey worked on her knitting. I entered the living room and saw this... she keeps me guessing. She's my free spririted child that will dance with total strangers in Best Buy (really happened this week).
We also made some doughnut snowmen together. They may not be Martha Stewart worthy, but they sure are cute and yummy! (And perfect to pass some time on a long snow day.) You can save picture and print it as a recipe card on cardstock. It's formatted in a 4x6 size.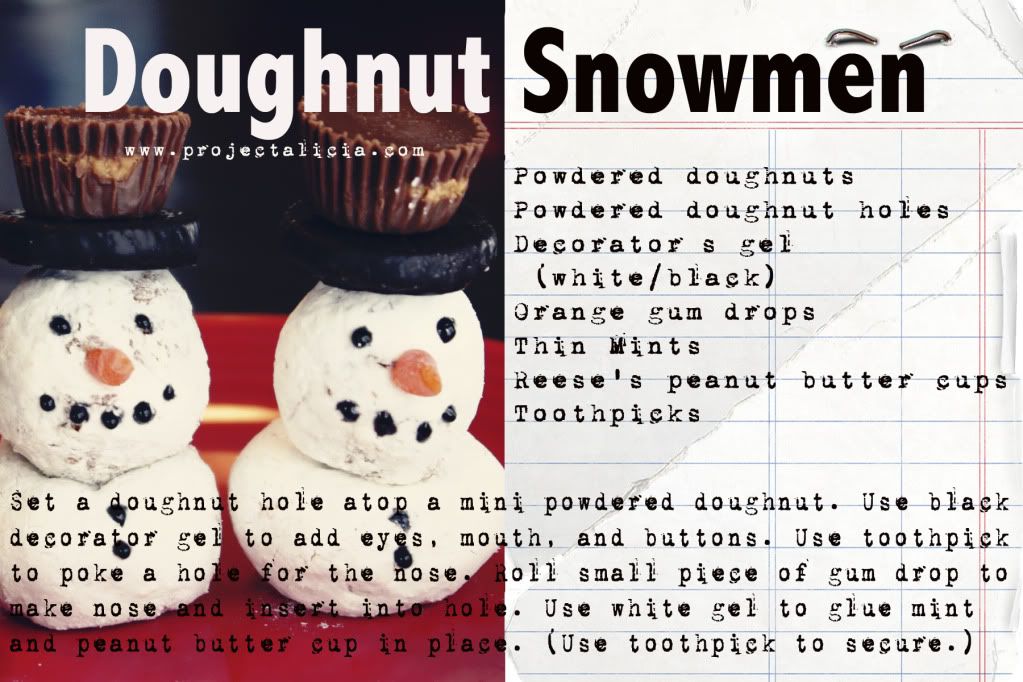 So, I survived my first snow day of the season and I've already received the call from the school for tomorrow's cancellation. Wish me luck. I don't know what's in store, but they must be anticipating some really yucky weather. I've heard that the winds are supposed to start tonight, but I have yet to see this snow or "blizzard"that they've been calling for. Haldan has to leave at 4:45AM tomorrow for a long work day and they told him to bring food and clothing in case he gets stranded. Tonight he wanted to show me how to use the snow blower only to learn that it doesn't run. He totally disassembled it to try to fix it, but was unable to diagnose the problem. We just got the thing last winter and now they're talking about 6-12 inches and I'm going to be left to shovel it by hand. I'm having deja vu back to last winter when Haldan got strep and we got 16 inches of snow. Or was it the one before? Anyhow, I ended up hurting my back. We have a very large driveway on a hill, which is tricky when it's icy out. I should probably check in early tonight. It's going to be another long day and I'm exhausted.