DAY 348


It's always good for us to pause
And think awhile of Santa Claus--
That jolly symbol we revere
When we approach the changing year.
Behind his beard so long and white,
In which our children take delight,
There beats a heart from color free
Which bids all children "come to me."
MARSHALL M. MORGAN, "The Spirit of Santa Claus"
So, tonight we stopped in to see Santa. It has become a a bit of a tradition to do it on a Monday night in December for our family night. It's never been busy, except for one year that I can remember and they are always extra nice about letting me take as many photos as I'd like. Tonight Santa was extra chatty and since my kids were the only ones there he took a little extra time and even got out his photo album to share.
Tonight Little Man lulled Santa right to sleep with his lengthy list. Pokey always seems to keep us guessing. In our rush to get out the door we managed to forget the letters for Santa, so I asked Pokey if she would remember what to ask for. She said she did, but also mentioned that she was going to ask Santa for $100. When her turn came the first thing she asked for was a guitar. Not only was it not on her list, but it's exactly what Little Man wanted. Go figure. And she never requested $100. Relief. This is the exact same Santa that we've visited since the kid's were tiny (he's the real deal, white beard and all), but I could only find digital photos tonight back to 2005. So, here's a stroll down memory lane. I think 2005 was the first year Pokey sat on Santa's lap and didn't run away screaming.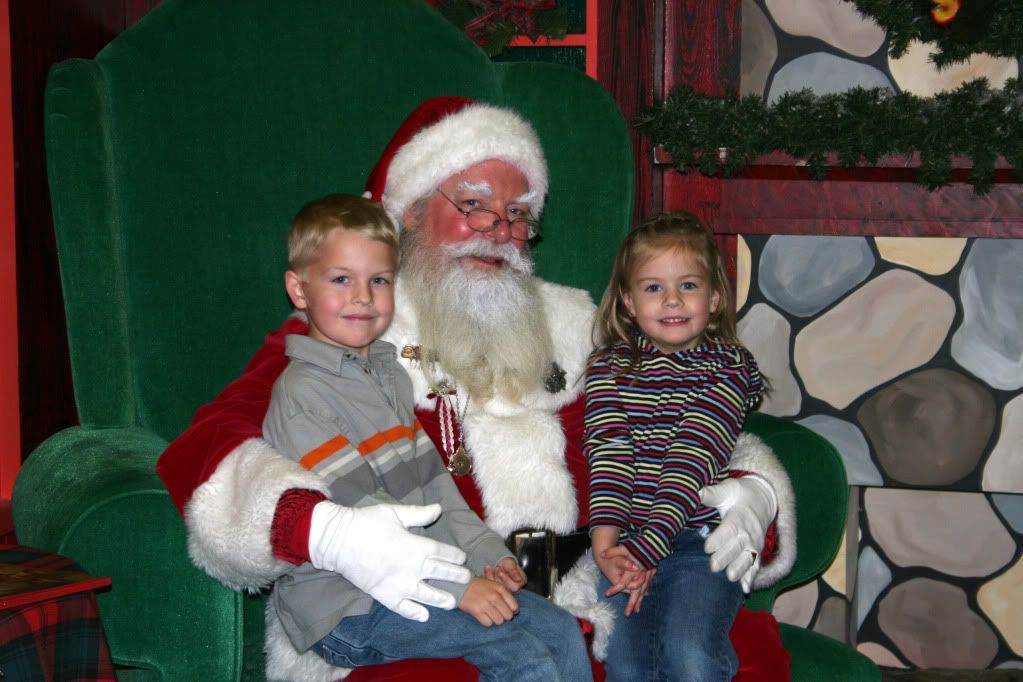 2007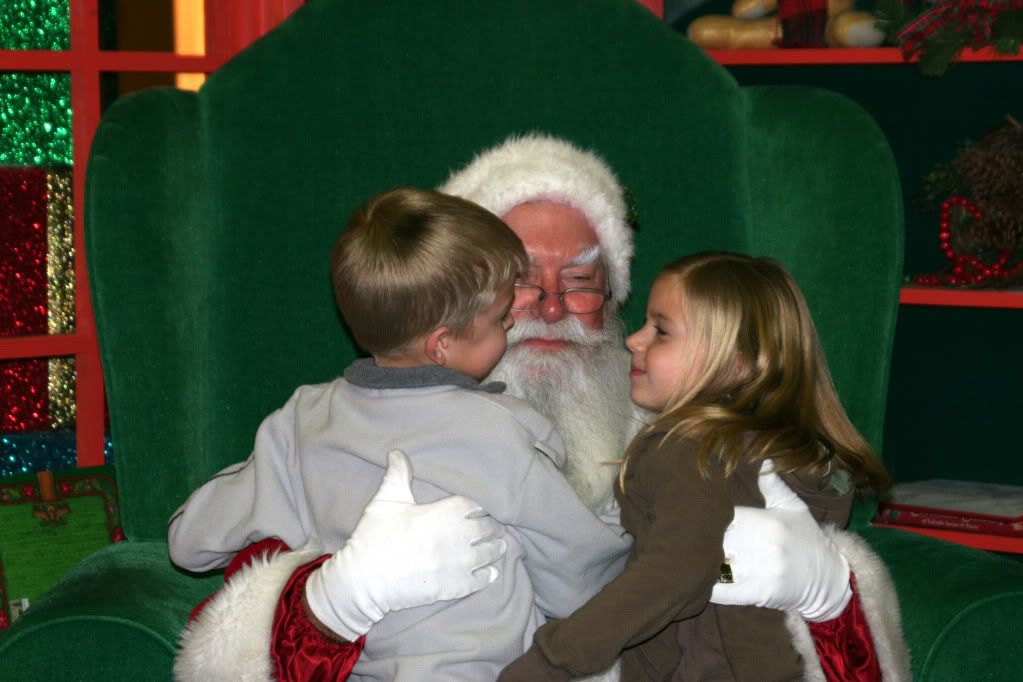 2008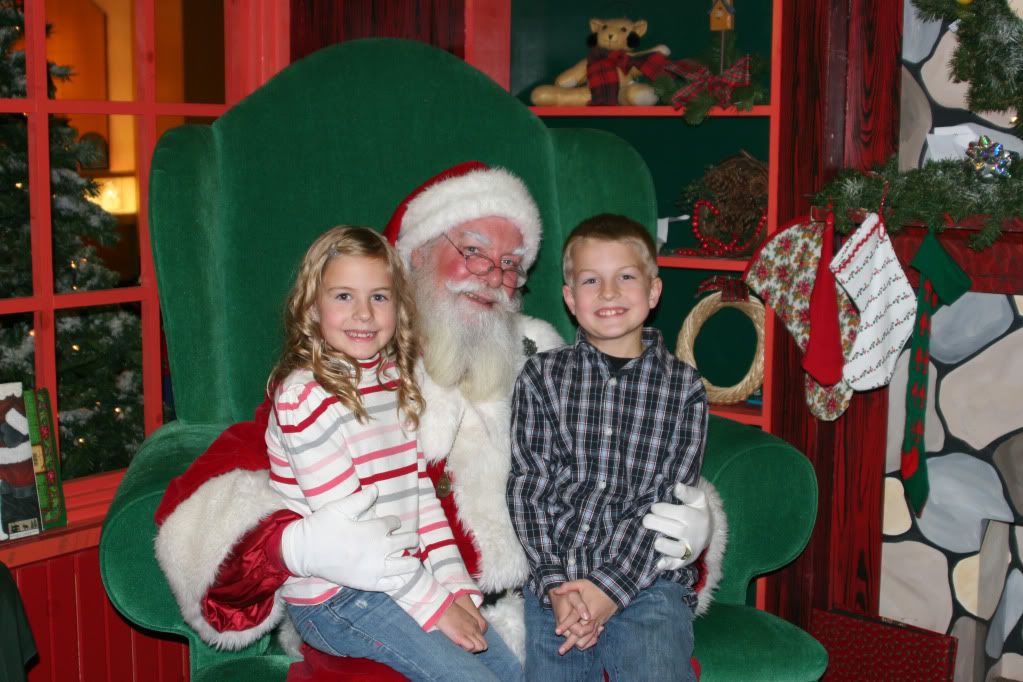 2009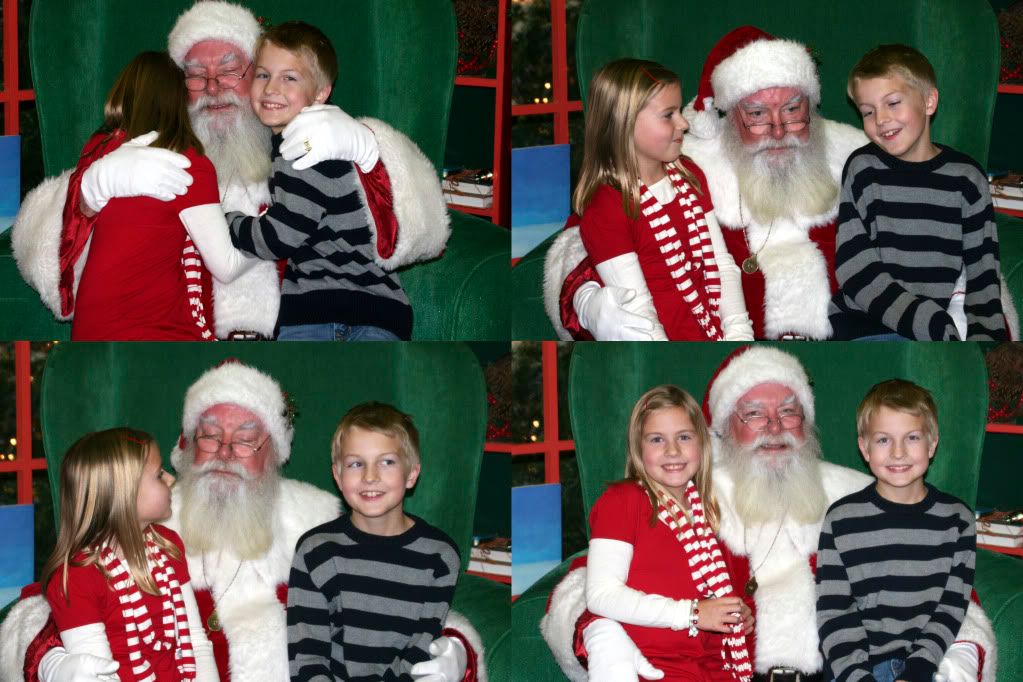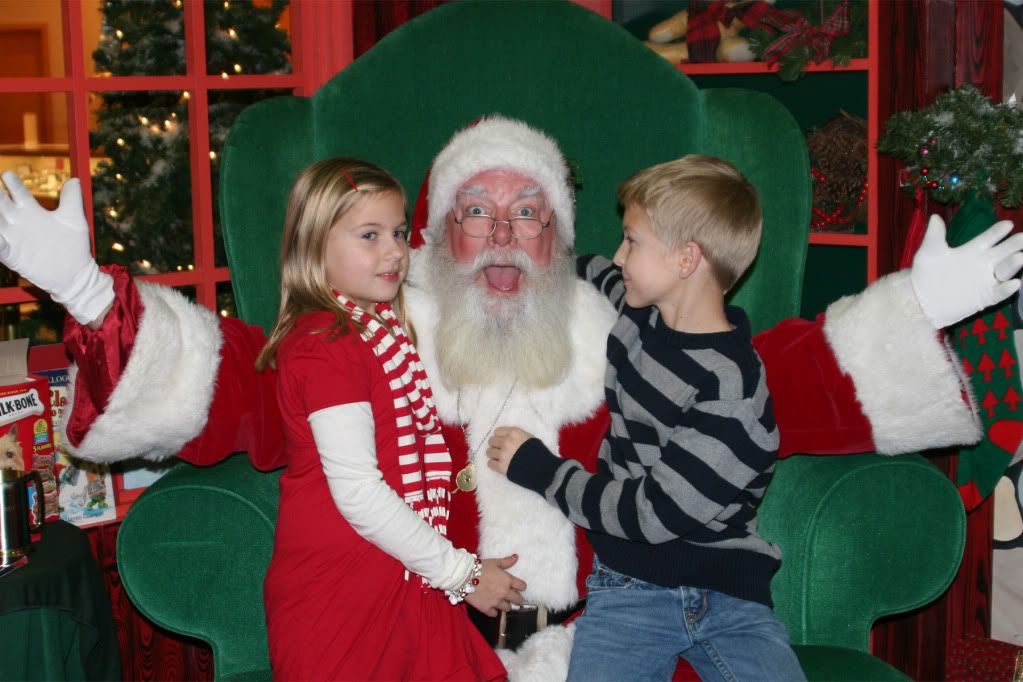 It's a fun tradtion and I'm glad to see that Little Man has not outgrown Santa visits yet.
Having said that, I have a few thoughts I'd like to share. I was prepared to go off on my tangent, but in the spirit of the evening I'd like to keep it brief and to the point. I don't have a problem with the image or idea of Santa Claus, but as a parent I struggle with the confusing message of this giant conspiracy to cover up such an enormous lie. We are taught as young children that we should always tell the truth and never even tell white lies. Yet, the Santa Claus lies are endless, one right after another, building in magnitude over the years as the children get older and more inquisitive. From his appearance to the mode of transportation to deliver the toys to all children over the world to how he enters our homes. When we don't have chimneys we concoct new lies to cover our tracks so to speak. We are also taught in christian homes to believe in God. Yet, this is also someone who we never see and are told "we must believe" just as with Santa Claus. When we are old enough to see the wisdom through the cloud of smoke sent our way... what message are we left with? Santa is not real, but God is. Is there no other way to keep the spirit of Christmas alive besides continual lies?