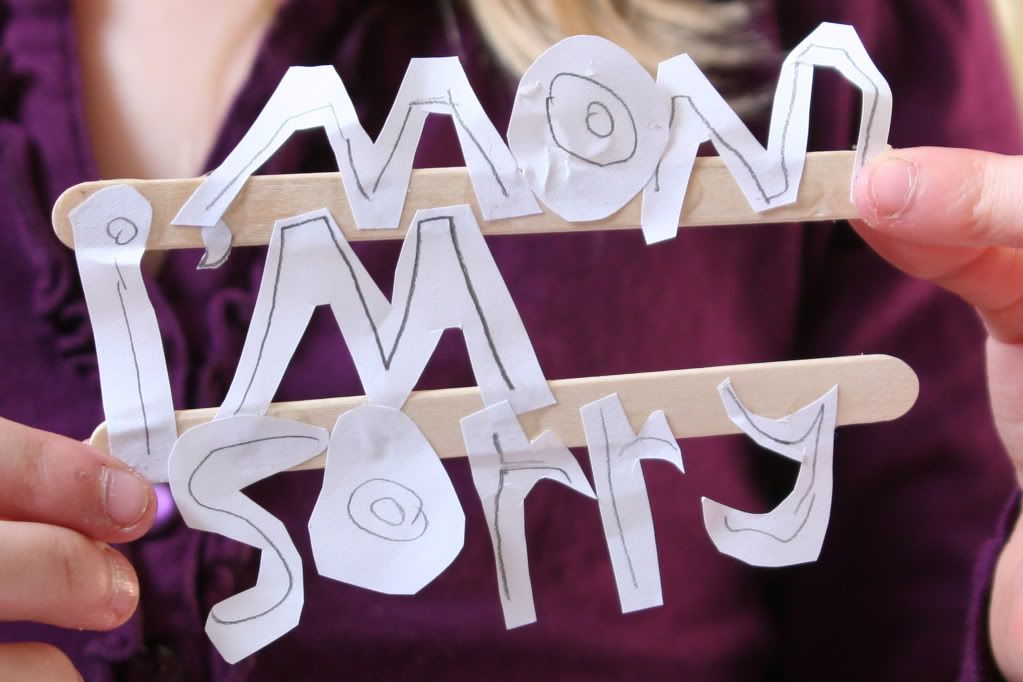 Today I have been the "big bad, mean, cruel, mommy" according to my kiddos. It's always rough when Haldan is on night shifts. I told myself that we would go somewhere this morning, but unfortunately chores took like half the day. (Note to self: rethink that rule on days Haldan sleeps.) Anyway, Pokey could not... I repeat... could NOT use her quiet voice today. She was in a time out several times. After one of them she brought me this note she made in her room. It totally melted my heart and made me feel extra bad. (Overlook her nails as you look at the photo.) I know she was just being a kid and she was blessed with a that deep, Rasmussen raspy voice.
I was actually supposed to paint her nails today, but she made her way to the time out first. So, that's why her nails are looking extra haggardly. Yes, we are still struggling with the nail biting addiction... any suggestions besides all the usual? (Because we have tried it all!!)

Temps weren't even that bad today. I think it got up to 20ish. Should have sent them outside. (In retrospect things always seem so much clearer. But what's done is done.)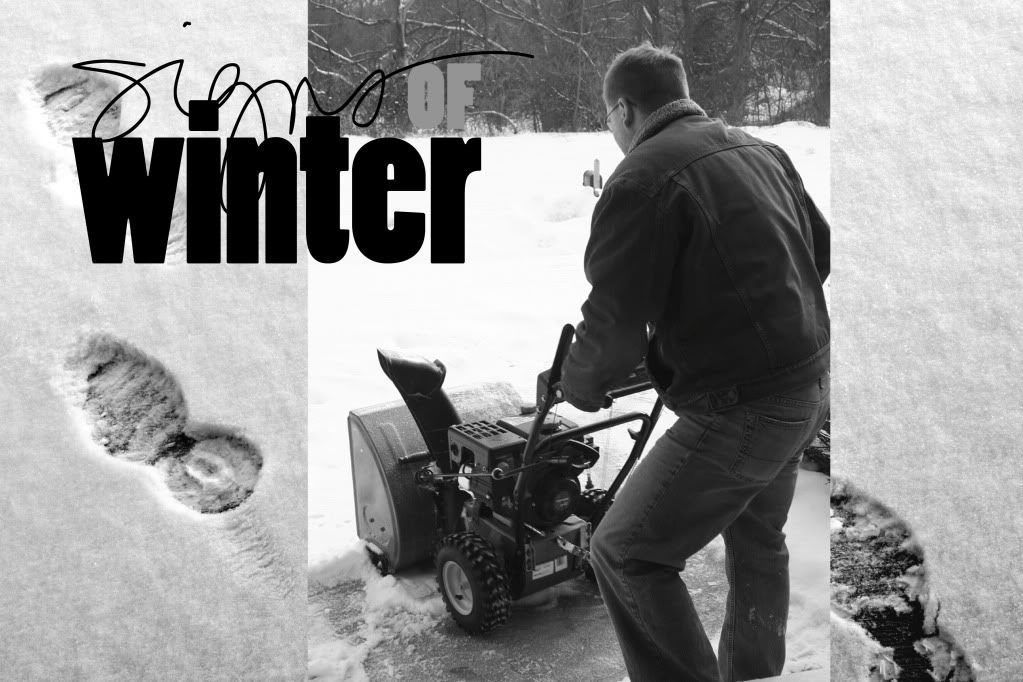 This week we had more snow... and winds. High winds Tues and part of Wed. I just have to make this one small complaint to mother nature. I don't really mind the snow all that much, but I guess I'm ready for a break for a while.

The east coast had a blizzard with 2 feet of snow recently. I saw pics and it was really impressive amounts. However, unlike Iowa- where the snow never seems to leave... 6 days later they had rains and temps in the 50s and that 2 feet of snow all went away. All of it! I saw pics with nothing but grass.

I know life isn't always fair and this is Iowa, but please?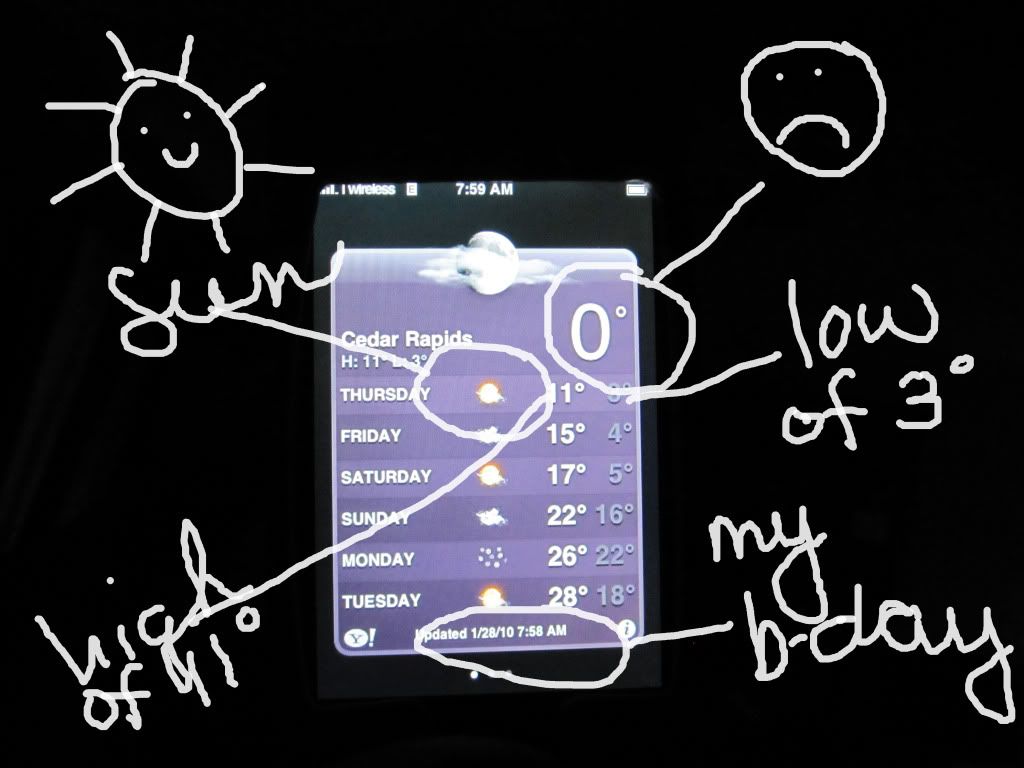 Every morning I check my phone to prepare myself for the day. On my b-day I woke and read, "0 degrees"... makes it hard to want to get up. Upon closer inspection I saw a sun which totally cheered me right up. I think it was the first day of sunshine in weeks. It was a present all in itself. Unfortunately it never made the "high of 11 degrees". I think it made it to 6 and it said it felt like -5. (And it did too.)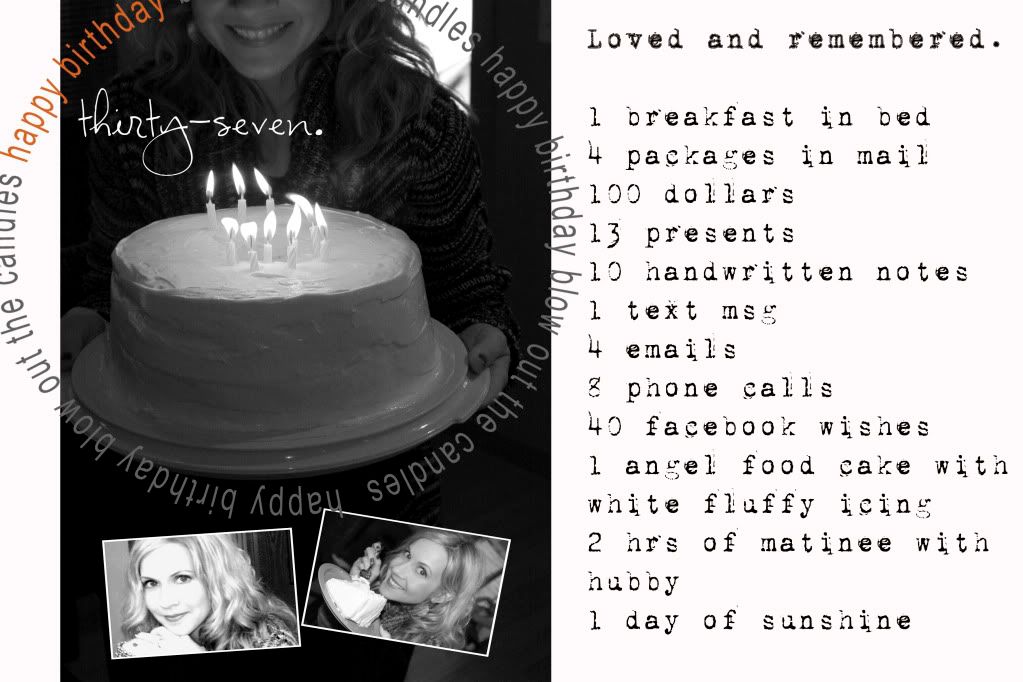 My birthday was a really good day. If you don't follow my blog you can read more about it here. As you get older birthdays aren't quite as fun. They are merely a reminder that you are another year older. I guess all you really want is to be remembered. Thanks so much for all the birthday wishes. I couldn't have felt more loved. My husband gave me an extra special day making all sorts of sweet sacrifices for me. That is definitely his strength... his thoughtfulness. Breakfast in bed and my angel food cake with white fluffy icing made it extra special. I hope Betty Crocker never stops making that icing. It's divine. I have sent cases to several family members now because they can't find it, so it always worries me. I stockpile it in my basement. If you've never had it you have to try it. It comes in a box and I've only seen it at Hy-Vee here. "Betty Crocker white fluffy icing."
To my parents and in-laws: Thanks so much for the money. Can't wait to go shopping. There's amazing deals right now. It's really the best gift this time of year. I got a sweater for a penny the other day. (Bought a sweater dress for $12.99 and the second item was a penny.) I also got a pair of boots 75% off for $10. Love those deals!
To my sweet, thoughtful sisters: You sure know how to make a girl feel special. I loved all your gifts. Tonya, wasn't expecting anything more from you because I'd already got the P90X dvds. Shag, your gift made it in time and it was a very fun, color coordinated package. Love it all- too much though. Rena, the magazine subscription is perfect and there's always extra surprises with you. You all were way too generous, as always. Love you!
To all my friends and family who gave gifts or sent wishes in some capacity: thank you, thank you, thank you. I'm so blessed to have so many wonderful people in my life.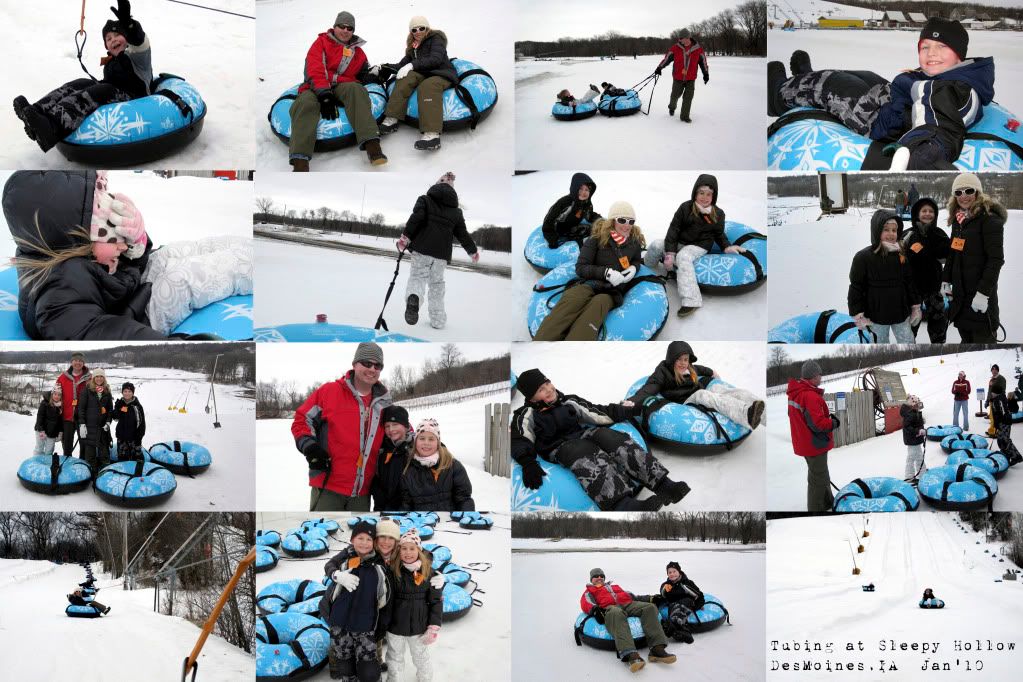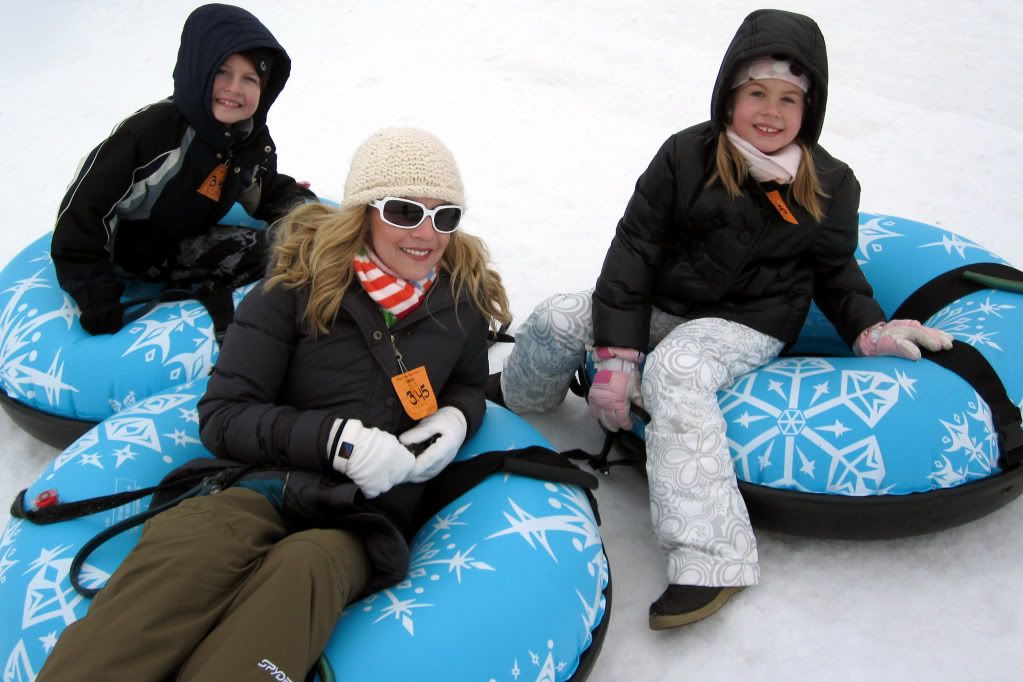 We went to Des Moines and went tubing this week. It was a BLAST!! Last time we went in UT I stayed on the sidelines and snapped photos. This was my first time tubing. The first time down I thought I was going to die and the employee who gave me the push at the top couldn't believe I was actually afraid- as I went screaming down the hill. I guess he had a whole conversation with my husband about it. After about five times down my stomach stopped churning and I relaxed. We started going down in pairs and it made the spinning last longer and way more fun. The 2 hours went too fast. I'm hoping we can do it again soon.
Correction: I just remembered I have been tubing before in Idaho at the dunes (while at college). I think I only made it down one time because I crashed. I landed on my neck and I couldn't move for like 5 minutes. I thought I was paralyzed. Finally a guy friend of mine came over and picked me up and put me in his truck. It took a little while, but obviously it all turned out ok. It's strange that you can forget things like that. Perhaps that could be the reason for my fear? Our minds are an amazing mystery, at least mine.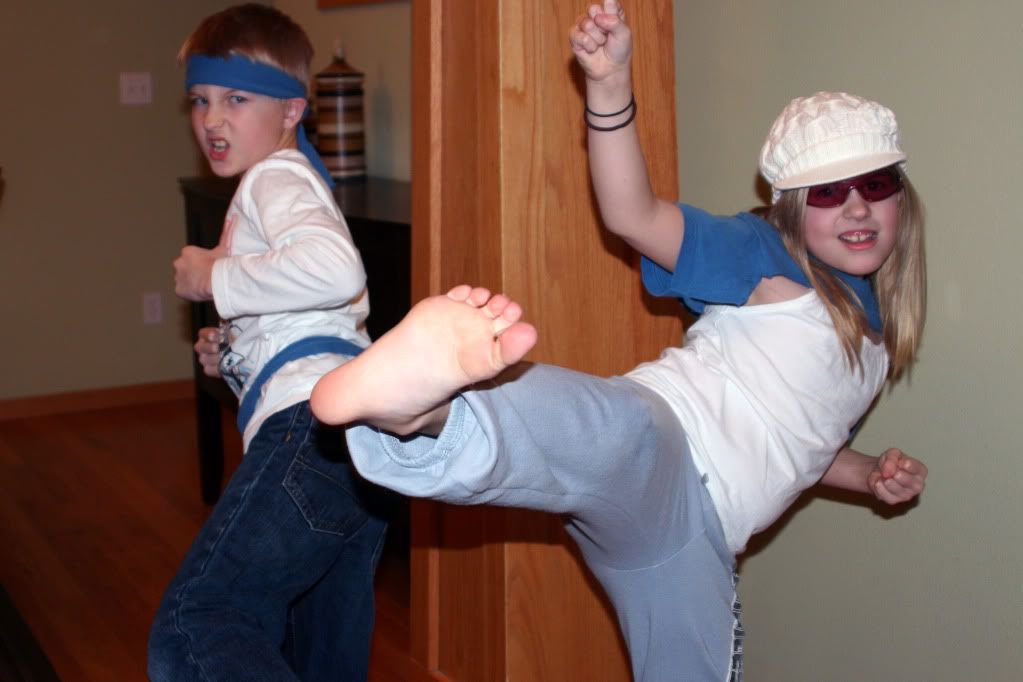 Little Man came home from school with a giant hole in his blue shirt... the same day he was the anchorman for 5 Live News. I was mortified, but he said you couldn't see it. Then his story changed and he said he wore a sweatshirt over it. I'm waiting to see footage of the show. (Maybe next week I can post a video of his anchorman job. His name is "Hammy" as in the crazy squirrel in "Over The Hedge"... hmmm?)
Anyway, Haldan told him to take his shirt off and put it in the garbage. I was thinking it would have made a perfect fishing shirt or something, but Little Man ripped it to shreds... literally. Within minutes there were only remnants left and somehow the kids transformed themselves into crazy ninja fighters. All I could do was laugh and grab the camera- if only I had half the imagination.
In other news: Haldan had a boring work dinner this week to celebrate the end of his SRO program. I guess it's official now. Sorry if any Duane Arnold employees read this, but is it really necessary to talk about all the mistakes at other plants around the nation? An awards dinner needs to be a celebration. They've definitely earned it.
That sums up our week here. We've survived January. What I don't quite get is how the days seem to be both dragging and flying by. It's a bizarre phenomenon.