My sweet husband asked me if I'd watch the super bowl with him. In case you didn't know, I'm not much of a sports girl. But, per my husband's request, I sat through almost all of it. I enjoyed it even though I don't understand any of the rules. I do have to say I'm not sure what all the hype is for this Peyton Manning fellow. Not impressed, but fulfilled my wife duties. (1 point for me.)
Then late that evening I realized I had forgotten cupcakes.
Rewind.
You have to know that my children both have birthdays in August, the 8th and 9th to be exact. In case you aren't following, that means that their half birthdays fall on the week of Valentine's Day- every year! It might not be a big deal, but because I am a good mom I want them to be able to celebrate their birthday just like every other kid in their class. After all, it's not their fault their birthday falls over the summer break. (I think that earns a point?)
So, late Sunday night it hit me. I forgot cupcakes. I was tired and had already committed to make cupcakes for both of their classes for Valentine's and the thought of making 10 dozen cupcakes in a week sounded less than fun. I decided I'd get up early and do them.
But mornings are not my thing. After it was apparent that I was not going to get them done before school, I decided to scrap the homemade idea and opt for store bought so that I could get my workout, housework, and errands in. I stopped into Hy-Vee on the way to the gym, but their selection consisted of pink and more pink. Nothing birthday-like and more importantly, nothing "boy" birthday-like. So, after my workout I decided to call Kathy's Pies. Yes, they make cake and yes, they would whip up 60 cupcakes for me with multi-colored sprinkles. Score.
I decided to bite the bullet and just order all of them, even though Pokey's half birthday wasn't til Tuesday. They would be ready to go and they would be done.
I dropped them by the school and was torn whether I should take just Little Man's or both his and Pokey's. I was concerned about the winter storm on the way and there was no way I wanted to be stuck with 30 cupcakes at home on a snow day. So, I took all of them.
Just in case you weren't aware… Tuesday turned out to be a snow day here- a very lame snow day, but a snow day nonetheless. We ended up only getting 4 or 5 inches total and it was warm enough for the kids to play outside. It was a fun, unstructured day (minus the neighborhood squabbles and tears).
Call it mother's intuition, call it luck, call it what you will… but 1 more point for mom. But then again, who's keeping score?
Everyone had their half birthday school parties and mom still has her sanity intact. The best $30 ever spent.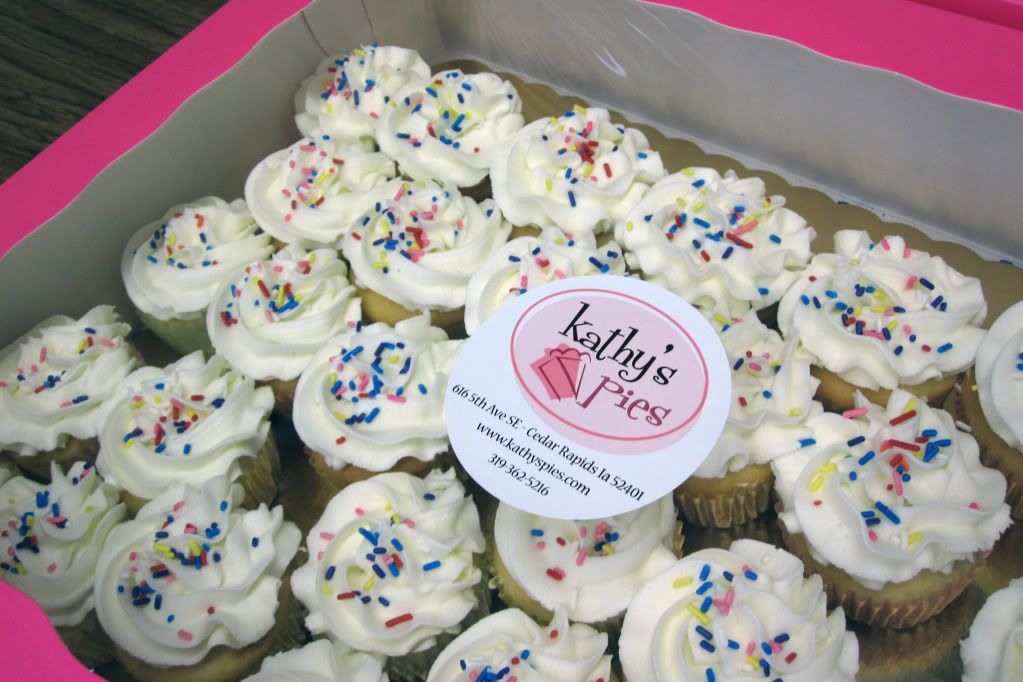 (You can also check out their pies
here
. They are delish!)