... and lots of other things. Super bowl and a snow day, to name a couple.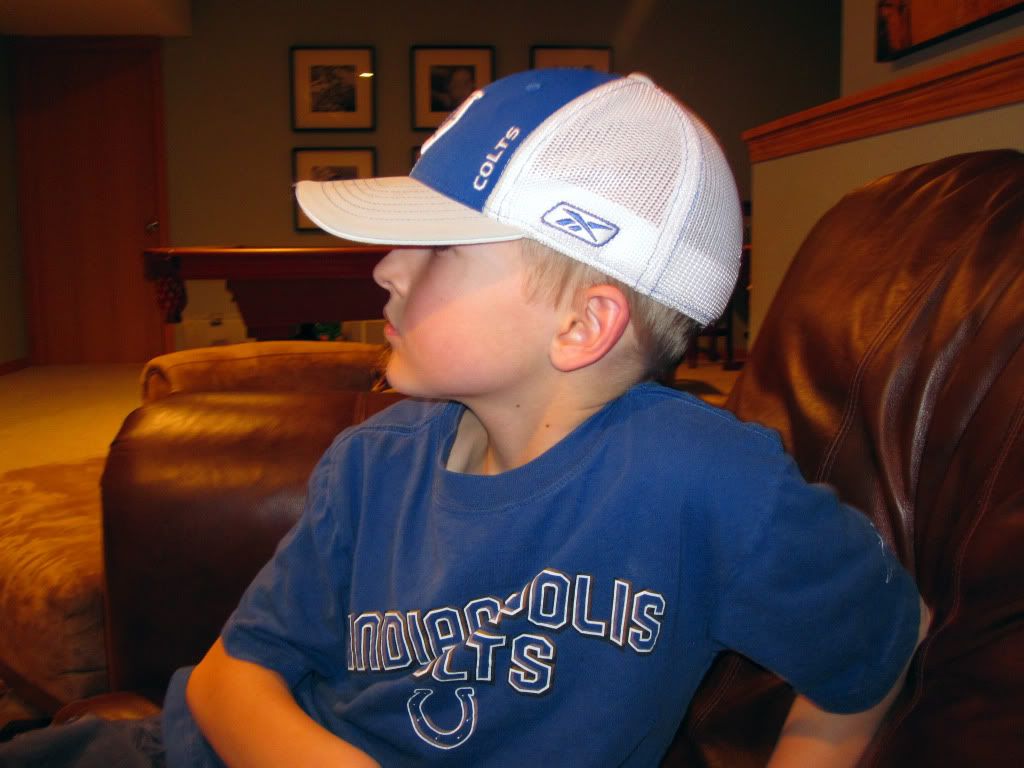 Little Man is all about the Colts. I don't really know how it happened, as Haldan has never really been tied to just one team, but he is obsessed. He really got into it... wore his colts attire with pride all last weekend. So, you can imagine just how devastated he was when they lost. He banged his head on the couch for at least 5 minutes straight and then asked if he had to go to school the next day. Of course the answer was yes. Unfortunately this is only the first of many more disappointments to come.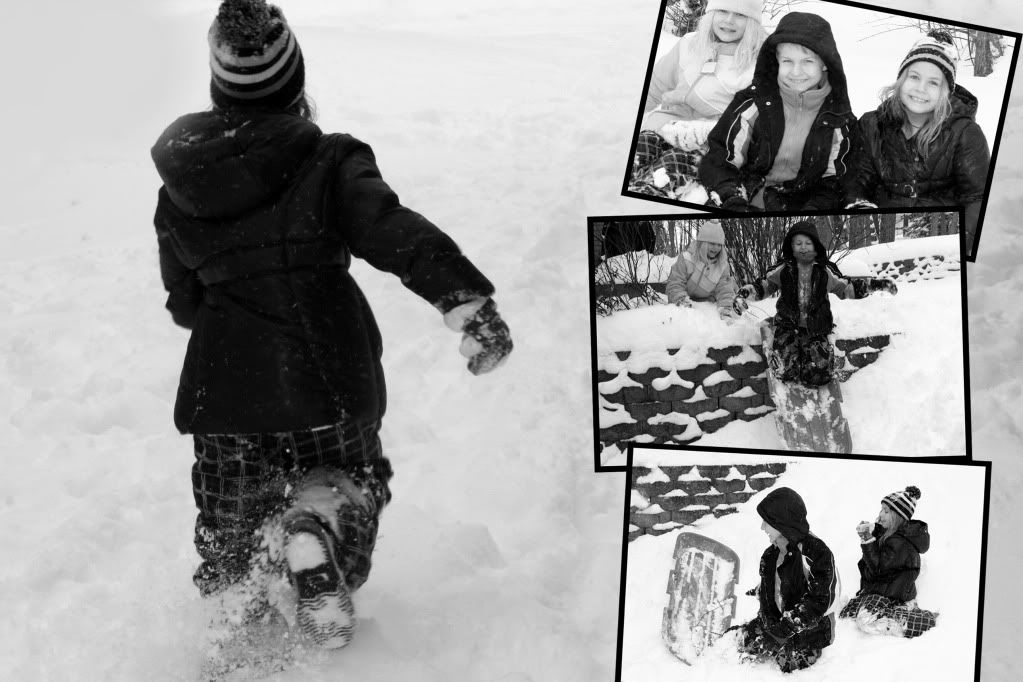 We also managed a snow day this week. Pretty lame by my standards (only about 4-5 inches of snow), but the kids played outside the better part of the day and had a fun unstructured day.
But mostly valentines has ruled our week....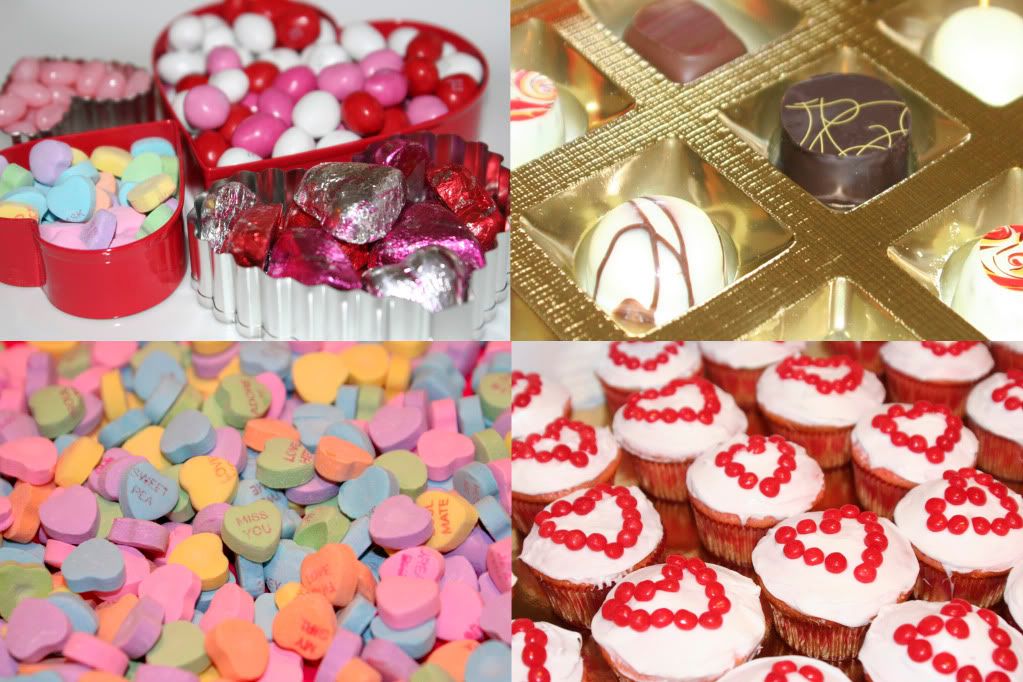 Looking at this photo makes me feel slightly queasy, but mostly because I have endulged in almost all of it. Perhaps that could explain the unexpected outburst of acne, but Valentine's Day wouldn't be the same without it. I'll have to detox later.
I admit it. I love holidays and all that goes with them. I love to decorate and have treats and make a big production out of it. I guess I can thank my parents for that one. So, Valentine's Day is no exception. There were many years that Haldan failed to understand the importance and accused me of going overboard. I'm not sure when it happened, but it would appear that he has officially crossed over to the other side.
Many people don't really like Haldan. Or better yet, many people don't really know Haldan. Maybe he prefers it like that. He is not much of a talker and when he does talk his dry, sarcastic humor dominates his personality. What most people don't know about him is that he is a very sweet, thoughtful person and would do almost anything for anyone. This morning he woke up and whipped up a breakfast consisting of homemade strawberry pancakes, heart shaped bacon, strawberries, and fried eggs. In the middle of making breakfast our neighbor called and needed a jump. He didn't even hesitate. He put breakfast on hold and ran down to help out. This is the man I know and love. He is the epitamy of what Valentine's Day represents for me, showing kind acts of service and love.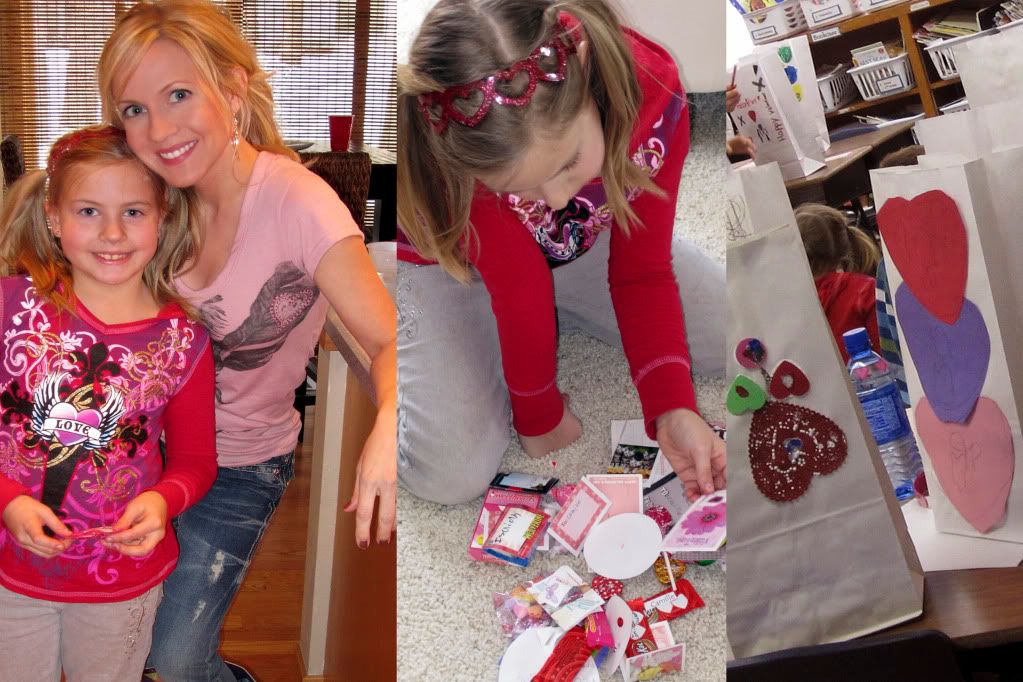 The school Valentine Parties were Friday. Nothing too exciting to report, except that I got to meet Pokey's boyfriend, Gabe. The cupcakes were a hit and Pokey is still happy to have me there.
On Valentine's Day we always have a fun breakfast as a family and then we have small gifts for the children. We usually get books and a couple treats, but this year we got Pokey a heart shaped watch locket and Little Man an old gameboy advance game he's been wanting.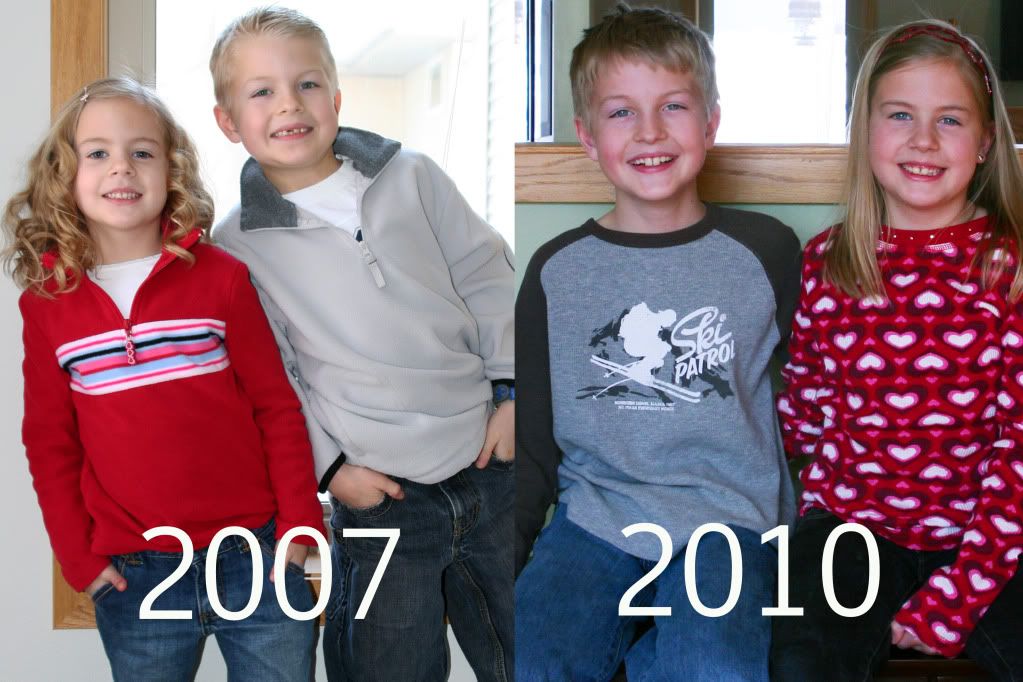 Then we have to do the annual photos. As I looked back at old photos I couldn't help but get a little teary eyed. My kids are growing up. I found a photo from just 3 years ago... how much simpler days were then. As we sat at dinner this evening together discussing how babies are made, how the sex of a baby is determined, how babies come out, and penises... a little piece of me longed for my own babies back. I am thankful for their inquisitive minds and realize that growing up is inevitable, but I guess I'm just not quite ready yet. I need to instead focus on all the fun things we get to do together.
Saturday we took a drive as a family. It's one of my favorite things to do, exploring unchartered territory. Haldan is always great to stop the car at a moment's notice and let me get out to snap photos.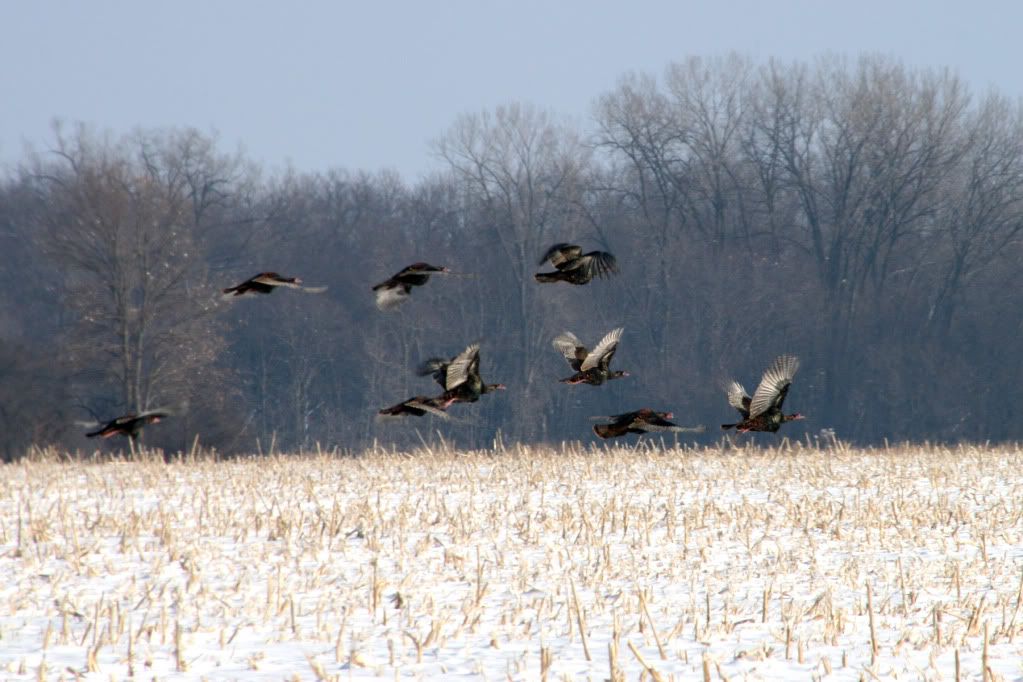 I've been begging Haldan to take me ice fishing, but for some reason he doesn't think it's such a great idea. While driving we were out by Palo Lake so he stopped so I could check it out. It's probably the closest I'll ever get to ice fishing. It was strange to see the the little ice houses scattered around the lake.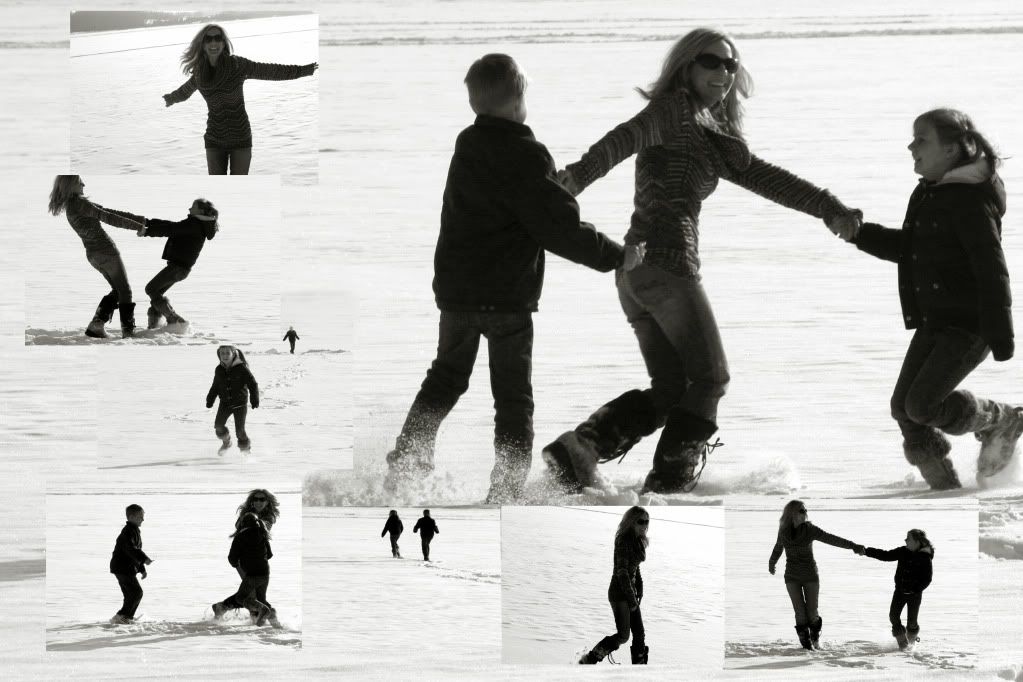 If you've never been out on a fozen lake before you have to try it... there is nothing quite like it. A giant wide open space for miles... it was a blast. It reminded me of when I went to Jensen Beach in Florida and I just wanted to soak it all up. Saturday was a sunny day and we played until we got too cold.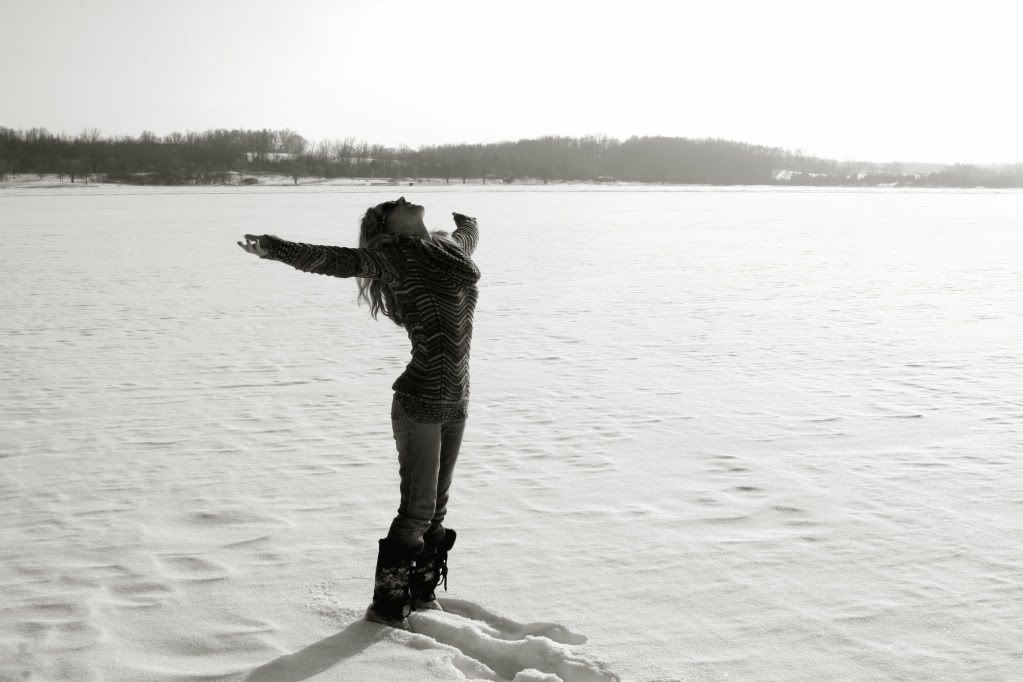 It reminded me that we need to not forget to breathe.
"Breathe. Let go. And remind yourself that this very moment is the only one you know you have for sure." -Oprah Winfrey