This has been a less than favorite week for me. I've been tried and tested in all sorts of ways and have had to really fight it- mostly let downs. There have been days I would have preferred to stay curled up in a fetal position. Unfortunately as a wife and mother there are responsibilities that prevent me that luxury. Life goes on.
Coming home to reality after a trip away is always a challenge for me. This time was extra brutal. The kids seemed indifferent to the fact that I was away and it was all I could do to get a hug from one. I stepped foot inside the house and was instantly thrown back into the fire so to speak (with Haldan on night shifts), at least that's how it felt. Fighting, bickering, and attitudes prevailed. I think a longer trip is in order.
After almost 6 months of sticking with this short sale we were informed that it had been cancelled due to insufficient information. Ahhhhhhhhhhhhh! They have taken so long that the material originally sent is out of date, or so they say. We sent new copies of everything the second we received word, but we are at their mercy as they make up the rules as they go along. I can't even think of a word to describe this process. Asinine is the only word that comes to mind and I'm sure it is not sufficent. We have people that are in our home and want to pay a mortgage and yet the bank would rather sit on it or make excuses as to why they can't do it. I could write a book on the series of unfortunate events with a short sale- it has been an anxiety-ridden, eye opening experience to say the least- one thing right after another.
Plus numerous other obstacles and set backs; lots of small things that tend to wear you down and keep you humble.
I have also had tremendous heartache and pain that I was not prepared for this week. But, such is life. Right?
So, I've been digging deep, trying to muster the strength to carry on and find something to bring me out of my funk.
I don't know why men think they have to fix everything, but this has been Haldan's mission this week... to fix me. I'm not complaining. He is a sweet person, always trying to make me happy. Sometimes distractions can be helpful, but I guess he needs to realize that some of it just takes time.
He let me take his car to KY last weekend so that it would be a more comfortable drive for me. While away he drove my little saturn. I guess I should have him drive my car more often because all the things I've been compaining about forever have finally been magically fixed. My cd player was one of those things. It has never worked well, so he took me to Best Buy to get a new radio. I had no idea that was all it needed. The new one not only plays my cds without skipping, but it also has a USB and cable plug- perfect for my ipod.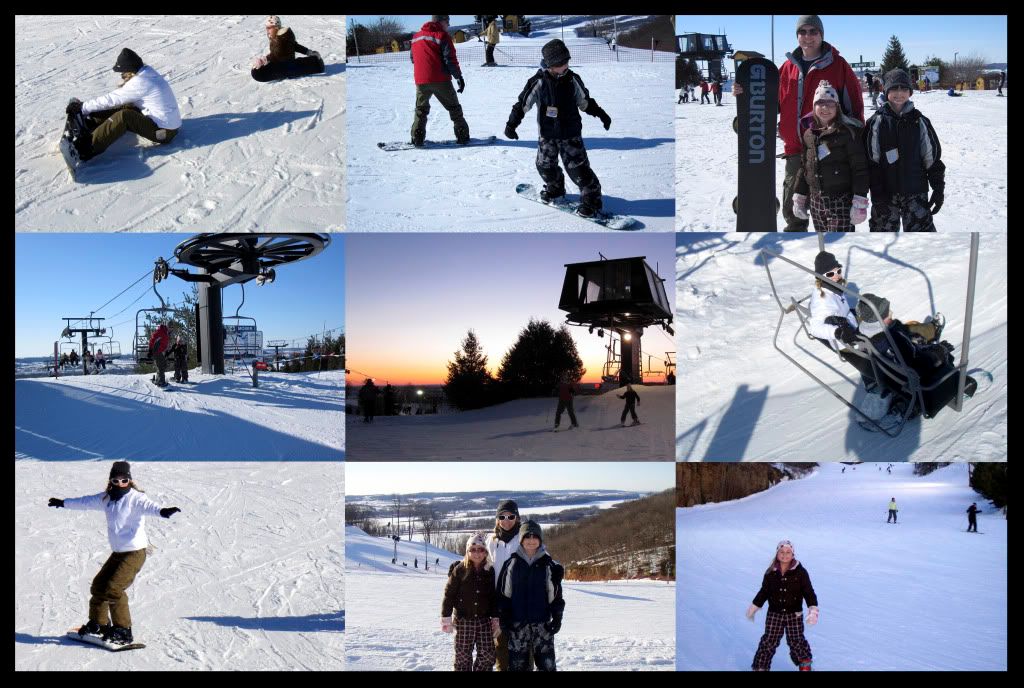 He also decided that on his day off he would take us for snowboarding lessons in Galena. I just want to mention that maybe it's a good thing I no longer have a coccyx because if so I would have for sure busted it attempting to snowboard. As it is I have a nice sized bruise on my kiester. I fell too many times to count, often times rolling several times before breaking my fall. Maybe I should just be happy I'm still in one piece. At one point I flipped and then slid hands first with my feet flying up behind me, to which the instructor yelled,"Safe!" It appeared to look more like I was sliding into home plate than snowboarding. Maybe I missed my call. Or maybe snowboarding is really not my thing. I guess we can't be good at everything. I think if I gave it another dozen tries I could do it. I was noticing improvement after a half dozen times down the hill. I'm just not sure I'm masochistic or patient enough to stick it out. This morning I felt as if I was run over by a freight train. (The photo of me in an erect position was a rare moment and I'm not sure how Haldan captured it.) Attempting to get action shots with point and shoot cameras is tricky business, but I wouldn't think of snowboarding with my large one.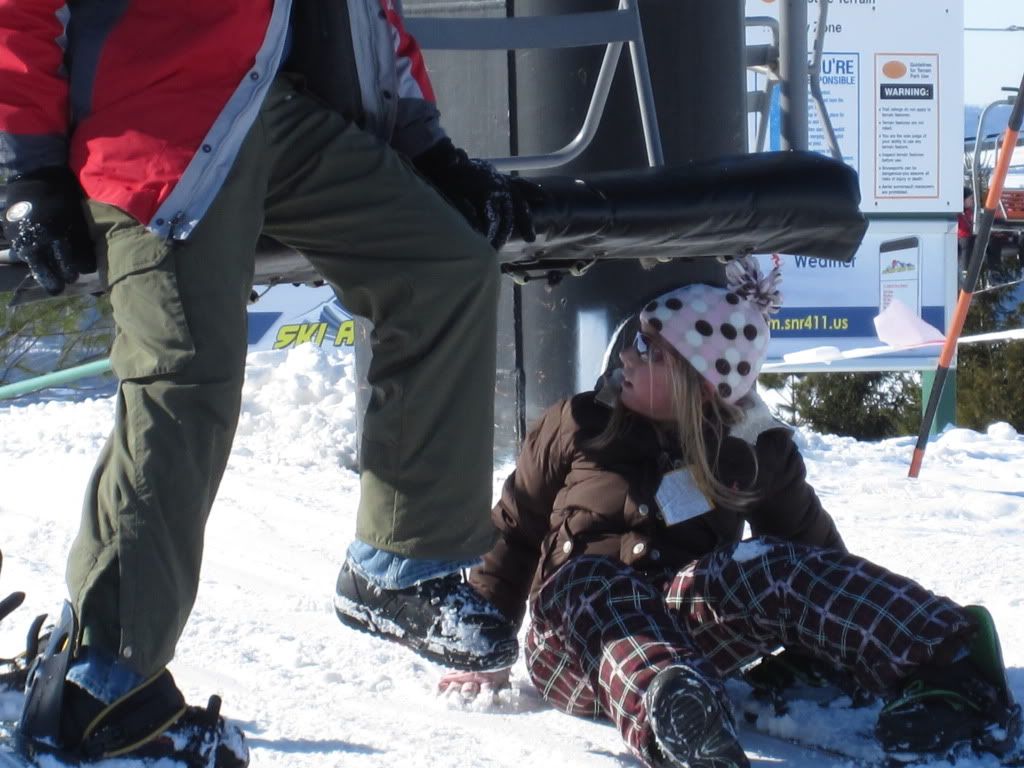 I had my camera zoomed too much here, but this is right prior to a funny mishap. Pokey fell almost every single time she got off the lift with her snowboard. Haldan ended up tripping on her and somehow landed smack on top of her. She was pretty upset. Where's the camcorder when you need it?
The kids were much better at the snowboarding than either of us, particularly Little Man. After some tears Pokey finally convinced us to trade in the boards for some skis. Little Man took off right away and shouted, "I still got it!" How can that not make ya smile? He's a funny little thing. We went several times until the sun was way long gone. The temps dropped and being the wimp I am- I called it a day. Haldan and the kids did one last run. It took me half the ride home to thaw out. I still am confused as to how Pokey and Haldan can always be so warm and Little Man and I are always cold. Is this another Barnes curse?
Believe it or not, in light of everything else- I think there are possible signs that spring is on her way. I may be stretching it a bit, but the thought of spring always brings a smile to my face. I have a new theory. I've decided that if icicles are almost as long as I am tall, that's got to be a definite indicator that spring is coming. See, the temps have to warm up long enough to cause the icicles to melt and lengthen. Ok, so the last few days have been a little nippy, waking up to 0 degrees and all. But I think we have had more warm days than cold and that warmer days are ahead. At least, that's what I'm forcing myself to think as I look at "icicle jail" as the kids call it.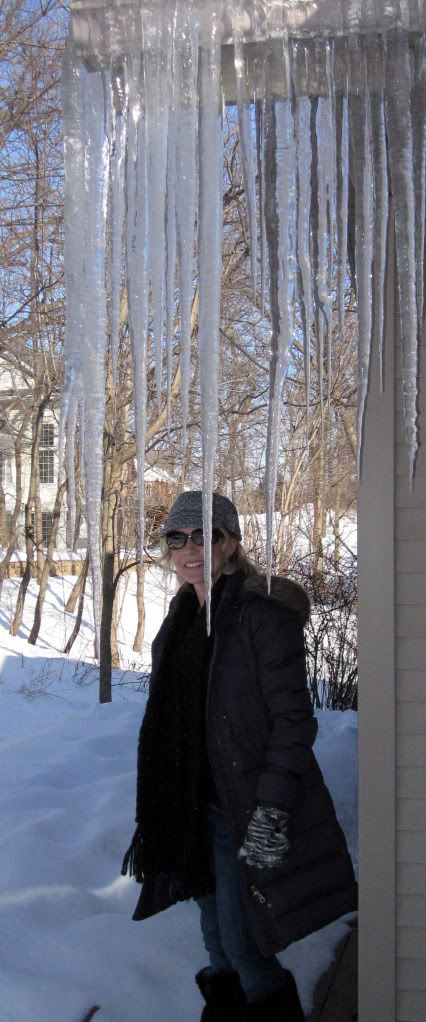 Other signs of spring include: seeing an opossum on the side of the road,
the sun finally making a debut and the days getting longer,
grass being exposed, birds singing, and steam coming off the roofs,
perfect snowball making snow,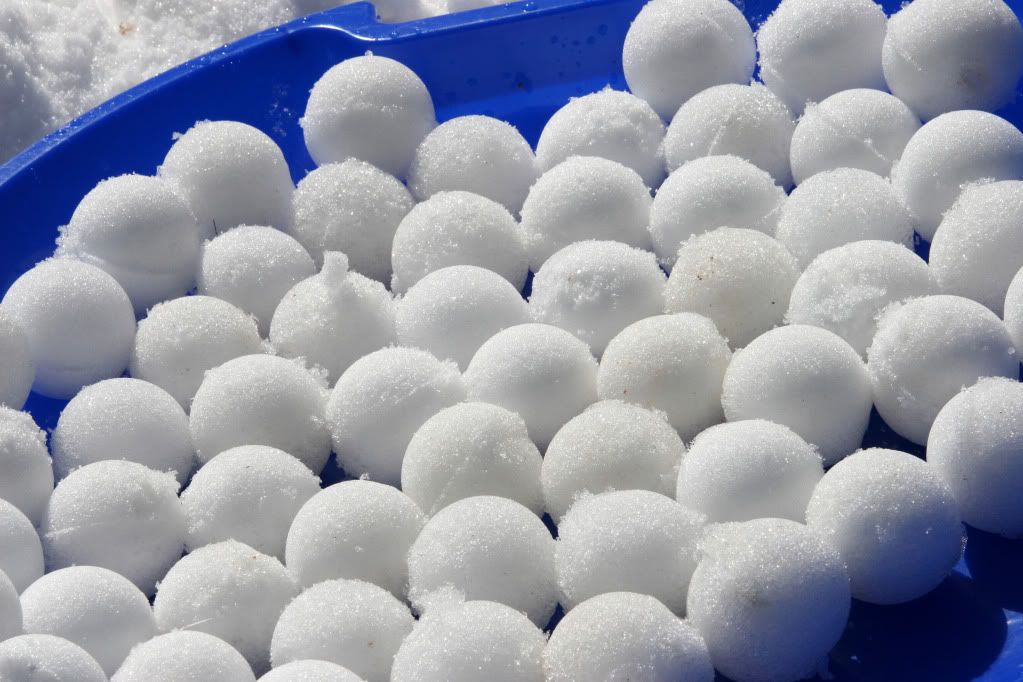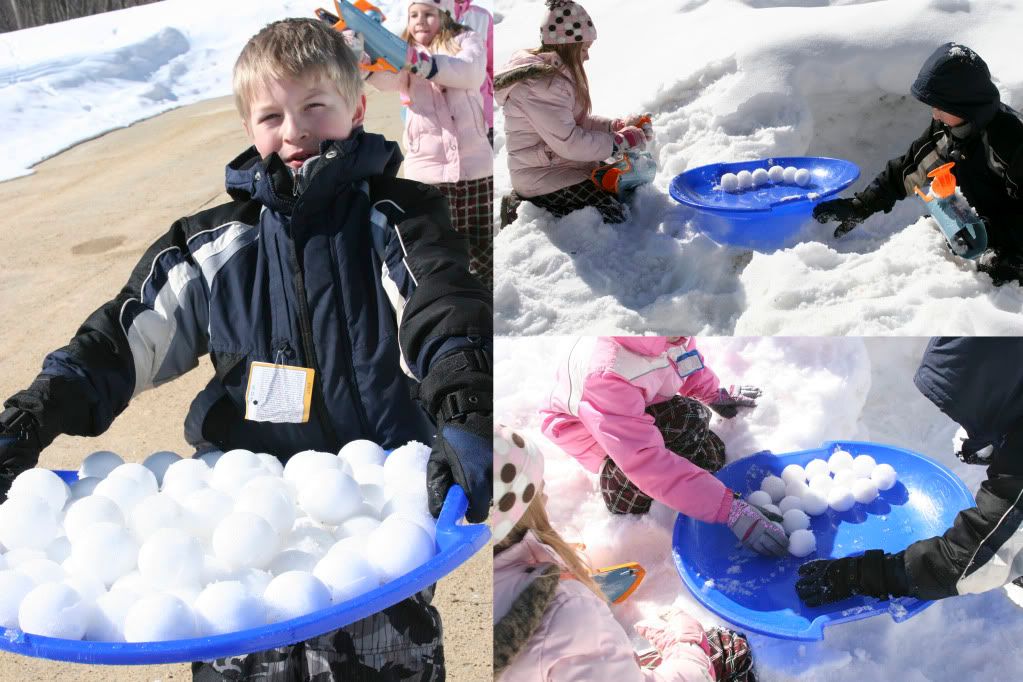 and sidewalks and streets being unveiled more and more with each passing day.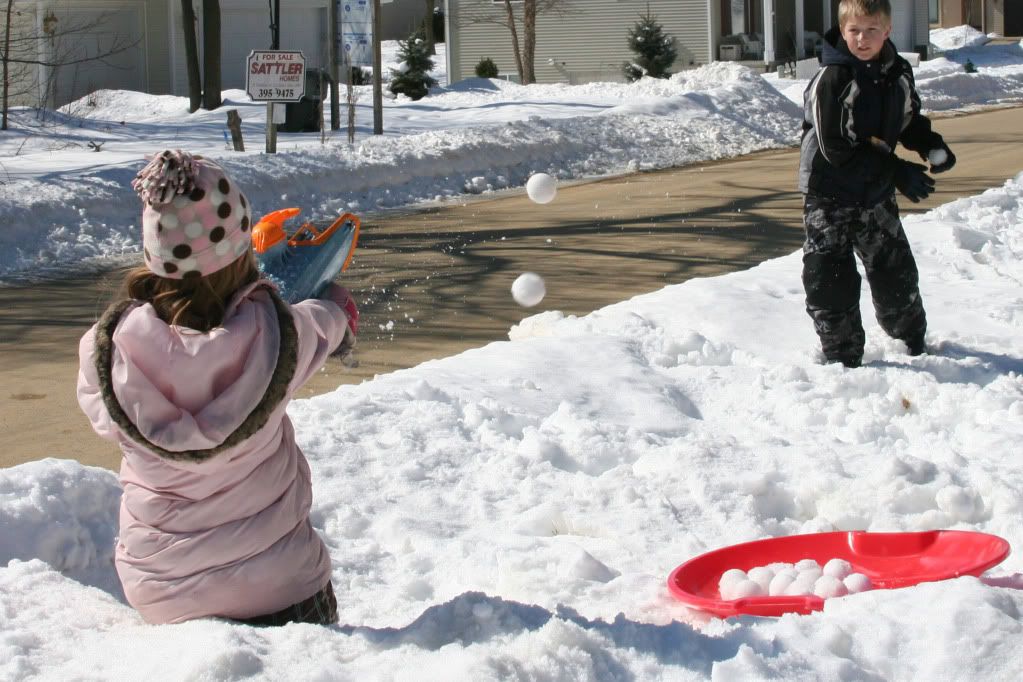 I'm sure there's other clues, but I'm clinging to these right now. (Maybe grasping a little?) This is still February. And it's still Iowa. Anything more would be categorized as miraculous.
Watching the children today was definitely amusing. They spent over an hour making hundreds of snowballs. I finally had to convince them that they had enough to have their snowball fight. Emma and Little Man wanted to team up against Pokey, which is never a good idea. After some thought they decided Little Man would take Emma and Pokey instead, so he handed his snow gun over to Emma. We set clear rules: no rocks, don't aim for the face, and if someone is hurt stop. Little Man hit Emma in the ear right away and that was it. There was snow in her ear, it hurt, and it could be bleeding. I assured her she was fine, so she decided to stay and watch. Little Man hit Pokey in the face almost right away. She wimpered a little and then got mad. I think Little Man better be careful. She has years of pent-up aggression and one of these days she is going to take him down! She's almost caught him in size and it's only a matter of time now. I'm not sure who officially won, but by the looks of the photos (and between you and I) I'm thinking it goes to Pokey.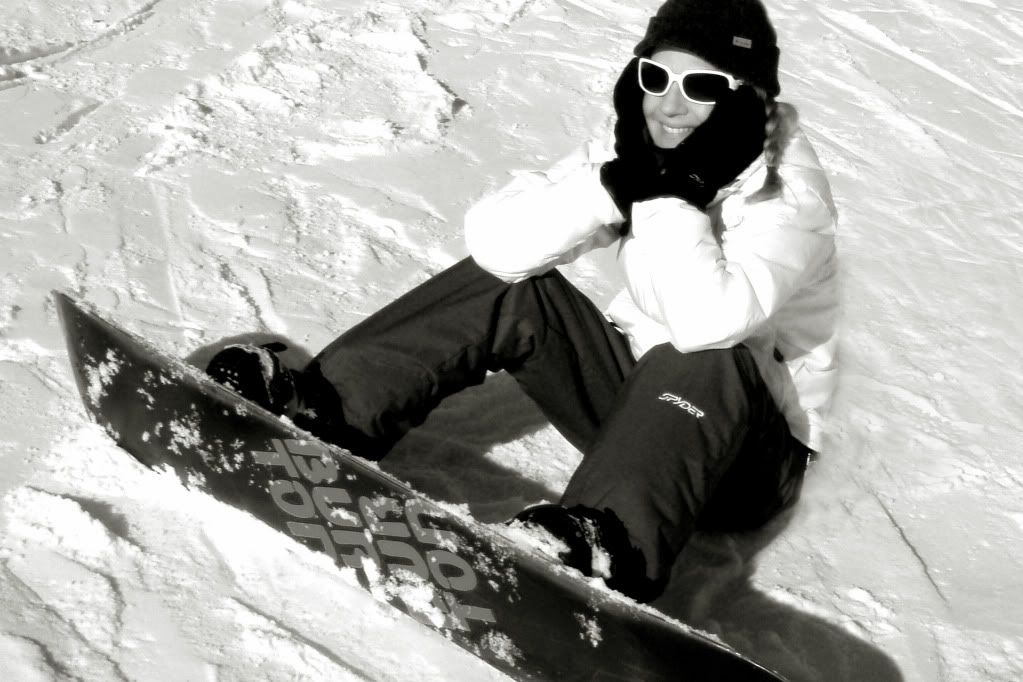 As I attempt to feel better I realize that life seems to come in waves, some large and some small, all differing in magnitude. Some are desired and others not so much, some producing rippling effects while others fizzle out and never produce anything of consequence. All that is required of us is to take the waves as they come and try to not get sucked down under the current. So, I'm trying to keep my head up and ride the waves of life as they come at me, trying to not fall off or be sucked under. Too bad there are not lessons offered for this sort of thing.