So, the dreaded office... home of papers from all facets of our lives- from mortgage papers to report cards to tax forms to photos to bills to medical forms... You name it. PAPER! One of my least favorite things on planet earth.
About a year ago I decided it was time to clean up my files, which hadn't really been done in a decade (Gulp). First things first, I am not a hoarder! (Just in case you were wondering.) However, I was scared to throw anything away that might be important. I had heard that certain bank statements and tax documents needed to be saved for at least 7 years or more. When was it safe to purge all this paper?
So, I did some research and was more than disappointed to find that there is no set guidelines for how long to keep papers or organize home files. There were some websites that offered a time frame, but no two websites were alike. The information was all very conflictual. I studied extensively for about a week everything online I could think to google, I asked a few friends, I spent some time in my local Staples, and then I took the plunge.
This may or may not be for you, but I thought I would share what took me weeks to figure out.
Are you ready? I'm about to divulge all of my secrets...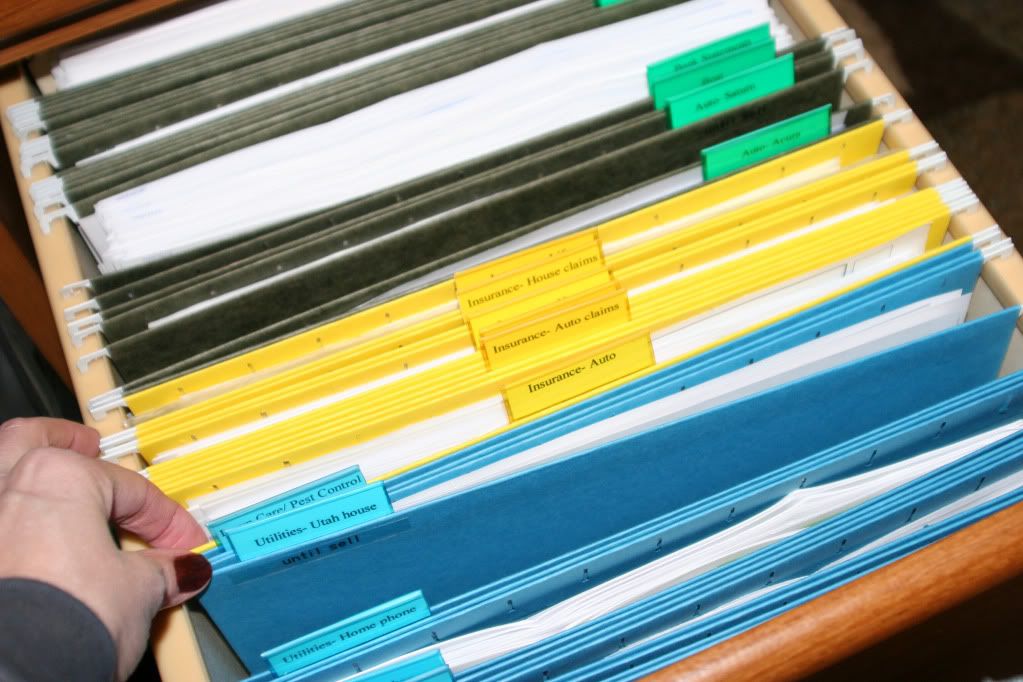 This system is color coded and does not use manilla folders (only hanging file folders), a more stream lined approach for easier visibility and access. I typed up labels, printed them on cardstock, and cut to fit. I'm sure there is easier labeling methods out there.
Each color represents a different category.
Blue= Utilites
Yellow= Insurance
Green= Financial
Purple= Medical
Maroon= Employment/School
Red= Taxes
Each category has subcategories and you have to customize it to your needs. This is what made sense to me in my head.
Utilities
Cable/Internet- 1 yr
Electric- 1 yr
Gas- 1yr
Trash/Water- 1 yr
Cell Phone-1 yr
Home Phone- 1 yr
Lawn Care/Pest Control- 1 yr
Insurance
Auto- until new ins
Auto Claims- until sell
Boat- until sell
House- until sell/new ins
House Claims- until sell
Life- until cancel
Financial
Acura- until sell
Saturn- until sell
Boat- until sell
Bank Statements (for every member with an account)- 3 yrs
Credit Cards*- 3 yrs
House*- until sell
Investments*- annual statements
*use separate files for each account
Medical
Family members (separate files for each)- indefinitely
Cigna EOBs- 1 yr
Dental- until new ins
Eye- 2 yrs
Flex Spending- 1 yr
Employment/School
List each member of the family that it applies to for each category.
I also added a file for resumes and job search.
Taxes
Individual files for each year- 7 yrs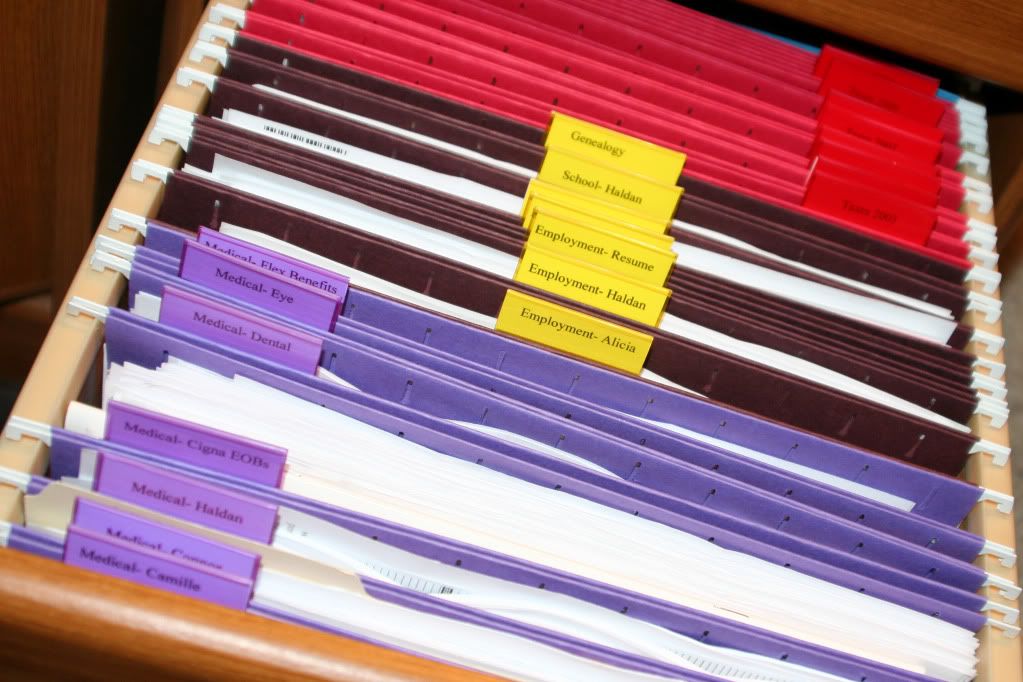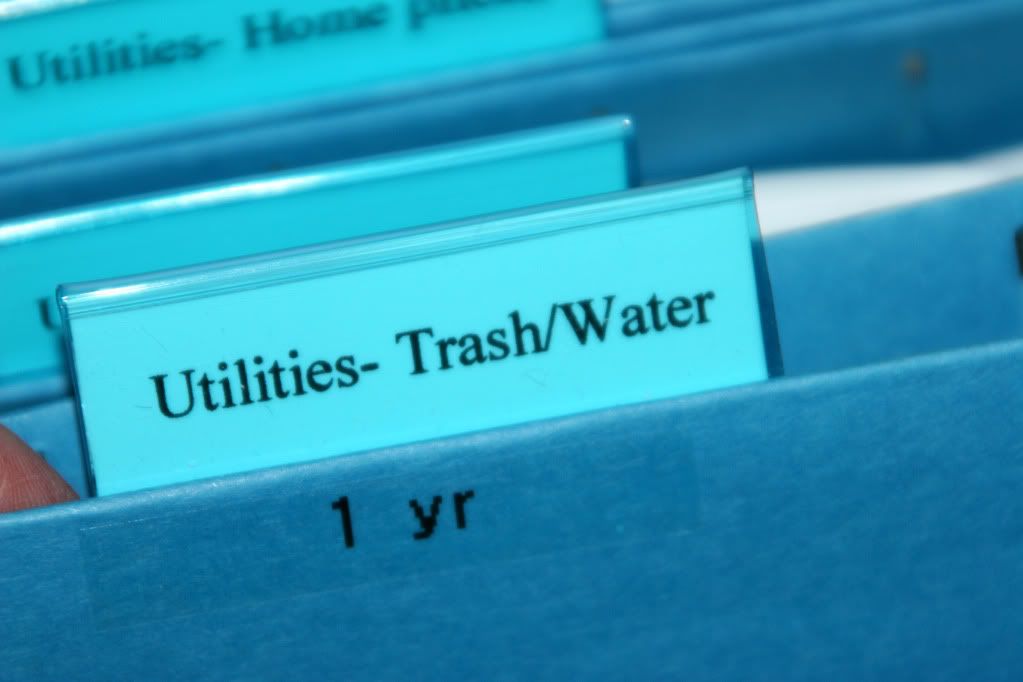 Every file also has an amount of time clearly printed on the front. Every year I go through and can purge as necessary. Keeps files more managable and easier to maintain. (I added them after the subcategories above.)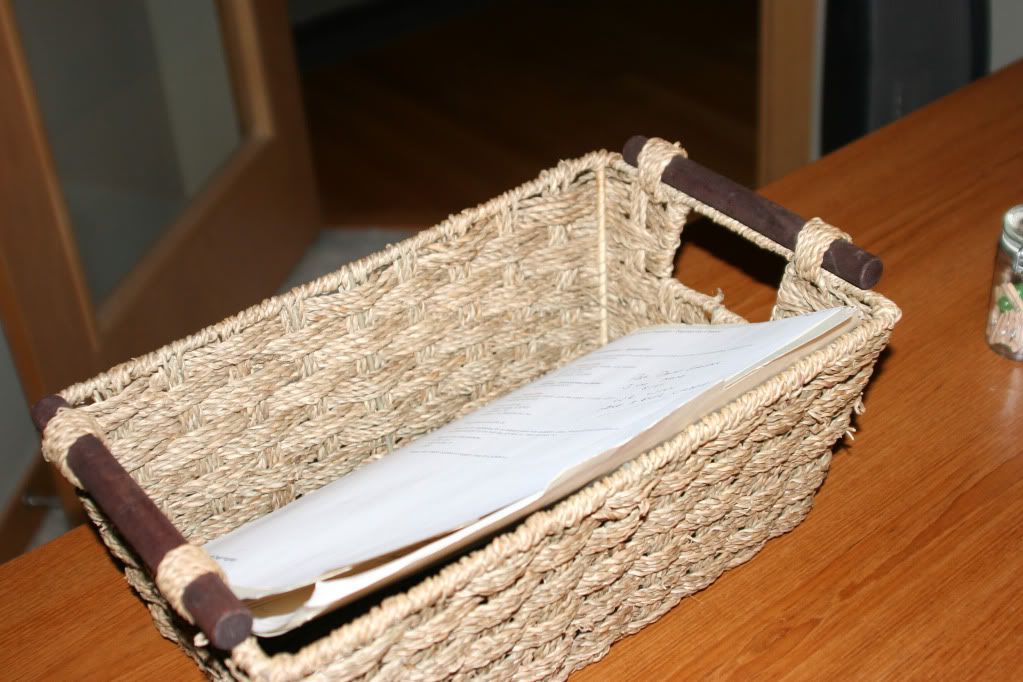 This little wicker jobby is where it all starts. Everything is funnelled here.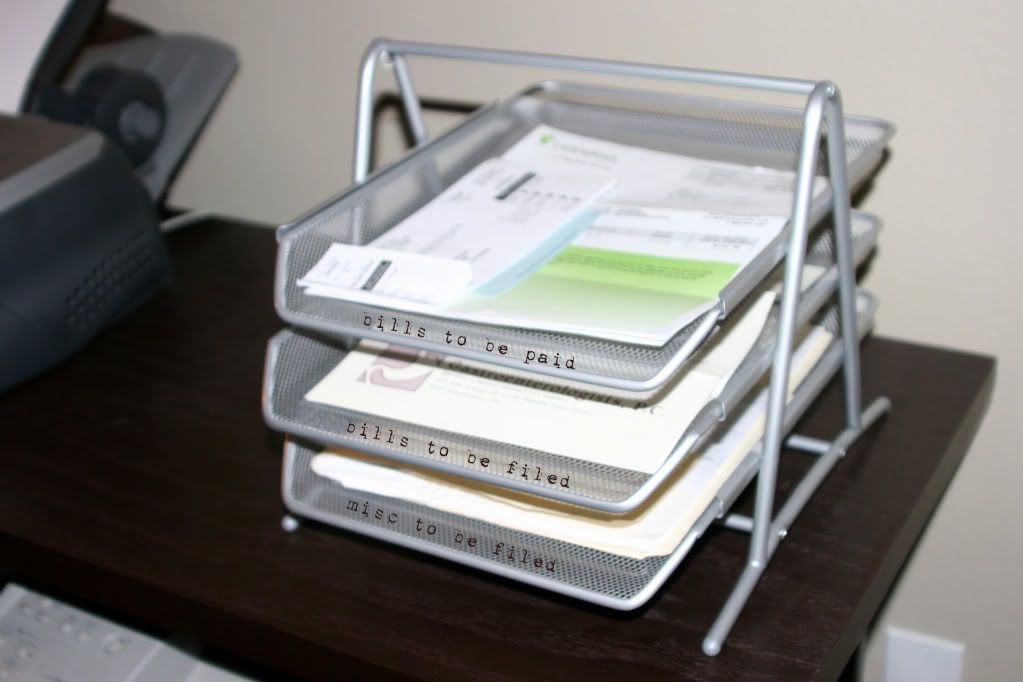 Then papers are filed according to what they are. Bills on top, misc papers to be filed on the bottom, and once bills are paid they go in the middle to be filed. This is usually cleaned up every couple weeks on bill paying days. However, I must admit I had gotten slightly behind. The filing system makes it easy to keep up though.
The hardest part is the purging. I invested in a good shredder, but the key is to stay on top of it. It seriously took me almost a week to shred 10 years of documents last year. And it sucked.
Receipts have a completely different system and it's not as efficient or user friendly. Still working on formulating a better plan.
School papers, report cards, and photos have their own organizing systems- for another day.
There ya have it... a slice of my brain laid out for all to see. Anal? Maybe a little, but it makes life easier and less chaotic. It also makes my office time much more enjoyable.