Every single day we take a breath we are one day older, I get it… but I don't have to like it.

My kids are growing by leaps and bounds. They have both shot up at least a foot in the last year. Nothing in their drawers seem to fit anymore and I have an empty wallet to prove it. They each have an entire new wardrobe and we had to get Pokey a new bike so her feet didn't drag. And although I'm happy they are growing in inches (especially Little Man- he had me worried there for a bit when his feet didn't grow for like 2 years), I'm having a really hard time as they take those giant independent strides forward.

One of their first words is mama. They cling to you like no one else. You can't get anything done to save your life. They want to be held 24-7. You leave their sight for a second and their whole world crumbles as they begin fits of screaming until they can be safely reunited with you again. I remember anxiously waiting for the age I could drop them at nursery; counting down the days to get a couple hour break only to realize that they weren't ready to part with me yet... They wake up and want to be with you. They love to snuggle. Your name is like a broken record. When they start school they want you there at every opportunity. You're cool and they're proud to show you off to their friends. They like you. (Read more here.)

Then one day everything changes. They dress themselves, they make their own breakfast, they walk themselves to school, public displays of affection are off limits, and it appears you have been traded in for snotty nosed little brats who are more cool.

This week I have observed milestones in my children's lives. Not the life altering kind, but rather the kind that make them need you less. I find myself tightening my grip just as they are loosening theirs; a last-ditch effort to hold onto what once was.

Thursday marked one of those said milestones. I had to take a shower for work and it was day one for me, as in wash hair, shave, exfoliate, and lotion day. I lost track of the time and when I opened the door I realized it was nine o'clock and Pokey needed to be at school in 5 minutes. Little Man was already at school for intramurals. In a panicked state I yelled Pokey's name only to realize she was nowhere to be found. After searching the house over I realized she must have already left. She does read time and has walked herself to school before, she just hadn't told me she was leaving. I assumed that must have been what happened and felt a twinge of concern mixed with a little guilt, so I decided that I would stop by the school just to make sure she made it ok. I was finishing up a few things around the house when I found this…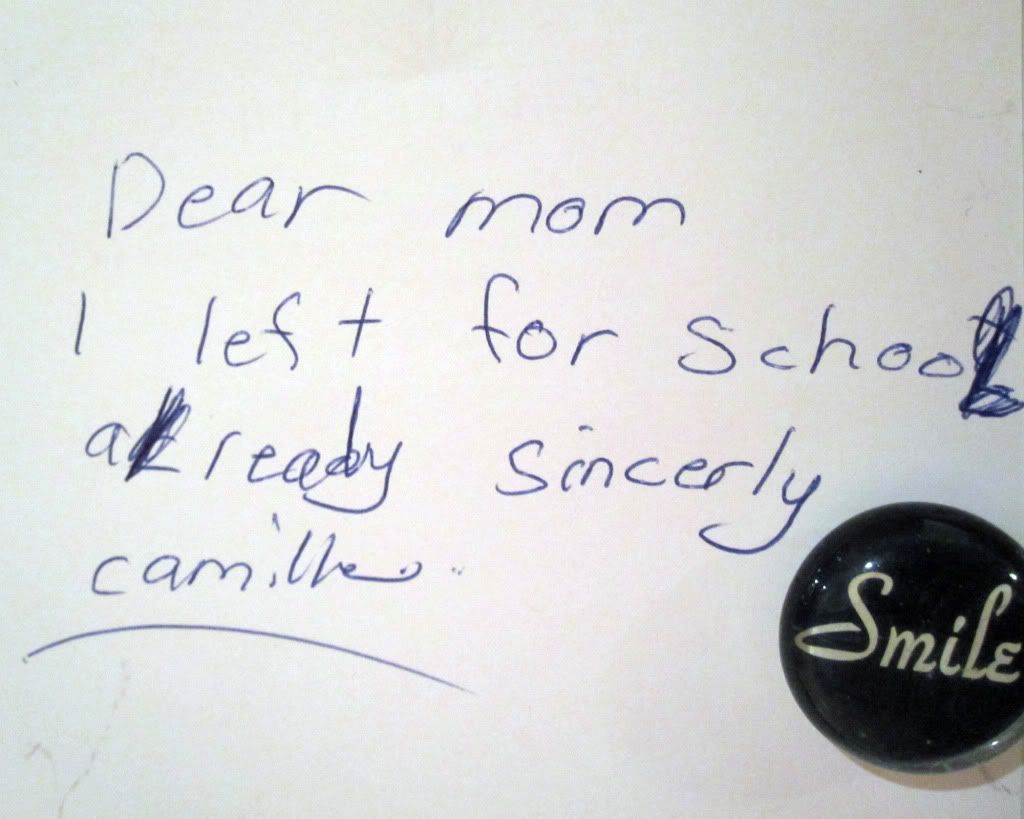 I got a lump in my throat and tears started welling up instantly. It was all I could do to not cry. Call me what you will- that is not just any note, not to me. That note marks a pivotal turning point in my daughter's life… the day she suddenly realized that she was a big girl. AND SHE LEFT ME A NOTE! How responsible is that? She didn't really need me- and all because I needed to shave my legs. I suppose it is an inevitability, but I would have preferred to hold off on that one a while longer. I went to the school anyhow, you know- just to make sure. She was mortified that I was there and even more so that I wanted a hug. I got the head flip, eye rolling, "MOM!" (As in, you-are-so-not-cool.)

Man, I miss my babies. Those sweet little kissable, lovable pockets of chubs nestled up with you for hours on end… back in the day when I could do no wrong and I was their entire world.

*Sigh*

Motherhood: That feeling of tingly warmness after 10 months and 25 hours of pain blood and suffering.
This definition makes me chuckle just a little (love urban dictionary), mostly because it is oh so true (particularly with the first one). It also serves as a reminder of the road I have traveled.

Motherhood is really the epitome of the agony and the ecstasy. There is nothing more difficult or more rewarding that you will ever experience in this life.

There is no other job on this earth that teaches humility, long suffering, patience, self-control, perseverance, charity, and unconditional love quite like the job of mother.

Some of our weekly highlights include:

The kids riding their bikes to school for the first time.

t
Pokey advancing to basic 3 ice skating.



Little Man scoring some goals, showing us his fancy footwork, assertiveness, and love of the game. (He's still got it.)

Pokey shedding her baby teeth for her new found bugs bunny grin. (Check out that diastema- can you say BRACES?)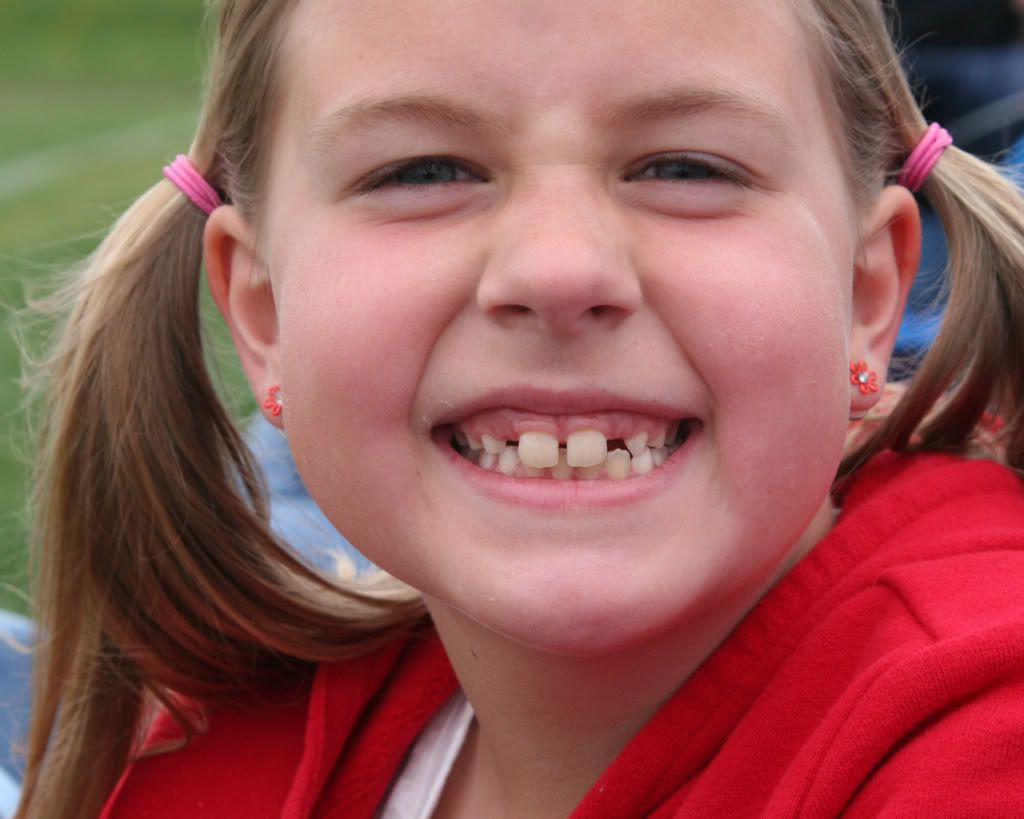 Pokey declaring her new fashion sense. (Yikes! Note to self: pick your battles wisely.)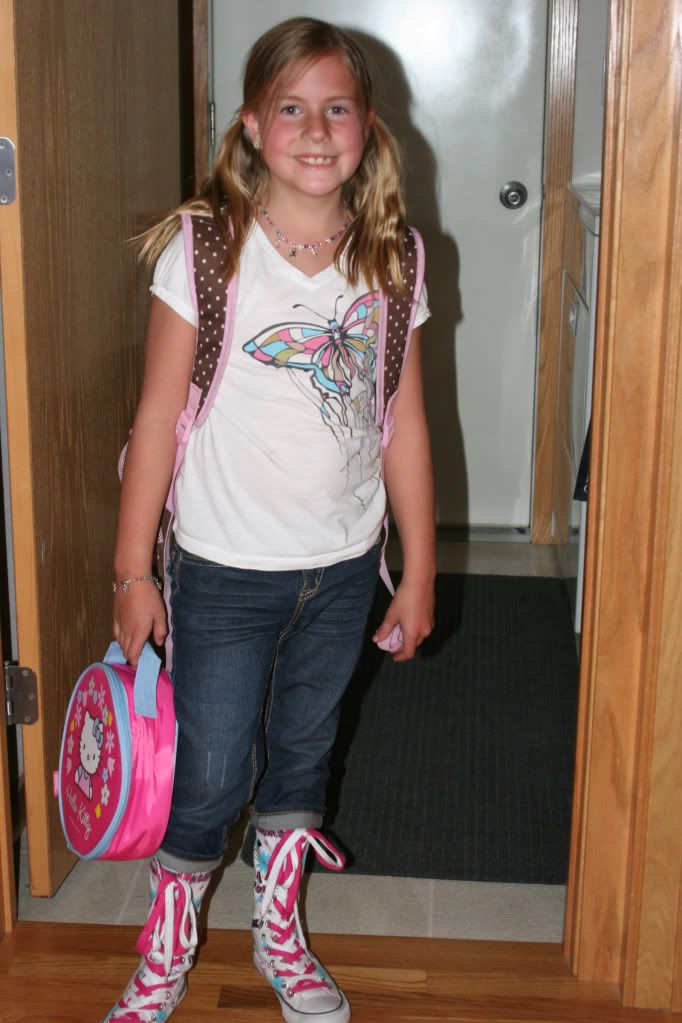 Scoring some rare cuddle time thanks to some fruity mentos.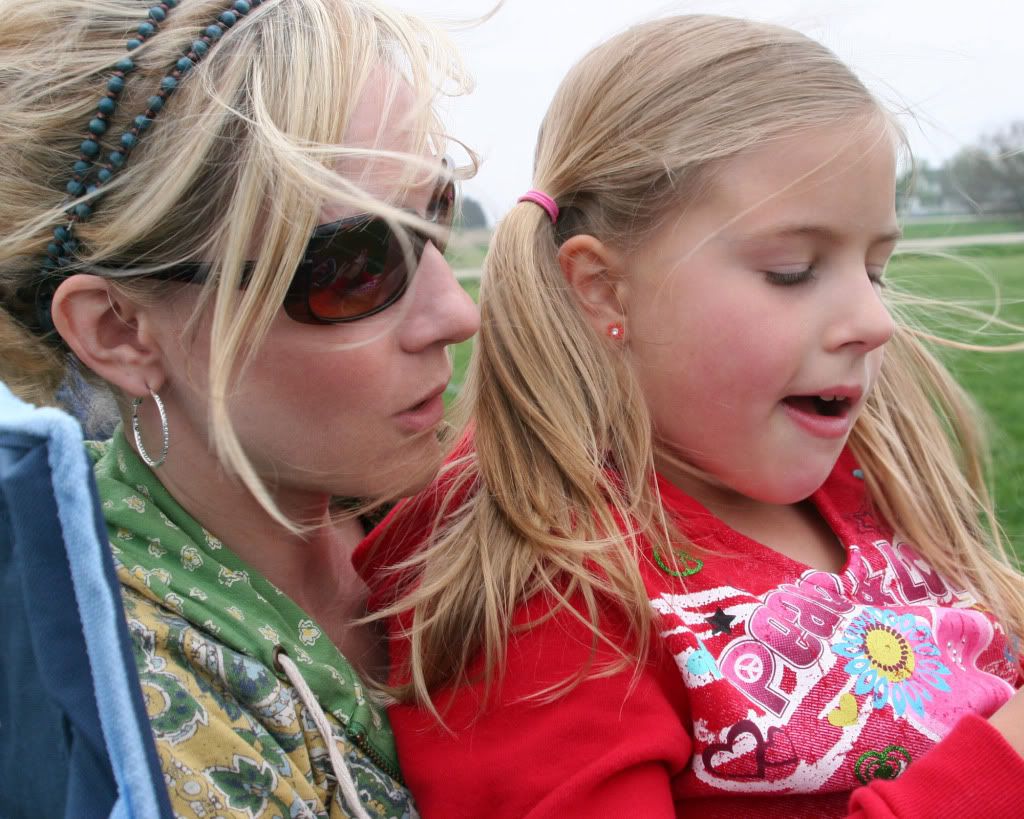 And Little Man doing his first load of laundry this week. Then blurting, "Hey mom, did you know that coral spawn and are territorial and will eat each other?"

Wow. The answer, of course, was "no". They never cease to amaze me!

They are growing up way too fast and as hard as I try I can't seem to slow it down.

My children may not need me quite as much as they once did and I may not be the center of their universe like I once was, but I am still their mother. And although my role seems to be dissolving before my eyes, I will continue to forge forward as they assert their independence and transition into the next phase of their life… the hormonal prebuscent years. Bring it on!!