Not just cleaning or decluttering, but trip to the dump, can't see out the back window PURGING going on around here.
If you need to have more energy or wanna feel lighter or just be able to breathe deeper, set aside one day to PURGE! Really Purge.
Spouse and I delve into the unfinished portion of the basement today, aka the kid's playroom. Or so that's what it used to be. It had become a dumping ground of sorts for all the misfits and the outdated things that didn't seem to belong anywhere else in our home.
And one of the many items that made its way in the car on that bumpy ride to the dump was our 19 inch television that was a wedding gift from 1992. It is THE LAST item that we own from those first days together. It has seen better days. Its knobs are worn away and the buttons are stuck in "on" mode. It dates long pre-digital days and it's had more universal remotes than I can count. The original one died prematurely. It has a burn mark on its right side from getting overheated in the moving truck to SC. It has been through 5 moves, 2 children, umpteen cable companies, and almost 18 years of marriage.
As Spouse lugged it over his shoulder and was about to throw it into that giant dumpster I found myself feeling emotional.
"Pull it together girl. You don't get attached to STUFF."
But despite what that inner voice tried to tell me my emotions won.
I peered over the side of that giant dumpster to give it another peek. There she lied at the very bottom of that dumpster. You've served us well old girl. I pulled out my camera to snap one last photo.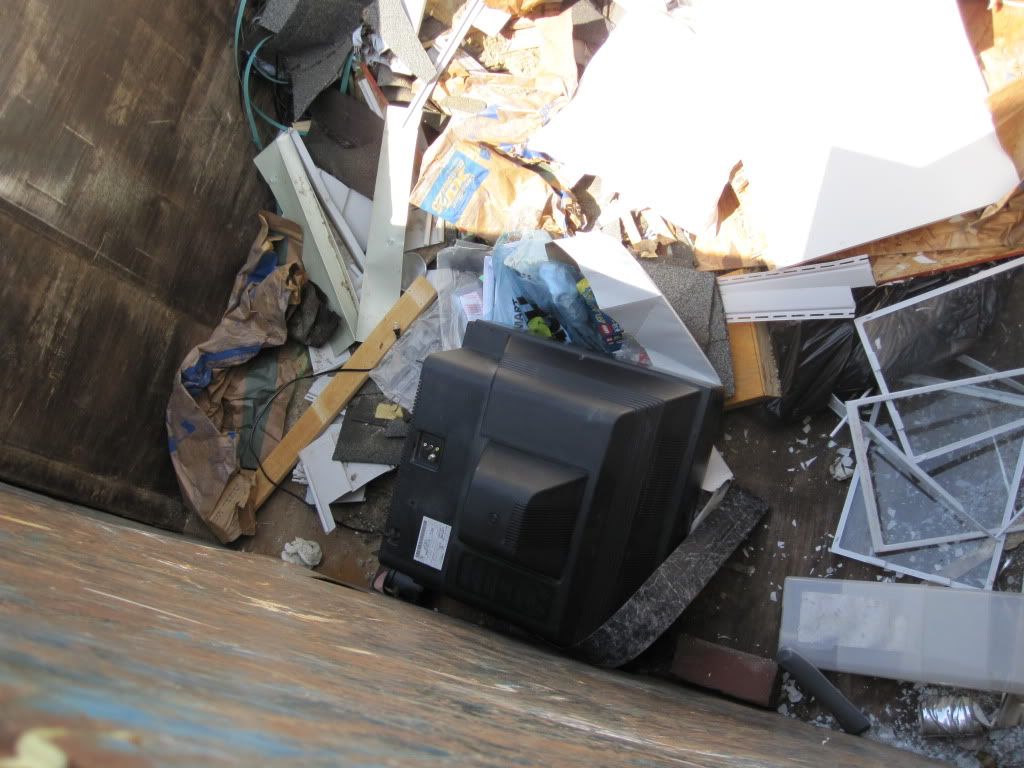 I reminded spouse that it was the last "thing" that we still had from our first days together.
But he corrected me.
"We still have each other."
What could I say? He was right.
When it comes down to it televisions are just THINGS. Material possessions that we will not be taking with us when our days here end.
What really matters are our relationships with those whom we love. And the kind of person we are.
So, although it may be good-bye to our old television today, it is a hello kind of wake-up call to me. She may be gone physically, but our TV's mission is not complete. It serves as a reminder of what is truly important in this life. It serves as a sweet reminder of priorities and enduring relationships.
And each time I look at the empty spot where she once sat I will smile. Good-bye old friend.