Sorry this post is coming so late. My day got away from me... Maybe you can try it tomorrow or next week. Or doggy ear it for a day when you are out of ideas. Thought these were great springy recipes.
Before I proceed, I want to make a few things very clear- especially for those of you who may just be joining me or have not seen my recipes before.
Ahem (Clearing throat...)
1. I do not profess to be a gourmet chef of any kind. Nor do I want to be. Period.
2. I try to spend as little time in the kitchen as humanly possible.
3. All recipes I post are tried and true.
4. I am on a mission to find as many easy, yummy, kid friendly recipes as humanly possible.
5. All recipe cards are formatted as a 4x6 card for you to save and print 'cause I'm nice that way.
(I enlarged it here for viewing. Let me know if there is a problem printing it as a 4x6 card.)
6. I'm not a fan of frilly frou-frou anything, especially recipe cards. I'm all about LESS is MORE. It's my prerogative.

7. I may miss a Tuesday every now and again when life happens or I'm feeling uninspired. Don't judge.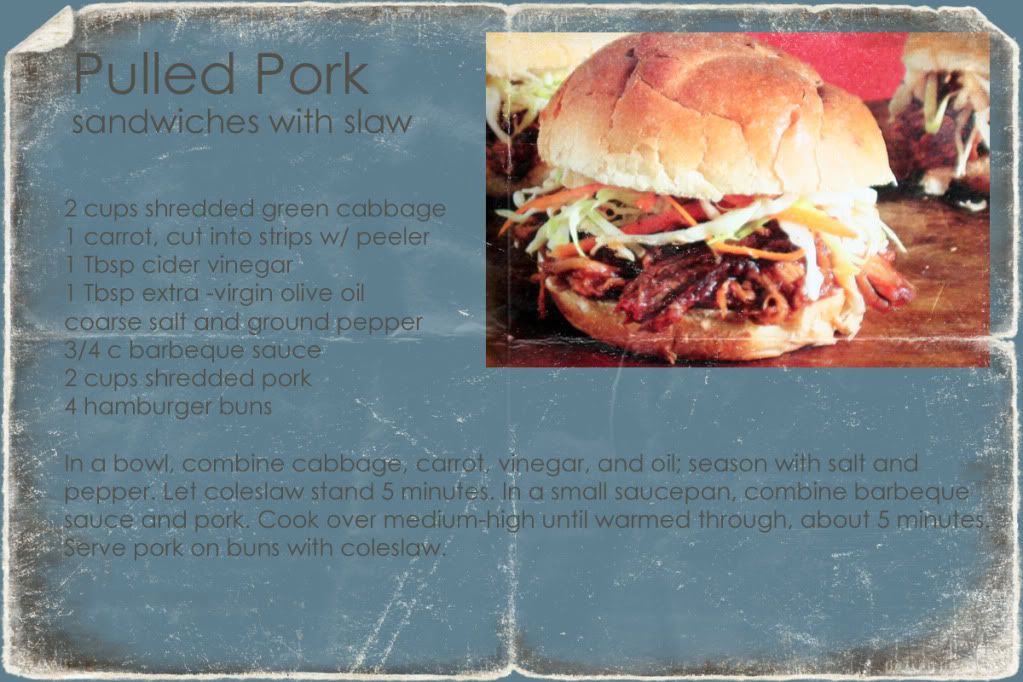 This one is a family favorite. The coleslaw idea comes from Martha's April Everyday Food issue. I must confess, the kids don't like that part. But great for a little variation. If you are a vegetarian this may not be for you. I cook the pork roast in the crockpot on low all day, then shred. YUM.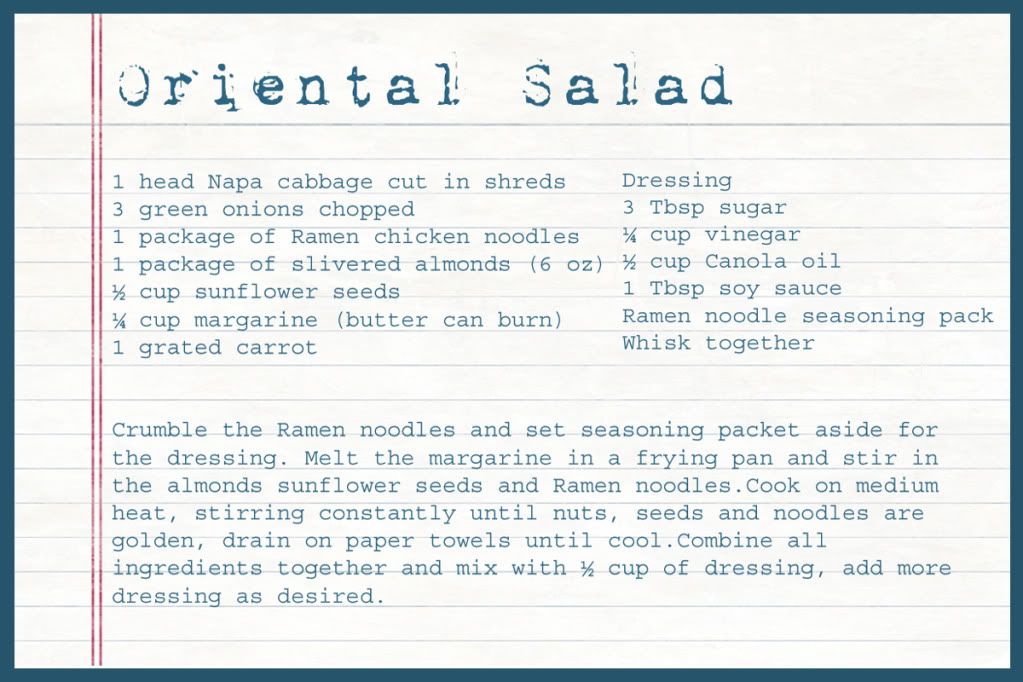 This salad is my latest favorite. It comes from the kitchen of my friend, Vicki Garbett, our local Martha Stewart extraordinaire. This was one of the salads she made for a bridal shower she recently hosted, which was also fabulous btw. It's not totally unhealthy. Plus it has ramen noodles. Who doesn't like those? Winner.
So, there ya have it, my own take on Tasty Tuesdays. What are you having for dinner? Feel free to share recipes that you think are easy and/or kid friendly. I'd love to expand my repertoire, for lack of a better word.
You can find some of my previous recipe cards
here
.