So, the infamous Flat Stanley stopped in for a visit to our neck of the woods. I love my niece and would do almost anything for her, but UGH. What timing.

So, I think this is like the 4th time we've had a visit from good old Stanley. And I feel a need to let the world know that IOWA, heartland of America, might not be the best place to drop in for a visit, particularly if you are "Flat Stanley".

1. There are no famous people or places to see. And no postcards to go home with.

2. It is just as windy, if not windier than Chicago, and there's great risk of being blown away.

3. You might be eaten by a bear.

4. And when boredom sets in there is no telling what may happen. (No one was injured during this stunt, including Stanley, and I would not recommend trying it without adult supervision.)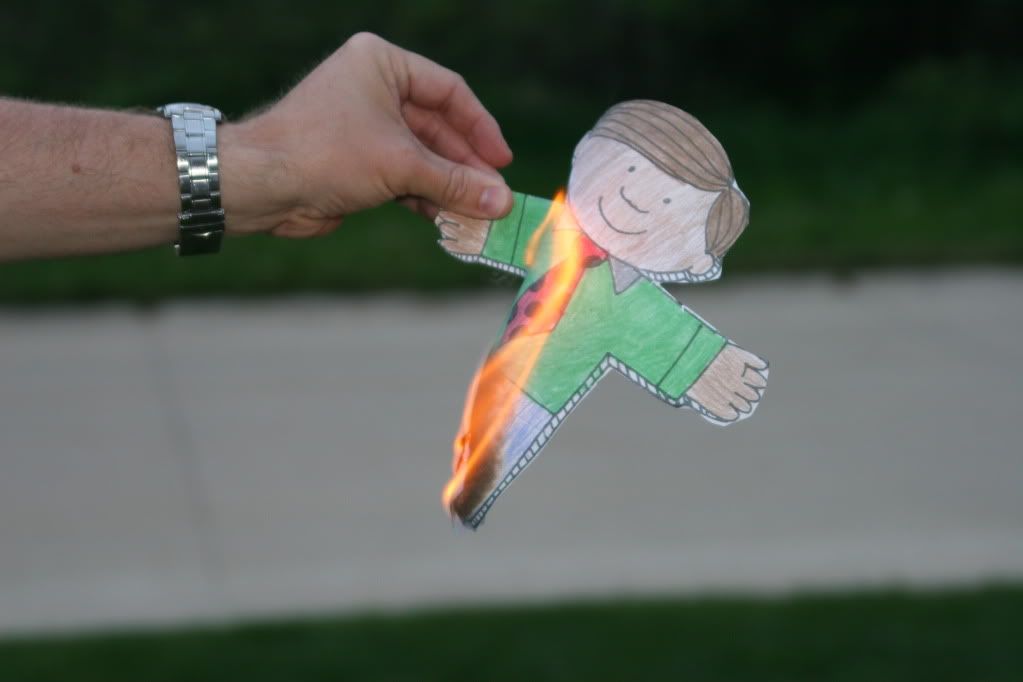 When Flat Stanley's life was not in jeopardy we did have some fun.
Highlights include:
Watching Little Man's guitar concert
Attending a soccer game with 30 mi/hr wind gusts
Stopping by a cornfield & windmill
Delivering May Baskets
Riding in the car
Meeting John Wayne
Being saved from the fangs of a bear
Riding bob the builder ride and a carousel
Riding an escalator
Meeting Herky the Hawkeye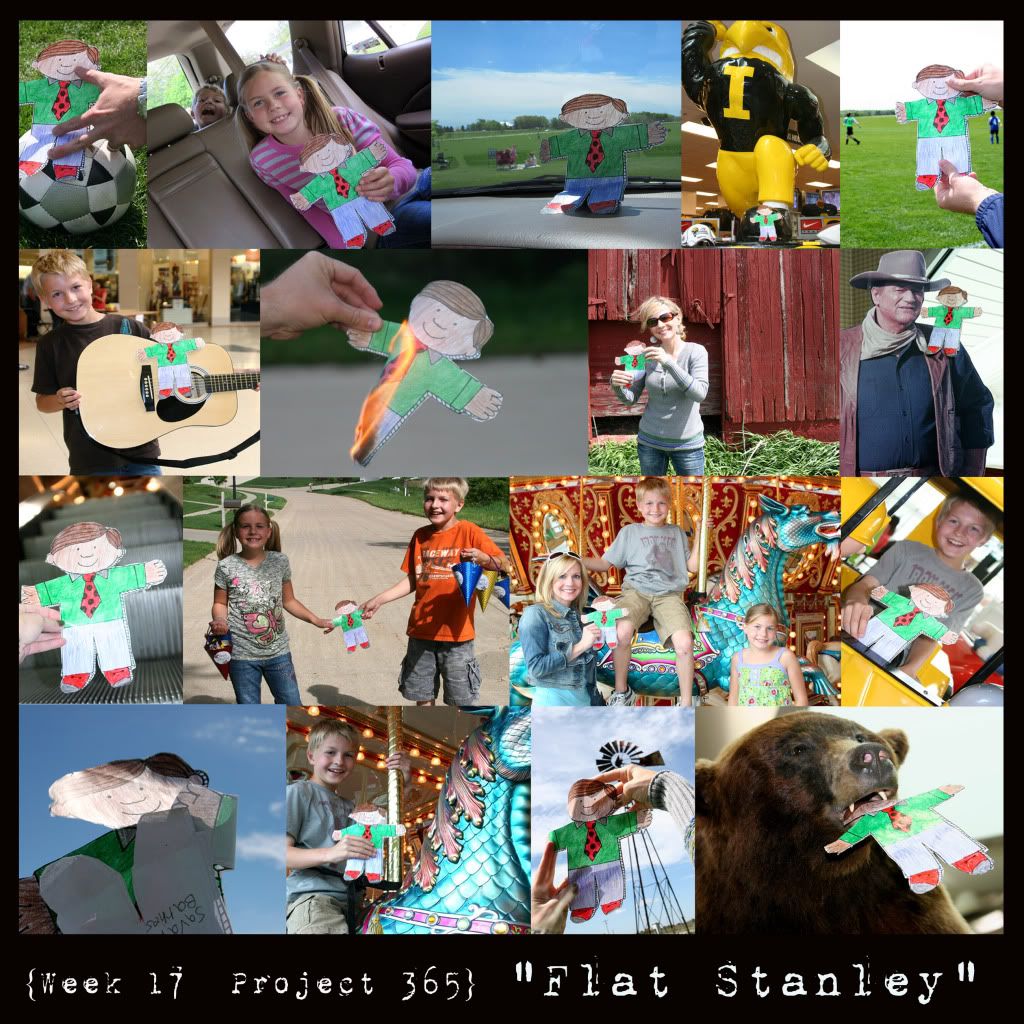 If you have never been privy to a visit from Flat Stanley, I'll share a brief synopsis of how he came to be.

In 1964 a man by the name of Jeff Brown wrote a book featuring Stanley Lambchop. After an incident where a bulletin board fell on him he became completely flat and so began the adventures of Flat Stanley.

In 1995 a 3rd grade school teacher in Canada came up with the bright idea of the Flat Stanley project, where children could send Stanley different places and write of his experiences.

In 2005, more than 6,000 classes from 47 countries took part in the Flat Stanley Project.

The project was featured in a 2004 episode of the animated TV series King of the Hill, in which Nancy Gribble received a Flat Stanley doll in the mail, which Peggy Hill and Luanne Platter photographed in a number of dangerous situations, resulting in the school's Flat Stanley Project being cancelled. (Read more here.)
(Note to self: Must find that King of the Hill episode.)
It is a crazy phenomenon that made for a crazy weekend here. My family kept accusing me of liking him, when in fact I was merely the only one not plotting his demise. There was lots of grumbling and I found myself cursing that 3rd grade teacher on occasion.
When I googled Flat Stanley I found this photo- too funny. So, I guess Stanley gets around.

FYI: The original Flat stanley is safe and sound. We only set fire to a duplicate we made for fun.
I'm happy to report that we did it. (Sigh.) And now Stanley will be returned to his home in Florida.