I have recently had many comments and emails regarding my last remark on my Friday Flip-Offs concerning my blog.
No, I am not quitting my blog.
When I said "your days are over" (in reference to my blog) I actually MEANT your time sucking, frustrating, making me fat and lazy days are over... just to be clear.
Remember these guys? (See photo below.) I am a mom first and foremost. You might think that having just 2 kids ages 8 and 10 would be a breeze, but I honestly believe that some kids equate to 3 or 4 based on their personalities alone... I love mine to pieces but they can sure be a handful sometimes.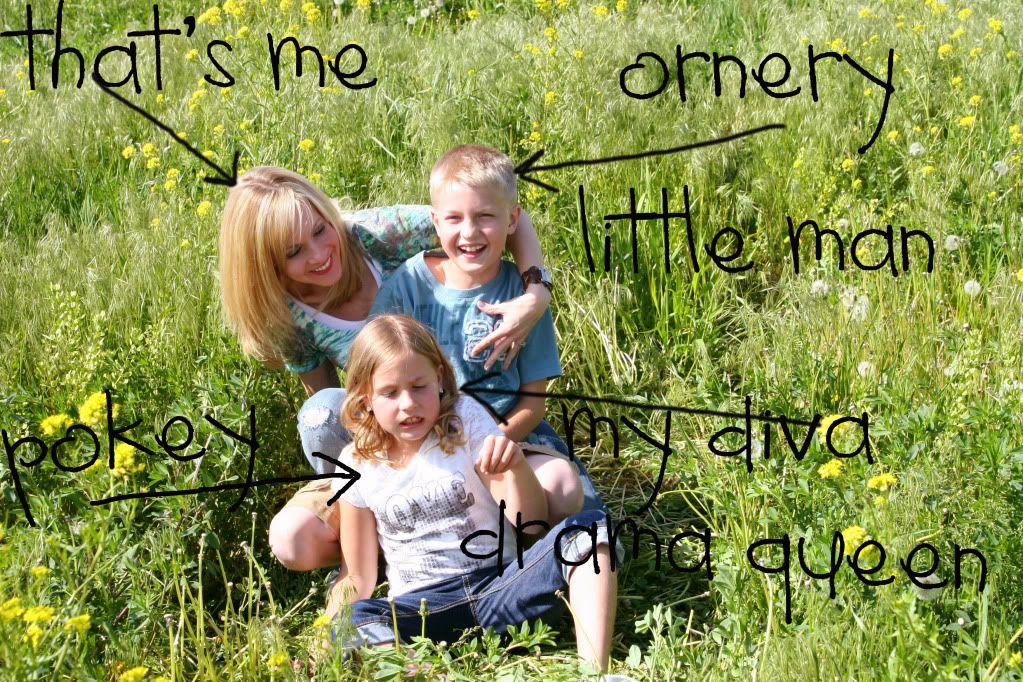 I'm trying to find a happy, healthy balance so that there are clean socks and happy kiddos and spouse. I guess I'm trying to keep my priorities in check. It's a tricky balancing act and I welcome advice and suggestions.
In other news:

Little Man's Soccer Playoffs
Little Man's team won their first two games of the playoffs today and will go on to play two more games tomorrow. Little Man scored 4 goals in the first game, 5-1. One was a left footed nutmeg, whatever the heck that is. He scored 2 goals and 1 assist in the second game, 5-3.
The weather was yucky for the first game. I decided I just needed to chant "I like watching soccer in the rain." My friend Mis told me it would make a great mantra. And miraculousy the same exact second the whistle was blown to end the game the sun decided to show her lovely face. The second game was MUGGY (ugh), windy, and a little dark, but the rain held off for the most part.
South Dakota Adventures

In case you hadn't figured it out yet, our spontaneous drive took us to South Dakota. Our trip was amazing and too fast. 1400.8 miles for a 3 day trip. Some may say we're nuts, I like to think we are adventurous. And why not? I just sorted through the 741 photos and there are a few keepers, which will be posted soon. And yes, I am a photo junkie and need help.
Utah Short Sale

We have a new offer on our house. Hallelujah! Please keep your fingers crossed that this short sale actually works out and these people stick around this time. I won't disclose the amount. It is sickening. I would really like to put this nightmare to bed, once and for all.
School
Yes, the kids are STILL in school. These stinkin snow days are for the birds. They have lots of scheduled movie days next week. It will finally end June 10th. Do you remember when there were 3 full months of summer? I miss those days.
New Blog:
Kids Click

Notice the new green badge on my sidebar. Simoney from
Great Fun For Kids
has asked me to help as a contributor for this cool kid's blog. She is a fun mom from New Zealand. There are weekly photo challenges. If you have kids that like to take photos the theme this week is YUCK. Little Man just sent in a photo of a moldy strawberry. Go to
Kids Click
to find our more and join in the fun. Or click on the badge. This week's theme ends Tuesday.
Life is so busy. I swear time is speeding up as we speak. What have you been up to?