This is my Tasty Tuesday's bloghop. Bring a family favorite over, grab my button to the right, and link up!
Today I thought I'd do a yummy for the 4th. We made these last year. They are inspired from none other than martha. And as much as she bugs, I have to admit she has some great ideas.
I'm a funny little thing. I hate cooking, but LOVE creating beautiful looking food. I guess you could say that baking is more my forte.
You can see some of my other holiday cupcakes
here
.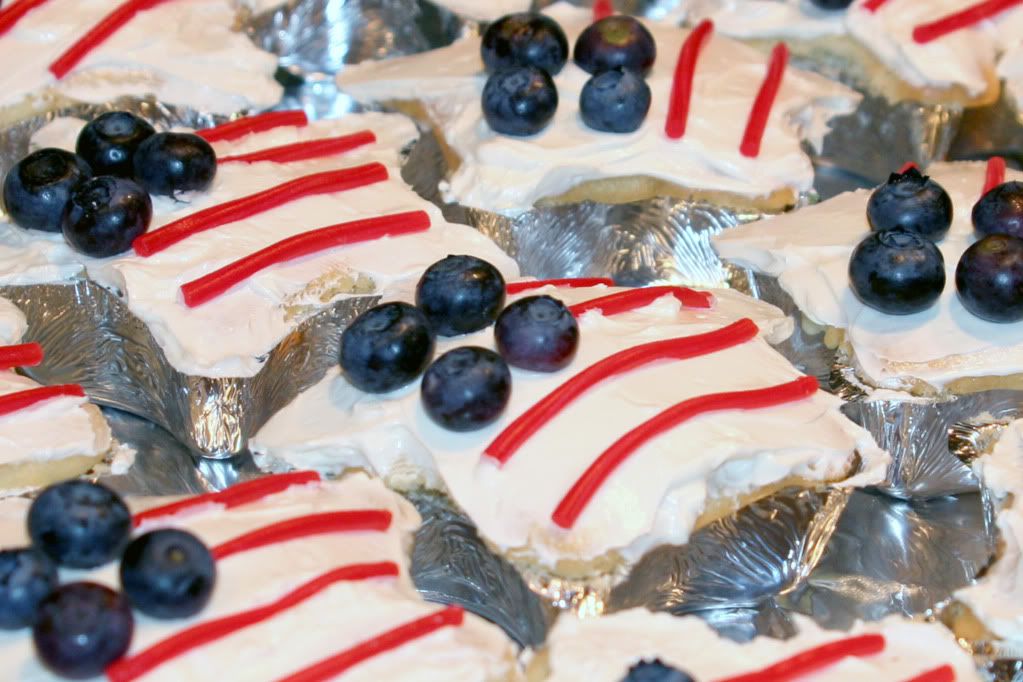 I thought it'd be fun to share these in honor of the upcoming holiday. I love me some cupcakes! Nothing too difficult with this one. Just a white box mix for the cake. (But for you more seasoned bakers out there feel free to go all out and whip up one of your favorite homemade versions.) I used a buttercream frosting. You can find a printable recipe
here
. (See below) Find some pull & peel red licorice and blueberries and you have yourself a tasty 4th of July treat. I found some cute star shaped muffin tins that were a fun added touch, but definitely not required. YUM!
VANILLA BUTTERCREAM FROSTING
1 package powdered sugar (16 ounces)
1/2 cup butter, softened (1 stick)
3 tablespoons milk
2 teaspoons vanilla
Beat sugar, butter, milk and vanilla with electric mixer at low speed until well blended and smooth. If frosting becomes too thick, beat in additional milk by teaspoonfuls until the frosting is of spreading consistency. (Makes about 2 1/2 cups frosting.)
Ok, now it's your turn to share. Just link up below. And Happy Tuesday, Y'all!