This is my Tasty Tuesdays. A place to share my favorite family recipes. I'd love for you to play along. Grab the picture and link up. We could use a little diversity over here in Alicia land.
Do you have certain recipes that you only have certain times of the year? Well, I do.
For some reason we only have our salmon nicoise in the summer. It could be great year round, but it's light and screams summer to me.
So, I'm repurposing an old one for ya to grab today.
This is my family's infamous Salmon Nicoise Salad. YUMMO! And healthy to boot.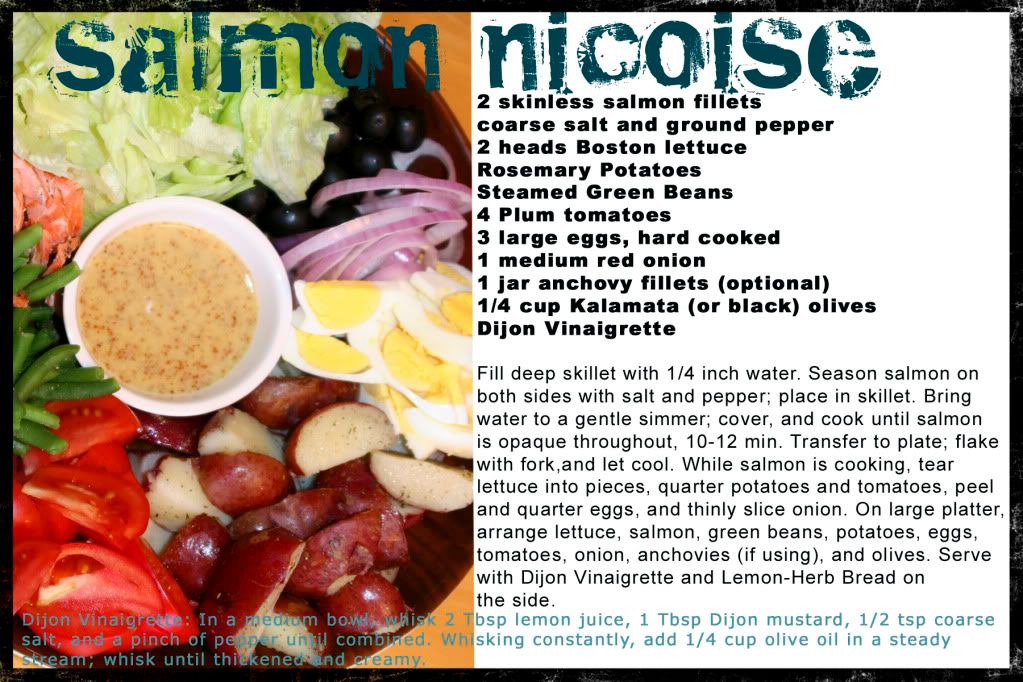 It comes from the Martha Stewart "Everyday Food" magazine. It's a little more than 30 minutes prep time due to all the ingredients, but most of it could be done ahead of time. Right click and save it, then print it on cardstock in 4x6 format. Enjoy.
And in case you forgot how it works around here or are new to my neck of the blogosphere, let me explain
my
Tasty Tuesdays:
1. I do not profess to be a gourmet chef of any kind. Nor do I want to be. Period.
2. I try to spend as little time in the kitchen as possible. Unless Family Feud is on.
3. All recipes I post are tried and true.
4. I am on a mission to find as many easy, yummy, kid friendly recipes as humanly possible. (But a few grown up ones are nice too.)
5. All recipe cards are formatted as a 4x6 card for you to save and print 'cause I'm nice that way.
(I enlarged it here for viewing. Let me know if there is a problem printing it as a 4x6 card.)
You are welcome to join in. And there are
NO RULES for you
. Link up with whatever recipe you like, from something basic like my
smoothies
to something like
Trader Joe's Chicken a la Miel Abielle
. Recipe cards are not required.
Anything goes. Anything that strikes your fancy. Tell us what you're cookin up. Link up below.