Be forewarned
: This is a little lengthier than anticipated. It is chock-full of crappy point and shoot photos that hubs was kind enough to capture, mostly while in motion himself. Crappy or not they tell the story way better than I ever could. It was one CRAZY day! If ya don't believe me, keep reading. These are some of the lessons I took home with me from our outing to the amusement park.
1. Make sure to get a great family shot at the start of your day. (You might not have another opportunity.)
2. Rides with the kids bring out their true personalities. (Notice how stiff Little Man is.)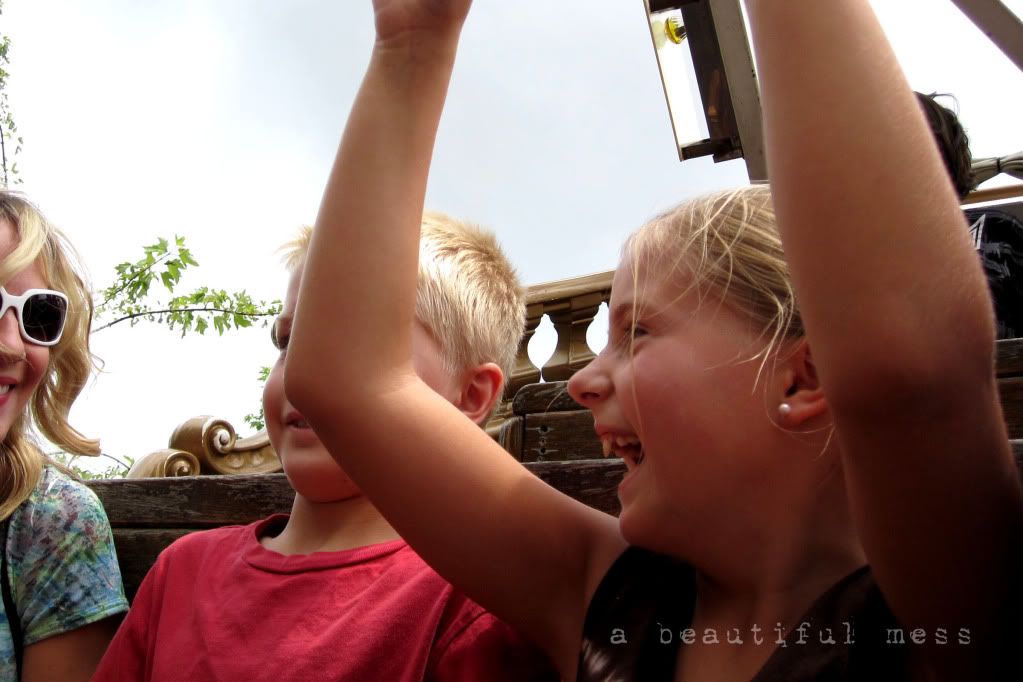 3. Never do the silly silo by yourself. You'll be the only sicko for a while.
4. Bonding moments come when you least expect them. Make sure to not be on the sidelines.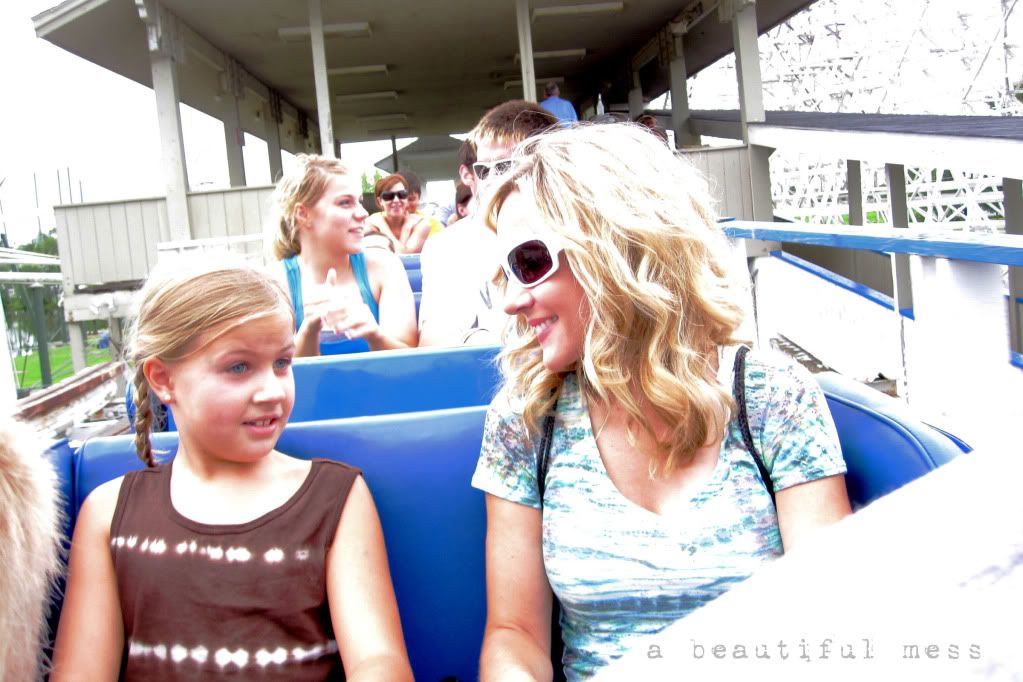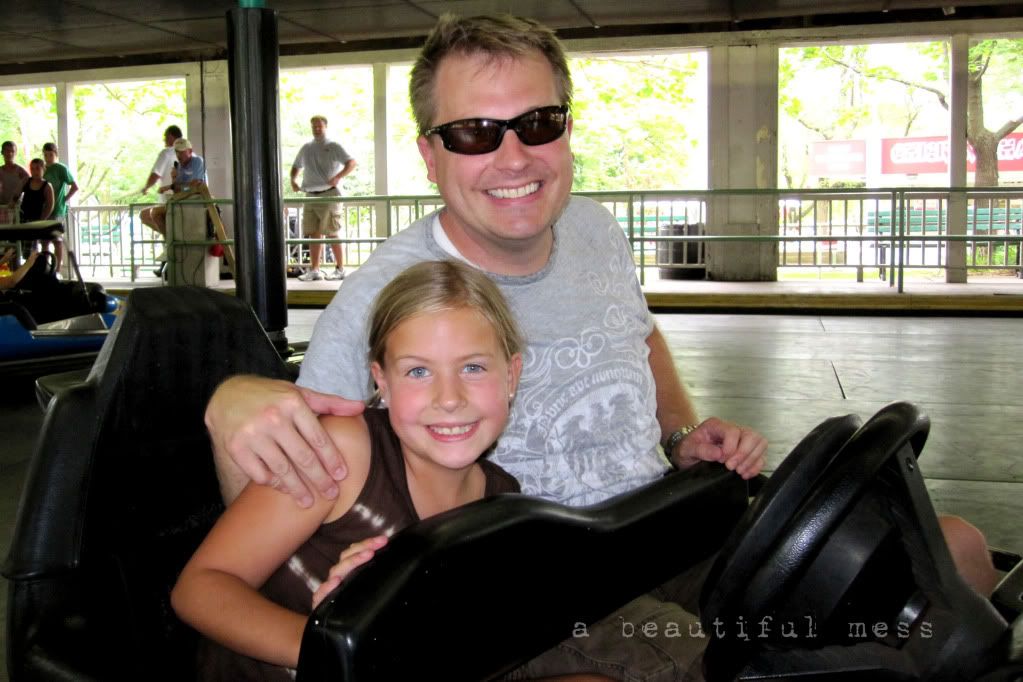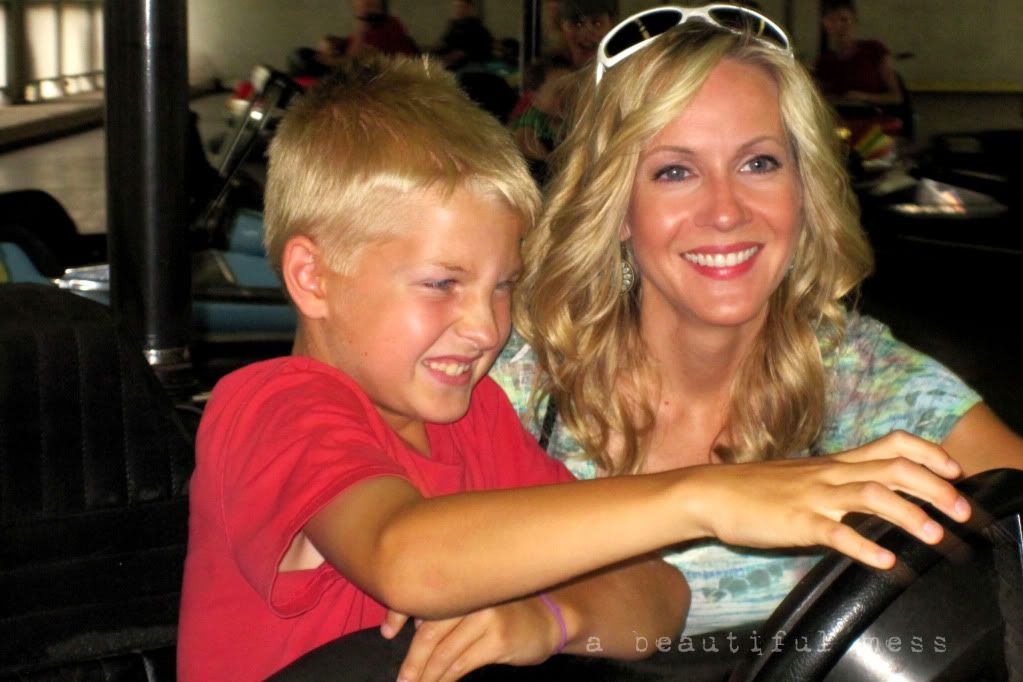 5. There's a chance your glasses may fly off even when hubs assures you they won't. You'd better hold on if ya wanna keep em!
6. Ski lifts prepare children for the sky ride.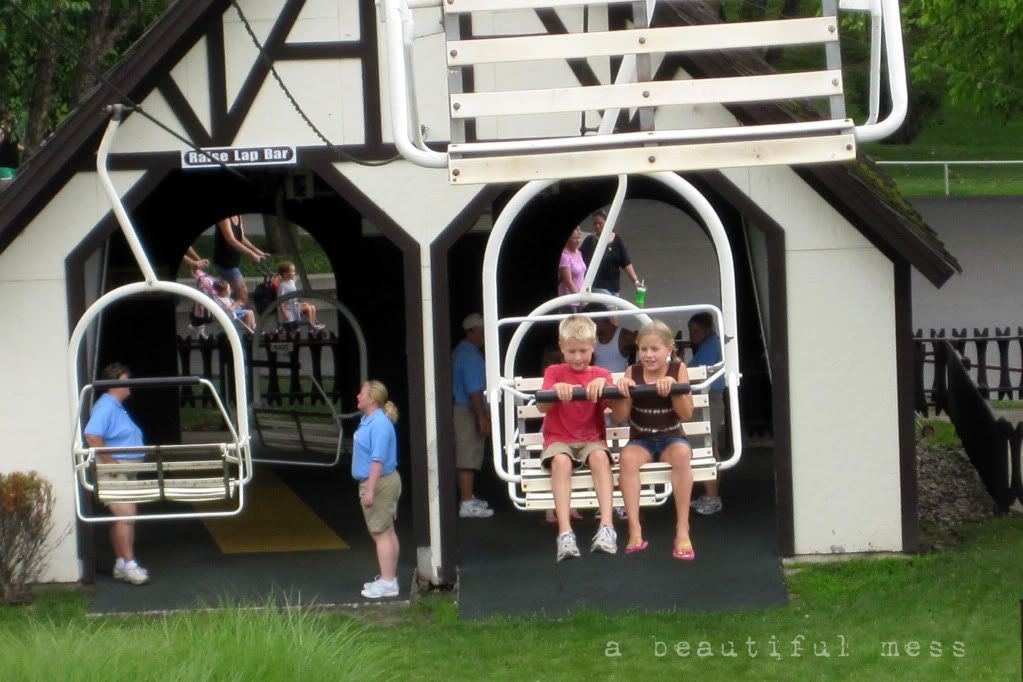 7. Always carry an umbrella even when hubs is against it, especially if it is lightweight and doesn't take up much space. It might just come in handy.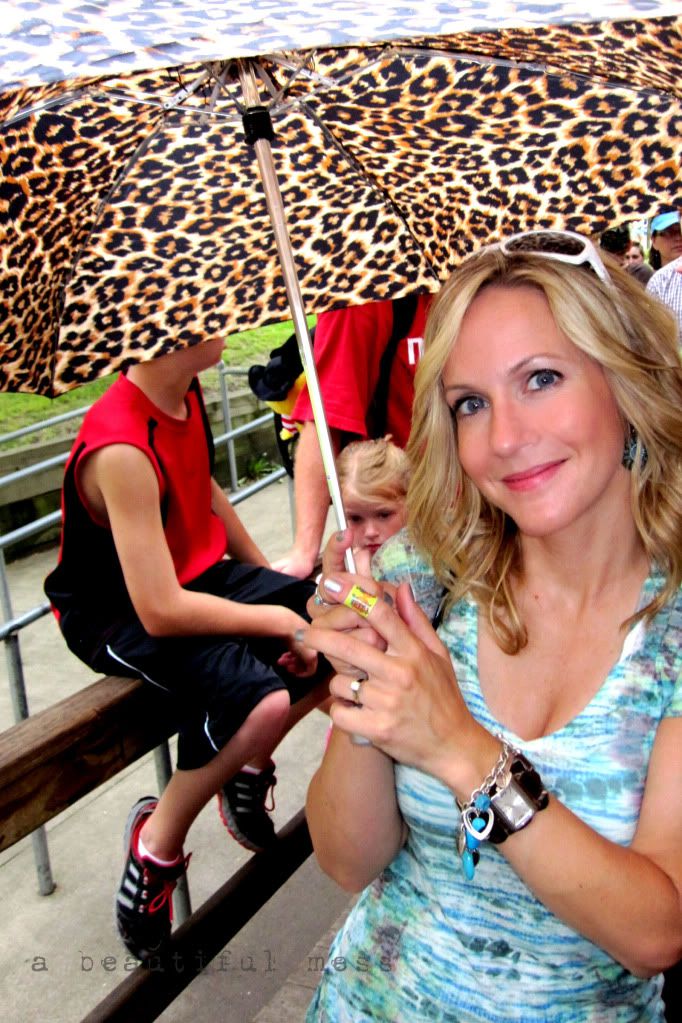 8. Don't ride any rides while it's raining. It might just start pouring and you may get drenched. And then get an ear infection from water in your ear.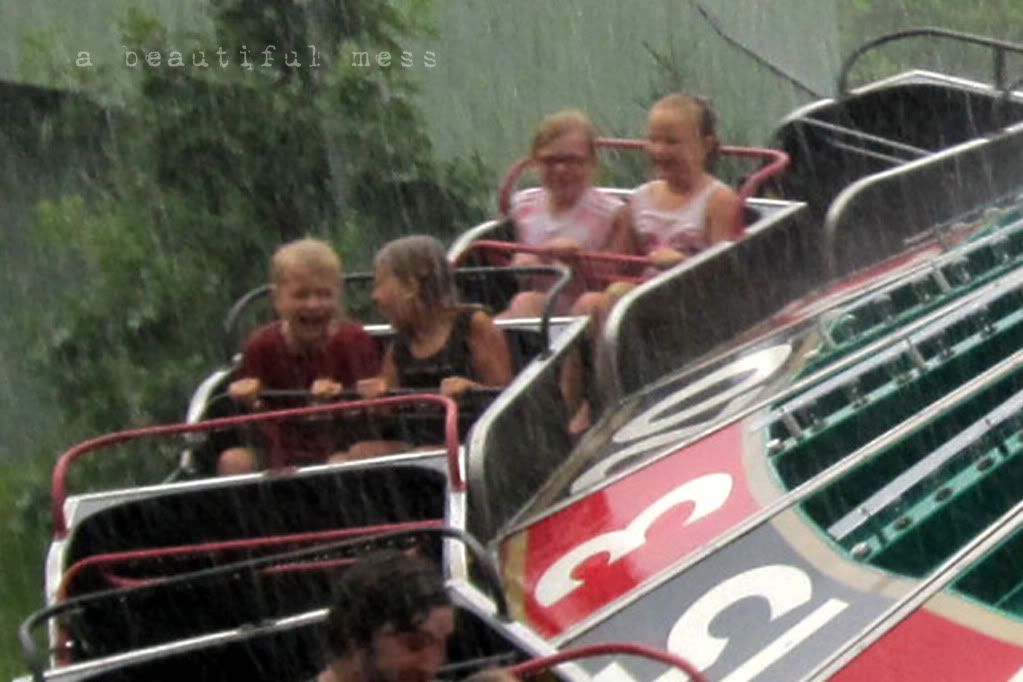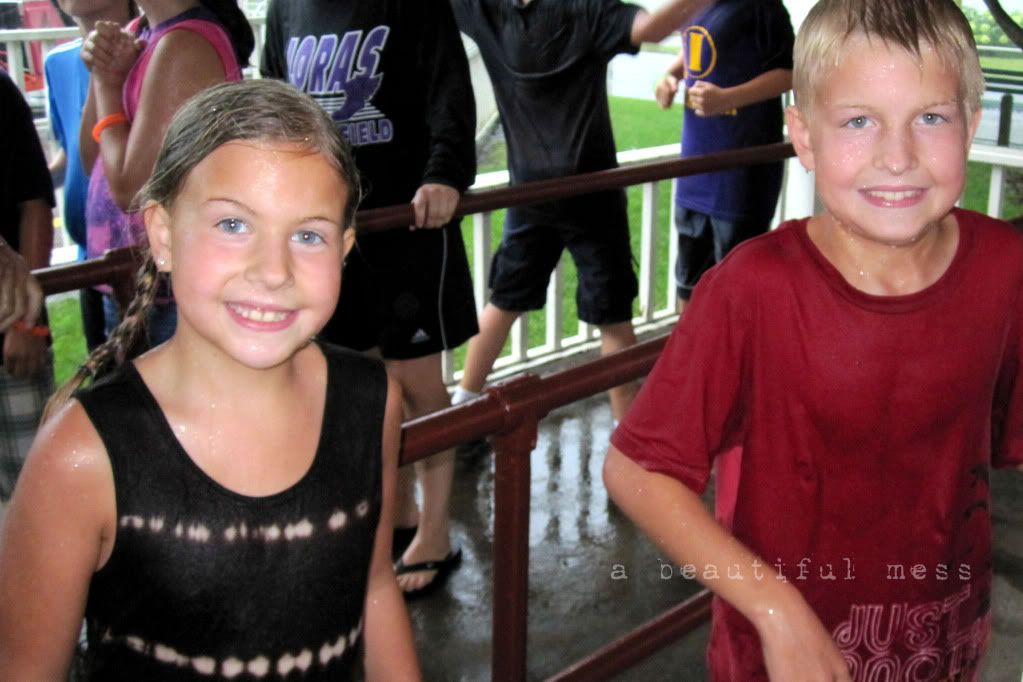 9. Under no circumstances should you EVER believe accuweather or KCRG channel 9 forecasts. Be prepared for stormy weather and torrential downpours even when rain is not predicted or on the radar.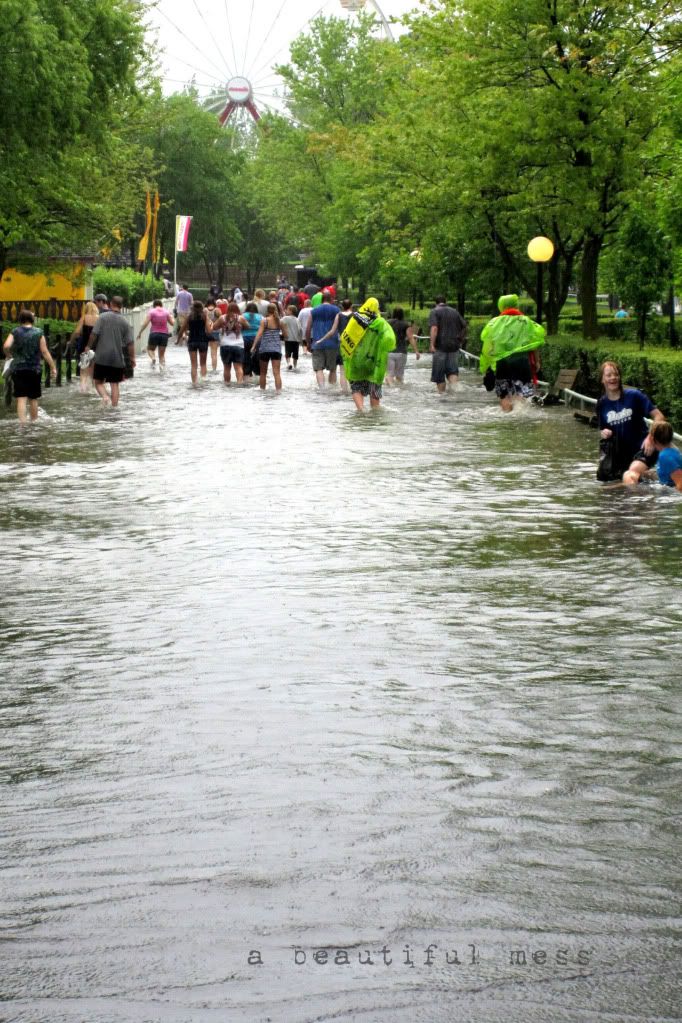 10. Don't walk through standing water without shoes. You may collect all sorts of pond scum on your feet and legs. And you may spend days trying to get the dirt out of the cracks in your feet to no avail. (But it may be the only option to get out of the park.)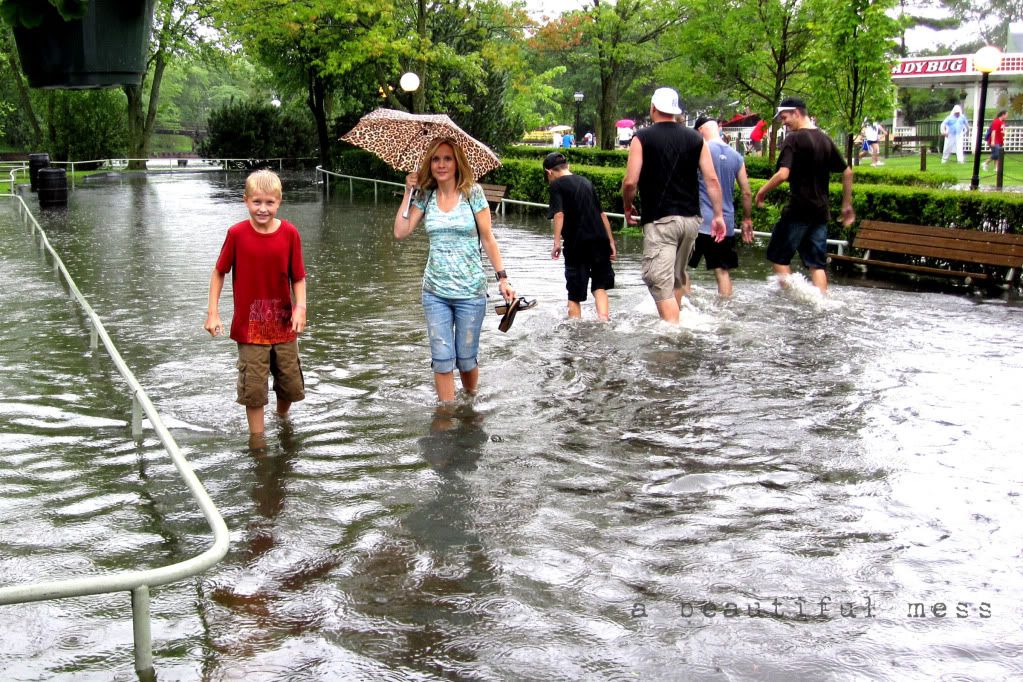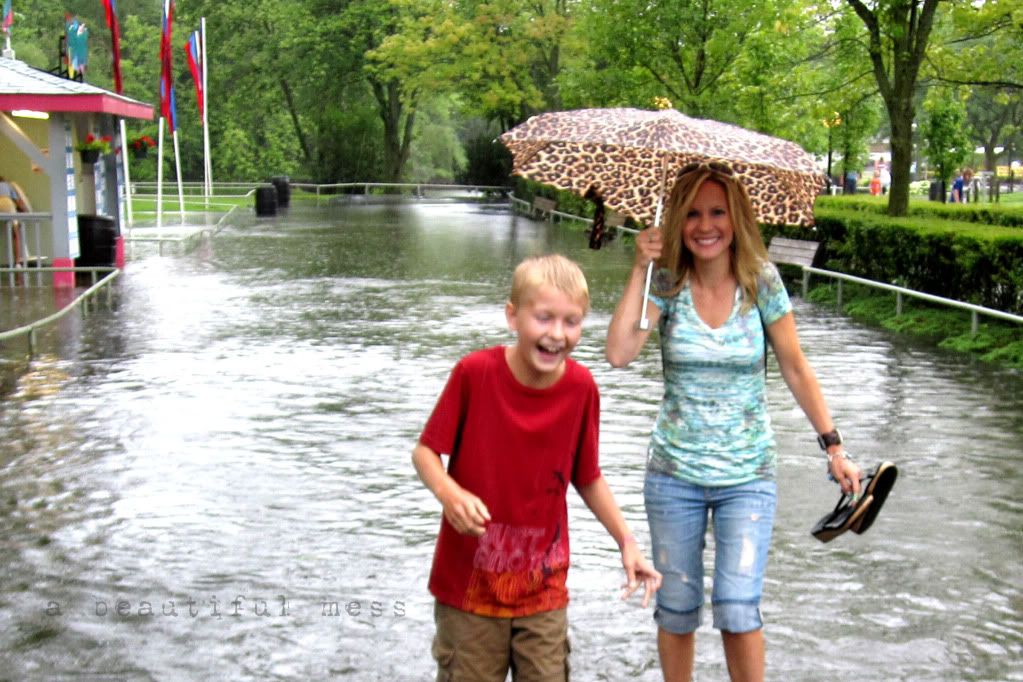 11. Always have an extra change of clothes and/or towel in the car so you don't have to spend an arm and a leg getting dry clothing at the local Target. Btw, Target doesn't allow cameras. :(
12. Never eat funnel cake and then ride spinny rides back to back. Even if you don't vomit, you may feel sick for hours.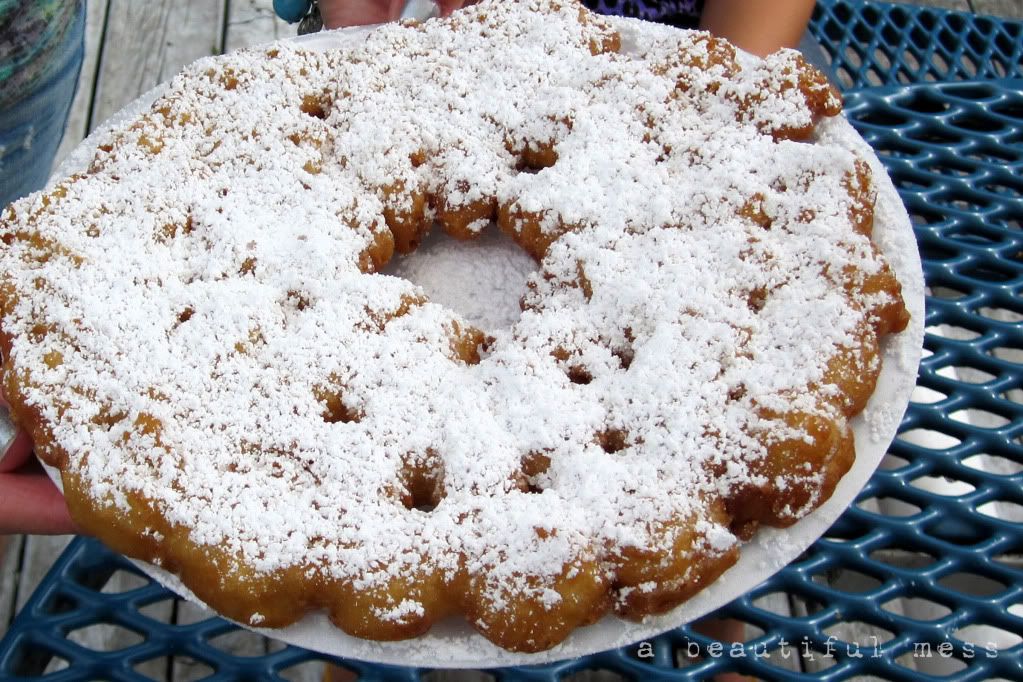 13. Never curl your hair if you plan to go to an amusement park. And make sure to sport a cute hat as a backup plan when hair fails you. (See photo above.)
14. Mix up the arcade games so you don't end up with 3 of the exact same stupid dogs.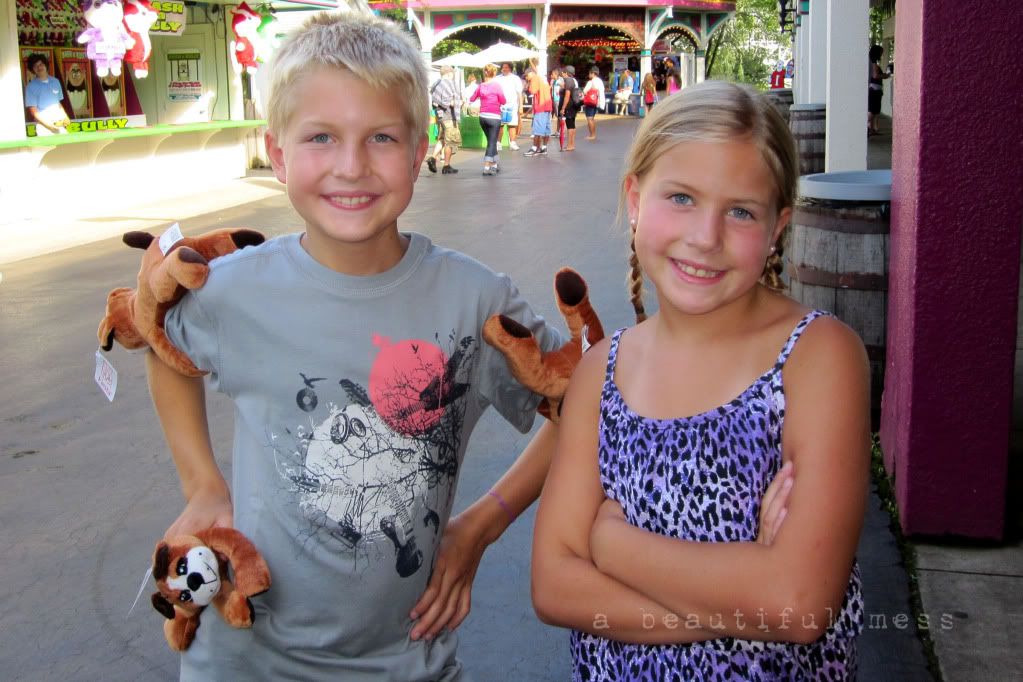 15. Make sure to check out the fun mirrors. They always make you feel better about yourself.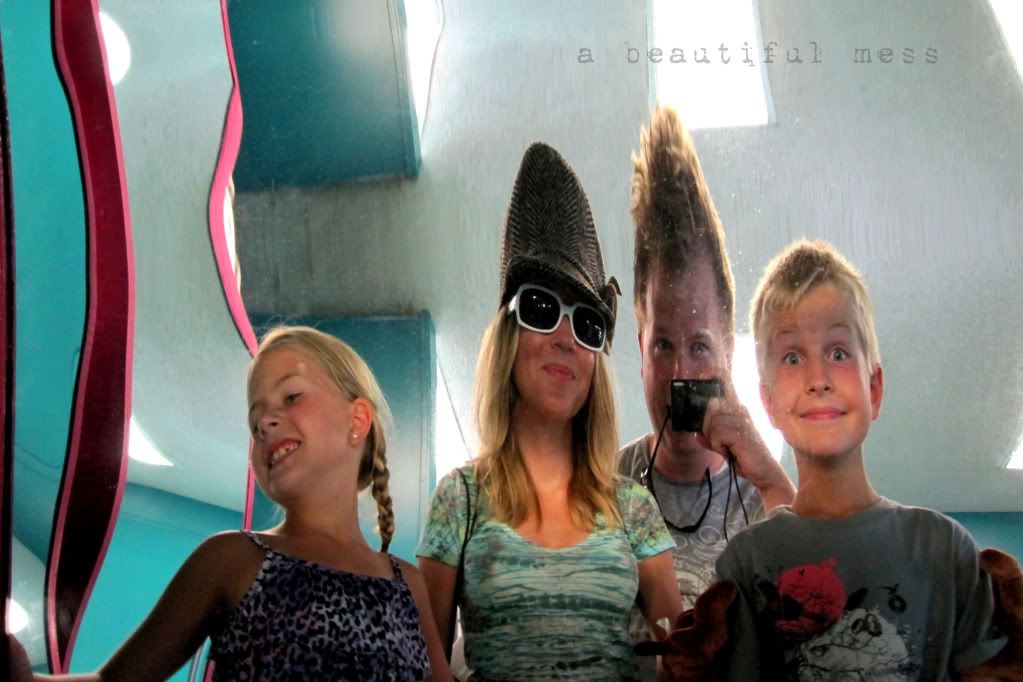 16. Point and shoot cameras are not the best for action shots.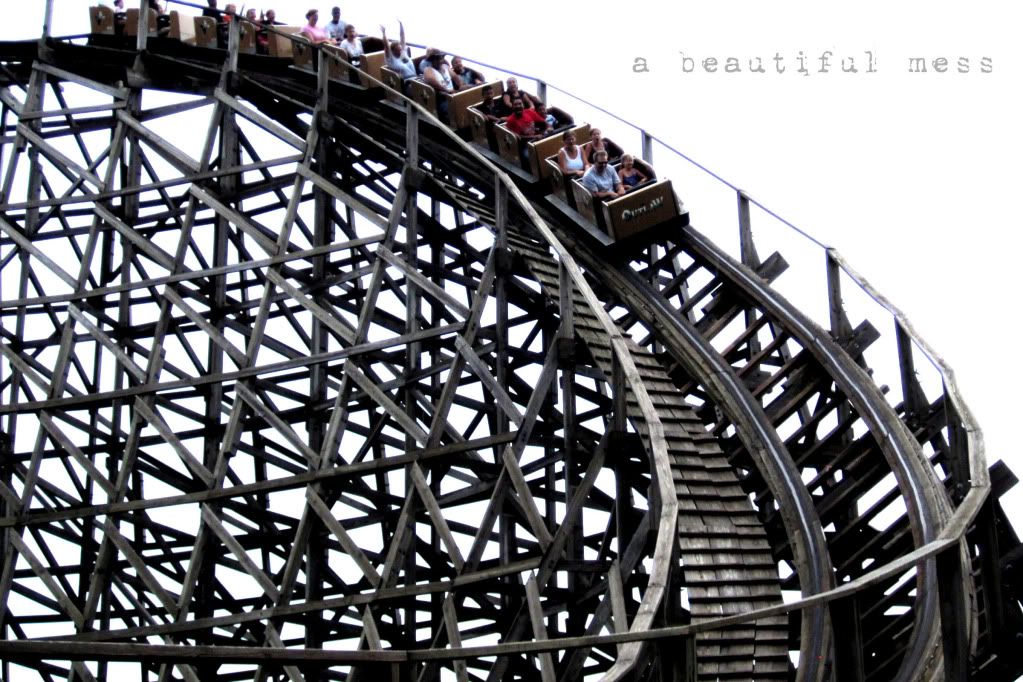 17. No person over the age of 12 should ever do the inverter 5 times in a row.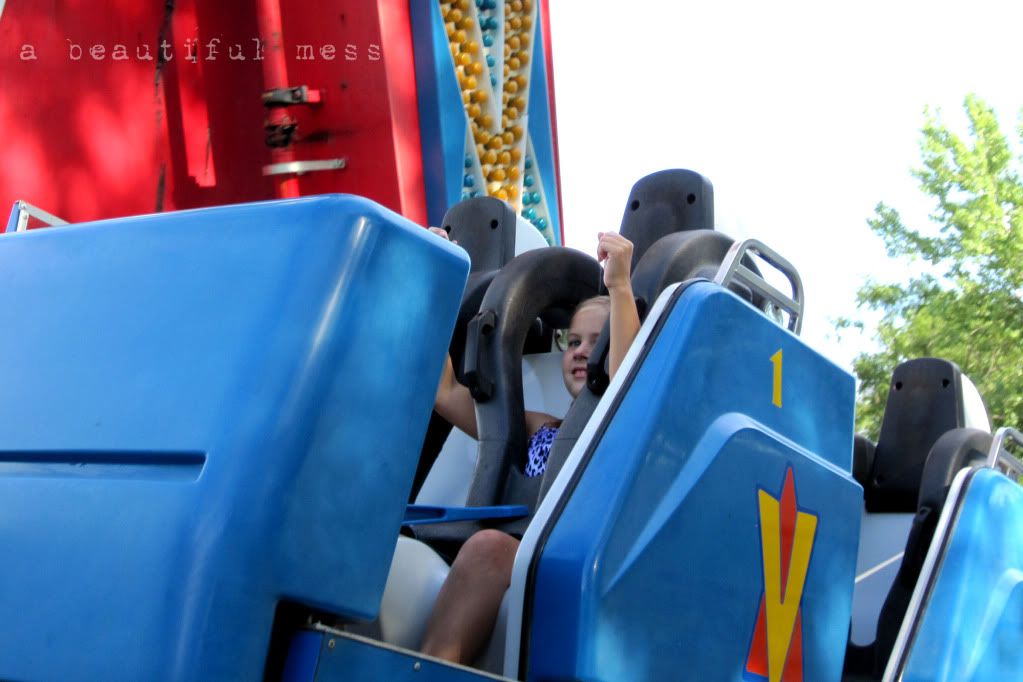 18. You should do the Tornado even if you feel squeamish because it might be the most fun you have all day. (I did it twice.)
19. Always bring a ziplock bag for cameras and phones. Preferably quart sized because the sandwich size might be too small and get a hole. Or a waterproof camera would be better yet.
20. Don't let motion sickness, flash flooding, thunderstorms, freezing kiddos, or bad hair ruin your day. Turns out not many people like amusement parks in the rain and you can go on rides as much as you want. And it makes for some great stories.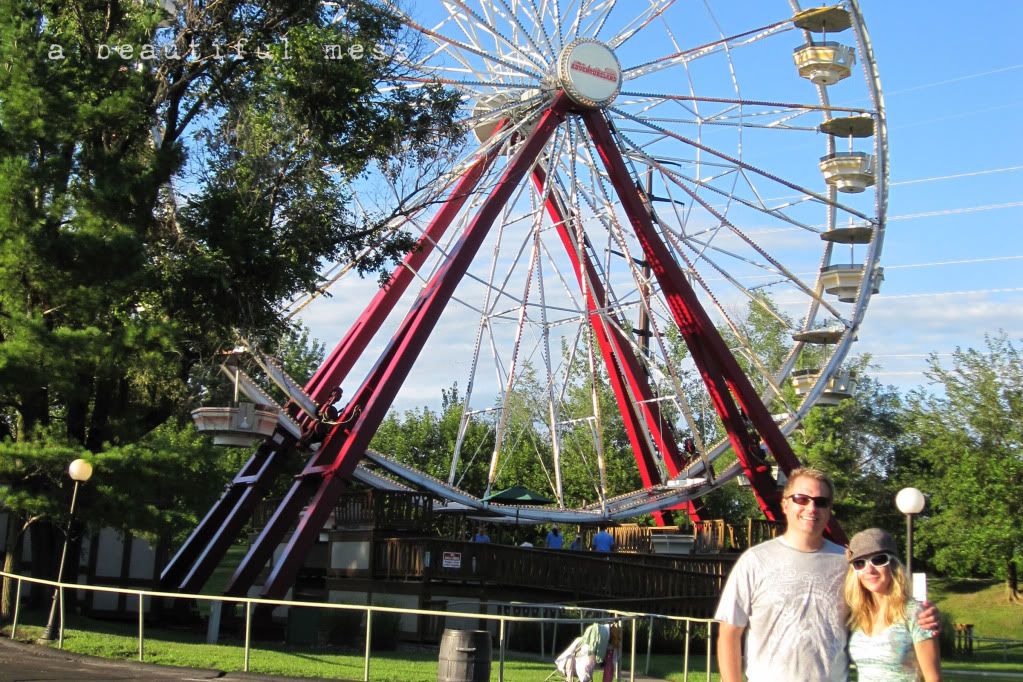 There ya have it. Hope your day at the park is less eventful than ours! And if not, try to make the most of it.
And in case you didn't notice those annoying letters on all the photos...
I have started
watermarking
. It's sad that we have to worry so much about copyright infringements and plagiarism, not to mention our own protection, but it has been brought to my attention that all are valid concerns. If you do photos you might want to consider this option. I used photoshop elements, but lady blogger's society posted a great
tutorial of how to watermark your photos in photobucket
. Definitely worth a look-see.