This is my
project 365 in a weekly version
.
I have had many questions regarding what this is and I thought I would take a few minutes to clarify.
Last year I did the
daily 365
and it proved to be one of the hardest challenges I've ever taken on. I love the outcome and will always treasure
my book
, but have decided to take it down a few notches.
I have no set rules. I find pics that represent the week and pick a theme and throw them together. I don't have to take pictures daily although I usually do. Unlike the daily Project 365, I can use as many or as few photos as I want. I've made it 28 weeks now and it is amazingly easier than last year. Some weeks I share my scrapbook page while others I only share my pics due to time restraints. I think the weekly project still represents our days well and will tell just as beautiful of a story when it is all said and done.
Project 365 can be started anytime. If you are interested in doing it but not sure how, Becky Higgins has both a
paper book
as well as an
online version
that you can plug in your text and photos (similar to shutterfly or snapfish).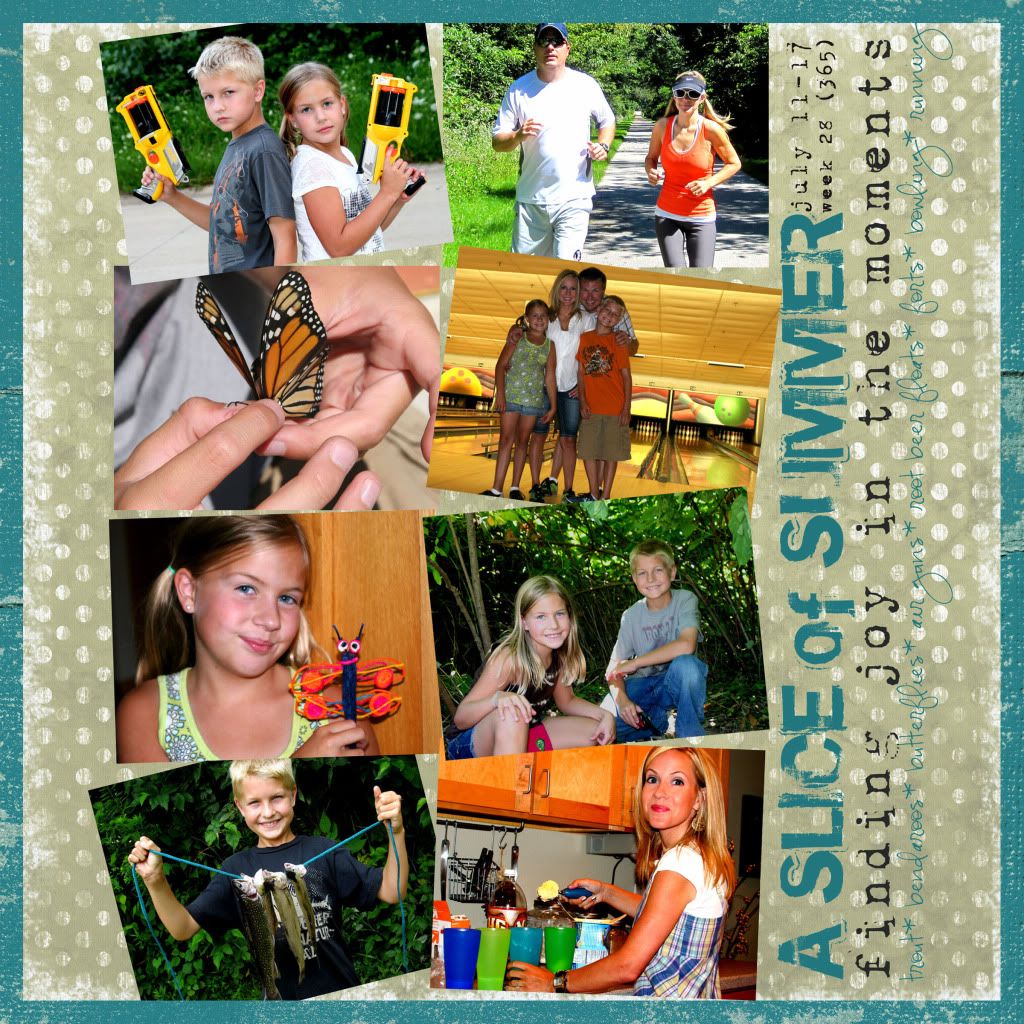 Highlights This Week Include:
Eating Trout
Playing with Bendaroos
Catching Butterflies and Frogs
Playing with Nerf Guns
Enjoying Root Beer Floats
Building Forts
Bowling
Running Outdoors
Fishing
Eating Ice Cream
Making Memories at Adventureland
Finding Caterpillars
Grilling
Listening to Thunderstorms
Picking Berries
We are now into the thick of summer. And although it has been smokin hot and the mosquitoes are more abundant than I ever remember... it is such a beautiful time of year and we are making some amazing memories. If ya didn't get a chance to read about our Adventureland experience you can find it
here
. It was definitely a day we won't readily forget.
What is your slice of summer lookin like this week?