Welcome to Tasty Tuesdays. A place to share favorite family recipes.

Sorry this is coming so late. Got home from tripping today. (Pics to come tomorrow.) Whew. I'm pooped. Kidlets start school tomorrow. Life is like a whirlwind these days and I'm loving every minute of it.

Decided on French Toast Kebabs (or kabobs- whichever you prefer) for dinner. Thanks Martha for the inspiration. I know we've had our moments and all, but you came through once again.

And since we are currently on a good note, thought I'd share Martha's new iphone app. It's fab. Only costs a buck.

The best thing about this dinner?



The kids can make their own.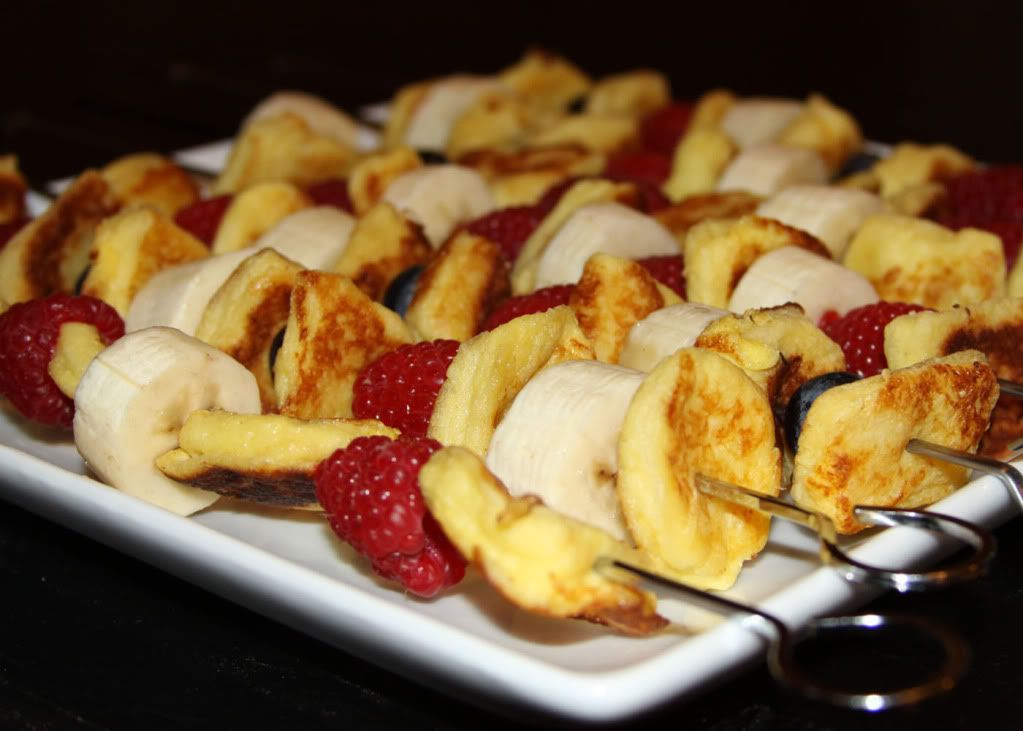 Beautiful, easy, kid friendly, and perfect for busy nights stuffed with activities.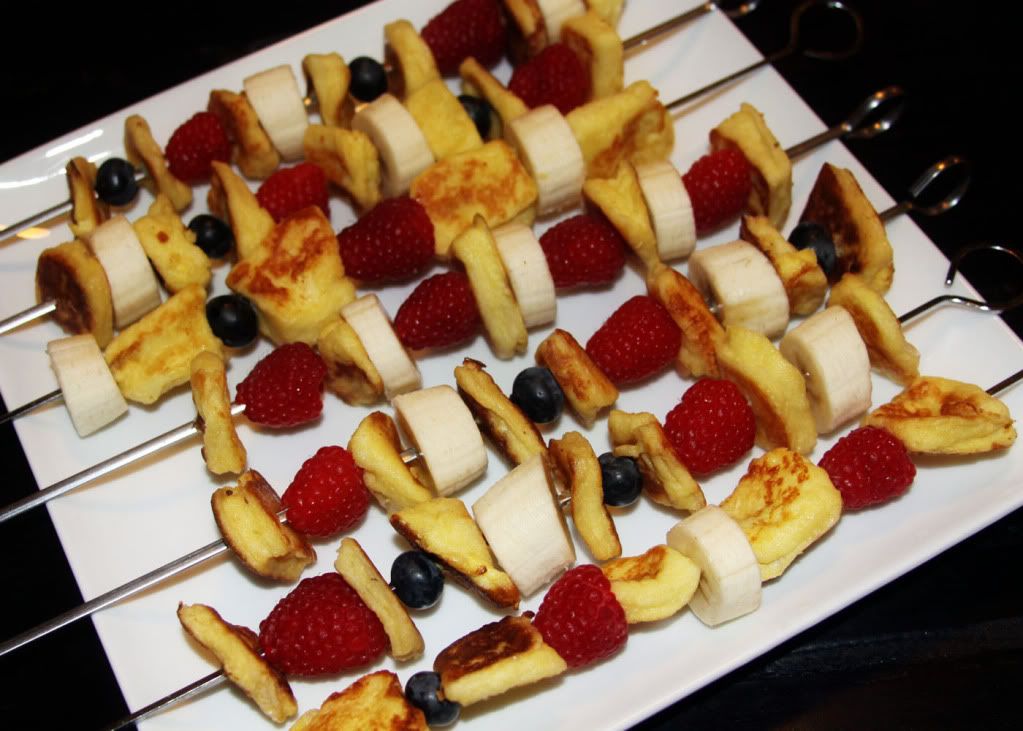 What's not to love?

Ingredients
(Serves 4)

8 large eggs, lightly beaten
2/3 cup nonfat buttermilk
pinch of salt
1/4 teaspoon vanilla extract
1 loaf (one-pound) unsliced dense white bread (such as pullman), crusts removed and cut into 1-inch cubes
4 tablespoons unsalted butter
1/2 pint fresh blueberries
1/2 pint fresh raspberries
2 bananas, sliced
Maple syrup (optional)

Directions
1.Preheat oven to 250 degrees. Place a rimmed baking sheet in the oven to warm. In a medium bowl, whisk together eggs, buttermilk, salt, and vanilla. Stir in bread.
2.In a large saute pan set over medium heat, melt 2 tablespoons butter. Place half of the bread mixture in pan; cook, turning occasionally with a spatula, until browned on all sides. To keep warm, transfer to the oven. Cook remaining bread in the remaining 2 tablespoons butter as before.
3.Thread bread cubes onto skewers alternating with blueberries, raspberries, and banana slices. Serve immediately with maple syrup, if desired.

(We also added powered sugar. Yum! And we used texas toast in place of the unsliced bread. Good luck finding that one. So, they turned out slightly less cubed than martha's, but just as delish! )

I'd love for you to play along. Grab the button to the right. Any recipe works, old or new. Tell us what you're cookin up. Link up below. (You can also grab the linky below to add to your blog post.)
If you'd like me to stop by please leave a comment below, preferably with your link. I'll do my best between first day photo ops, delivering school supplies, my after school meeting with the vice principal (Oh, and not to worry- they aren't in trouble yet.), etc.

Have a Happy Tuesday Y'all!