Welcome to Tasty Tuesdays. A place to share favorite family recipes.

Sorry if you saw this pop up in your google reader earlier, I'm a bit of a dingaling. I admit it.

This week due to the tick, tick, ticking of the clock I'm down to the wire and feeling uninspired. And I wasn't sure if I could share fall favs yet, but don't feel up to grilling out either. So, I'm recycling an oldie but goodie from a post last year. Mostly because I'm craving mexican. And when I have a craving I go with it. (And no, not preggars.)
Nor am I a gourmet chef. I'm about easy, fast, kid friendly recipes. If you like to slave away in the kitchen for hours... more power to ya. And I might be a little jealous, but not enough to change right now. Maybe in my next life.
I cooked chicken in the crockpot and got 2 dinners out of it. I'm all over that. Just add some chicken breasts and water and cook on low for 4-5 hrs. The hardest part is to remember to check it periodically as to not overcook and turn it to mush- cause noone likes mushy meat. These are both winning recipes in our home if asking for seconds is any indicator.
Ok, so this one is probably not gonna be found on any diet plans or win a healthy choice award, but super yummy and the kids love it. The picture does not do it justice. You're just gonna have to trust me on this one. (From the kitchen of Sheryl Quillin.)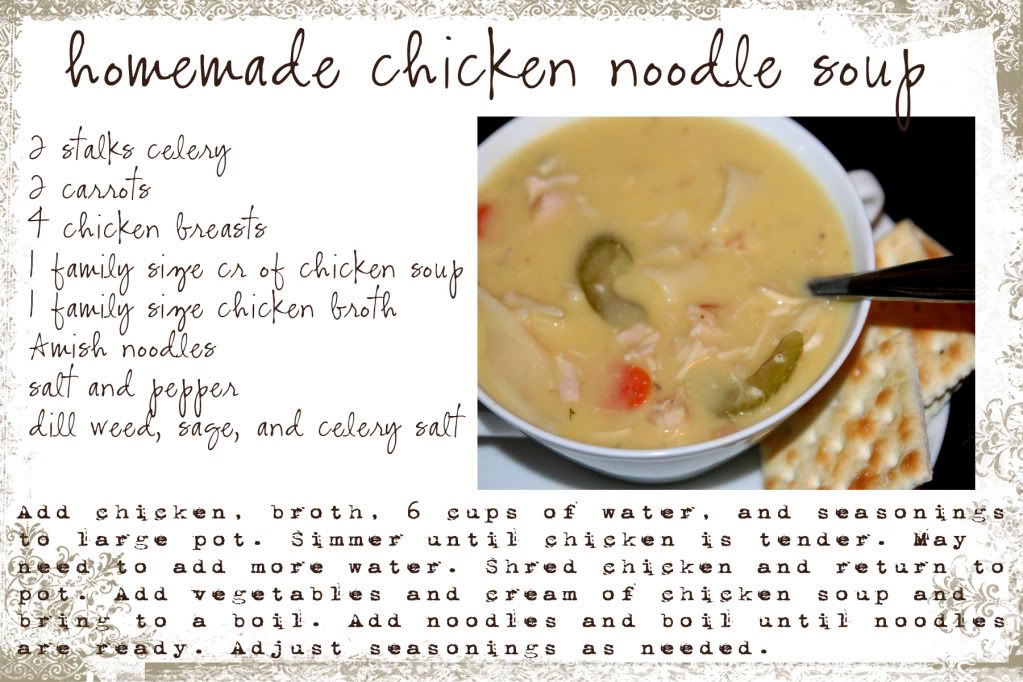 I slightly modified this recipe due to the fact that I cooked the chicken ahead of time. I added it in later and it was still delish! (From the kitchen of my sis, Tonya.) You might want to bookmark this one for cooler days ahead.
The cards are there for the taking. Just right click and save as a picture. They are formatted as a 4x6 card. Print on photo paper or cardstock and voila! Let me know if you have any problems.

I'd love for you to play along. It's a fabulous way to mix it up and find some new favs. Grab the button to the right. Any recipe works, old or new. Tell us what you're cookin up. Link up below. (You can also grab the linky below to add to your blog post.)
If you'd like me to stop by please leave a comment below, preferably with your link.