I love fall. As the days shorten and temperatures crisp, the quiet green palette of summer foliage is transformed into the vivid autumn palette of reds, oranges, golds, and browns.
Plus let's not forget about the candy corn. Ok, so I may have a tiny problem. I wouldn't consider it rehab worthy just yet, but addicts tend to be in denial. So they say...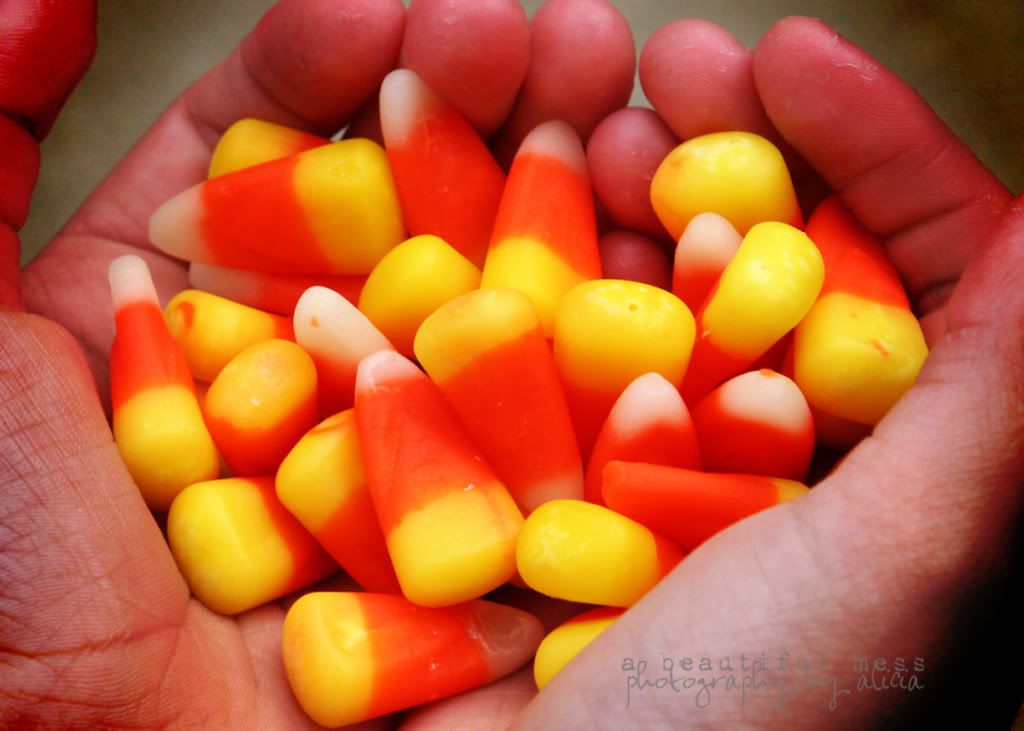 I love me some candy corn. And although too much could rot your teeth out or give ya a coronary, a good healthy dose will do wonders for your spirit.
So, thought I'd share some of my favorite candy corn treats. Just don't have them all at once. Wink, wink.
Candy Corn Puddings.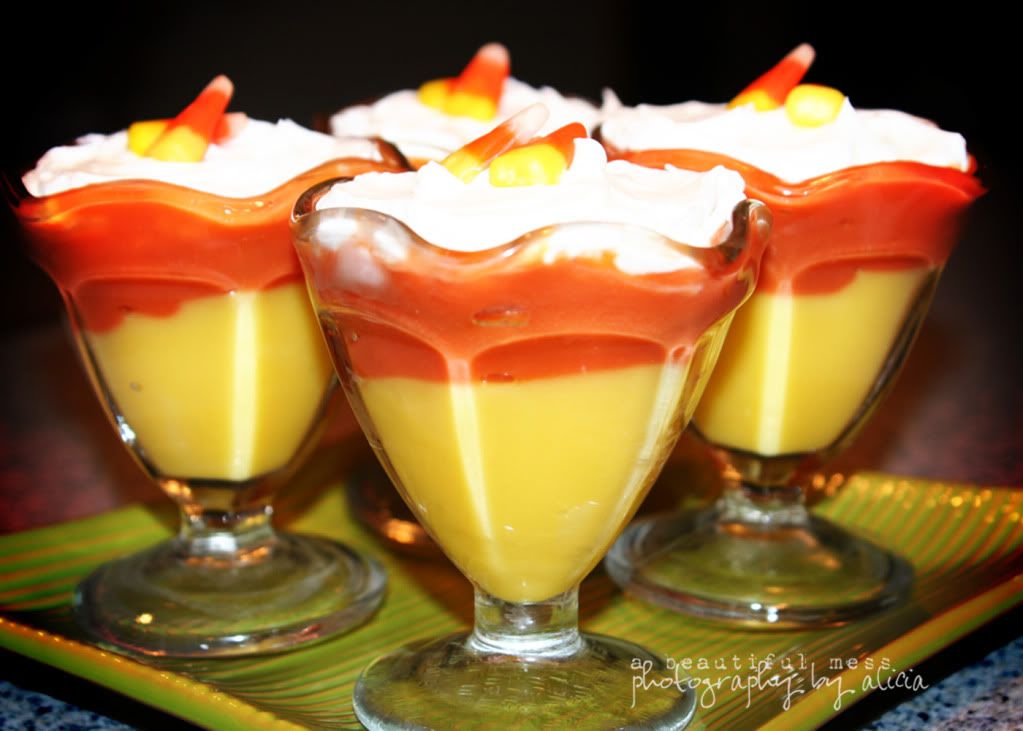 Ingredients:
1 box (4 serving size) butterscotch instant pudding mix
1 box (4 serving size) banana cream instant pudding mix
4 cups milk
20 drops red food color
45 drops yellow food color
1 cup whipping cream, whipped
12 pieces candy corn
Directions:
Make butterscotch pudding as directed on box. Stir in 20 drops red food color and 25 drops yellow food color. Refrigerate 30 minutes. Make banana cream pudding as directed. Stir in remaining 20 drops yellow food color. Refrigerate until ready to use. Place 1/4 cup banana cream in bottom of 6 (8oz) glasses. Top each with 1/3 cup butterscotch and about 1/3 cup whipped cream. Garnish with candy corn.
And here's a card for the taking.
Candy Corn (Sweet 'n' Salty) Snack Mix.
This one is fab because I can just grab what I have on hand. It's very forgiving.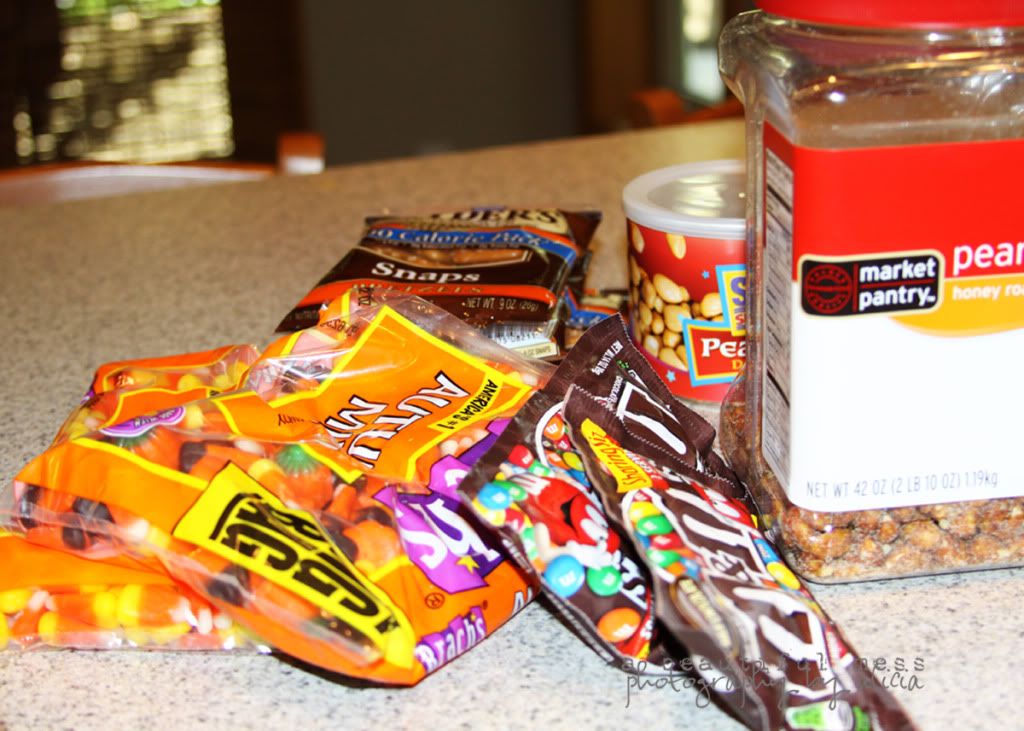 Plus the kids love to help.
And it looks festive on my counter.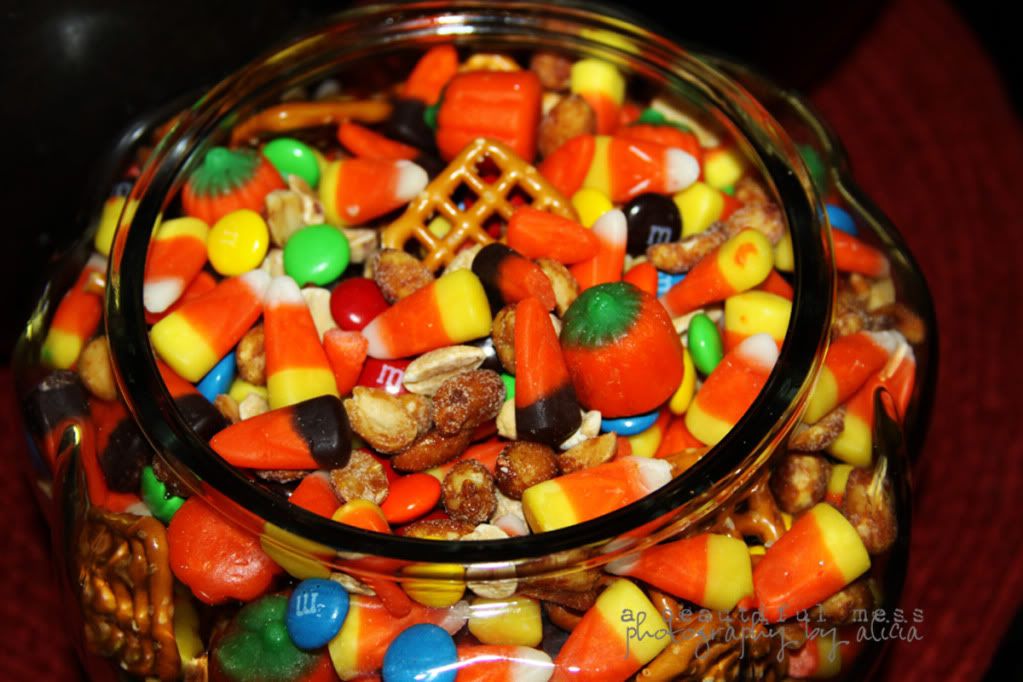 The actual recipe calls for:
2-1/2 quarts popped popcorn
2 cups salted peanuts
2 cups miniature pretzels
2 cups raisins
1 cup plain M&M's
1 cup candy corn
1/2 cup sunflower kernels
We didn't make popcorn and didn't have the raisins or sunflower seeds on hand- cause who keeps all that healthy stuff around (kidding of course), but I thought I'd add those in next week when it starts getting low.
And last but certainly not least,
Candy Corn Bark
.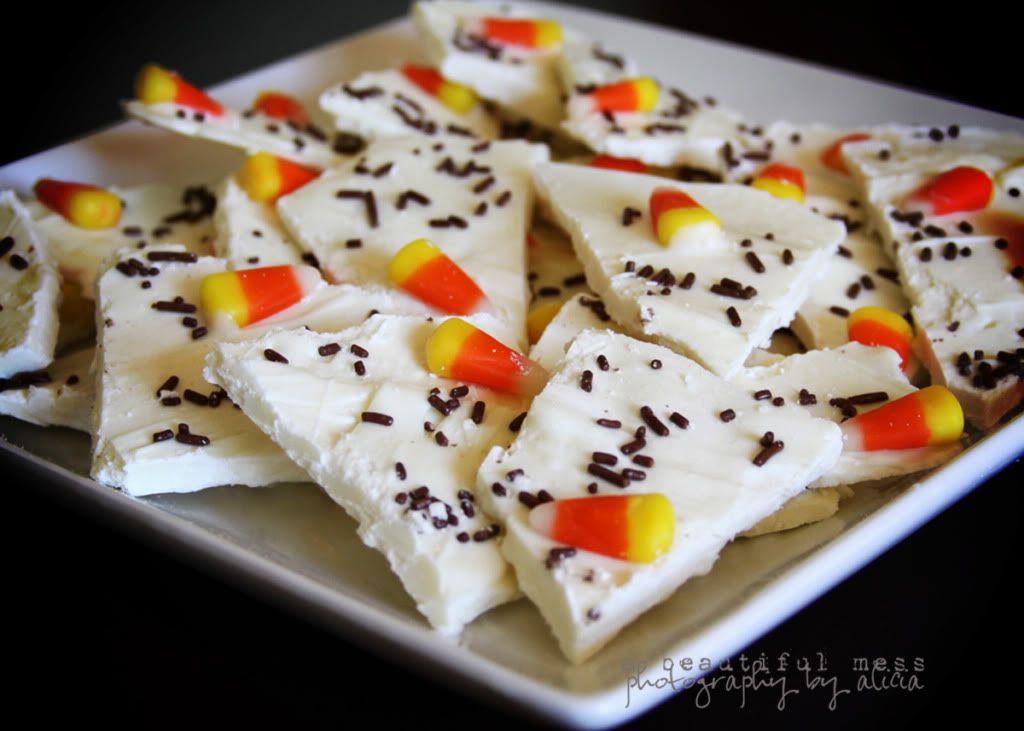 Super duper easy and perfect to wrap up and share with a friend.
Line a cookie sheet with tinfoil and place a layer of milk chocolate (or white chocolate chips) and melt in a preheated oven at 250 degrees for 5 minutes. Spread melted chips in a smooth thin layer. Place in refrigerator for 20 minutes till chilled. Then add your next layer of white chocolate. Melt the chips in the microwave for 20 second intervals stirring the chips between each turn. Let cool till warm but still spreadable. Quickly spread over first layer. Add candy corn and sprinkles and place back in the refrigerator to chill. Once chilled break into bite size pieces. Store in a tupperware container and keep refrigerated to prevent melting. (Recipe found at
the idea room
.)
Hope you're off to a great week. I took a few days off for a much needed break to recharge a bit and it did wonders. Happy Tuesday, Y'all!
I'd love for you to play along. It's a fabulous way to mix it up and find some new favs. Grab the button and then link up below. (This is a bloghop so you can also add the linky to your blog post as well.)