This is my Friday Finds- Pumpkin Edition.
We do the pumpkin farm annually. I look forward to it. Traditions are the spice of life. But I must confess I HATE diggin out guts. Plus you have to put it off til last minute to prevent the mold before the big day. We normally find a day first part of October, but due to soccer conflicts, work schedules, and other unforseen obstacles we have yet to get our pumpkins.
If you LOVE all the slimey, gooey guts, then this might not be for you. In my search for less messy solutions this is what I dug up.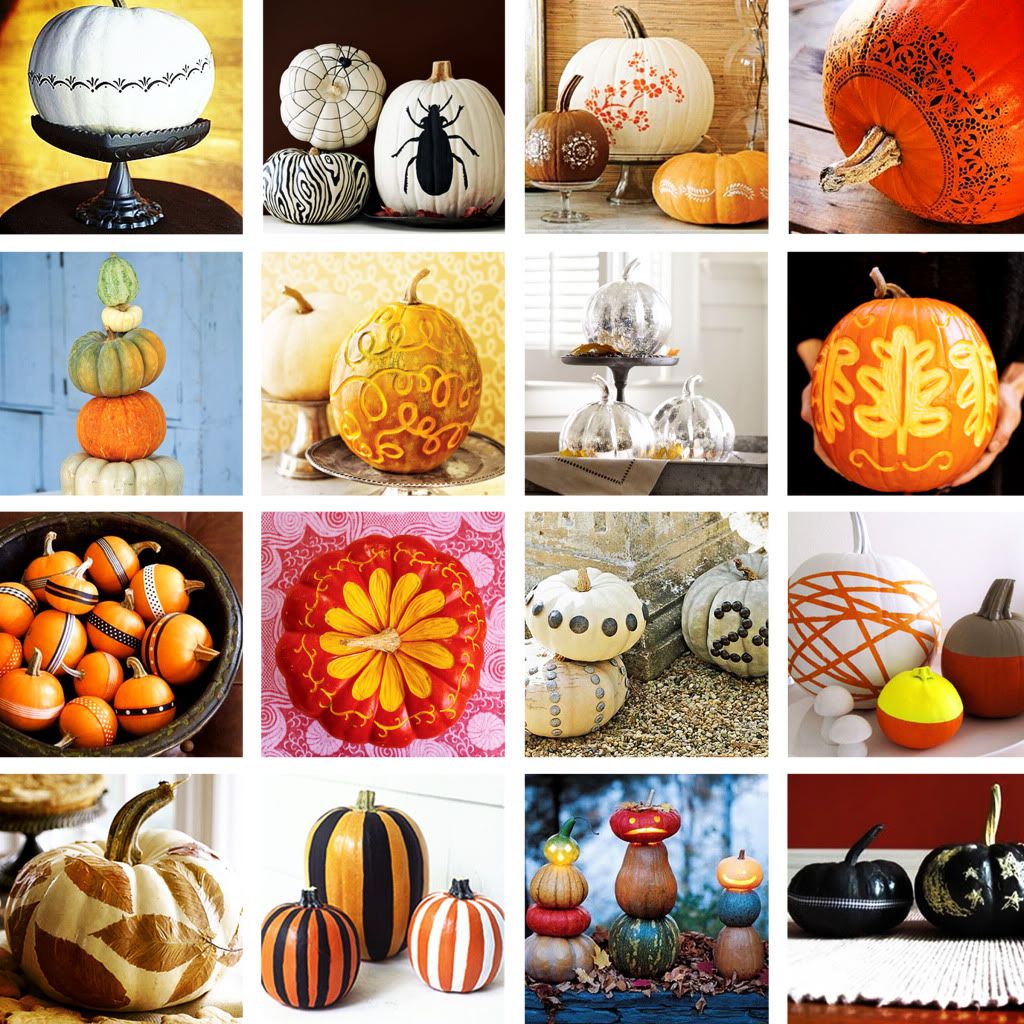 The best part is the majority of these are great for the entire season, not just Halloween. And if you aren't carving them open chances are they'll last a bit longer. I prefer to decorate for longer than a week if possible.
The following section is broken up into categories and all links coincide with pics from left to right.
STACKED
We have done the pumpkin stack for the last 4-5 years. Love it. It's so fun to pick out the perfect ones at the pumpkin patch. Last year we found these gnarley wart-like ones that were perfect for our base. You can be as creative as you want to be. We put them on either side of the front door. They would also be nice in a stand.

A Beautiful Mess
Martha Stewart
Country Living
STENCILED
Fairly easy and what a beautiful transformation.

Mom Designer
Ladies' Home Journal
Better Homes and Garden
PAINTED
Whether you like fun, modern, elegant, or just want something more unique- this is the perfect solution.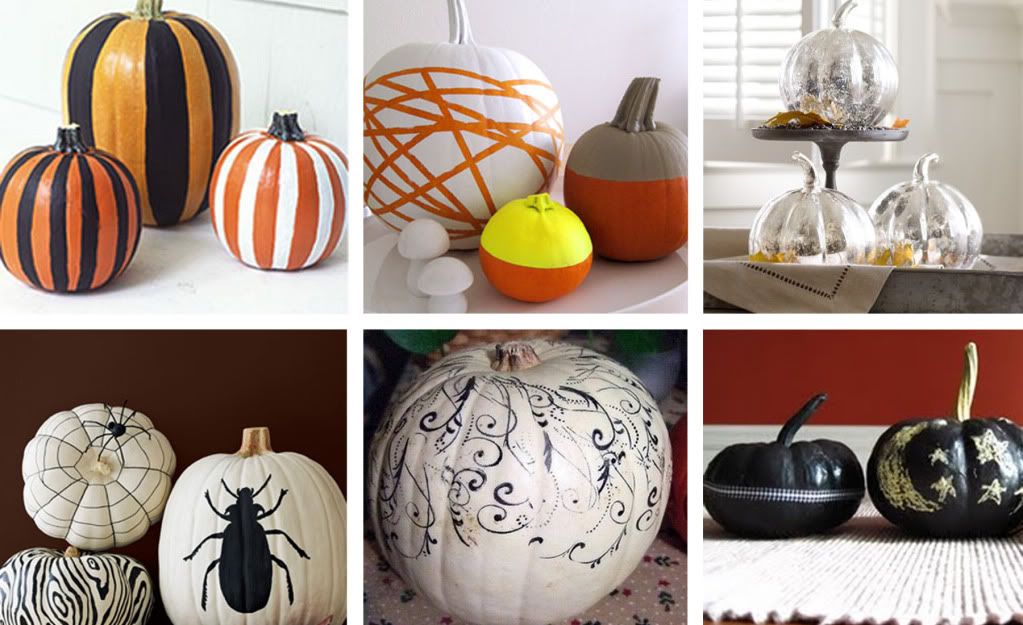 Striped Pumpkins
from All You
Modern Pumpkins
from Curbly
Silver Pumpkins
from Remodelaholic
Cobweb or Woodgrain Pumpkins
from Country Living
Hand Drawn Pumpins
from Project Wedding
Chalkboard Pumpkins
from Indie Fixx
DECOUPAGED, NAILED, & GLUED
This is for all you crafty people out there. But I have to say I love the nail idea!! What an easy way to make a dramatic effect in any pattern.

Decoupage
from My Military Mansion
Decorative Nails
from Let's Entertain
Ribbon
from Handmade Parade
ETCHED
If you are up for a challenge, this might be for you. Definitely a prize in the end.

Vermicelli Curlicue Pumpkin, Cinderella Pumpkin Flower, and Leaf Pattern from
Country Living
Happy Autumn!