I must be quite candid. Life is definitely less than perfect. Between hub's new schedule leaving me a single mother for a while, the continuing short sale saga, all consuming soccer, aging bodily injuries, nightmarish parent conferences unveiling my new challenges ahead, and just normal life junk... it's a wonder I sleep at all. Then today I awoke to a disease ridden family, trying my patience at every turn. Sure didn't see that one coming. I'm one step away from cracking...
So, yes. Not perfect. However I am thankful for this challenge that keeps me focused on the smiles. They say laughter is the best medicine... and when you want to cry sometimes you have to smile. Tonight over dinner there was gut rolling, tears streaming- thank you for the release- kind of laughter. Not sure what was even said, but boy did that feel great. And in spite of this day that feels wrong on every level and just won't end, I'm ok. And I've even managed a couple smiles.
Due to the length of this Project Smile this month I decided to break it up into 2 chunks. So, if you aren't ready yet don't fret. There is still time. I will have the linky up Oct 31st and it will stay active for one week.
I do hope that you have been finding a few smiles in spite of all the hiccups and heartaches that you may encounter along the way.
For those of you who may have just happened upon my blog and have no idea what I'm talking about, you can read more about Project Smile
here
,
here
, or
here
. Basically, there are no rules. Just document the things that make you smile. I have a linky available the last day of every month (that runs for a week) where you can share your smiles with us.
Here is my Part 1 of Project Smile for October (1st-19th).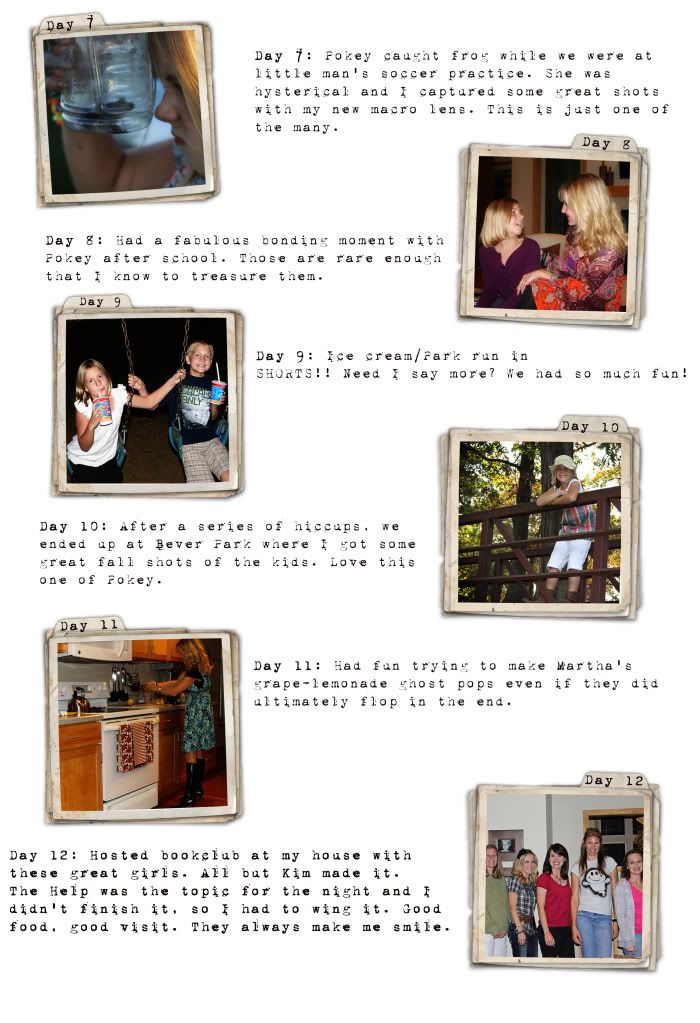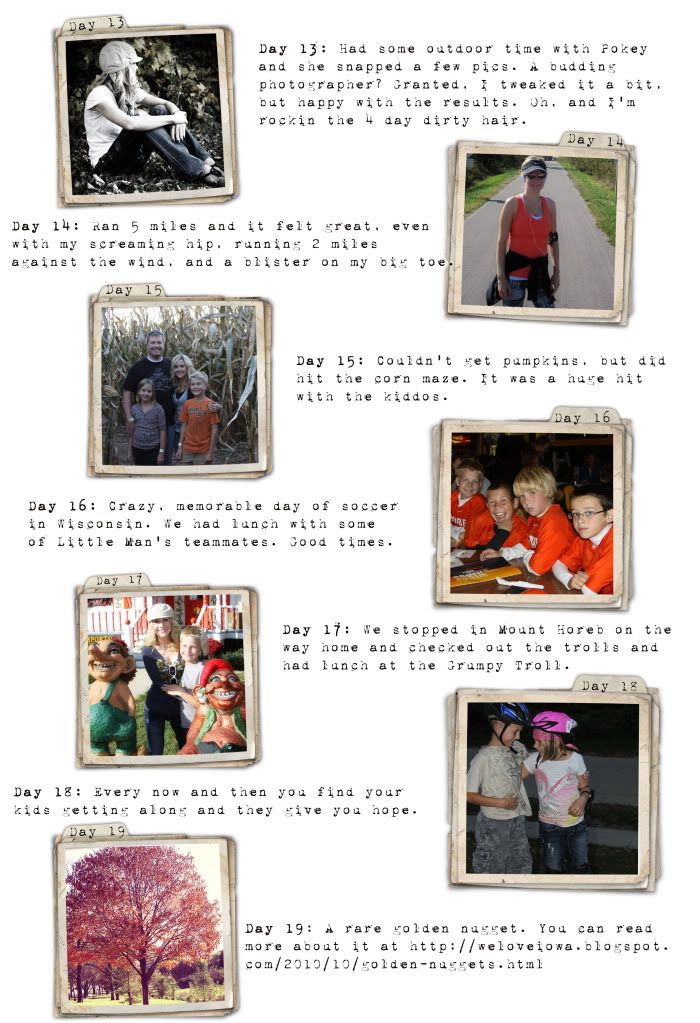 Oh, and by the way. Just in case you were curious if it was the puking kids or just the Lish madness that gets my creative juices flowing, you can read about it over at
Parenting By Dummies
today. Dumb Mom is a jill of all trades. She goes by Dumb Mom, but is anything but. She just recently was handed the Wordless Wednesday torch and has made a seamless transition. She is a professional photographer, writer for a review blog, mom of some adorable boys, candid, and funny to boot. I was stoked when she asked little old me to write a blurb on her blog. And about none other than creative juices. Ha! Irony is the first word that comes to mind.
I'll be posting Project Smile Part 2 (Oct 20th-31st) on the 31st of the month.
Stay tuned for the continuation to see how this month comes to a close.
Hope you are having a lovely week free of sickness and stress. And if so, could you send a few healthy vibes my way? Thanks a million. As always, nice of you to stop by.