It's time. Finally. The temps have dropped just a little. Enough that it feels like soup weather. I'm stoked. No promises that I'll feel the same come a week from now when the temps keep dropping, but for now I'm enjoying it.
This is a fav here for many reasons. The kids LOVE it. So much that Pokey asked for it as her birthday dinner in August. Plus it comes from the Betty Crocker kid's cookbook and doesn't get any easier. The kids could manage this one and love to help me. No chopping required unless you do the celery (which we don't). We typically will stop and pick up some bread bowls from Panera. If you don't have a Panera near you, I'm sure you can find them elsewhere. They certainly aren't necessary, but sure add to the yumminess factor. This is what's for dinner tonight.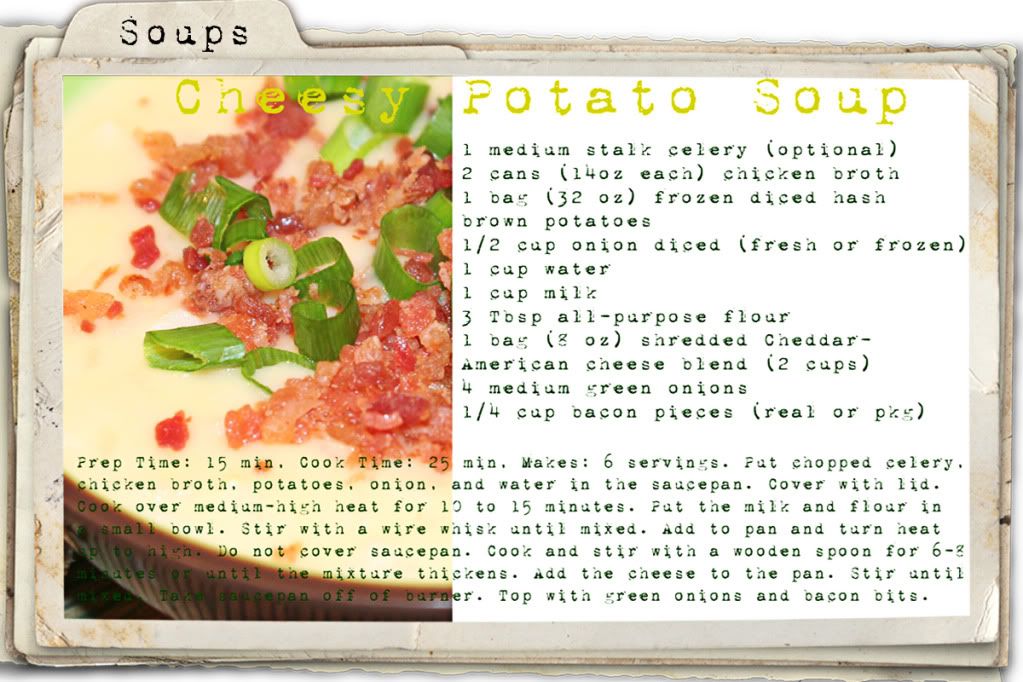 You can right click and save recipe card as an image and then print on cardstock or photo paper. Enjoy.

You should definitely give it a go. It took me less than 30 minutes from start to finish (which is less than the suggested amounts).
Over the last month or so you have shared so many yummy soup/stew recipes so I'd like to highlight a few of yours today.
1.
Beef Barley and Mushroom Soup
from Apples to Zuchinni (with printer friendly recipe)
2.
10 Can Chili
from Around My Family Table
3.
Italian Cheese Tortellini Soup
from Sabby in Suburbia (with printer friendly recipe)
4.
White Chili
from Our Happy Home (with printer friendly recipe)
5.
Black Bean Soup
from Singing with Birds
6.
Sausage Cauliflower Soup
from Easy To Be Gluten Free
7.
Chicken and Dumpling Soup
from Mommy Cooks
8.
Taco Stew
from Loving My Life
9.
Indian Summer Turkey Chili
from Typical Suburban Family (with cute recipe card)
10.
Pea Souper
from The KitchenMaid
11.
Lamb Ragout
from Cocina Diary
12.
Butternut Squash and Apple Soup
from Frugal Creativity
13.
Grandma's Beef Stew
from Yesterday on Tuesday
14.
Clam Chowder
from Recipes of A Cheapskate
Hopefully one of these will strike your fancy, but if you are in need of more inspiration check out the
Tasty Tuesdays archives
.
I also wanted to mention that if I didn't make it to your link up in the last couple weeks, I apologize. Life has been nuts. I do LOVE all of the recipes. I look forward to Tasty Tuesdays every week and am always bookmarking favs and referring back to past posts often.
If you enjoy writing down new recipes, here's a link to some
free recipe card downloads
from How Does She. I especially love the
Brown Paper Bag Recipe Cards
from Crafting A Green World. Very cute AND environmentally friendly. (It's a start. It's definitely an area I could work on.)
If you would like me to stop by, please leave a comment with the name of your recipe and link if possible.
Thanks so much for participating! If you have one to share this week grab the button and link up.