These aren't the peanuts and popcorn kinda snacks. These are hearty Monday night football snacks. And mmm, mmm good! Thanks to a little inspiration from hubs and good 'ole Martha. (Even though she's currently not on my people I love list.) She does have some great chefs working for her who put together some good stuff. What can I say?
Today's recipes are
Sweet-And-Sour Drumsticks and Tater Skins
. Both were hits here.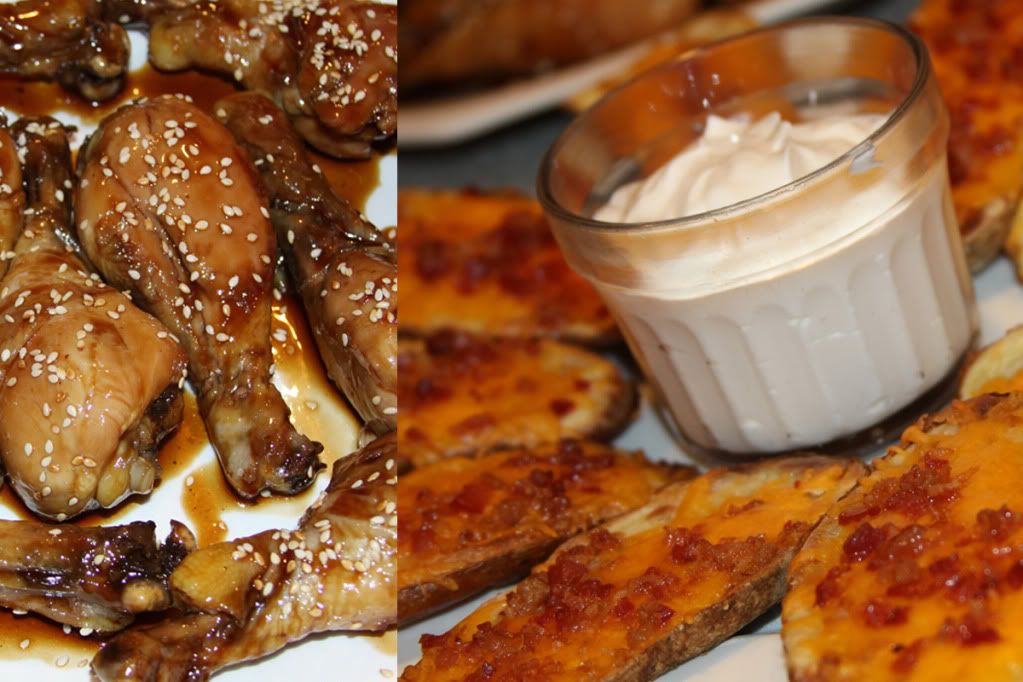 (The drumsticks are a take on Martha's sweet-and-sour wings and the tater skins are our own thing.)
Sweet-And-Sour Drumsticks
Gather your ingredients:
1/2 cup each soy sauce, white vinegar, & honey
3 garlic cloves, smashed and diced
sm piece ginger root thinly sliced
1 Tbsp toasted sesame seeds
3 1/2 pounds drumsticks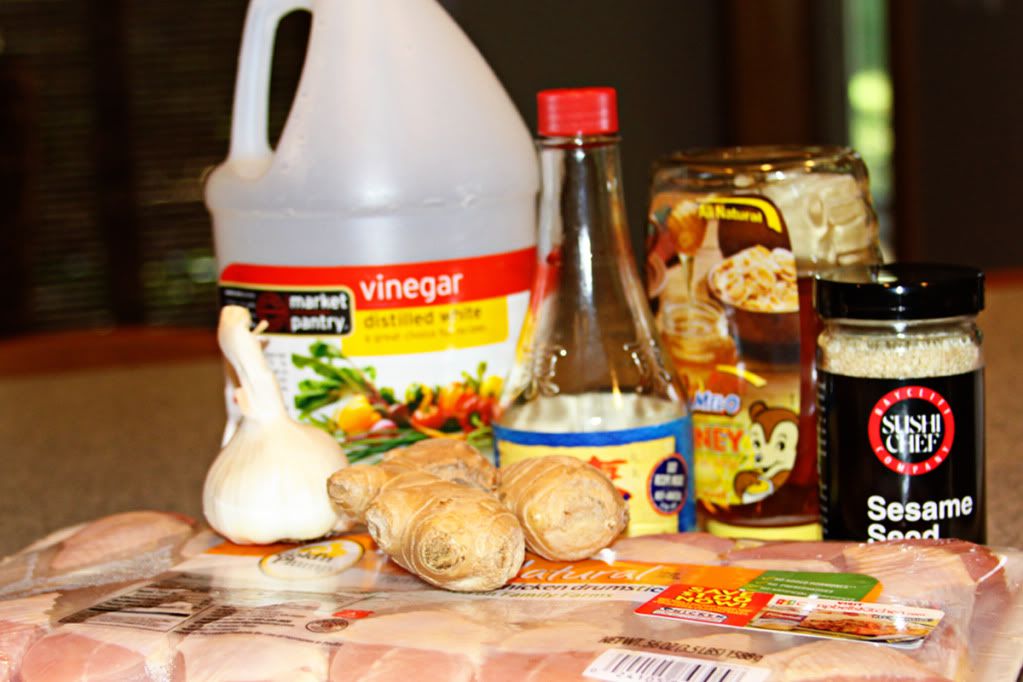 Then preheat oven to 475 degrees. In a saucepan mix liquid ingredients, garlic, and ginger. Simmer until reduced about half. (Cornstarch can be used to thicken if necessary.) Strain ginger and garlic from sauce. Cook chicken for about 40 min. Combine chicken and sauce in lg bowl to coat. Sprinkle with sesame seeds and serve.

Here's a card for the taking. Just copy it as an image and print on cardstock or photopaper.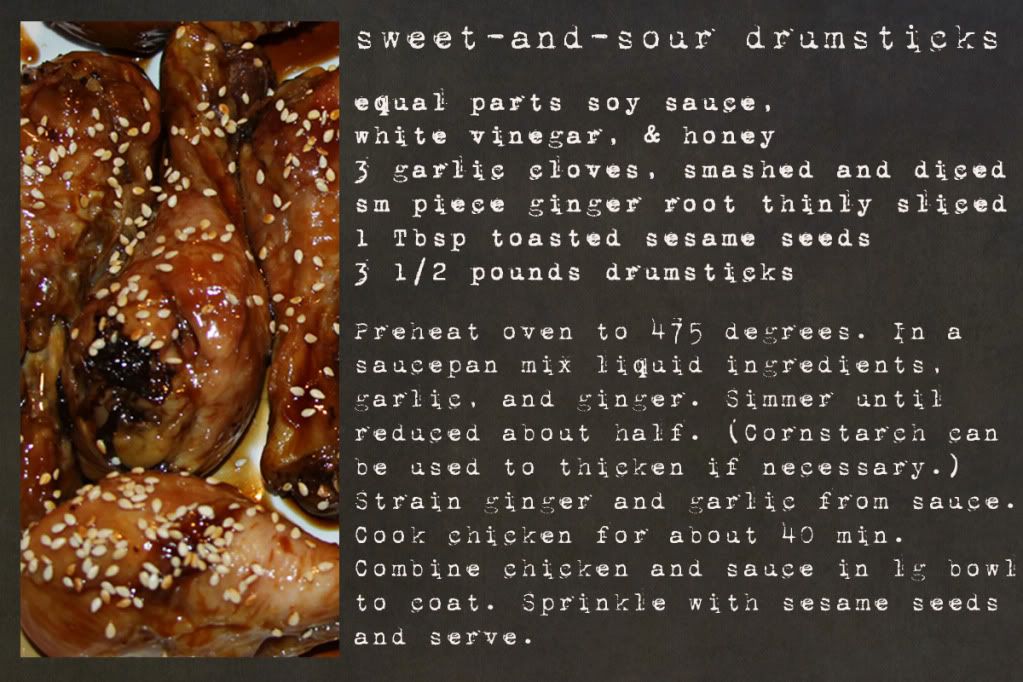 And here are the Tater Skins in all their glory...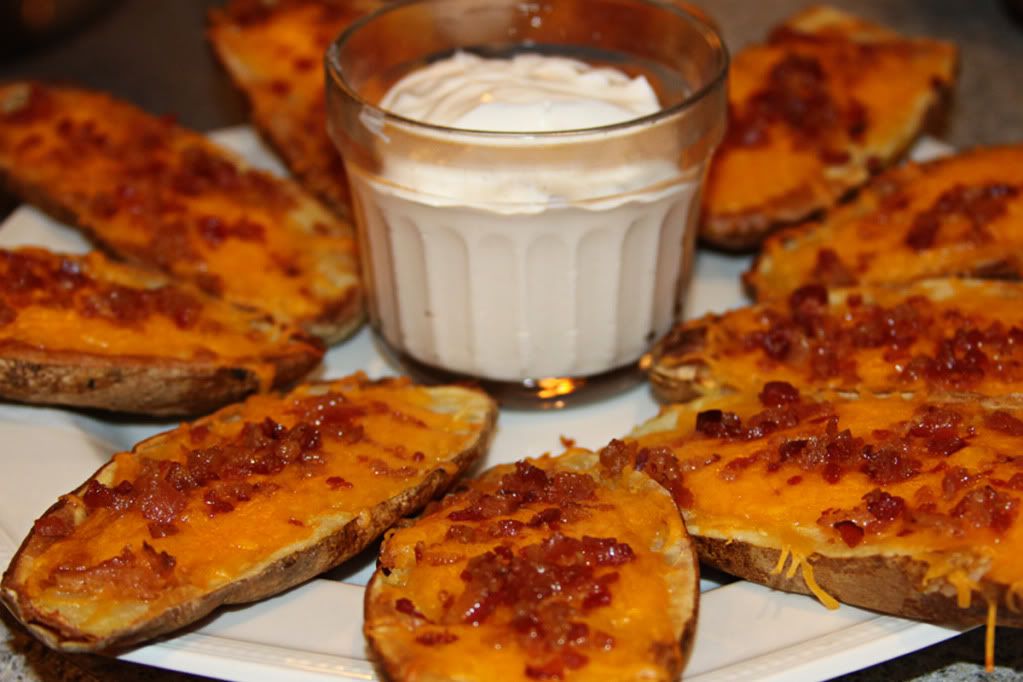 To make these cut the sides off a potato. Bake at 475 degrees for about 25 min. Then remove and add salt, cheese, and bacon. Garnish with sour cream and gobble them up. You could use the scrap potatoes to make french fries if desired.
There ya have it. My take on some yummy Monday Night Football Snacks.
What are you cookin up these days? Grab the button and share your recipes below. (This is a bloghop so feel free to snag the linky as well.)