Howdy folks. Today I'm serving up a platter of Chocolate Chip Muffins.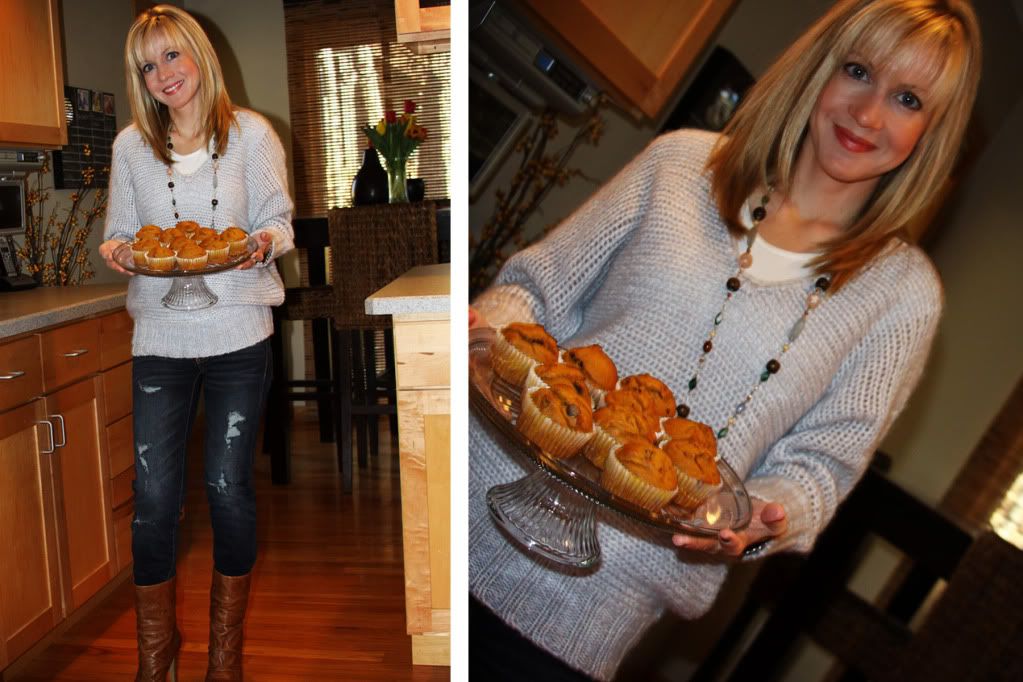 A couple weeks ago Tanya from Dreams Diapers and Dilemmas posted a
Pumpkin Chocolate Chip Loaf
. It totally grabbed my eye and sent my salivary glands into hyperdrive.
But then life happened. And my baking aspirations were put off for a bit. That is until...
last week when out of the blue my boss brought in a recipe for Pumpkin Chocolate Chip Muffins. And it wasn't any recipe. It was from an old book that had seen better days and had pages falling out. That's how you know it's good. So, I immediately made a photocopy.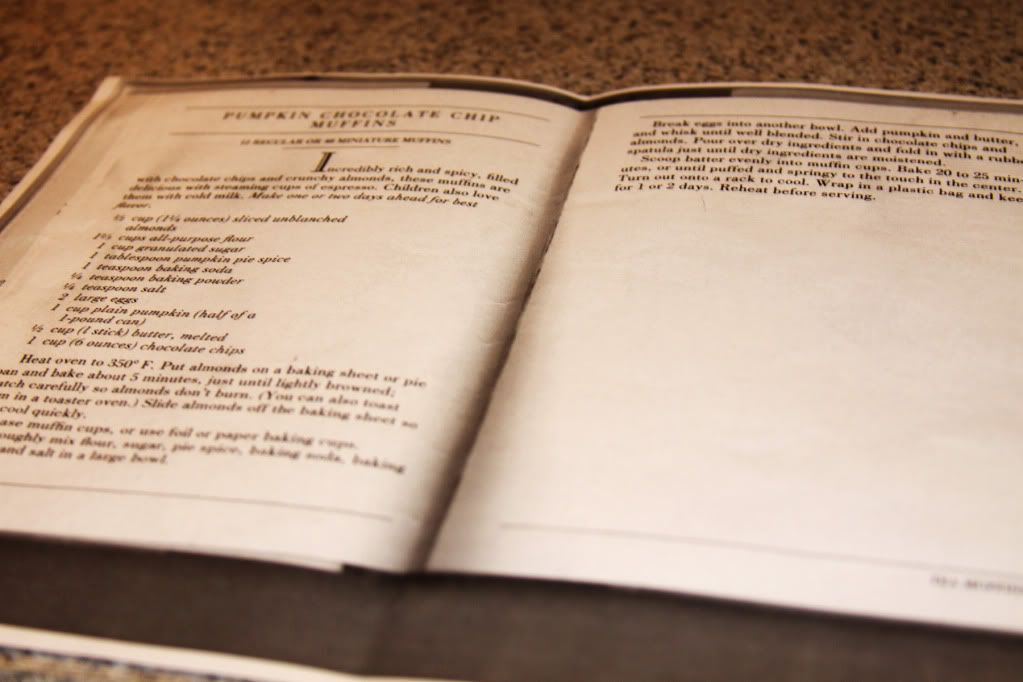 You must know that this lady is THE next Martha. She knits, she sews, she decorates, she runs her own business, she bakes. There is not much she can't do. And it is all done to perfection. I have many of her recipes in my repertoire. And when she says something is good, you best try it.
Unfortunately I didn't have the pumpkin spice on hand, so I had to improvise. She says that the spices were stronger in hers.
Mine were also a little on the dry side. Perhaps it might have helped had I covered them promptly last night.
So, I'm off in search of the holy grail of Pumpkin Chocoloate Chip Muffins. It may take a few attempts, but I will find it.
But if the kids are any indicator, they must have been pretty tasty. It's all I can do to save just one for hubs.
So, from the archives of THE next Martha I give you...
Pumpkin Chocolate Chip Muffins
12 reg or 48 miniature muffins
1/2 cup (1 1/4 ounces) sliced unblanched almonds (optional)
1 2/3 cups all-purpose flour
1 cup granulated sugar
1 tablespoon pumpkin pie spice
1 teaspoon baking soda
1/4 teaspoon baking powder
1/4 teaspoon salt
2 large eggs
1 cup plain pumpkin (half of a 1-pound can)
1/2 cup (1 stick) butter, melted
1 cup (6 ounces) chocolate chips
Heat oven to 350 degrees.
If opting for almonds: Put almonds on a baking sheet or pie pan and bake about 5 minutes, just until lightly browned; watch carefully so almonds don't burn. (You can also toast them in a toaster oven.) Slide almonds off the baking sheet so they cool quickly.
Grease muffin cups, or use foil or paper baking cups. Thoroughly mix flour, sugar, pie spice, baking soda, baking powder, and salt in a large bowl.
Break eggs in another bowl. Add pumpkin and butter, and whisk until well blended. Stir in chocolate chips and almonds. Pour over dry ingredients and fold in with a rubber spatula just until dry ingredients are moistened.
Scoop batter evenly into muffin cups. Bake 20-25 minutes, or until puffed and springy to the touch in the center. Turn out onto a rack to cool. Wrap in a plastic bag and keep for 1 or 2 days. Reheat before serving.
You really can't go wrong. If you are in need of a yummy treat, this may be just the thing.
Have you been doing any baking? What are you cookin up these days?
Did you notice my anniversary tulips (in the photo at top) that hubs must have paid a fortune to find this time of year?
Would you be interested in doing a guest post for one of my Tasty Tuesdays? If so, leave me a comment or email me at

lish@mchsi.com

.

Addendum from the NEXT Martha herself:
I have never added the almonds, I dont think they need it. I use semi sweet chips but this last time I used bitter sweet and they were quite extraordinary. The key to moistness is to not over mix or over bake them. I also use foil muffin papers. The smallest can of pumpkin I have found is twice as much as the recipe calls for so I always add about 1/4 cup extra, I think that makes them more moist as well.
Another tip: load the batter into a large Ziploc, seal it and cut one corner about an inch. Perfect way to fill the muffin cups without a mess.
If you have one to share this week grab the button and link up. Happy eating!! I'm off to a school concert. Have a good one.