Today I'm going to be doing things a little different. Gigi over at Kludgymom has a
Thanksgiving Challenge
going on. Write a post about what Thanksgiving means to you and submit it to her by November 8th. It could be about anything.
And it just so happens that I do know that Thanksgiving is a month away. However, hubs wanted to do Thanksgiving in October. Not sure if he was intending for me to be away (since he'll be working and the kids have a week off) or if he was really just havin a hankering, but we did the whole shabang. Pumpkin pie and all. (Although it wasn't from scratch or from Kathy's pies so I'm not sure it counts, between you and I. Shh...)
Growing up Thanksgiving meant lots of traditional yummy foods (Turkey, Potatoes, Stuffing, Yams, Rolls, Pumpkin Pie, etc.) and lots of family. Usually a dozen+ extra people there was no room for as well. That's just the way my folks rolled. What's a few more potatoes? But that's not what comes to mind when I think of Thanksgiving. In the last 18 years of marriage hubs has been gone or working for more Thanksgivings than he's been around for. True. And although I've tried to make most of the same foods, it just never had the same flair from my childhood days.
But what remains a constant. A favorite. And has never failed me yet is Turkey Hash. It's the one perfect tradition. Yummy now. Or freeze and heat up later.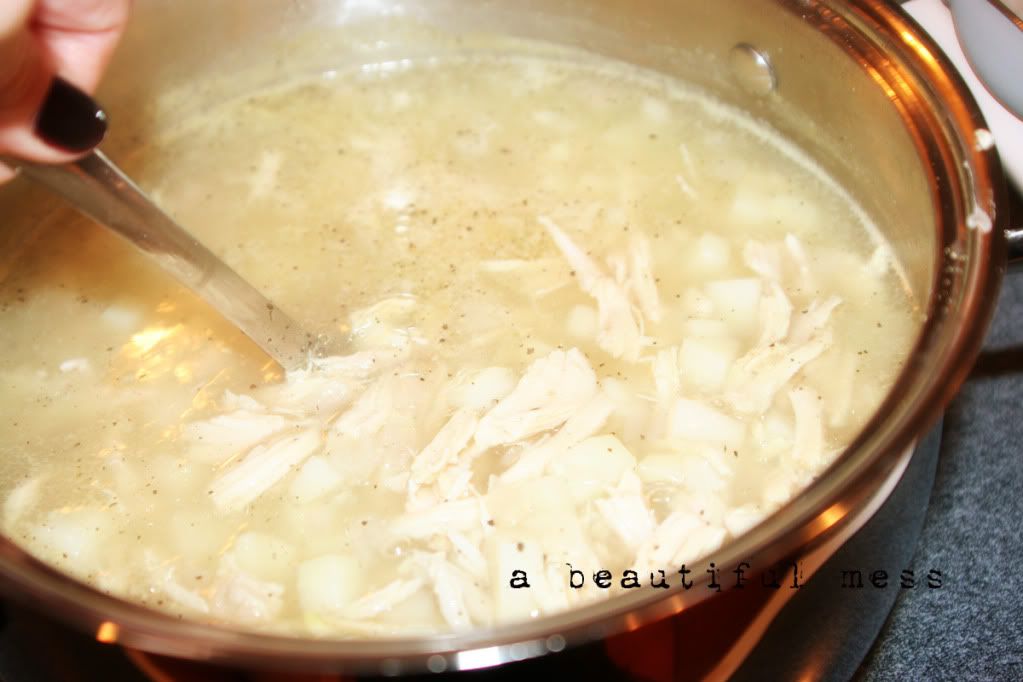 We actually made it right before sickness plagued our home last week. It is a perfect recipe for sickos as well. A great chicken noodle soup subsitute.
So, how does one make Turkey Hash you ask?
That's the best part. There are no rules. Just throw a bunch of stuff together and heat it up. Use the portions you want. Make it as thick or thin as you like. Grab some bread or crackers and you have yourself one heck of a yummy meal. And great leftovers.
Nicer tableware optional. We go paper when people are having chills or other things we won't mention right now.
These are the ingredients that we added to the pot:
Left over turkey (shredded)
Diced Potatoes (any amount you like)
Drippings, left over gravy, or chicken broth
Water if needed
Diced Onions
Salt and Pepper
And whatever else your heart desires


Throw it in a pot and cook until potatoes are to the desired consistency.
It's like a mixture of a thin potato soup and chicken noodle soup minus the chicken and noodles. DELISH!! On a scale from 1 to 10, 10 being the hardest, it's about a 2. And only because it does involve some chopping. But on the up side, it's a easy way to burn a few extra calories.
On a scale from 1 to 10, 10 being the yummiest? Definitely a 10.
And here's a card for the taking. Just in case you can't remember those 4 or 5 ingredients. Right click and save as an image and print it out on cardstock or photo paper.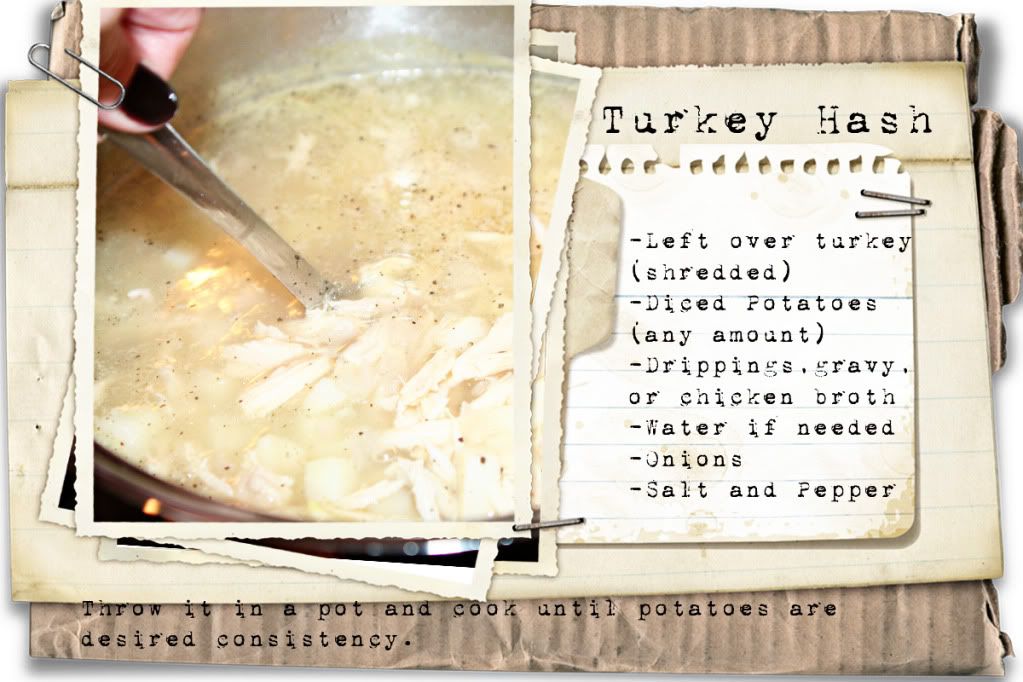 Hope you all had a wonderful Halloween free of tummy aches and sugar bugs (as my kids still call cavities).
What are you cooking up? Have any Thanksgiving traditions?
Happy Tuesday Y'all!!
Thanks so much for stopping by! If you have one to share this week grab the button and link up.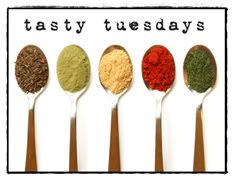 P.S. If you would like to join me on my
smile crusade
, the linky will be open until November 6th.