Went to Little Man's concert. Had to postpone dinner and fight for a parking spot, but made it in a timely fashion for the perfect spot. Or so I thought...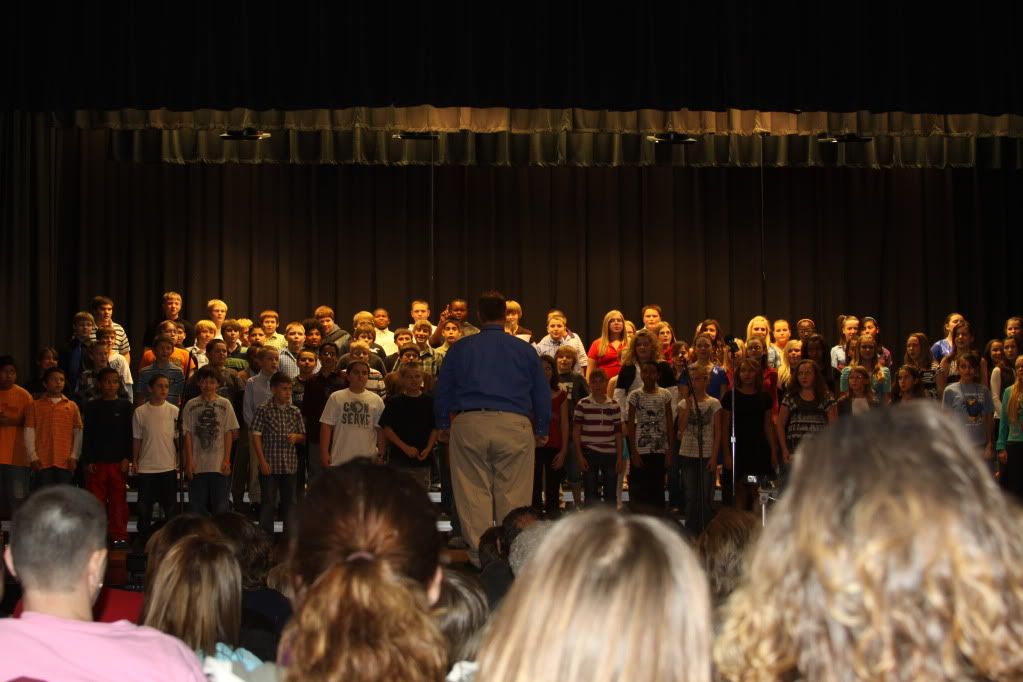 Then I went about the task of locating my child in the crowd. I had to think for a minute.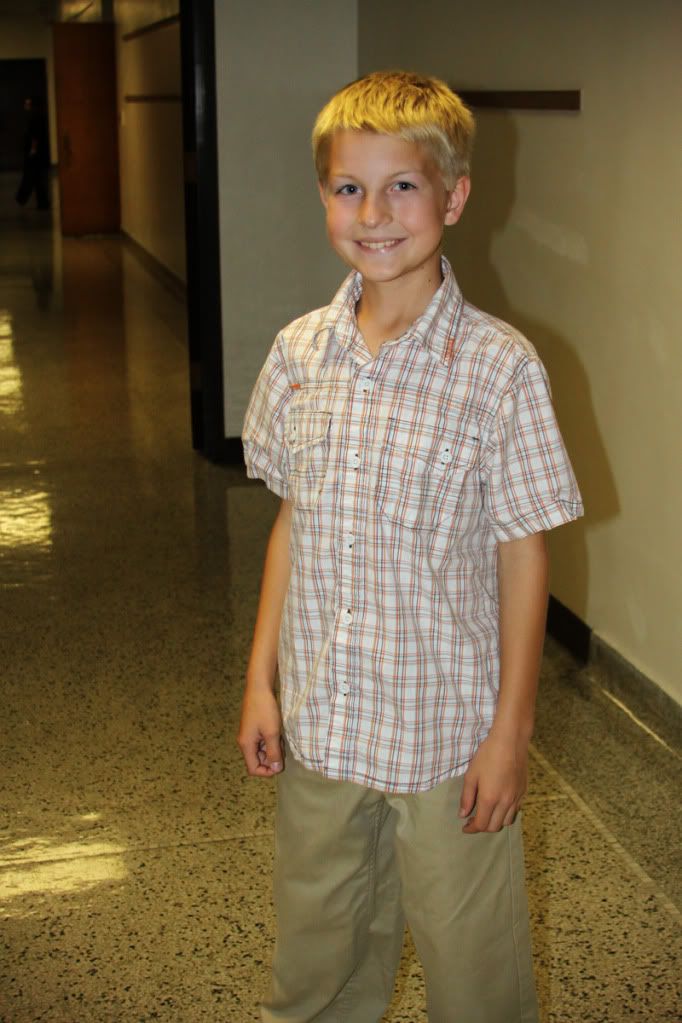 Oh yeah. He was wearing this shirt. Trust me, it was better than the alternative.
Still couldn't spot him. Then I realized he must be smack in the middle. Behind the lovely conductor.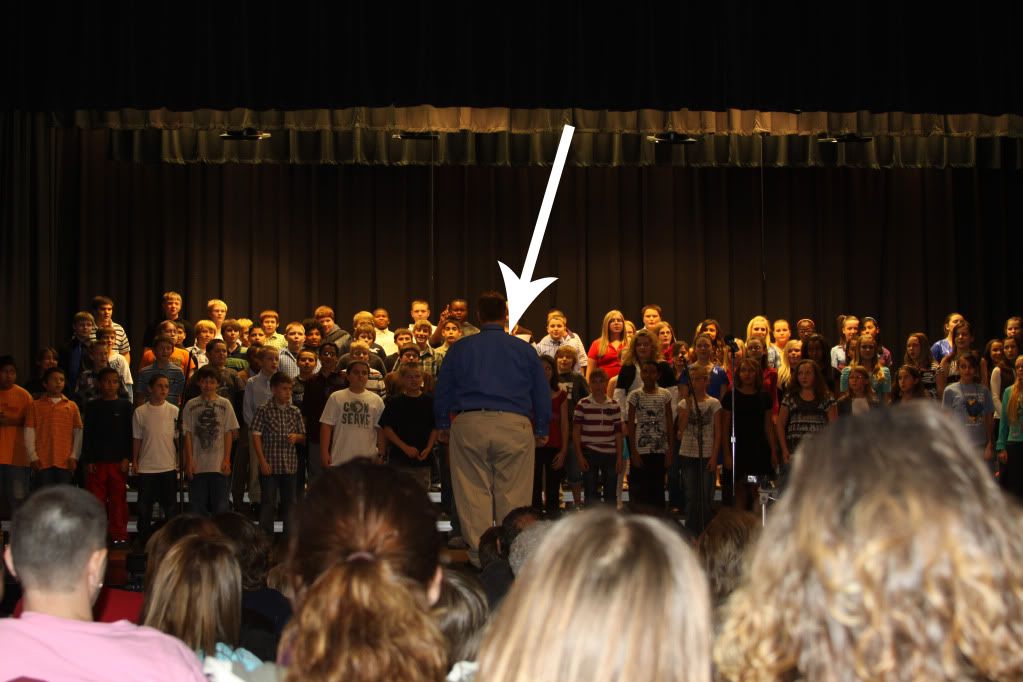 Hrrumph.
But wait... he is moving.
Hmm...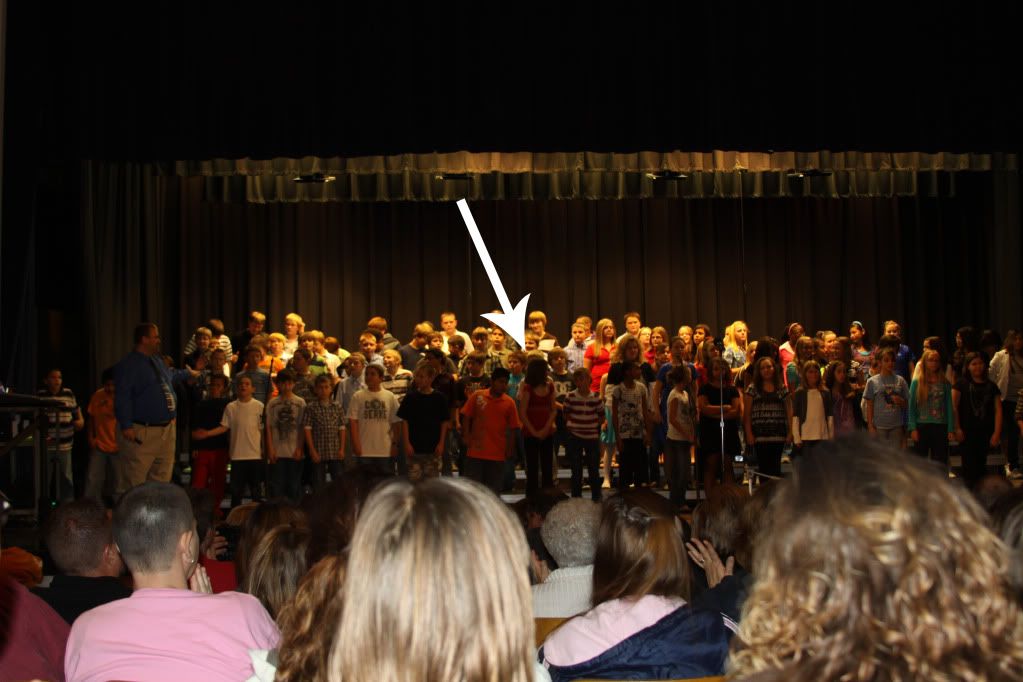 And a closer look...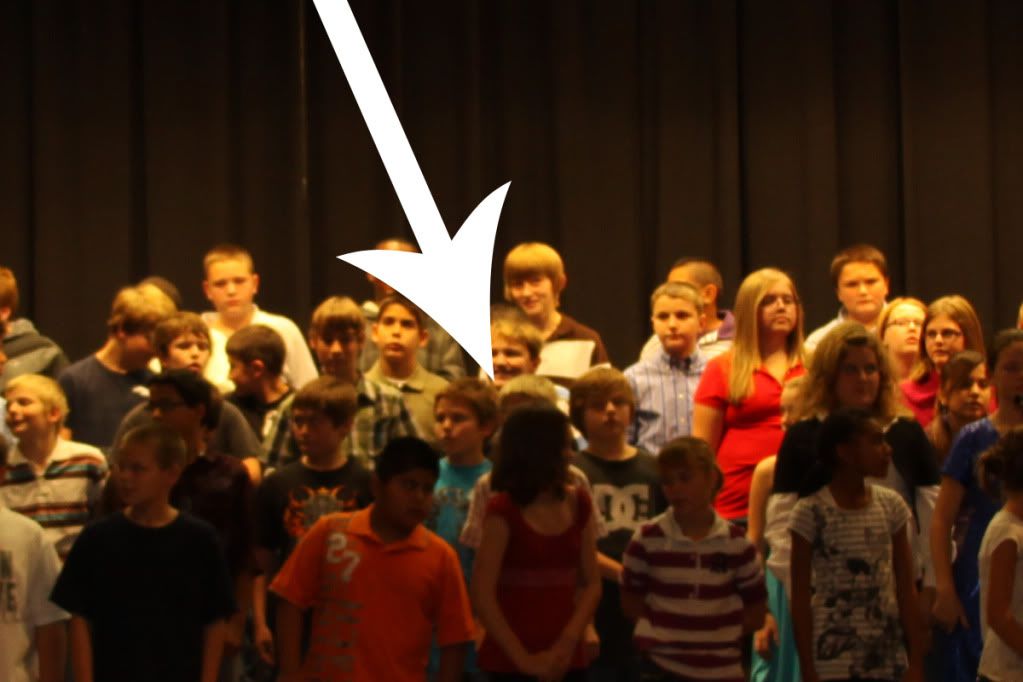 So, I fought the crowd to have a lovely view of the top of my kid's head. What can I say? Regardless it made Little Man happy. Plus I had a good chuckle.
When you have kids- exotic, luxurious lives are a thing of fantasy. I'm livin the humble, real life of a mom. Today we organized the garage, all kids helped, mine or not. Friday night we played chutes and ladders. My son is going through an "I don't flippin care" phase that makes me nuts at times.
And there are rarely dull moments.
Little Man is out sculping clay, so he says. But when I peeked outside to check up on him I spied my 11 year old boy skipping with some neighbor kids. Yesterday I found a bowl of mud on my front porch.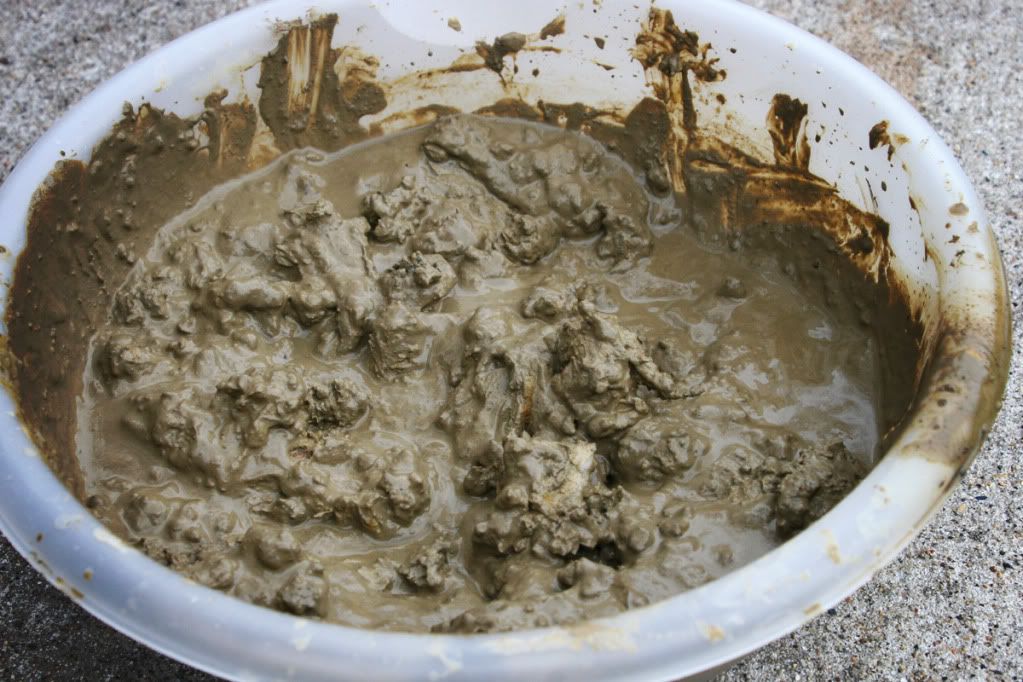 He wanted me to sign a consent form for him to build a stage in the basement. Oh, and he's diggin a hole to China in his fort across the street. But photos aren't allowed until it's completed.
With Pokey we are never short on laughs. She informed me this week that "apple juice is so yesterday". And were you aware that "you can tell if someone is popular by the way they wiggle their butt"? Accordingly to my 9 year old it is fact.
And when I went out to clean out the garage I found a pile of kids hanging in the boat jamming to Black Eyed Peas.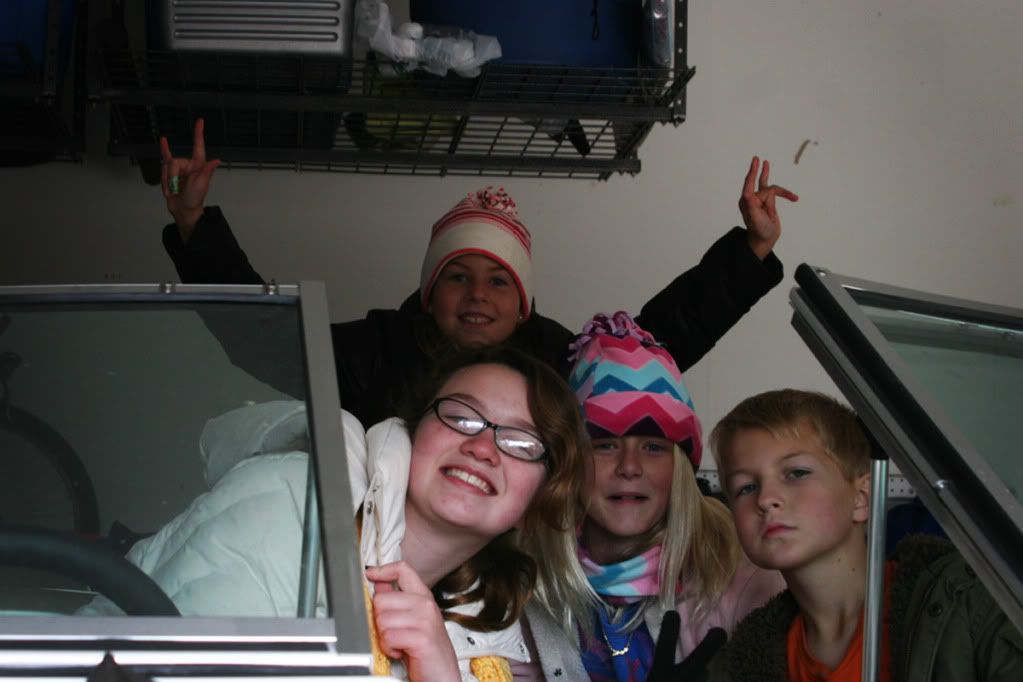 Gotta love em.
I've been down with my 80 year old hip. Turns out I'm a bit of a freak. Not exactly symmetrical. And running might not be the exercise of choice for me. Sigh.
So, I'm thankful for kids that give me reason to laugh.
Not many pics this week. But the few I got speak volumes about our life. And as I get older I realize it's those less than stellar, imperfect photo op kinda days that we will remember when all is said and done.
Happiness doesn't come in a perfect package.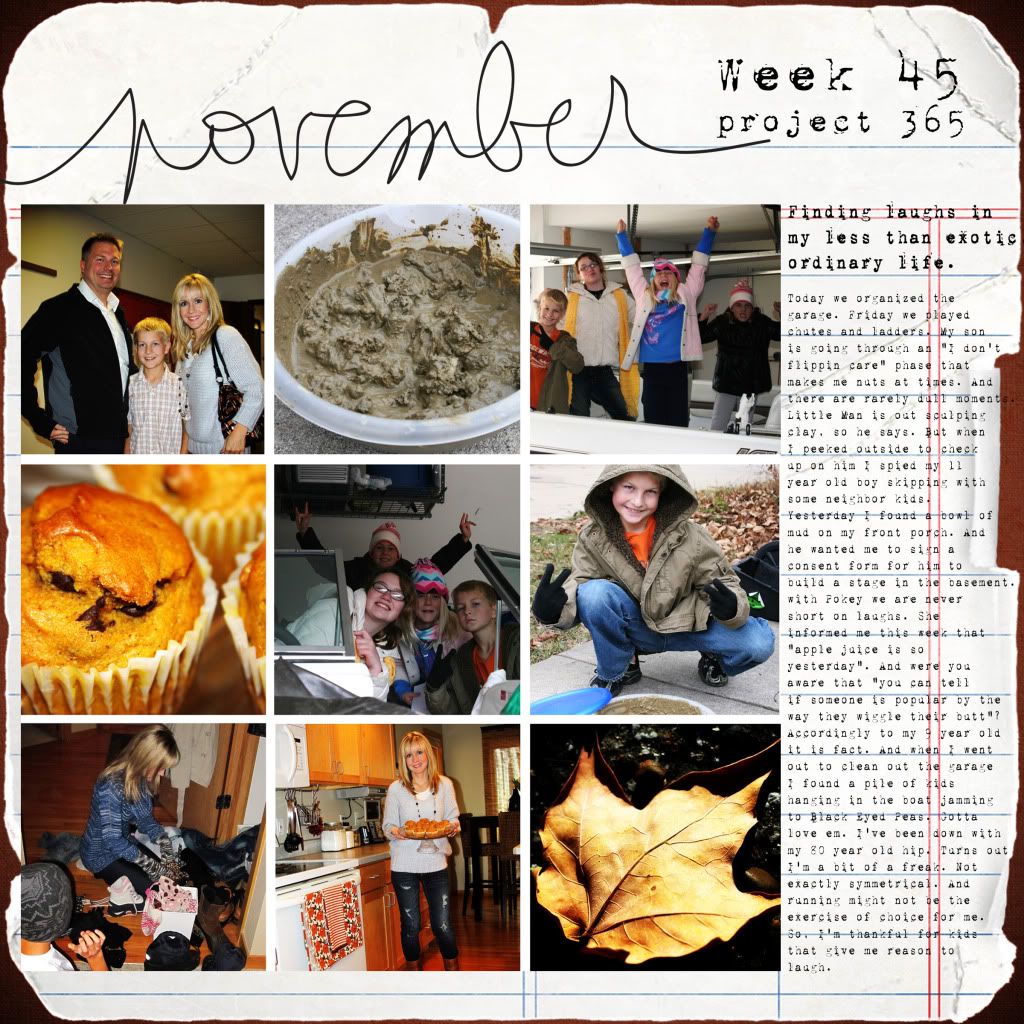 Hubs made an appearance in the nick of time for Little Man's concert. (Top left photo.)
And my Turkey Hash was featured over at Kludgy Mom yesterday. You can check it out
here
.