I have been asked several times about my fonts that I use and thought I'd share a quick tutorial.
There are hundreds upon hundreds of free fonts available for download. Once you find your favs, you must insert them into your computer's font folder in order to access them. Once they are plugged in they will work on any program on your computer that uses fonts including photoshop. You can add an additional layer in photoshop to add text to any image.
I use Windows 7. If you use Windows Vista, XP, or Mac OSX, click
here
for a tutorial.
For Windows 7, locate your control panel. Then select appearance and personalization.
You will see these choices (below). Click on fonts.
It will look something like this.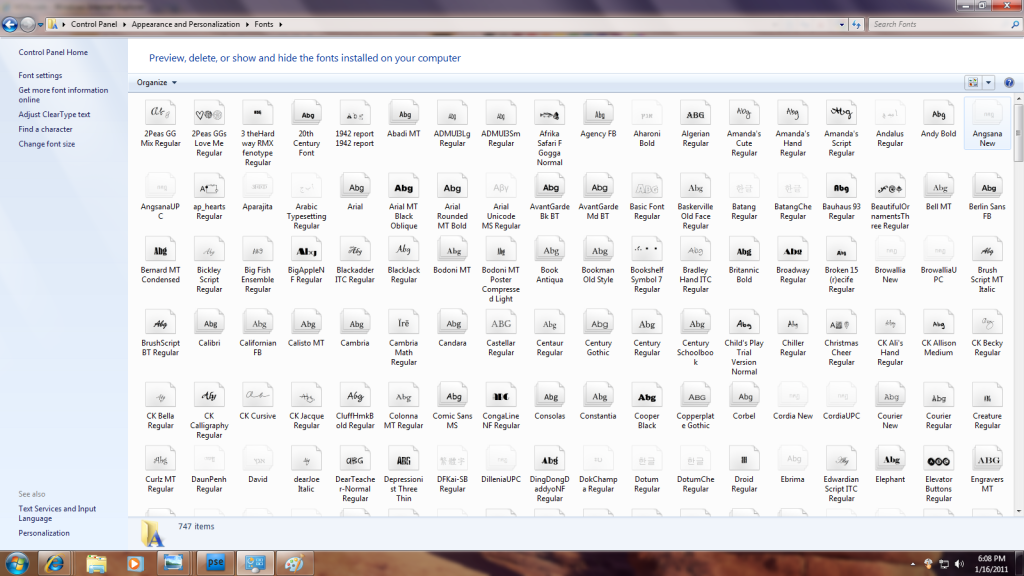 Just copy and paste your unlocked font into this location.
Tip: I download fonts and then extract them to my desktop for easy access and retrieval. Once they are plugged into my font folder I delete them off my desktop.
Here are some of my favorite fonts.

Download 1942 report
here
.

Download CK jot
here
.

Download CK Ali's Hand
here
.
Download Depressionist Three
here
.

Download WW Flakes
here
.

Download VT Portable Remington
here
.

Download Splendid 66
here
.

Download 2Peas GGs Love Me
here
.

Download Pea Kevin & Amanda
here
. Plus hundreds of others from her
here
. You can even choose to download her entire collection
here
.
Submit your own handwriting
and have her convert it into a font for you. She shares new fonts every Friday. A fabulous site to bookmark!
I hope that you enjoy playing with some of these fonts. They can certainly transform any picture or scrapbook page!
Have a great week!