From time to time we all find ourselves in a creative slump- questioning our purpose and wondering what we can contribute to the world.
Writers, painters, sculpters, photographers, teachers, athletes, mothers- we all share a common goal-
to achieve an original creation
. Something that sets us apart in the world. Something we can leave behind. A legacy, if you will.
Sure, there may be better photos. Better novels. Better artists. But we mustn't let self-doubt or discouragements prevent us from creating.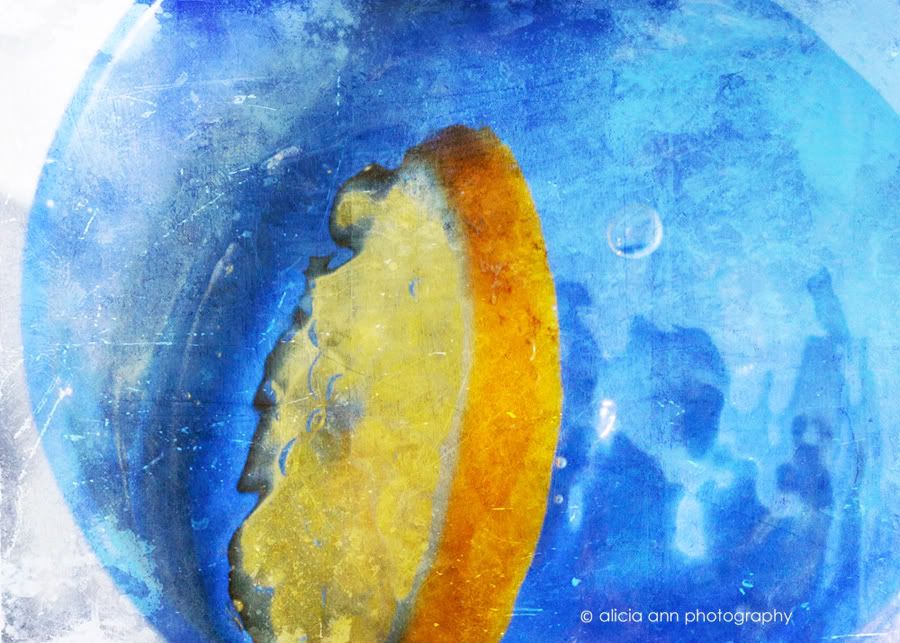 "Use what talents you possess, the woods would be very silent if no birds sang except those that sang best." - Henry Van Dyke
Open your eyes and look around. Inspiration is lurking in the most unsuspecting of places.
This week I was inspired by an orange. Bright, aromatic, citric, beautiful, and refreshing. I can't think of a better subject. It certainly challenged me. It also made for a fun photo shoot.
First thing I had to do was figure out the right kind of orange. Then I had to figure out how to cut it to make it aesthetically pleasing. I opted for the non-navel kind. And it only took me two to find the perfect slice free of seeds.
Then I had to wait for the right light. I chose to do my shots outside on my back deck where it is partially shaded and provides the necessary natural light.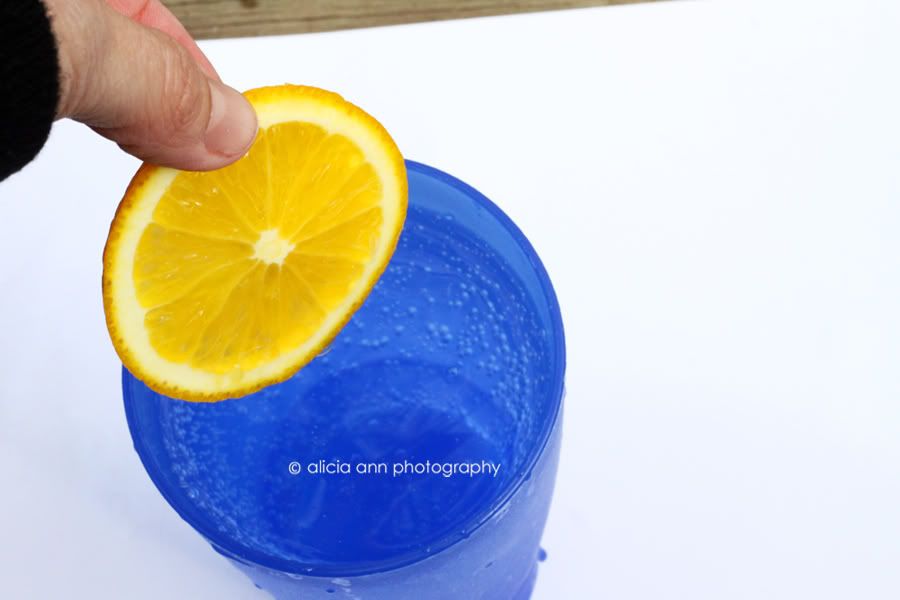 I used a 12x12 white scrapbook sheet for a backdrop, a blue glass for some added color, and some sprite for additional bubbles.
I amped the shutter speed up and then proceeded to drop the orange in the glass multiple times.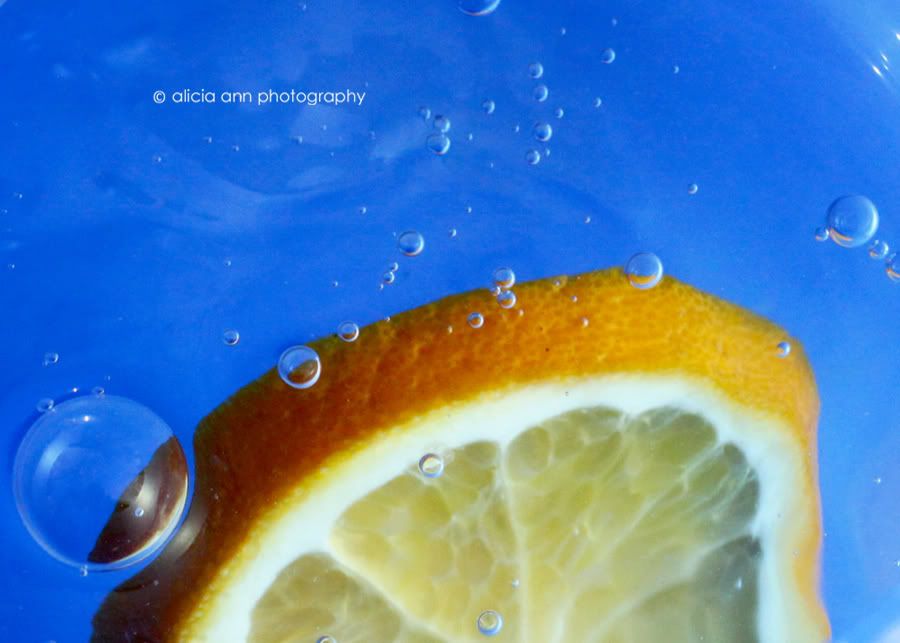 It may have been more effective with a clicker or an assistant, but neither were readily available, so I worked with what I had.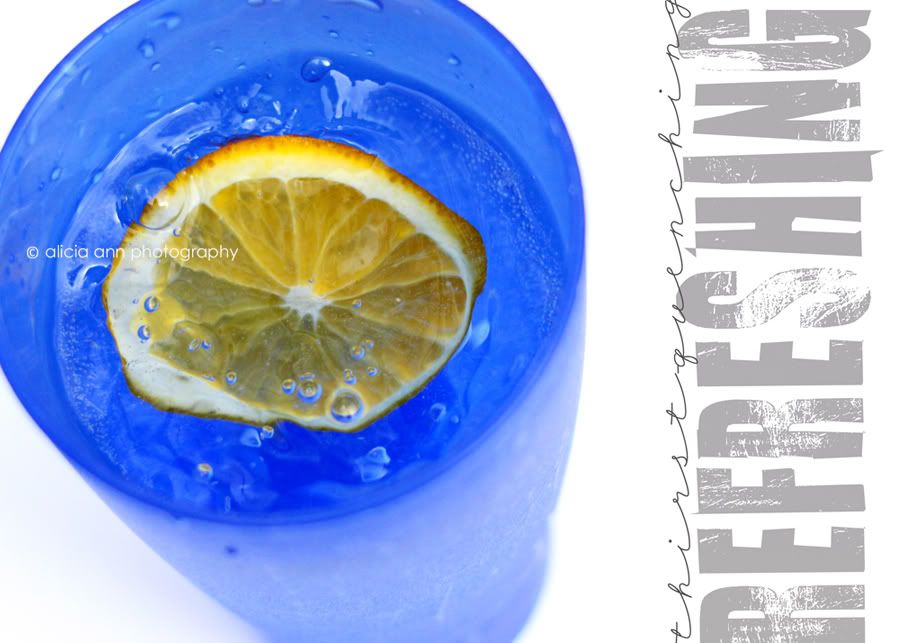 I took tons of photos. Possibly hundreds? But clicking is not the hard part. No, the hard part is weeding through and finding my favs.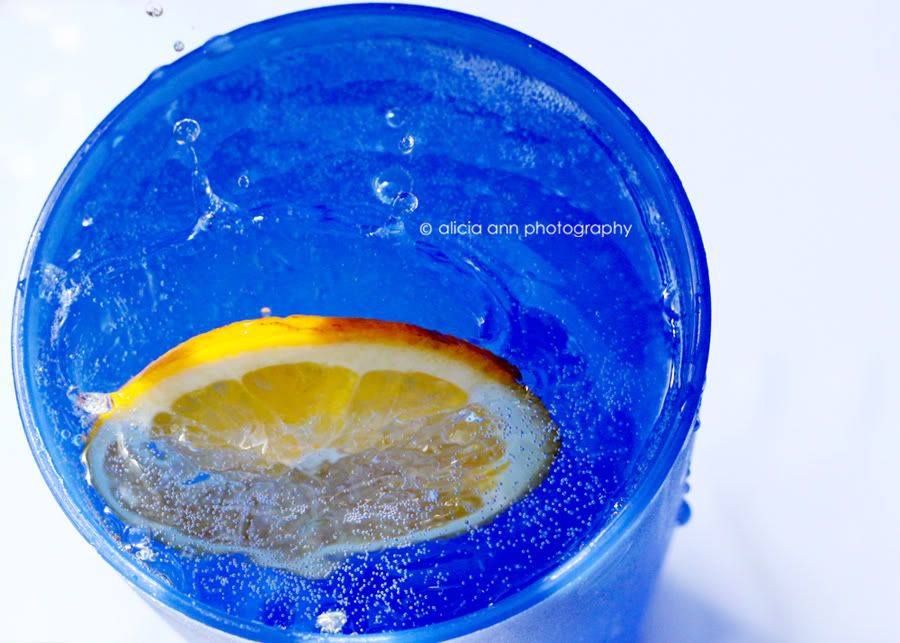 This is where another person may come in handy because they are not emotionally attached or invested in the project. Hubs helped me narrow down my favs to a more reasonable number to work with. Due to the great lighting I had minimal editing. I used the "contrast boost" and "deep pop" actions by paint the moon for a few.
I also added a Shadowhouse texture called "square 154" to this one. Hubs really liked it and suggested putting it on canvas. (You can see this photo with texture at top of page.) It certainly changes the entire feel of the photo.
Where are you finding inspiration these days?
If you are in a slump, grab an orange and try these easy steps. You may be surprised just what you can create. "Orange you glad" you stopped by? (Sorry, I just can't help myself.)
Sorry for all the words this week. I've had many questions regarding my photos and thought I'd share a few pointers. Photography isn't hard. It just takes a little patience and a whole lot of practice.
Canon EOS 50D, Canon 50mm f/1.8 lens, and Photoshop Elements 7 were used for these photos.
If you have a photo to share, just link it up below. Then check out a few of the other fab WW posts. I link up to these blogs every single week...