Today is April 19th and Day 5 of my
30 Days of Spring Photo Challenge
if you are playing along.
If you haven't yet joined it is not too late, jump in any time. It runs through May 15th.
You know when it is only Tuesday and you are already wiped you are in trouble. I think I have this lovely weather to thank. (Do you hear the sarcasm?)
It is 35 degrees outside today, raining, and feels like 14 (just updated from 18) with those northeasterly winds at 20mph.
Friday it poured buckets
while grandma peacefully slipped away.
It is actually my hub's grandma, but I lost my last grandma when I was expecting little man almost 12 years ago now and the others were all gone while I was still young. This was the last grandparent for both of us. Thank you for all the sweet, thoughtful words. They are much appreciated.
Saturday
it snowed here.
Yes, giant flakes were falling out of the sky and there were even accumulations. I wish I could say it was a white lie, but no. It actually happened. And I thought I'd freeze to death at Little Man's soccer game. No amount of layers seemed to help. And I know when hubs is whining it is stinking cold.
Yesterday made it to the 40s, but if you live in Iowa or have ever visited here, you know how cold those winds can be. (But you have to experience it to have a genuine appreciation.) The actual feel was more in the 20s. But I ventured out anyways. A bit under dressed for those cold wind gusts in my 3 inch wedge sandals and spring jacket. I scoured the city in hopes of capturing some spring blossoms. And what a let down.
Even the birds seemed to be confused.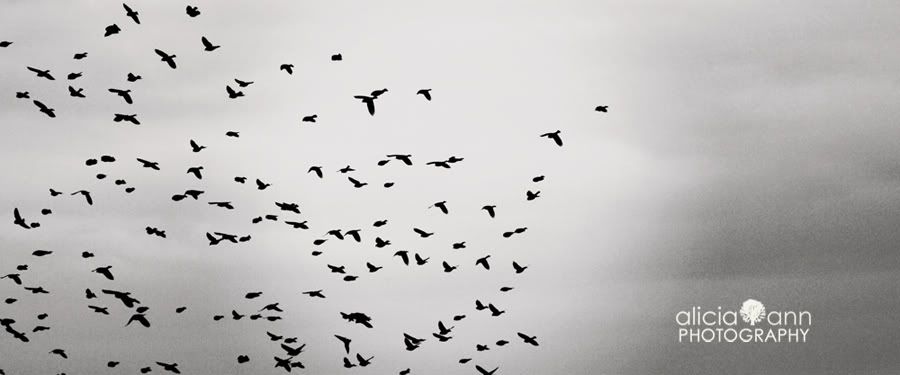 If I didn't know better I would think it were fall. Or winter. Mother nature certainly seems to be confused. Or plotting against me.
The little flowers I found had been ravaged and beat up by the snow from the weekend. I had to really stretch my imagination. I was stoked to have found one single blossom that was still intact. It was my
one beam of sunshine
on an otherwise cold, cloudy day.
If you are reading this... I am now begging. Please, oh please send me some spring. Anything you got. I'm not picky. I could really use a pick-me-up about now.
So, today I am sharing an example of how from time to time you have to fake it.
You may remember my
Spring bedroom make under.
Yes, even back in February I was dreaming of spring days- barbecues, walks in the park, scatterings of pinks and purples in fragrant aromas, even bugs. And thunderstorms. (That is when the bedroom transformation began.) I told myself that I would take any of it if it would just come. However, I was not prepared for snow or freezing temps. That was not what I envisioned.
So I decided to plaster photos and reminders... you know, trick myself. Fake it. Will it.
I racked my brain and ransacked my scrapbook supplies and came up with this.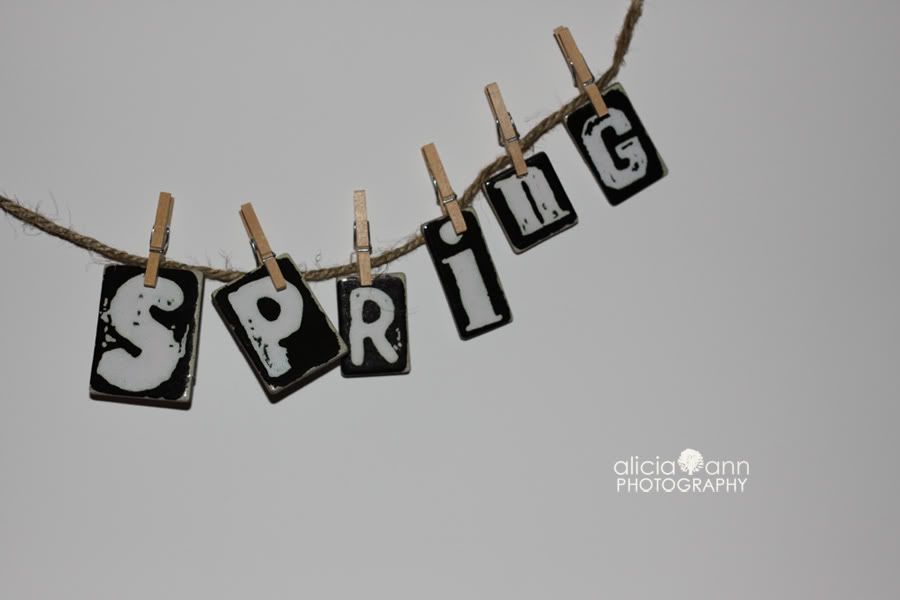 I used miniature clothes pins and actually attached the letters to the twine. It was dark out and I couldn't wait 'til morning to capture it, so I put it against a white board, raised the ISO to some crazy big number and used the flash. It wasn't that impressive.
So I plugged it into photoshop elements and started adjusting the contrast.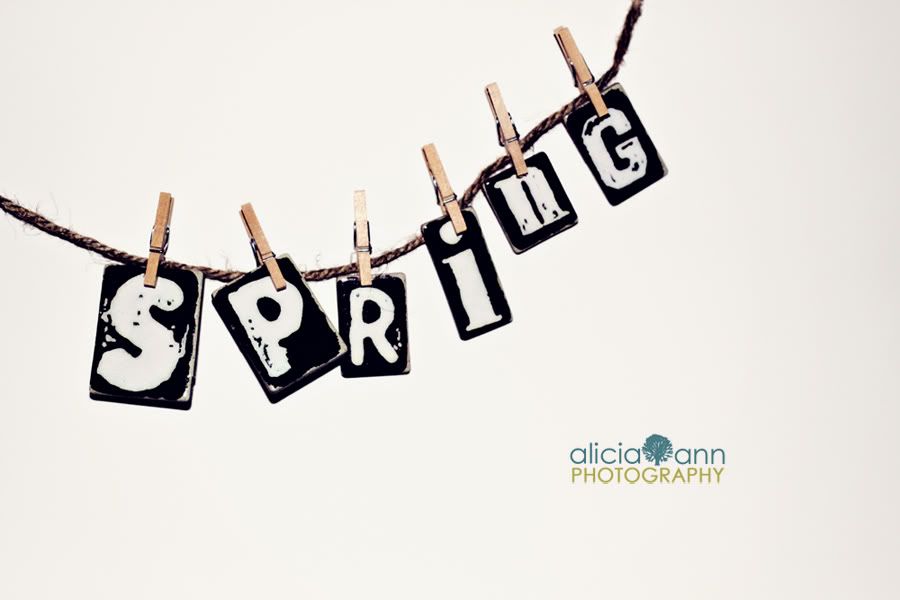 But I wanted more. So, I snagged this photo from little man's photo shoot and cropped him out.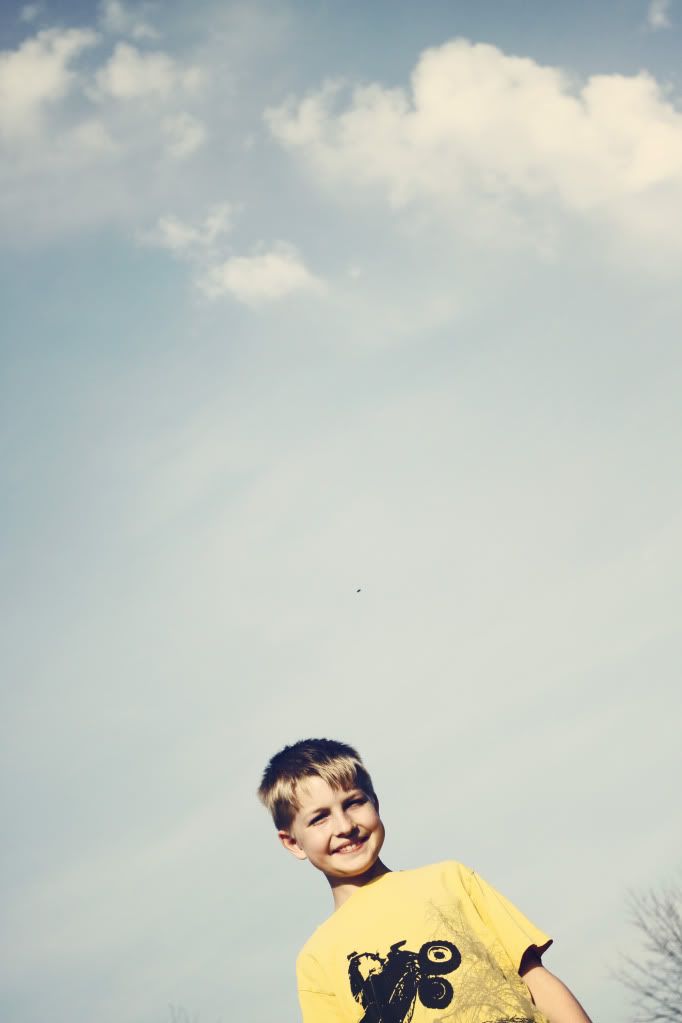 Then I added the clouds behind the text.
I added Florabella's Jane action, my new fav. It gave it just the pop I was looking for.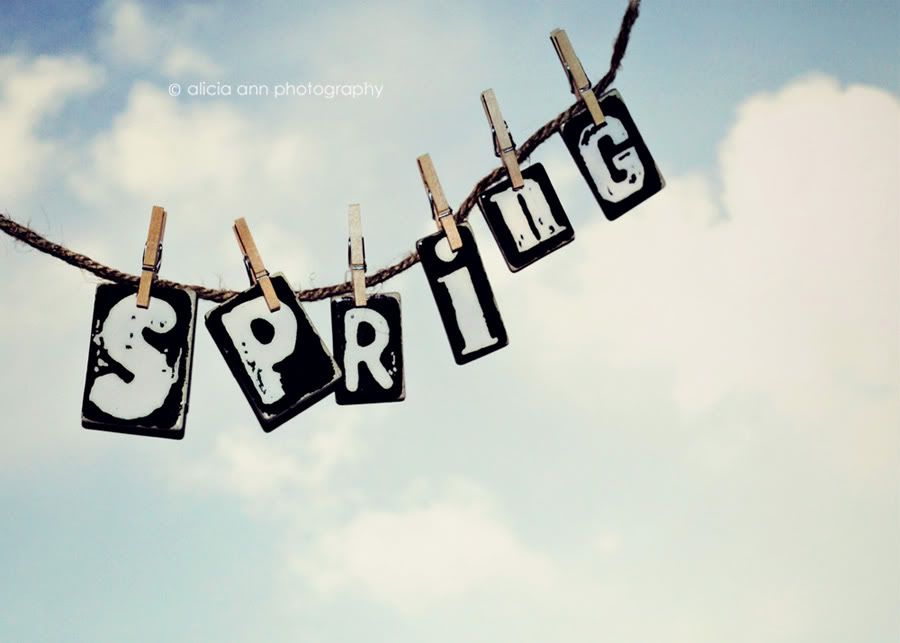 And that my friends is how you fake it. It is also how my
30 Days of Spring Photo Challenge
came to be. Out of a desperate need for sunshine and blue skies. Doesn't it just scream spring?
If you want to send me some of your sunshine (preferably the non-artificial kind), you can add your pics to my
30 Days of Spring flickr group.
You can tweet it using the #30dos hashtag.
Or you can do a post and share it here at
project alicia
. (The linky is over at Day 1.) Just grab this button.