For real. I woke up today... The sun was shining. The birds were chirping. The sky was the bluest blue I can recollect in the farthest reaches of my brain. And somehow overnight mother nature appeared to have waved her magic wand and the earth was completely transformed. Those same trees that were naked just two weeks ago are totally filled in. Spring is finally here. Guess they just needed a couple warm days and a little drink. Maybe it's just my hormonal self, but tears flowed as I took my run today (and it wasn't just the allergens getting to me, although there was plenty of that as well). My heart was overflowing with joy as I soaked up all the green lush around me. A long awaited day. And perhaps if you lived through a winter in the midwest you'd cry too. I couldn't help but think what a miracle it is. And how often do we let these miracles go unrecognized in our lives?
I snapped several pics. A little bird that seemed to have an injured wing. Beautiful lavender lilacs. An abundance of green covered branches against an azure sky. Sweet ducklings. But the thing that really caught my eye and drew me in wasn't the fragrant aromas or the beautiful new life, as amazing as it was. No. It was another dandelion clock. This one beat up by the wind and partly dilapidated. Her seeds exposed. I think I'm obsessed. (You can see more
here
.) But I couldn't help myself. She beckoned me. And what a beauty she is.
The best part of spring are all the treasures just waiting to be discovered. If you missed my water droplet yesterday, you must
give her a looksie
. It wasn't just any droplet, it was a one of a kind- a photographer's dream find.
(Hover over photo to see the before)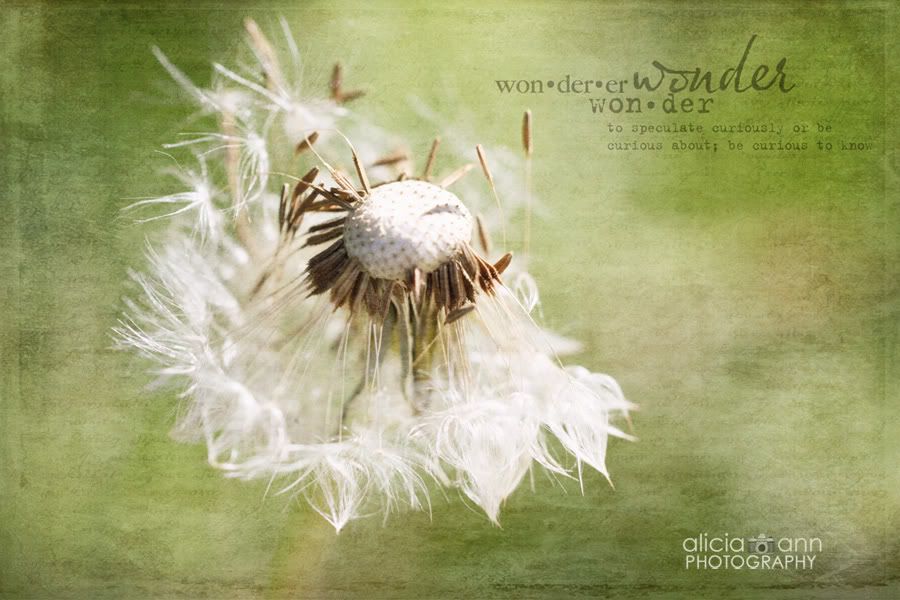 Formula:
Layer 1. Original Image (Background)
Layer 2. Florabella Jane Action
Layer 3: Kim Klassen pourvess texture, overlay at 30%
Layer 4: Use brush to remove some of the texture on the dandelion
Layer 5: Kim Klassen lifes good texture, soft light at 89%
Layer 6: Add wonder text
layer 7: Add watermark
Happy Tuesday! Thanks so much for stopping by!