Water- We drink it. We wash with it. Over 50% of our bodies are made up of it. About 70% of earth is covered by it. Plants require it to grow and thrive. Yet it isn't until it is taken from us that we truly gain an appreciation for it. During the June 2008
Cedar Rapids, IA flood
all but one of our city's water pumps were flooded leaving the city, ironically enough, in short supply of water. We were asked for several days to ration the water to one gallon per household. The week following we were on an alternating water plan. On even days we were able to wash dishes and do laundry, but were asked to use the water judiciously. Water was not to be found anywhere. The shelves were empty and roads were closed making it impossible for supply trucks to replenish. Pools didn't open. Many people, including hubs, bathed outside in the rain. It was indeed a wake up call for me. And I have gained a renewed respect for the colorless liquid. Summer just isn't the same without it.

(If you have a photo editing program and would like to make this, you can grab the 12x4 inch template here. Just place the photo or paper you would like to use above the letter (one space above the letter in the layers panel) and then press alt and left click with the mouse in the layers panel between the additional layer and the letter (mask layer) to clip it into place; opt key for mac. The photo or paper will take on the shape of the text.)
The last couple weeks have been cool here in the midwest (high 60s/low 70s) and very rainy. So, we gave up on pool shots and ventured out to jump in puddles.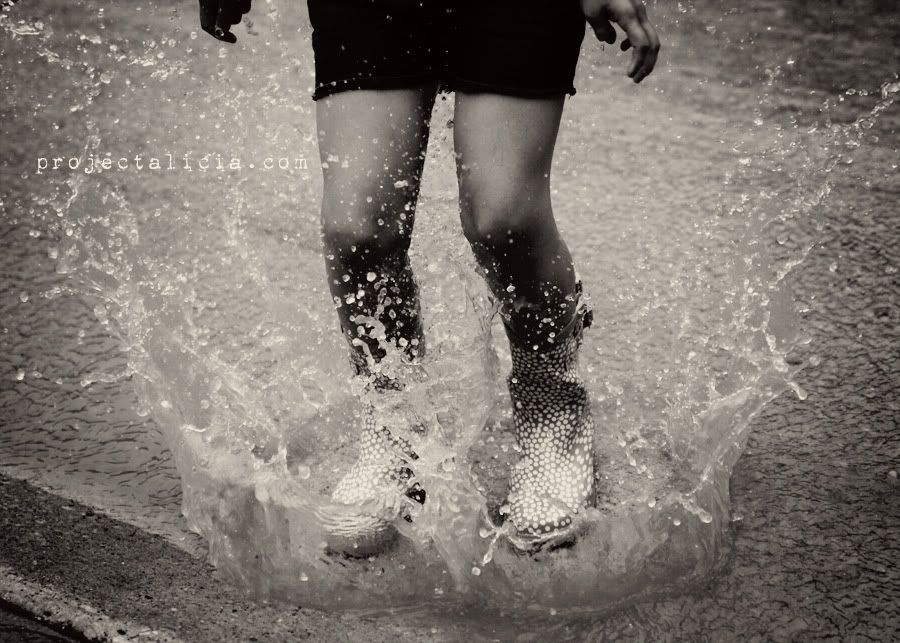 I was super stoked for the opportunity to use my new 28-75mm f/2.8 lens for our water theme. I attempted to capture the kids splashing. Only it was dark. And my shutter speed was too high. So, I compensated with Florabella's BW Film and Paint the Moon's Overall Lighter Action. Florabella provides a sliding scale for all of the adjustment layers, so I removed most of the vignette and cranked the light way up.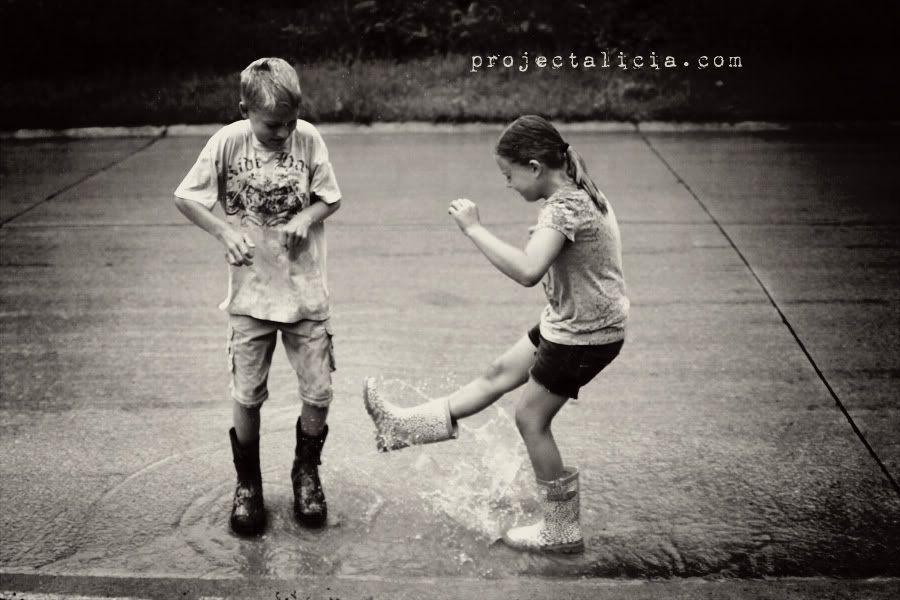 Hubs held the umbrella over me while I snapped away. Nothing better than candid shots. At first they were hesitant, but it didn't take long before the kids were chasing and splashing each other.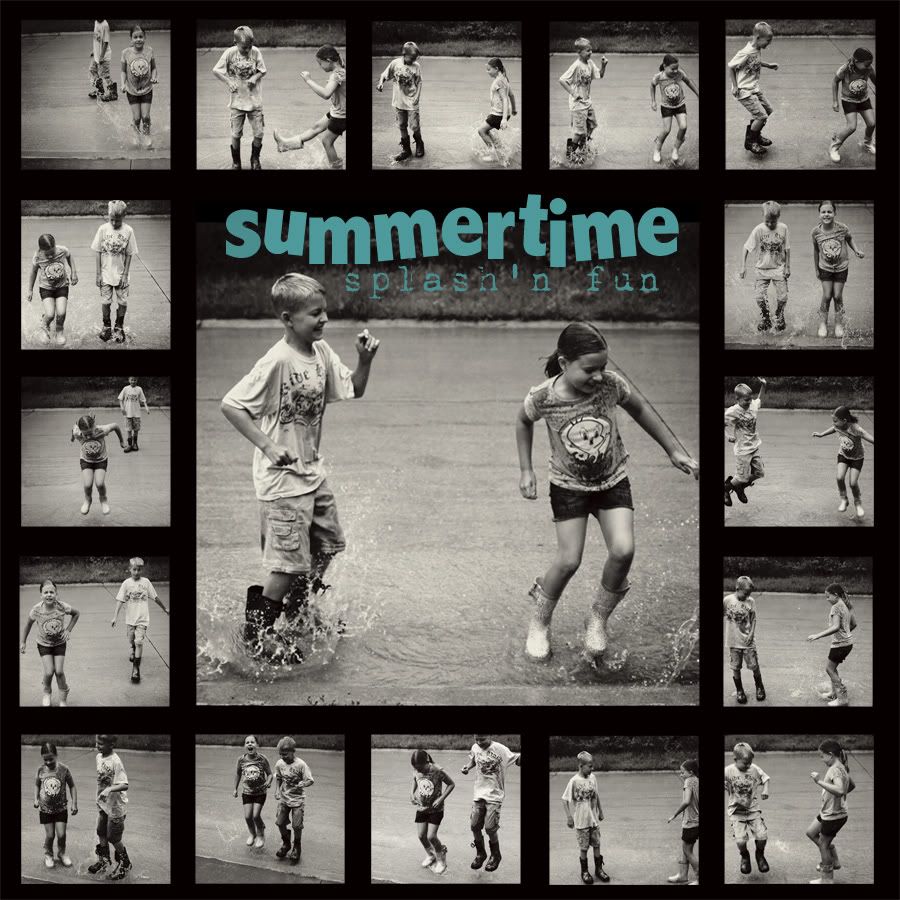 (You can grab this M Originals template
here
. Refer to the clipping instructions above.)
It was all I could do to drag Pokey inside. She dumped her boots multiple times.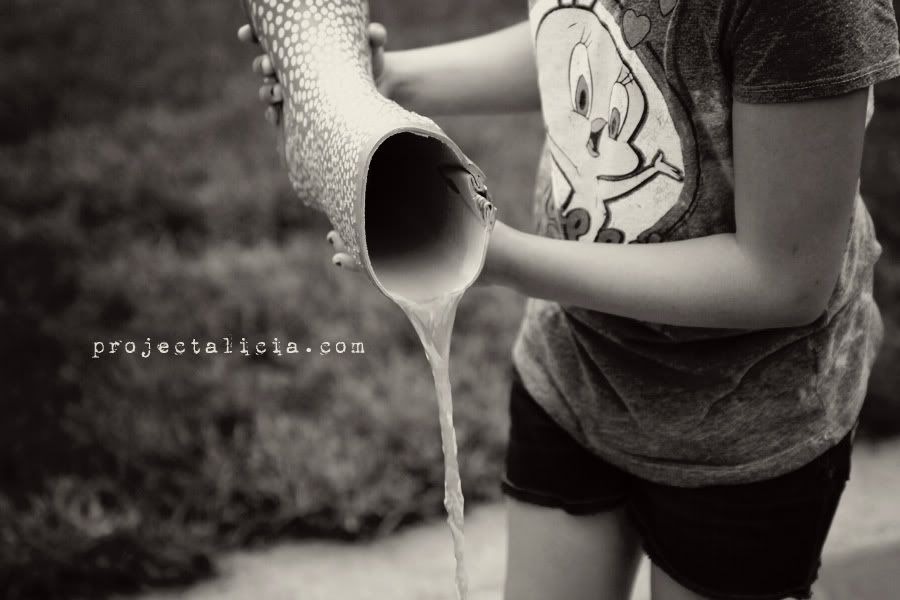 And could have cared less that she was soaked through. She was havin a ball!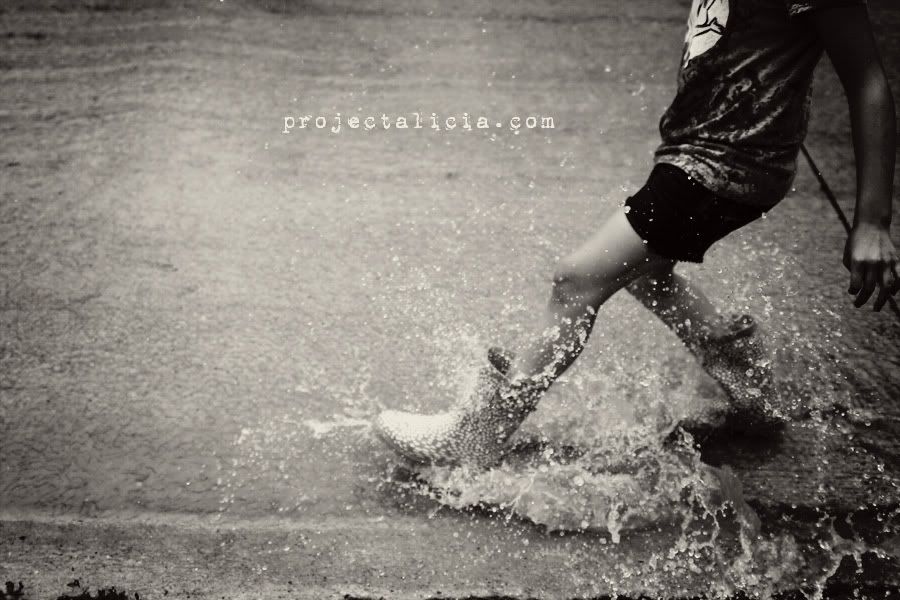 Have you had lots of rain in your neck of the woods? Have you been swimming? Tubing? Sightseeing? Grab your water pics and come link up for our Week 3 Crazy Days of Summer.
----------------------------------------------------------------------------------------------------------------
Share your favorite images inspired by the Crazy Days of Summer theme-of-the-week and grab our sweet button while you're at it!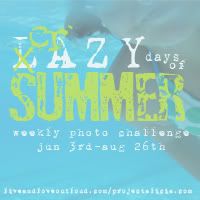 Please link directly to your Crazy Days of Summer blog post or Flickr photo, not your blog's home page or Flickr Photostream. Feel free to share your photos in our
Crazy Days of Summer Flickr Group
as well.
The linky will remain open from 12:00am Friday – 11:59pm Wednesday.
Make a few new friends by visiting and commenting on the previous entry in the linky list.
Each Thursday, a few of our favorite images from the
Crazy Days of Summer Photo Challenge
will be selected and featured at
Project Alicia
and
Live and Love Out Loud
.
You can find more details about the meme as well as updated themes in my
Summer Photo Challenge Page
located in the tab to the right under my header.
The theme for Week 4, June 24th is Yellow.
Don't forget to stop over at
Kristi's place
to see her fabulous water shots. Can't wait to see what y'all came up with!