Welcome to Week Eight of the
Crazy Days of Summer
Photo Challenge. The theme this week is motion.
Capturing motion in photography is a cinch if you are wanting to freeze water droplets or a jump suspended in air. All you need to do is set your camera to shutter speed priority (TV) and bump the shutter speed up. It works best on a bright sunny day like the ones we have been having this week here in the midwest. The brighter the day, the higher the shutter speed can go.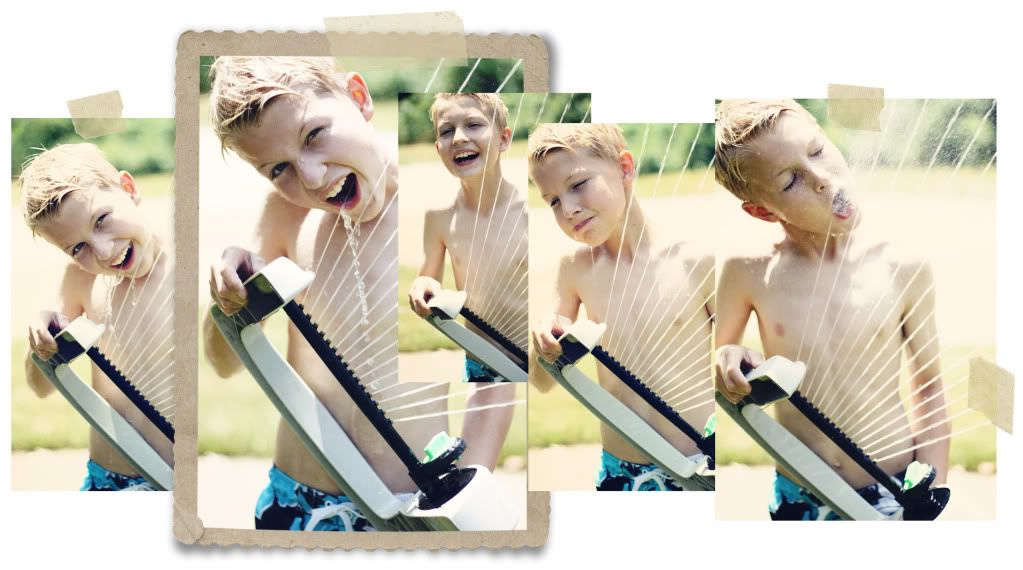 These water pics were taken with my Canon 50D at around 1/1250th of a second, f/2.2, ISO 100, 50mm. Processed with Florabella's Halo action.
These collages were free handed in Photoshop Elements 7. The frames are
Krafty Photo Frames
from K Pertiet at Designer Digitals. And totally off topic, isn't my niece beautiful? And a dancer to boot. (She was a fabulous, willing model for photo ops. There will be more of her to come...)
Unlike freezing motion, capturing motion blur is a skill that is difficult to master. And if you want to do it beautifully? It may take a lifetime to accomplish. I look at photo magazines and marvel at their exquisite shots that appear seemingly effortless.
One method is panning. For part of my spring photo challenge I shared
some examples of panning
with bikes and scooters, a technique that requires you slow the shutter down and pan your camera as you follow your subject. The goal is to keep your subject clear while blurring your background to give it the effect of movement.
Earlier this week we also tried a merry-go-round. I feel sick just looking at this. And funny enough, my entire family was sick after this ride. Possibly heat related? My focal point was Pokey. This one was really tricky since it was circular. Not spectacular, but I'm sharing it because photography is a process. I am learning and growing every. single. day!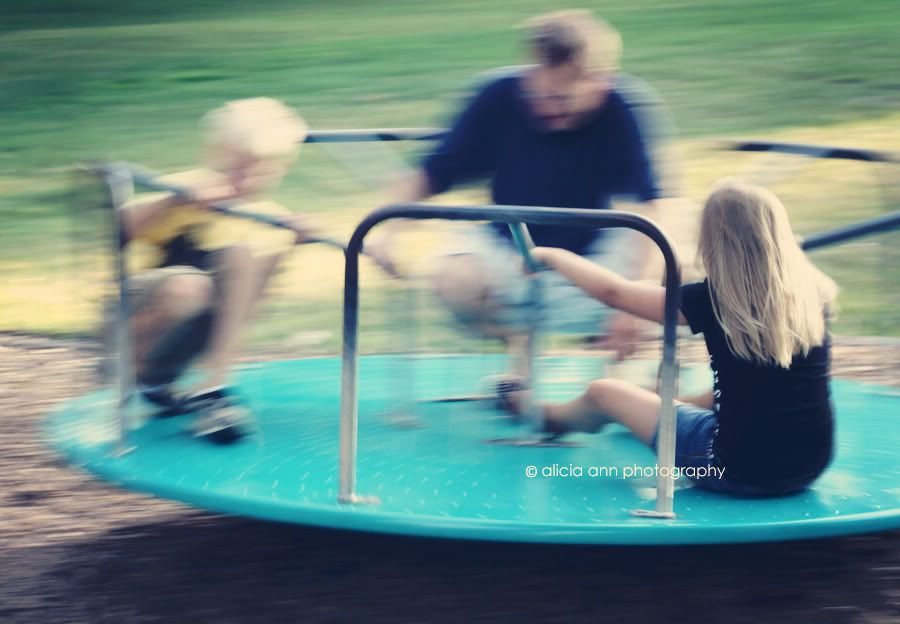 It also works well for runners, automobiles, and skateboards. And as we learned yesterday, shopping carts. (Don't mind my daughter. She is a bit melodramatic and was convinced she was experiencing heat stroke.)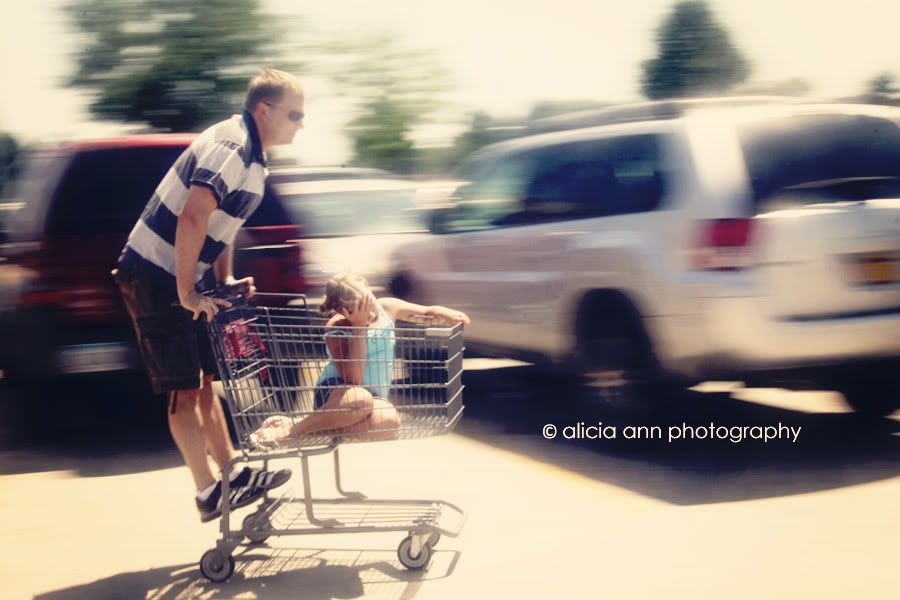 Oh, and FYI: the lighting in the grocery market was less than conducive for stellar panning pics, but it sure was entertaining and we got some interesting looks.
For better panning instruction, go
here
or
here
. (Some great links to bookmark for us aspiring photographers.)
I recently had the opportunity to watch a sunrise in the
OBX, North Carolina
. If you knew me at all you would know what a big deal it is that I woke up before the sun.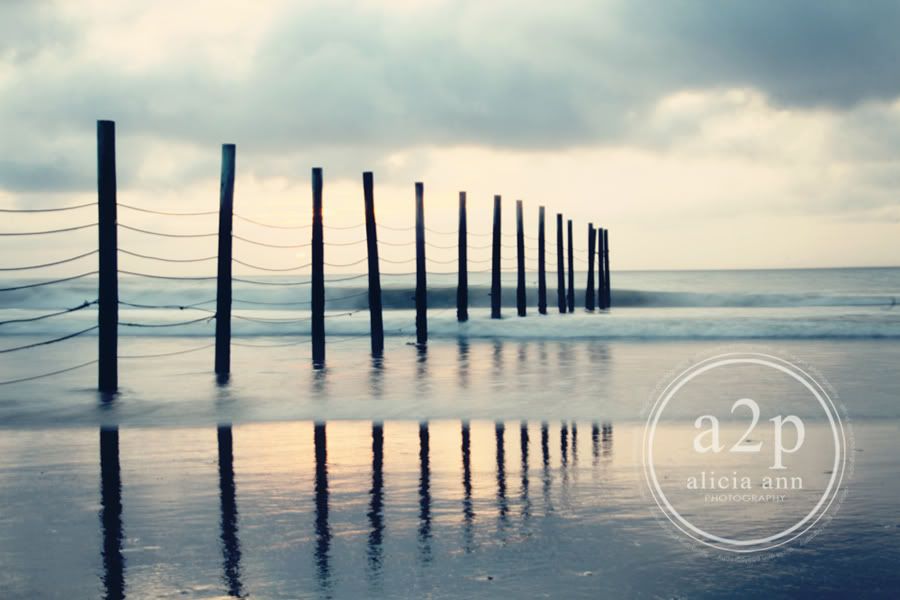 For this photo I set up my tripod and set the f-stop to 32 and the shutter speed at 1 second. If I'd known what a cool effect this was going to be I would have played around more with shutter speed. Longer shutter speeds are key to achieving that soft "dewy" look so common to moving water. Generally, speeds of 1/15 second or longer will blur the water to create this artistic effect. The best advice I could offer would be- Don't be afraid to play around a bit. You learn best by trial and error.
Thanks so much for stopping by! Can't wait to see what kinds of motion you managed to capture.
P.S. One of my photos was featured at Family Fountain in a post entitled Balanced Lives. Definitely worth a read. A great reminder to slow down and not forget what is important in the scheme of life.
----------------------------------------------------------------------------------------------------------------
Share your favorite images inspired by the Crazy Days of Summer theme-of-the-week and grab our sweet button while you're at it!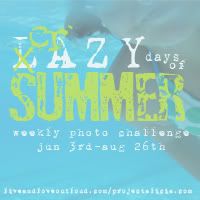 Please link directly to your Crazy Days of Summer blog post or Flickr photo, not your blog's home page or Flickr Photostream. Feel free to share your photos in our
Crazy Days of Summer Flickr Group
as well.
The linky will remain open from 12:00am Friday – 11:59pm Wednesday.
Make a few new friends by visiting and commenting on the previous entry in the linky list.
Each Thursday, a few of our favorite images from the
Crazy Days of Summer Photo Challenge
will be selected and featured at
Project Alicia
and
Live and Love Out Loud
.
You can find more details about the meme as well as updated themes in my
Summer Photo Challenge Page
located in the tab to the right under my header.
The theme for Week 9, July 29nd is bubbles. I can't wait!
And mark your calendars now, here is a list for the
new August themes
:
Week 10, 5th- Summer Treats
Week 11, 12th- Fun with Friends
Week 12, 19th- Blue Skies
Week 13, 26th- Sweet Summer Finale
Don't forget to stop over at
Kristi's place
to check out her cool motion pics!