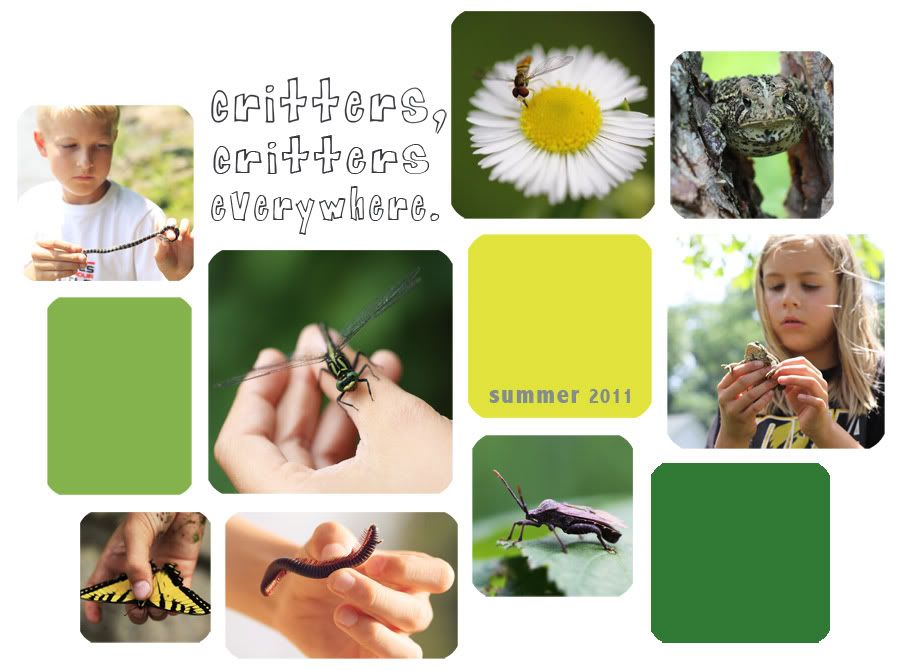 I must make a confession. I was excited about this theme because unlike light or patriotism, this theme is a piece a cake if you live with Little Man or my tomboy of a girl. They live and breathe for critters. And although it often makes my hair stand on end and my stomach churn, I suck it up for them because I do not have the heart to stomp on their dreams. Or to hurry their childhood. From the second their little eyes open they have one thought on their brain. Critters. I am greeted by snakes and stink bugs.
Even spiders
. Dragonflies send them into hysterics. And frogs and/or toads are coveted in my home. And they will go to any lengths to catch one. They are indeed a prized possession.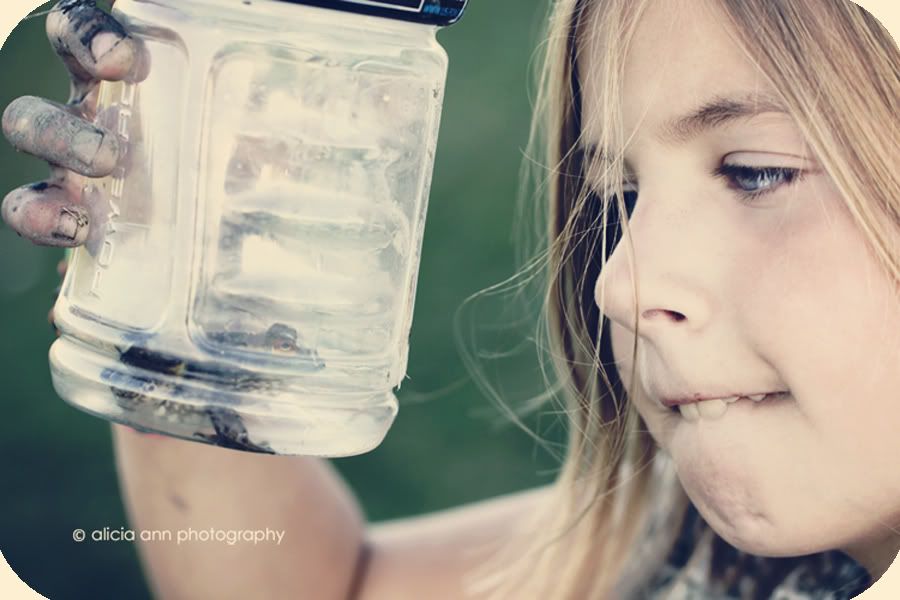 You may remember the talented toad I shared on
my facebook page
. (The kids played with him 24/7 until he was freed back to the wild.)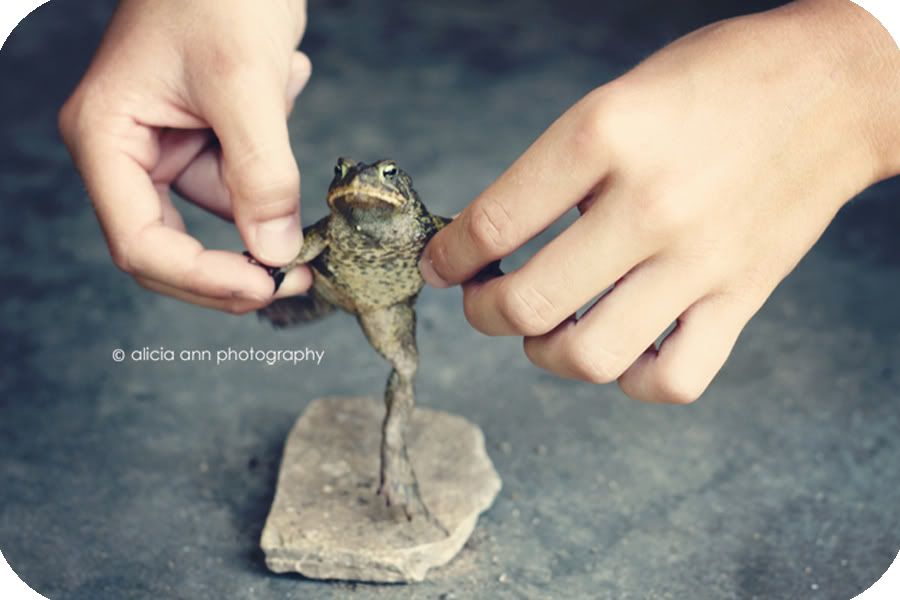 Or
my post
dedicated to all things amphibious.
How did I ever get so lucky?
Yes friends, it has become
My Fate As a Mom
. My life is filled with
Buckets O'Critters, Heaven Help Me!
And if you are a member of this family, you have to be willing to try just about anything. Even kissing fish! Because
Families That Play Together, Stay Together
.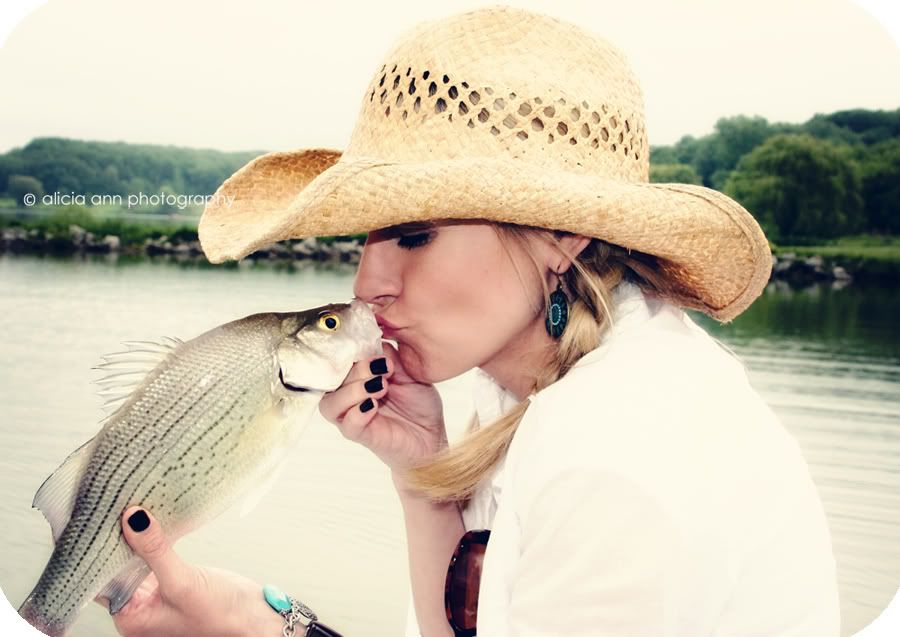 Their insatiable appetite for all things living amazes me. They have awakened a new world to me and I love being able to witness it through their eyes.
Ample material is just a walk to the creek and back.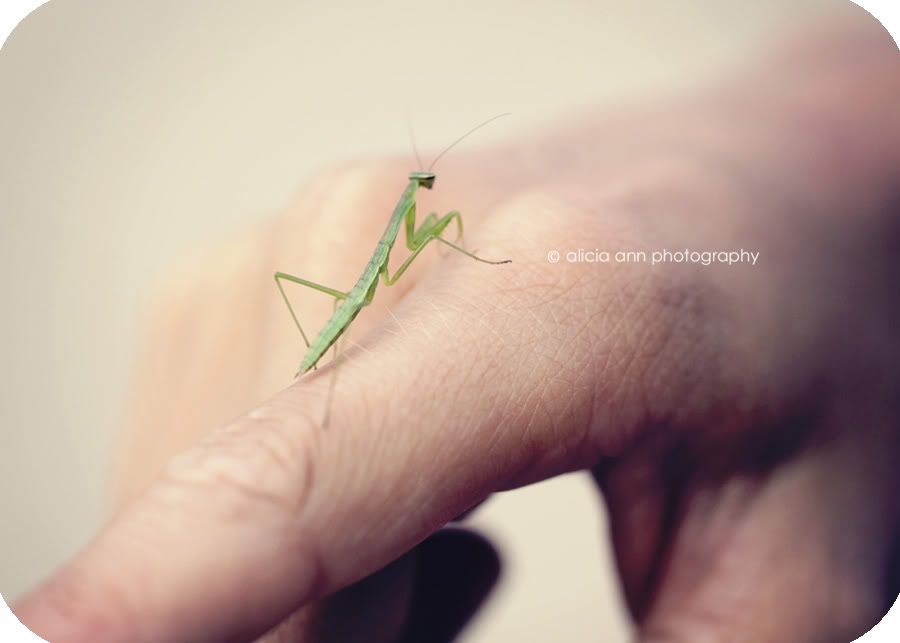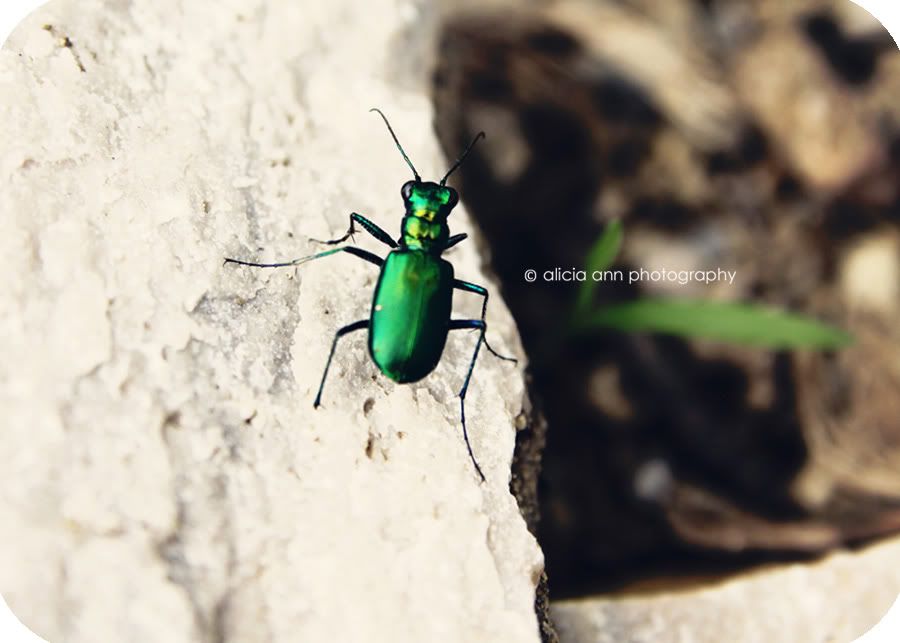 But recently we were able to spend
a week on the beach
in the OBX, NC with a new variety of species to explore. The most disgusting one by far was this crazy honkin' beetle Little Man found at dusk.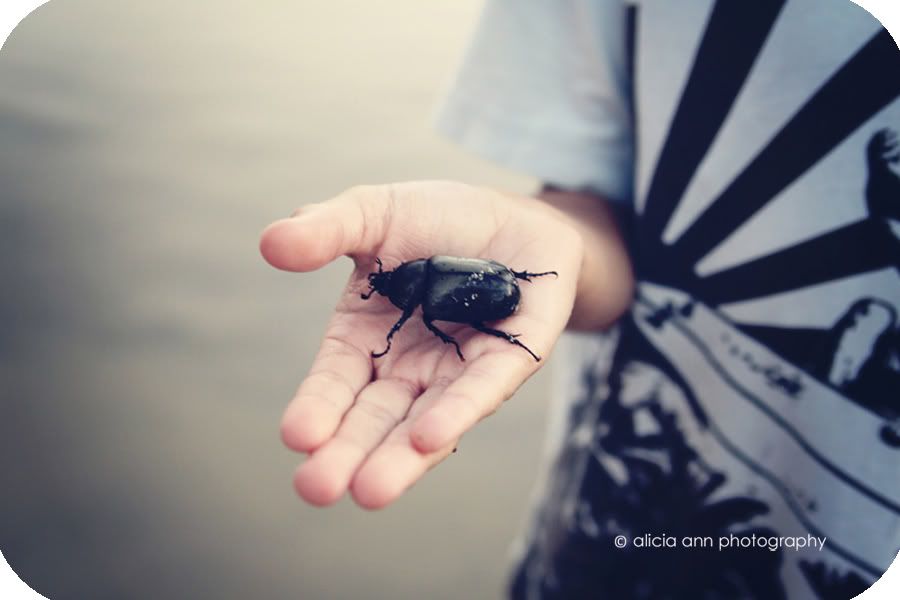 But it wasn't until he added it to a bag of another 25 beetles that it easily became the most disgusting discovery to date. Watching them be released all at once was a nauseatingly inducing feat; something out of a sci-fi movie. You can thank me later for sparing you those pics.
The beach seems to suit my kiddos just fine. They could spend endless hours with a net and a bucket.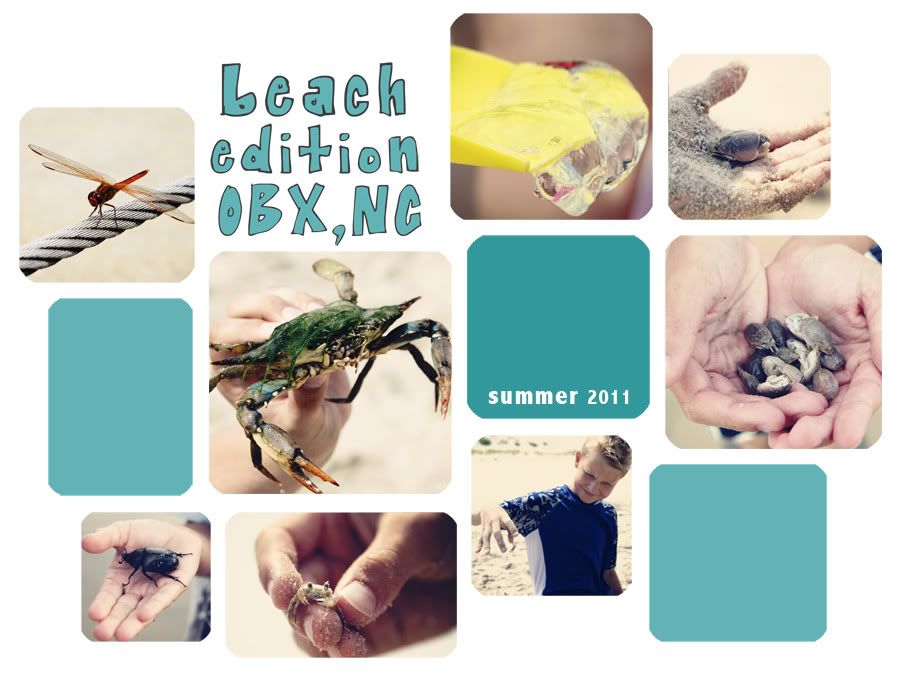 Little Man enjoyed the tiny crabs as much as the bigger ones. He would let them pinch him and then time how long they stayed on his finger.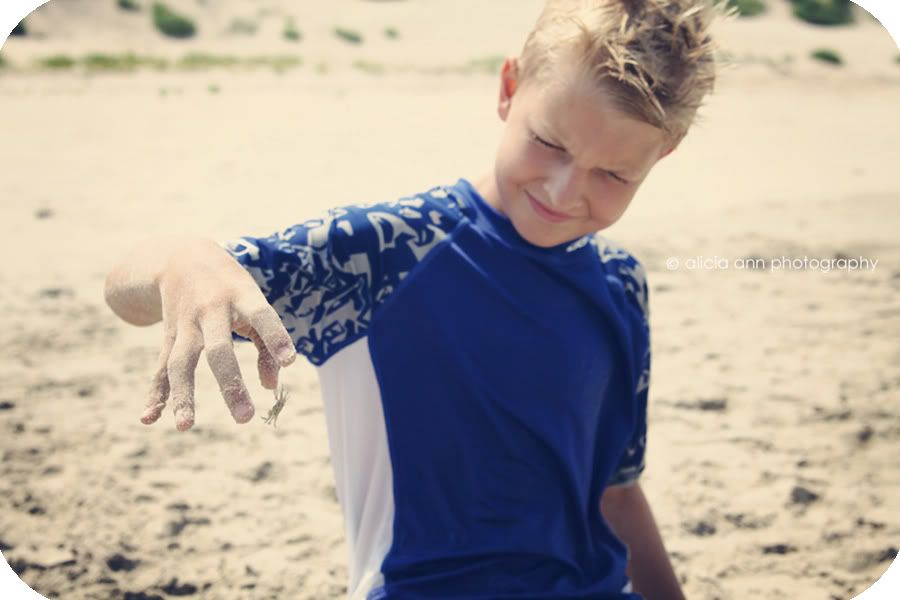 Capturing the crabs as they entered or exited their holes was quite the task. Especially for a patience-challenged individual like myself. They are fast!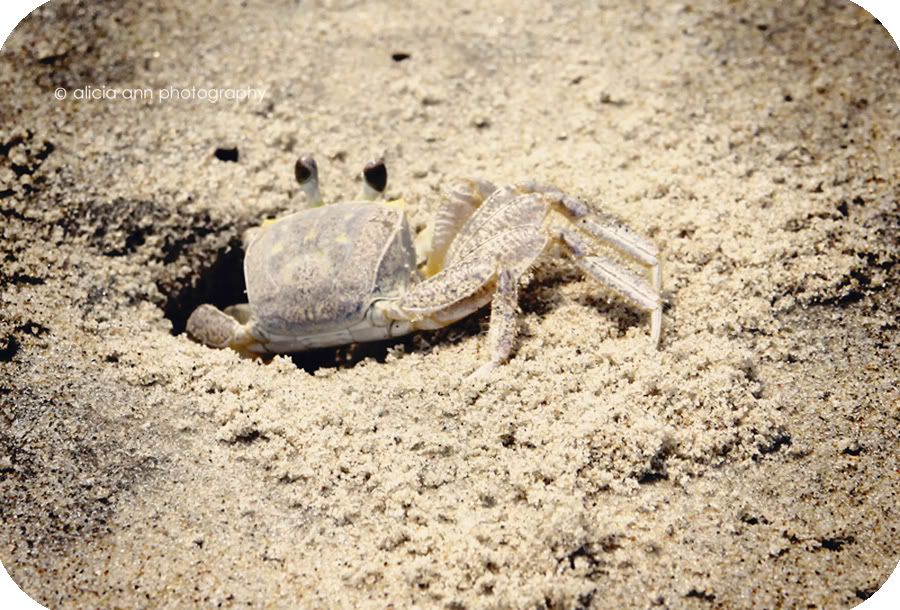 Between the crabs, the sand fleas, and the jellyfish that washed up on shore by the bucketfuls after some stormy weather, the kids had plenty to keep them thoroughly entertained and their little cousins squealing.
This is certainly
The Quintessence of Childhood
. As much as I may resist it from time to time, I'm happy they are making these beautiful memories.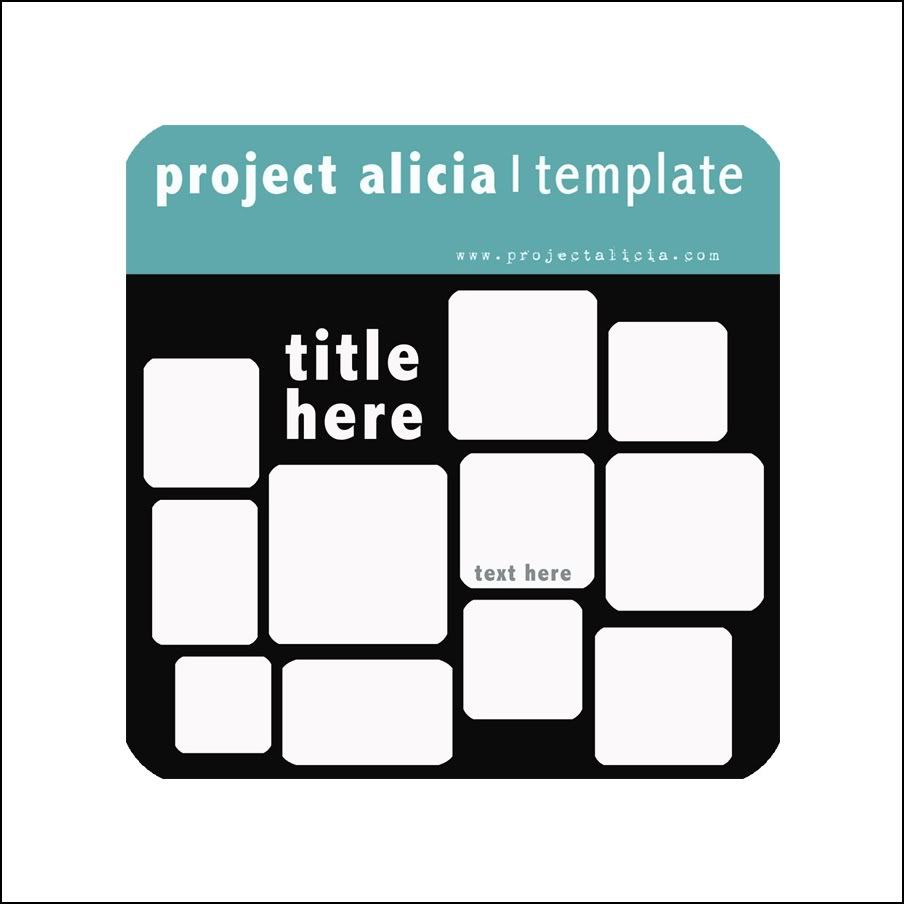 I am a sucker for collages and thought it would be fun for these critter pics since I had so many.
You can grab this template
here
.
It is a layered PSD file that works with PSE and Photoshop. The font used in the above collages is called blocked off, easily my favorite new
free
font. You can find it
here
. If you are having trouble downloading fonts, check out my tutorial on
How to Download Fonts.
Plus you can snag my 10 favs while you're there.
Thanks so much for stopping by! Can't wait to see what kind of critters you found in your neck of the woods.
----------------------------------------------------------------------------------------------------------------
Share your favorite images inspired by the Crazy Days of Summer theme-of-the-week and grab our sweet button while you're at it!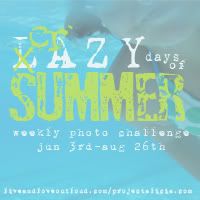 Please link directly to your Crazy Days of Summer blog post or Flickr photo, not your blog's home page or Flickr Photostream. Feel free to share your photos in our
Crazy Days of Summer Flickr Group
as well.
The linky will remain open from 12:00am Friday – 11:59pm Wednesday.
Make a few new friends by visiting and commenting on the previous entry in the linky list.
Each Thursday, a few of our favorite images from the
Crazy Days of Summer Photo Challenge
will be selected and featured at
Project Alicia
and
Live and Love Out Loud
.
You can find more details about the meme as well as updated themes in my
Summer Photo Challenge Page
located in the tab to the right under my header.
The theme for Week 8, July 22nd is motion. I can't wait!
Don't forget to stop over at
Kristi's place
to check out her critter shots.