School is officially in full swing. Twelve full days to be exact. If a visit to the principal is any indicator, we're not off to a fantastic start.
(And I'm only three lines in and already wanting to sigh.)
I've waited to share these pics for multiple reasons, mainly because they stink. As I delve further into the science of photography I am developing a more keen eye and a much more critical disposition. But regardless of the outcome, they still need to be documented.
Unfortunately mother nature had it in for me. I woke up on August 23rd to dark, stormy weather. Lightening. Thunder. And torrential downpours. Not exactly ideal "first day of school pics" kind of weather. I'm not sure there are any cameras that compensate for such elements. But then again, who am I to be the expert on such matters?
Little Man held his 50 pounds of supplies and impatiently stomped his foot as I frantically fumbled to capture the moment.
There was no time for tripods or backlighting. I had hubs hold an umbrella in an attempt to save the sign. I bumped the ISO several times. But in the end, it was a big fat fail. It was as good as it was gonna get or Little Man was going to miss the bus. This long faced, dreary pic was definitely not the vision I had in my head.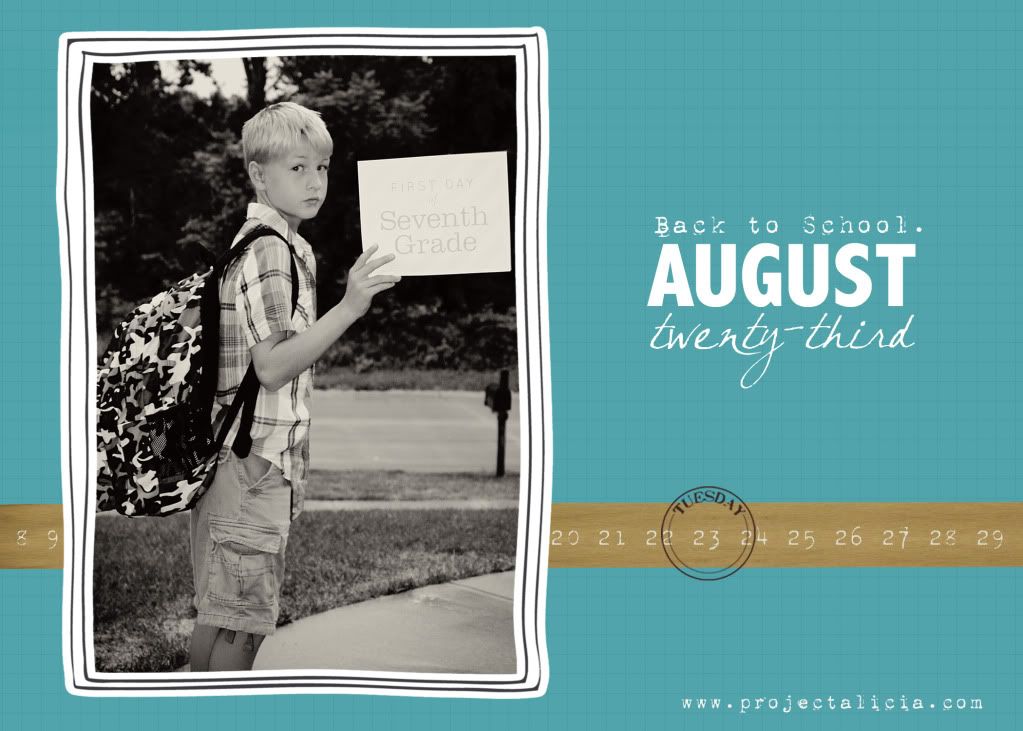 Luckily Pokey's school begins an hour later and by then the rains had let up and the sun was beginning to make a debut. Although she was less than enthusiastic, the pics were much easier coming. And even though this one is far from perfect, it turned out to be one of my favs.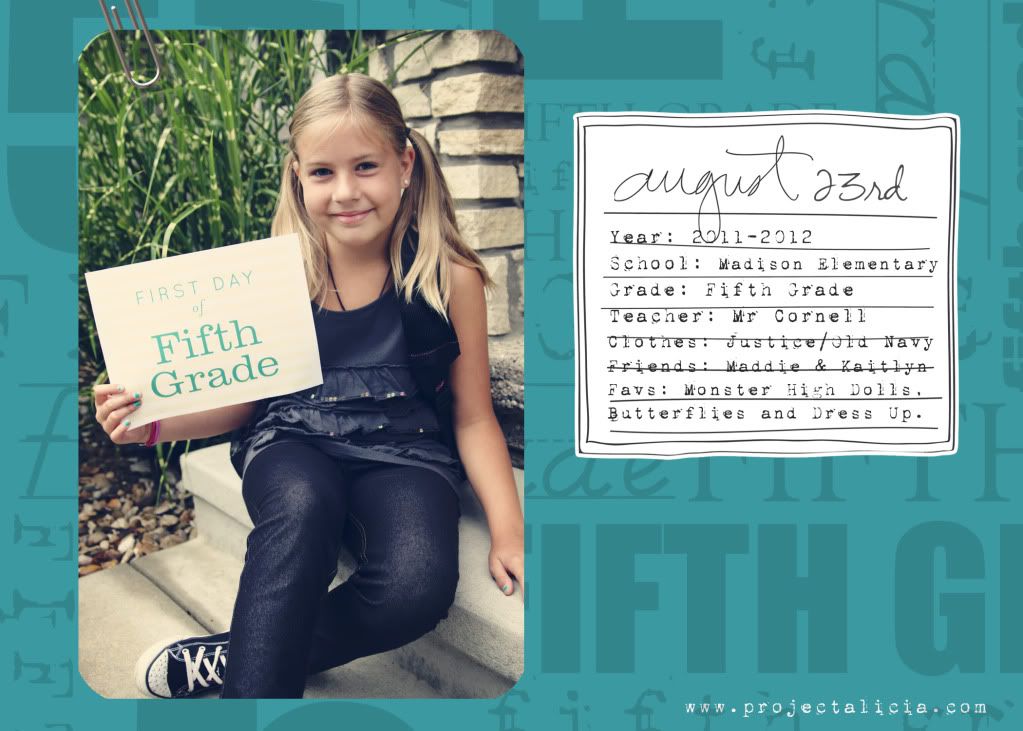 And good thing too because would you believe public photographs are "uncool"? School photos in particular. She couldn't get out of my SUV fast enough. The inevitable day has come. I have become one of
those
moms. You know, the "uncool" kind. Just. like. that. I took a deep breath and made my way home through the salty, stream of tears. My mind wouldn't stop reliving school years past.
Long gone are the days of classroom pics. And affectionate, full armed hugs. Not so sure I'm loving these tween years. They are habitually draining, both mentally and emotionally. Wish I'd had a little more warning, like the universally accepted "terrible twos". Or something. I'm pretty certain that my dark circles and gray hairs are more than coincidence. And from everything I've read this appears to be only the beginning of the long road ahead. Heaven help me!
As much as I want them to become mature, responsible individuals, part of me just wants to hold on to my babies a little while longer...
Is that so terribly wrong?
I'm trying to be present for these fleeting moments, but it is often met with resistance from my prepubescent tweens.
Today was a good day though. I was greeted with a welcoming smile as I found my Little Man in the crowd of runners. It was Little Man's first cross country race of the season. And he was happy I was there.
He was so excited, following in the footsteps of his uncle who shares a similar passion for running.
Then the whistle blew and before I could blink, Little Man was down.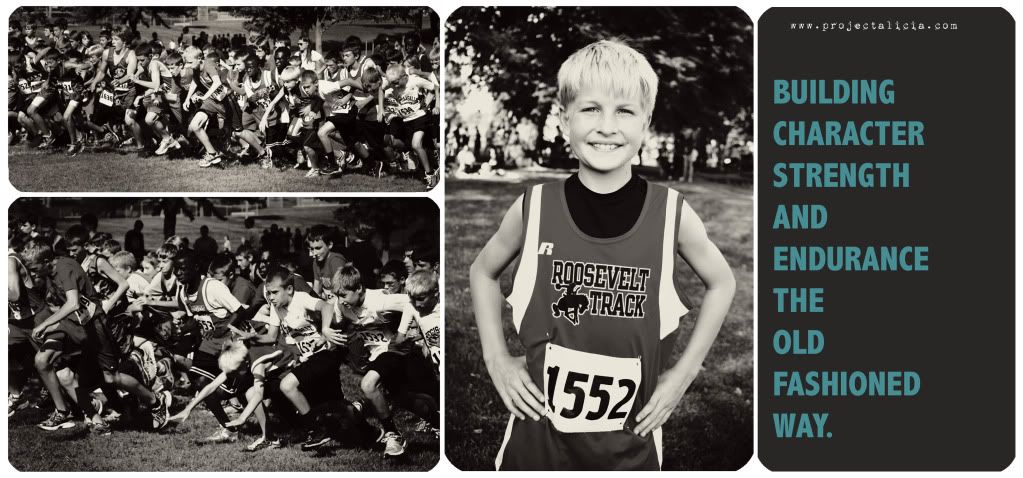 Turns out that cross country may be more cut-throat than initially realized. Just take a closer look at the bottom left pic. The boy to the left of Little Man actually pushed him down. He fell to the ground and had to work hard to make his way back up through the crowd of runners zooming past him. It was so hard to stand back and watch him struggle.
But he did it. He made his way up and finished strong in spite of the obstacle.
Watching Little Man made me realize that we don't always have control over the outcome in our lives. Obstacles are ever so cleverly placed in our paths from time to time. Some more obvious and debilitating than others.
Parenting is thwarted with obstacles and snags at every turn.
Not an easy thing for a person who likes to be in control.
But if I've learned nothing else over the last decade+ of mothering, I've learned that obstacles are a necessary part of the human experience. They test us. They give us new opportunities for growth. They keep us humble. And by working through them, we become stronger, wiser, and perhaps even better versions of ourselves.
And as painful as it may be as a mother at times, every single day I am loosening my grip just a little more. Relinquishing control so that they can become who they are meant to be, to their fullest potential. It is only by allowing them to stumble and experience obstacles in their lives that this is possible.
But motherhood is certainly not easy and definitely not for the faint of heart, particularly as children grow and assert their own independence and transition into the hormonal teen years. This week has certainly been a testament of that. They will make mistakes. Falter. Be knocked down. And experience pain and hurt that we can not always mend.
Sigh.
Maybe I'm just a little too emotional for my own good. But I know one thing for certain. Motherhood is not for wussies.