I'm feeling a little under the weather today. And in case you have never gone through it, the home selling process is long and less than fun. And after a three day weekend the last thing you want to hear is that you need to have your home in tiptop shape for a showing. So, I spent the better part of the last 8 hours cleaning- scrubbing toilets, wiping windows, sorting through little girl treasures... I'm tired and just a little whiny. And wouldn't ya know it? I actually thought today was Monday, even after cleaning for my Tuesday showing. So, forgive my WW lateness. I'm merely a flawed human.
In lieu of my plight, I've decided to share something a little different today.
If you haven't entered the world of
Pinterest
, you are definitely missing out.
If ever I need a little visual inspiration or pick-me-up, it is the best thing I have going. It has yet to let me down.
I can organize and categorize, a dream world for us Type-A personalities. (Plus, it has eliminated all of those useless bookmarked favs.)
With Autumn just around the corner I thought a little eye candy would be perfect.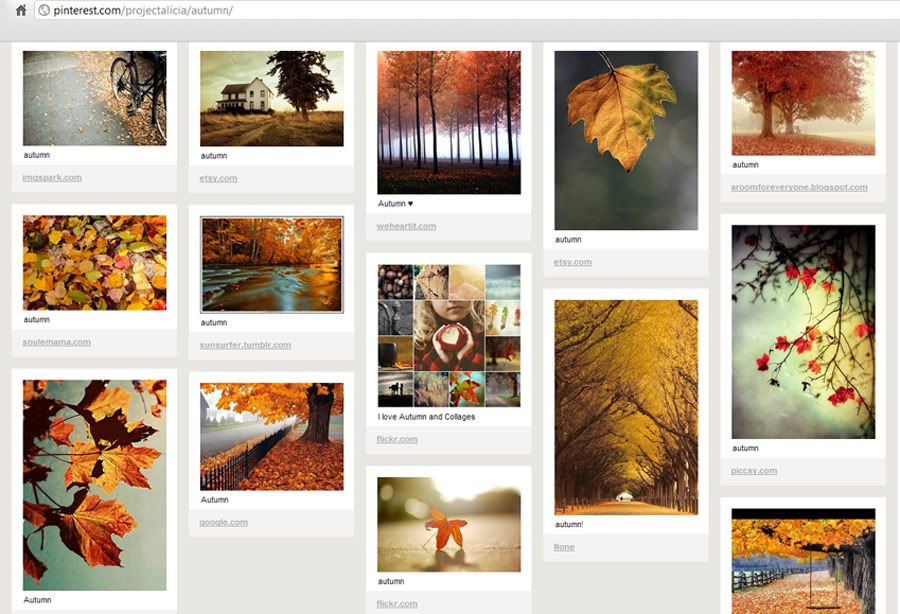 Aren't these just amazing? Autumn is so magical. Especially behind a lens. I'm sure you'll be seeing more Autumn from me in the coming weeks.
What are you pinning these days?
If you haven't yet joined, I have a couple invites left, just leave me your email. You can also request an invite directly from Pinterest. Trust me, you'll love it!
You can
follow my pins here
.
And if you are still clueless, I found the most informative post,
Pinterest: A Beginner's Guide
, from
Sorta Crunchy
.
If you're excited about all the fall photo ops, I have good news. I'm teaming up with the lovely Kristi of
Live and Love Out Loud
and Rebecca of
Bumbles & Light
to bring you
Shades of Autumn Photo Challenge
, Oct 7th - Nov 25th. A colorfully inspiring autumn photography challenge aimed at capturing the beautiful shades of autumn. All are invited even if you're not experiencing autumn in your neck of the woods. Mark your calendars.
Thanks for stopping by! Link your photo(s) below. And make sure to check out some of these other fab WWs!




If you have trouble with the thumbnail linky, here's the old school version.