Jan 1st I chose a word for 2011. The word? Simplicity. Although I may have slipped from time to time, I am holding tight to that one little word these last few weeks of December as we prepare to move yet again right before Christmas. Unpacking, shopping, holiday programs... who has time for scrapbooking? I know that's what you're thinking... fess up.
Having just finished up the
Shades of Autumn Photo Challenge
, I knew I wasn't up for a weekly challenge- let alone a daily one but I still wanted to document the Days of December in some capacity, for the photo ops alone. It seems to be all the buzz around the blogosphere these days with
Ali Edward's December Daily
in play. I've had fun pinning several great ideas for photo ops and
scrapbook pages
.
Julianna Morlet
currently has a
Photographing December Challenge
you can jump in if you want. Or just stop by to get inspired.
And there are tons of other December photo op lists to be found. Rebecca from
Simple as That
never disappoints. My
Photography Tip & Tricks Pinterest page
is loaded with photo idea lists as well.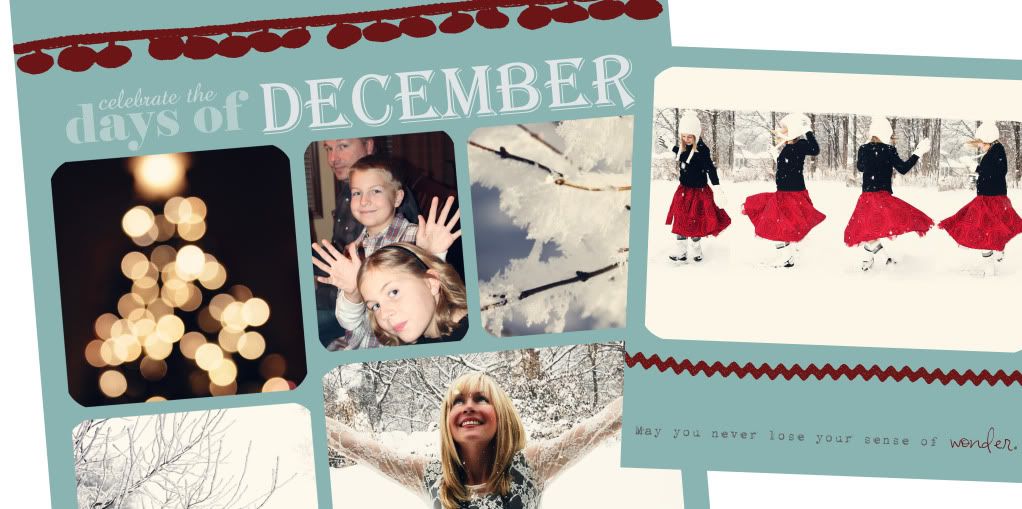 So, I brainstormed and came up with an easy solution to plug in my pics in a pinch. And in the spirit of the holidays, I am making these available to you too! You can make these templates as simple or elaborate as you would like depending on software, time restraints, and preference.
This is not a daily challenge like previous ones.
This is a do-it-at-your-own-pace project.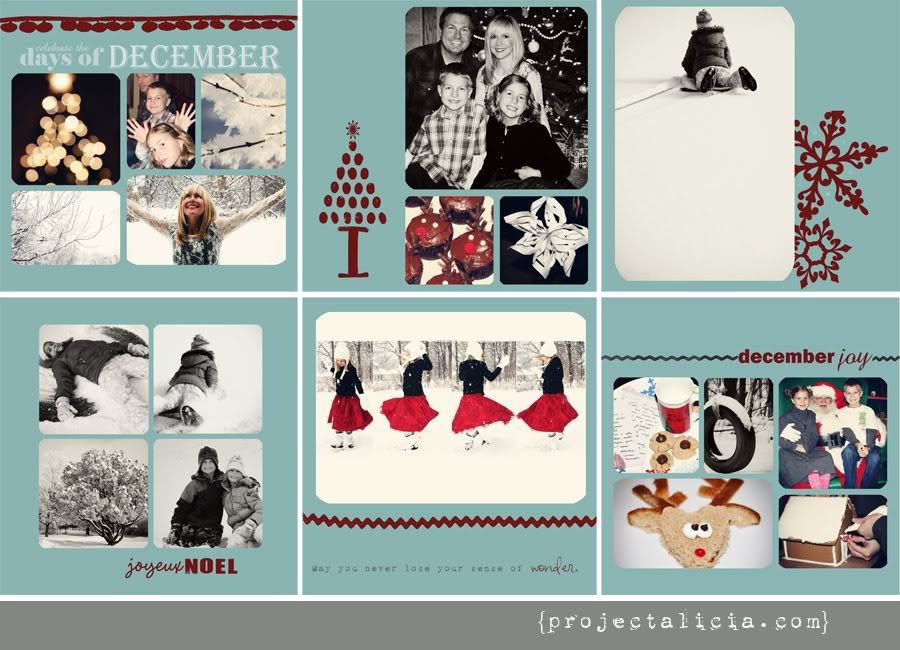 These are my finished pages. They were formatted to 12x12 in photoshop elements as a psd file. But you can shrink them if you prefer smaller pages.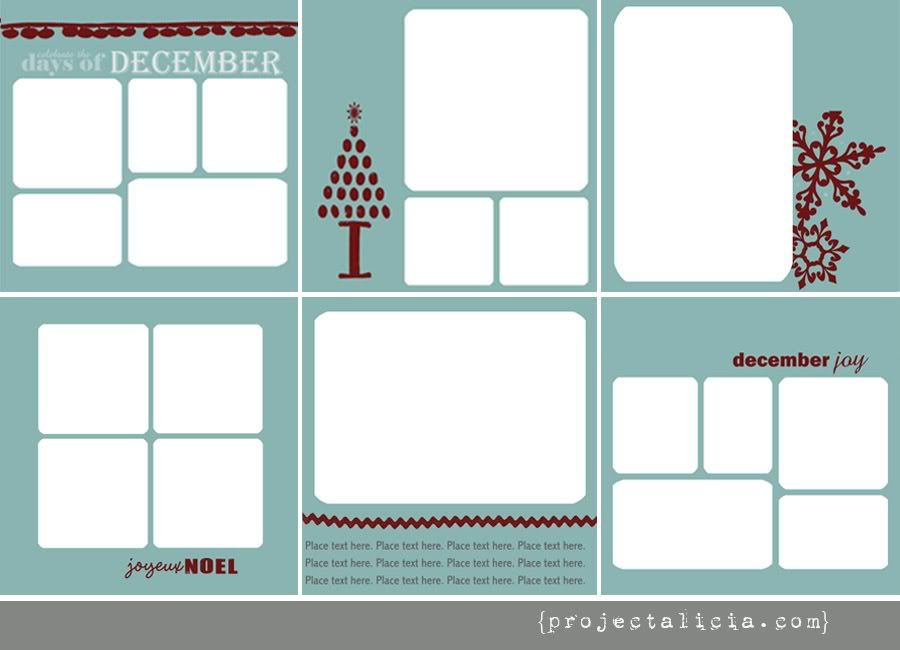 This is the basic set without the photos. As you can see I prefer simple, streamlined pages.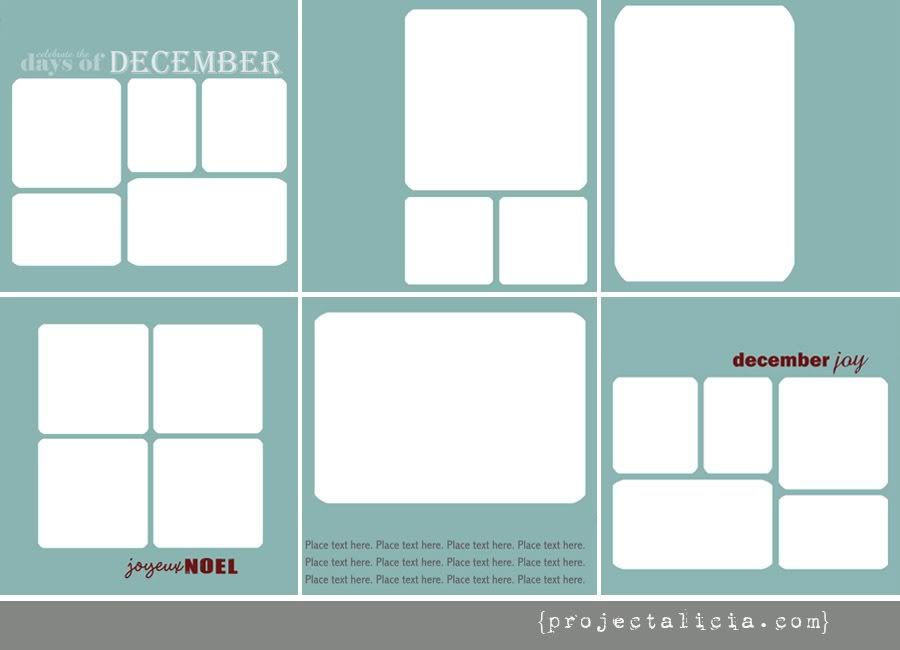 This is the set that will be available to you! (Plus two additional bonus filler pages.) The text is included, but I am leaving the embellishing up to you.
(Fonts used include: Abbeyline, Elephant, Algerian, Cluffhmk bold, VTKS choice, and Franklin Gothic heavy.)

If you like some of the digital embellishments above, they can be found at Designer Digitals for cheap. It is one of my favorite places for supplies and they currently have a
"Days of December"
going on as well. Each day of December they have 285 different items marked down 30% and a new 99 cent item until Christmas. Fabulous deals (and I'm not getting paid to say that)! Below are the items used. Check daily. These could be some of the sale items, but the regular prices are very reasonable. The digital world makes the money justifiable as the items are used over and over.
Fringe Brushes & Stamps-$3.99
Holiday Trees Brushes-$3.99
Joyous Memories-$2.99
And here's a closer look...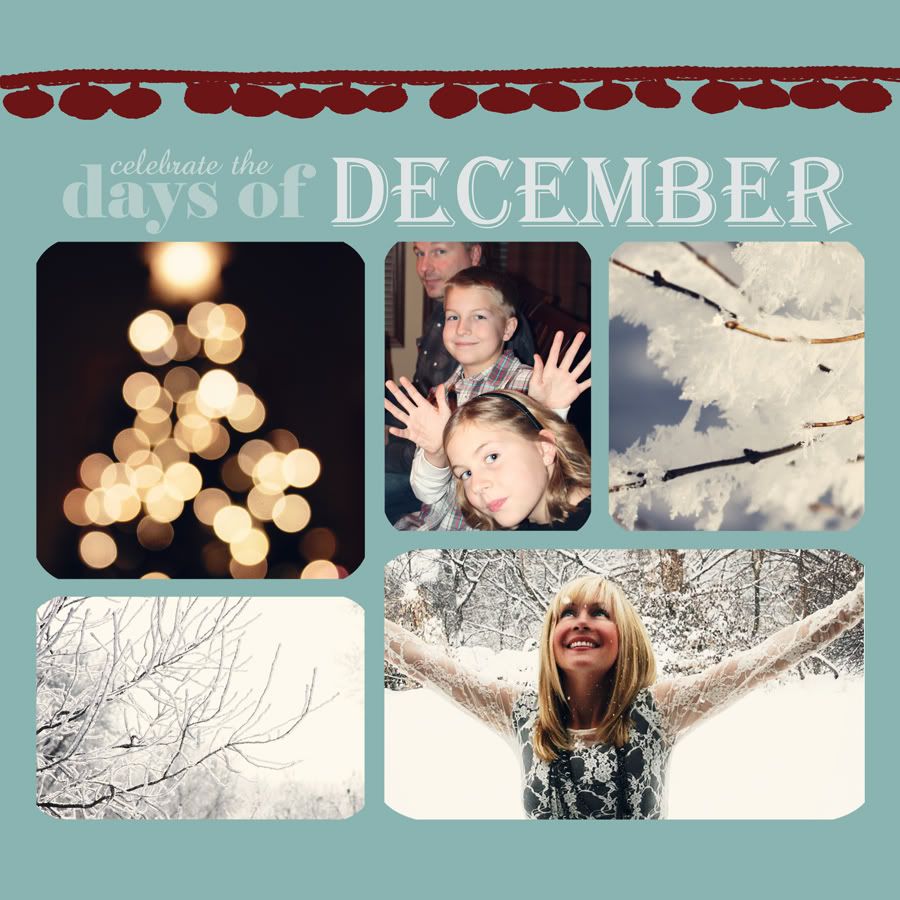 I left out dates as to make it usable for past, present, or future years. I also made the text separate layers so these templates would be versatile for any project- you can move it, delete it, add your own... your call.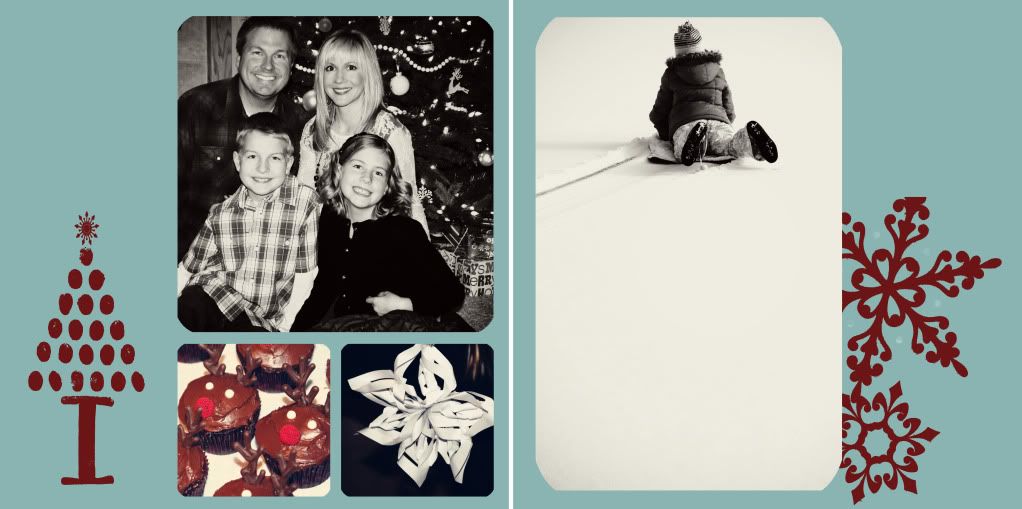 Feel free to personalize it with your own embellishments. And be creative with your photos. I inserted photos from last December as an example, but now that I am in South Carolina my photos may look a little different. The annual traditions are the same though and make for great photos.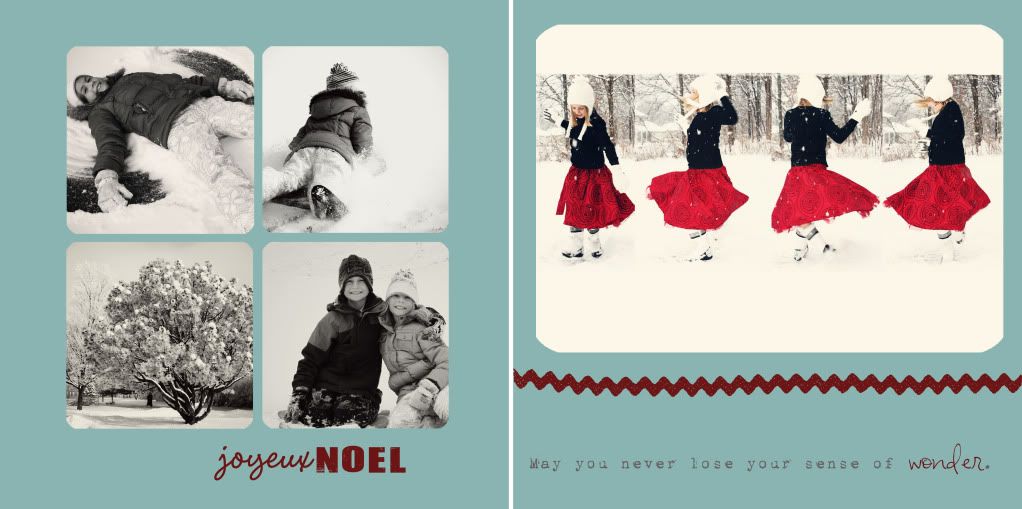 You can add other pages throughout or in addition to, you can add these pages to an existing album or make a new one specifically for the Days of December... You can change the order or use templates for multiple pages. You could even frame one and give it as a gift. There are tons of photo labs online that now offer printing on oversized photos at great prices. But if you opt to shrink it, a 6x6 would print on any standard photo printer.
Seriously, the sky is the limit! Put your creativity in play and have fun! You don't have to be a scrapbooking expert to make these pages come to life. Easy, peasy. Can't wait to see what you come up with. And if you are overwhelmed with life, save it for later. Just make time to snap a few pics this month. If you don't have your camera handy, grab your phone. Any pics will work with this template. No pressure. Do what you can. Something is better than nothing.
Feel free to tweet it, facebook it, pin it... I'd love it.
Also, if you haven't already liked my new project alicia facebook page, you can
LIKE ME HERE
.
You can grab my Days of December Templates here
.
They are layered PSD files that works with PSE and Photoshop. The set includes the above templates plus two bonus filler pages for additional photos (2x3 grid for 6 photos and 3x3 grid for 9 photos).
If you have never used templates in photoshop or elements, the process of using clipping masks is a cinch. Just drag the photo or paper you would like to use above the clipping mask on the template (one space above the mask in the layers panel) and then press alt and left click with the mouse in the layers panel between the additional layer and the mask layer to clip it into place; opt key for mac. The photo or paper will take on the shape of the mask.
For those of you who are more visual learners I found a
great video tutorial
by Pure Photoshop Actions that demonstrates clipping masks in an easy to understand, step by step manner. She illustrates with photoshop, but the concept is almost identical if you have photoshop elements. (I currently use photoshop elements 8 and CS5.) And I just purchased PSE 10 for $54.99 at Best Buy. What a great gift idea for Christmas!
What's your favorite part of December?
Thanks so much for dropping by! Have a fabulous week.
Linked to:
Skip to My Lou