Today I'm sharing a sneak peek of my home office. The place where I spend hours editing photos and writing blog posts. Scrapbooking. Being inspired.
Of late it's been the place for learning fractions to ease the painful nightly ritual with my daughter. If we both get through the 5th grade experience in one piece we are going to have to have one heck of a celebratory bash. It has not been the easiest transition for her academically speaking. I'm here to tell ya that District 5 of Lexington and Richland County in SC are some of the best schools around. They mean business. Pokey's work load has literally been tripled and it's not that fluff Science and SS they do in IA. She's been dedicating 6+ hours a night to homework and her tests remind me of some I had in college. (A bit much if you ask me...)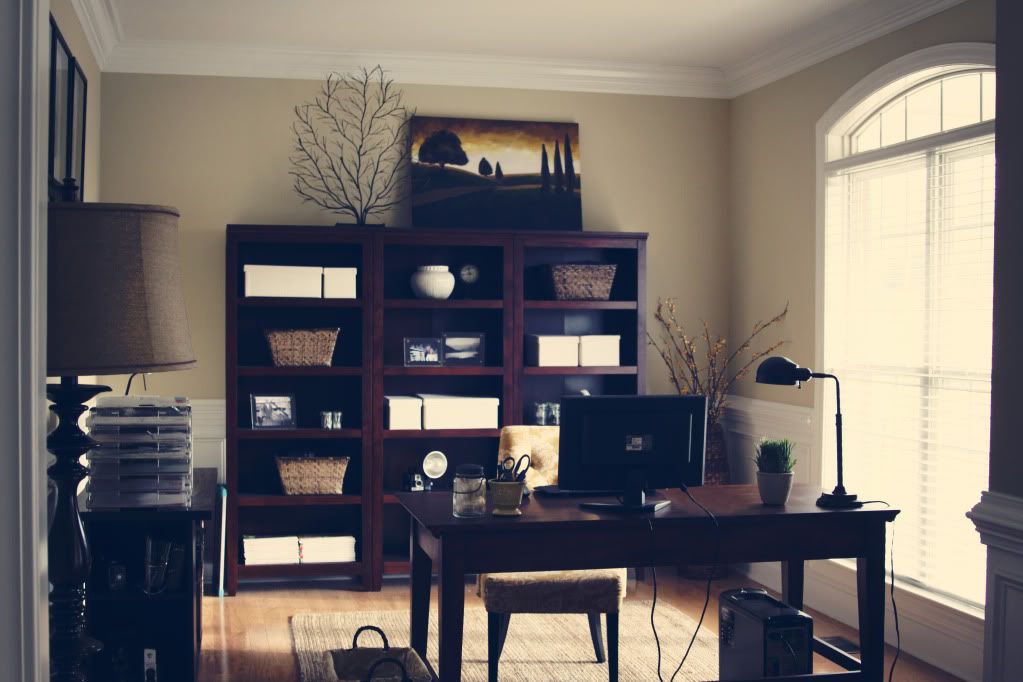 So... when you imagine me in my home, this is more than likely where I am. I just recently added that canvas painting (previously purchased at Hobby Lobby on clearance) above the shelving from the kitchen because I liked the pop of color it added.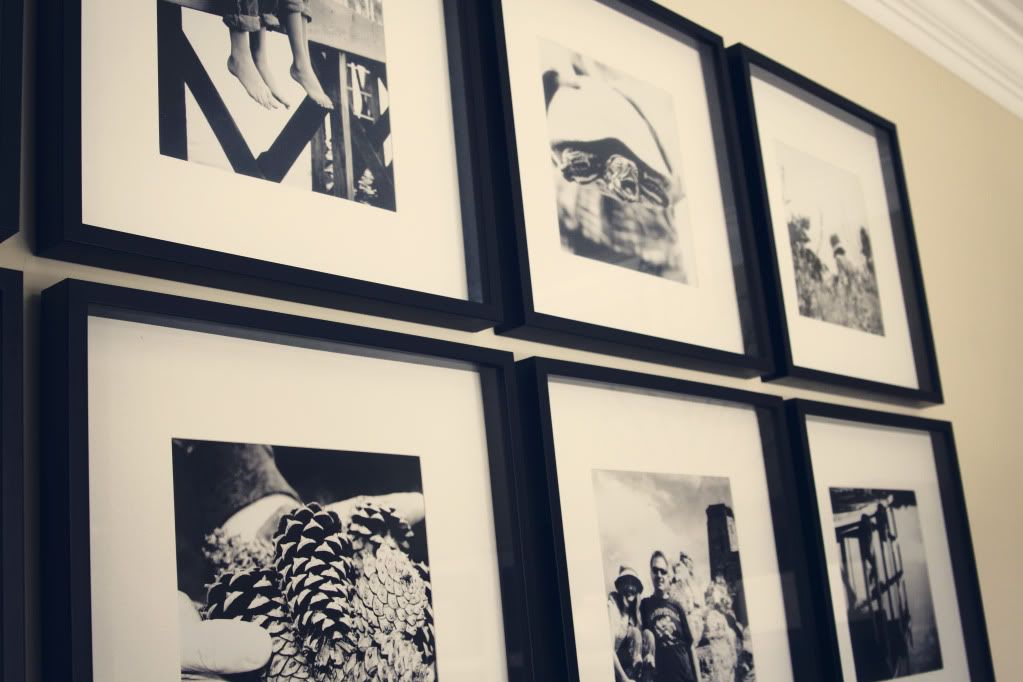 I also wanted to personalize my space so I printed several of my photos at mpix in 12x12 size. I didn't want posed shots, I wanted randomness with lots of texture. Did you notice
Little Man's turtle
from last fall? I placed the photos into frames from Ikea (that didn't break the bank) and clustered them together on the wall.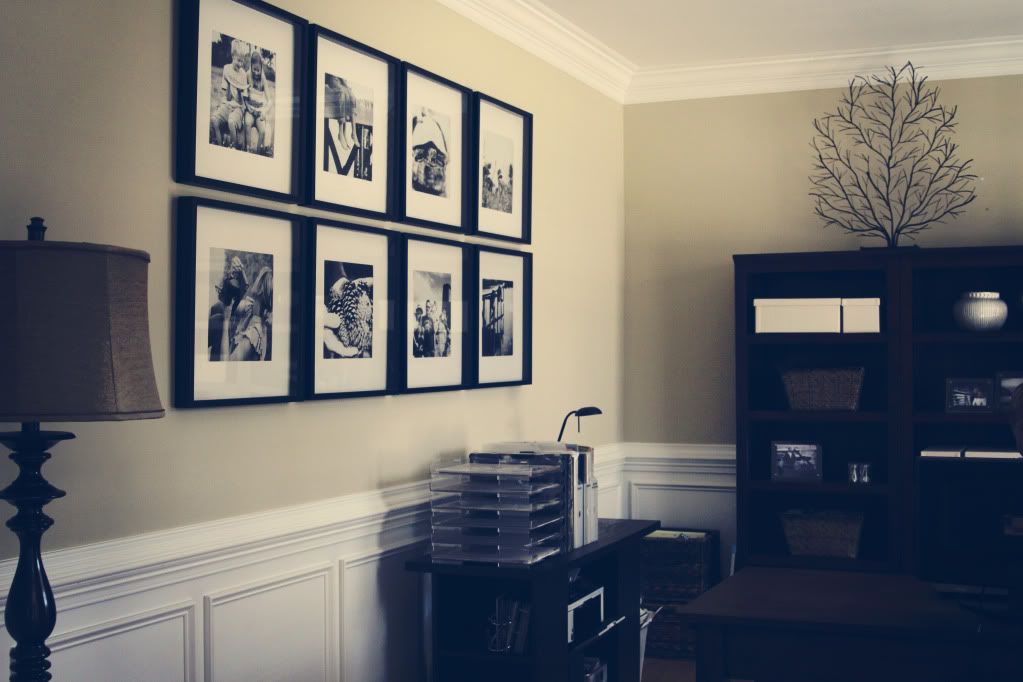 The shelving (purchased at Target) used to be part of our
living room in our previous home
, but in our current rental there was not enough wall space, so I decided to try the office. It filled the space well and was a perfect solution for all of that extra stuff that was housed in a closet prior. The brown baskets are from Wal-Mart and the off-white boxes were purchased at Ikea (the same time I bought the frames). I bought 8 different sized ones so that I could fit paper and misc scrapbooking supplies. (They still need to be labeled.)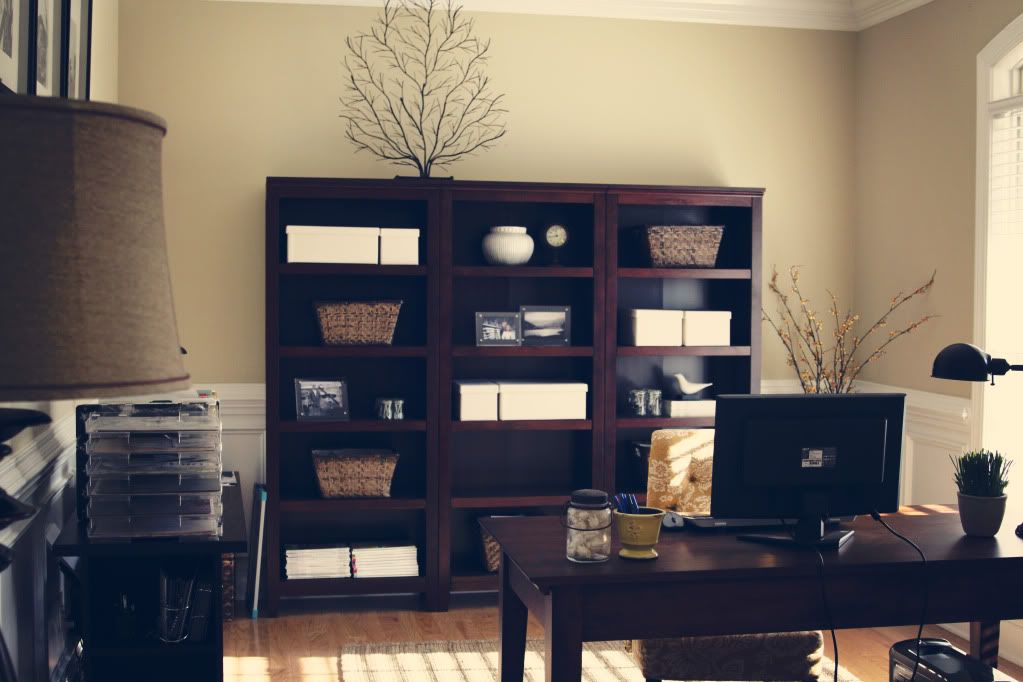 This photo was taken just before I added the painting. I included it so you could see the difference. That beautiful "tree of life" as I call it was found at Gordmans in Cedar Rapids, IA. Unfortunately there is not one of those here. It was my favorite home goods store. The chair and desk are from World Market. The printer stand (under the wall collage) was a second hand purchase (which may or may not be getting a paint job in the near future). It also houses scrapbook paper, cds, supplies, and if you look close you may see some of my vintage cameras.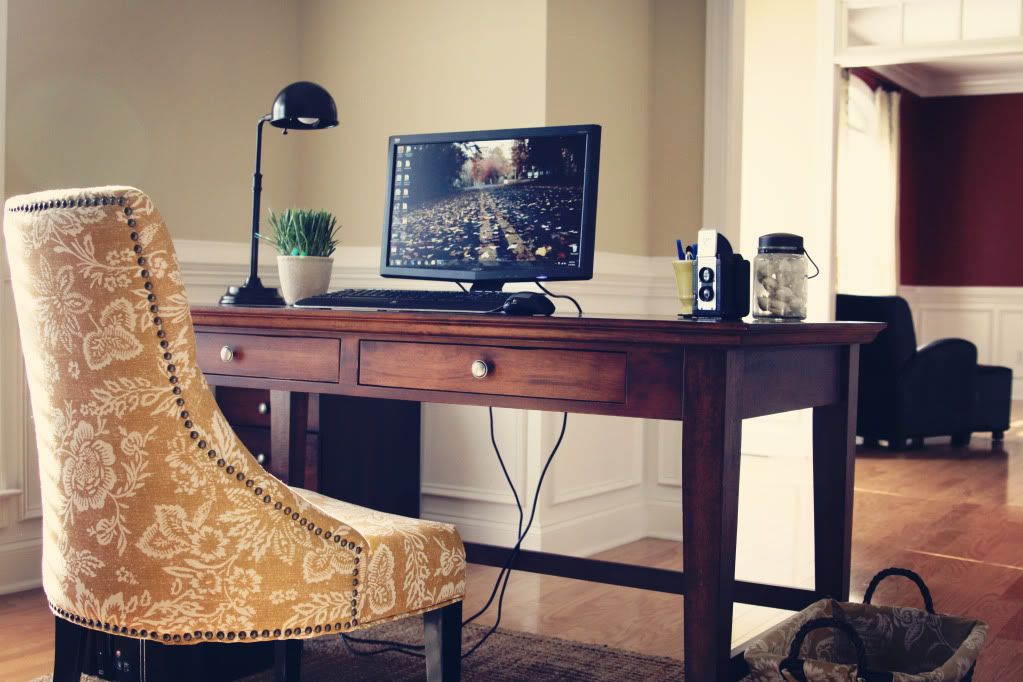 Not sure what to do with those cords. And I still have yet to figure out curtains. I found some I love with some beautiful yellows but they are not quite long enough, so I need to muster the courage to add a block of something at the bottom. I see it done on HGTV all the time. If only I knew how to sew... or had a sewing machine. lol.
I actually love all of the light that comes in through that giant window and want to make sure that the curtains I choose don't block that.
Turns out that there's a reason why you can pay people to decorate your home... it's hard! And not everyone has the knack. As much as I enjoy having a space that is my own, home decorating has never come easy to me, particularly on a budget.
I recently dumbed into
The Nester's blog
while trying to figure out mantel ideas. Her blog is one of the most inspiring home decorating blogs I've seen. She sold their dream home when they fell on hard times and have subsequently had to rent. She was determined to make their rental homes beautiful on a budget and she has certainly done just that. If you haven't heard of her, just pop over and take a peek. But be careful- you may be sucked in for hours!
This may not be the perfect office, but I'm thankful to have a space to escape and quiet my mind from time to time.
So... until we do this all over again next year when we find our permanent residence (heaven help us) this will work just fine.
Before I close, I just wanted to thank all of you who left honest, heartfelt comments last week in response to my
post about low self esteem
. (I am still working my way through them.) I was disheartened and a little surprised to learn just how many suffer with this in silence. I really believe that more needs to be said about this topic... because you are not alone! We need to ban together, love ourselves as we are, and teach our young to embrace their unique and beautiful differences. It sounds so easy in theory...
This is Wordless Wednesday, but Wordful or Not So Wordless posts are also welcome here. Just grab a photo and link up below. It's a great way to make new friends! Feel free to stop by some of my favs...