After months of dormancy in hues of brown, the world is awakened once again. The browns replaced with vibrant greens. Blossoms in beautiful shades of pinks, purples, and blues. And the aromatic wafts linger and permeate the air. Chicks and goslings make their debut. Easter dresses are bought. Eggs adorned. The birds are whistling. The temps are warming. It's a time of new life and new beginnings.
It rouses my soul and shifts my creative juices into hyper drive. The drought is over. I feel alive.
I have a burning desire to paint, to write, to photograph, to create…
And pinterest feeds my project cravings. My
DIY board
is brimming with ideas that cost next to nothing. Squee!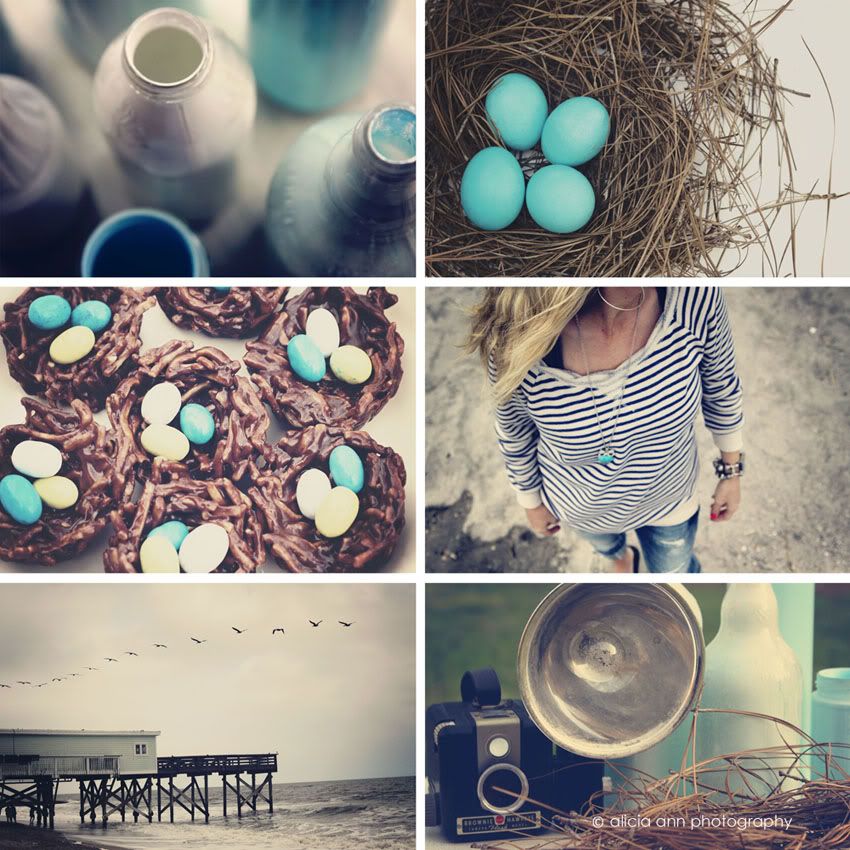 Painted Bottles
. I snagged these bottles at a recycling center and soaked them in warm soapy water to remove all the labels. I mixed varying amounts of blue food coloring to craft paint in a
plastic squeeze bottle
that I already had on hand. For others I opted to leave them white. I poured in the paint and swirled it around until it completely coated the inside of the bottle. The extra was dumped, then immediately turned upside down and placed on wax paper. You will have to wipe the excess around the rim periodically. The instructions said to leave upside down for up to 48 hours, but my impatience got the best of me. I may be redoing a couple soon. But I'm pretty sure these will pop up in future posts. They're perfect containers for all the lovely spring blooms. (Here's a
great video
from House & Home demonstrating using a syringe rather than a squeeze bottle.)
Robin's Nests
. These are so incredibly yummy and I can't think of anything that screams spring more than mama robins tending to their babies. This is a fun representation of spring that's easy for kids and fun for everyone.
Edisto Beach
. Our Spring Break happened to fall the week before Easter this year. And this is the first time in my 39 years of life I've lived within mere hours of the beach and it was actually warm enough to sun myself in April. Ahhh... pure bliss. I know this isn't a possibility for some of you, but years without has made me cherish it all the more. We landed at the lovely Edisto Beach for a few days, a small, quiet community with dolphin watching, beautiful sunsets and treasures galore. On the way home we made a pit stop at
Botany Bay
, a 4600+ acre plantation and preserve that was opened to the public in 2008. It's beauty left me speechless.
The little, blue owl necklace was picked up at Rue 21 and sweatshirt at TJ Maxx, the vintage camera was found at a nearby antique shop and the nests were made out of the pine straw that covers our flowerbeds around the house. :)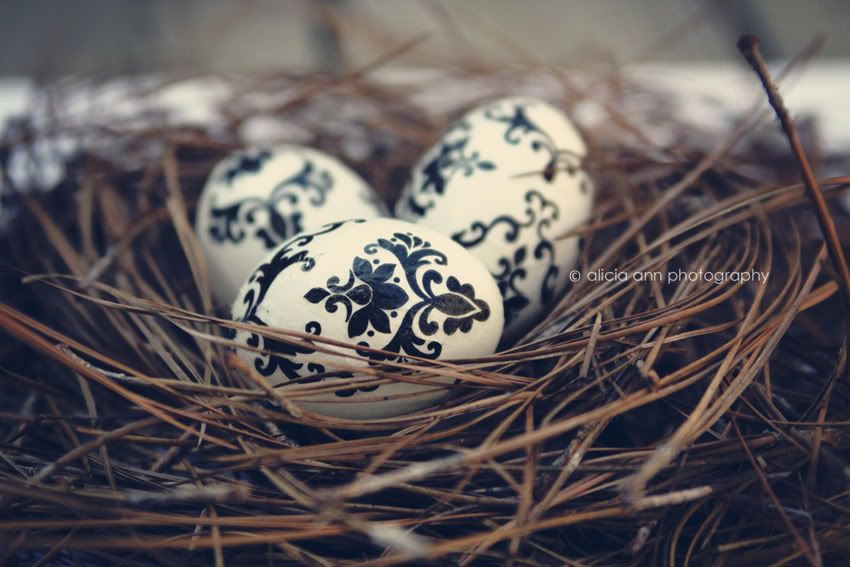 Decoupaged eggs
. This was the first year that we attempted blown eggs. If this is your first time, be prepared for some mishaps and laughs along the way. You may even want to keep some extra eggs on hand.
You can check out
these step by step instructions
for good pointers. (There's also a video included at the end.) The hardest part of the project was finding napkins with tiny enough print on a white background, but I persevered and finally located some at Michael's in the wedding section. I cut around the shapes, positioned them where I wanted them on the blown eggs, then used mod podge to adhere. It's a little more time consuming than dying, but these eggs can last for years and the results are stunning. You can also see my orange version
here
. Or follow me on instagram at projectalicia.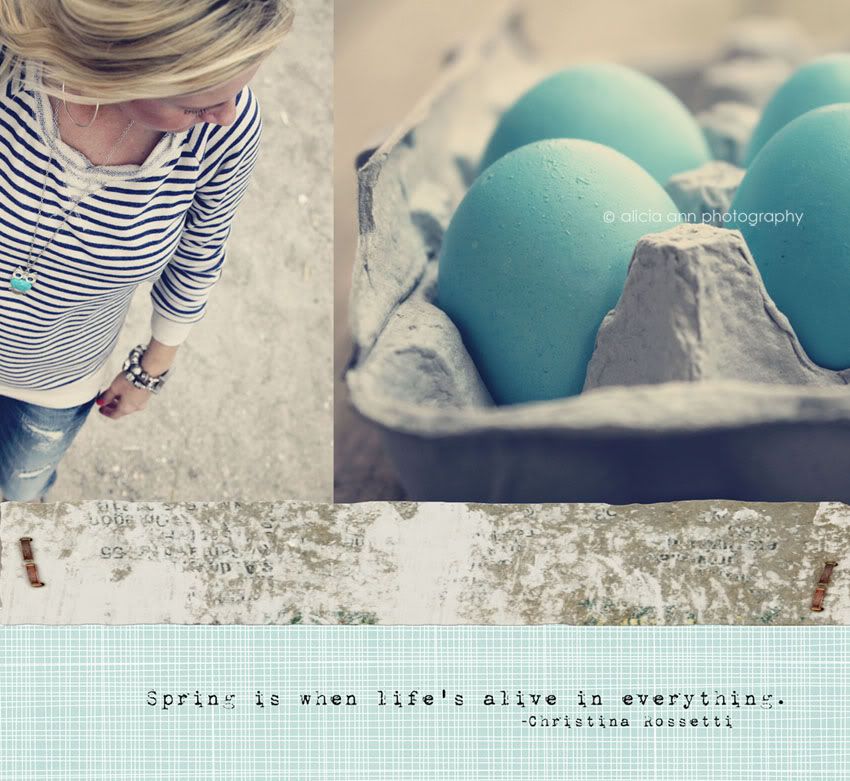 The gingham paper is by Andrea Victoria and the "
recycled journaler
" is by Katie Pertiet of Designer Digitals. The font is
1942 Report
which is one of my all time favorite go-tos. Combined they make a simple, springy page. Who says scrapping must be extravagant?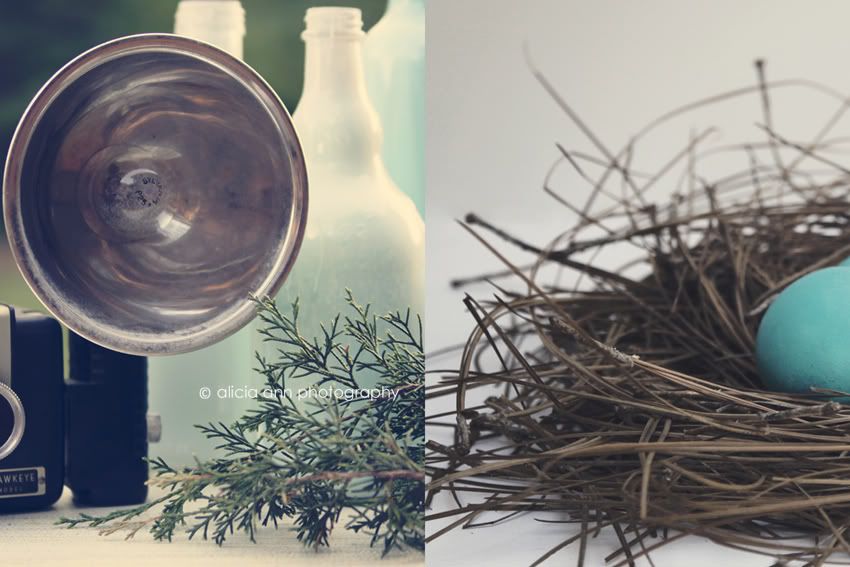 Both of these photos were taken with my Canon 50D, 28-135 lens. The left photo was shot in the early hours in my backyard using my antique table, 47mm f/2.8 1/500 sec ISO 320. I kept the DOF shallow to blur out the bushes. The right photo was taken on my back deck in the evening with white poster board beneath and foam board behind it using pine straw, 59mm f/4 exp 1/800 sec ISO 400.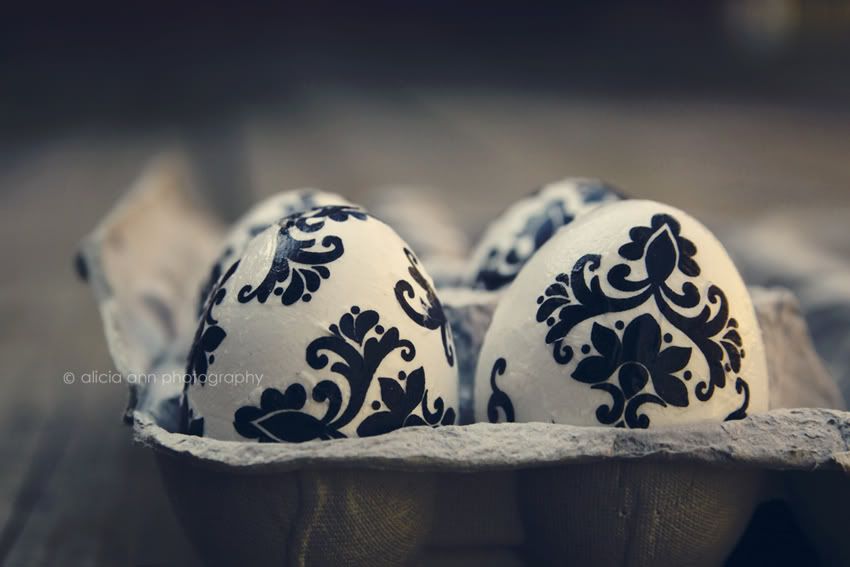 See above for instructions on decoupaged eggs.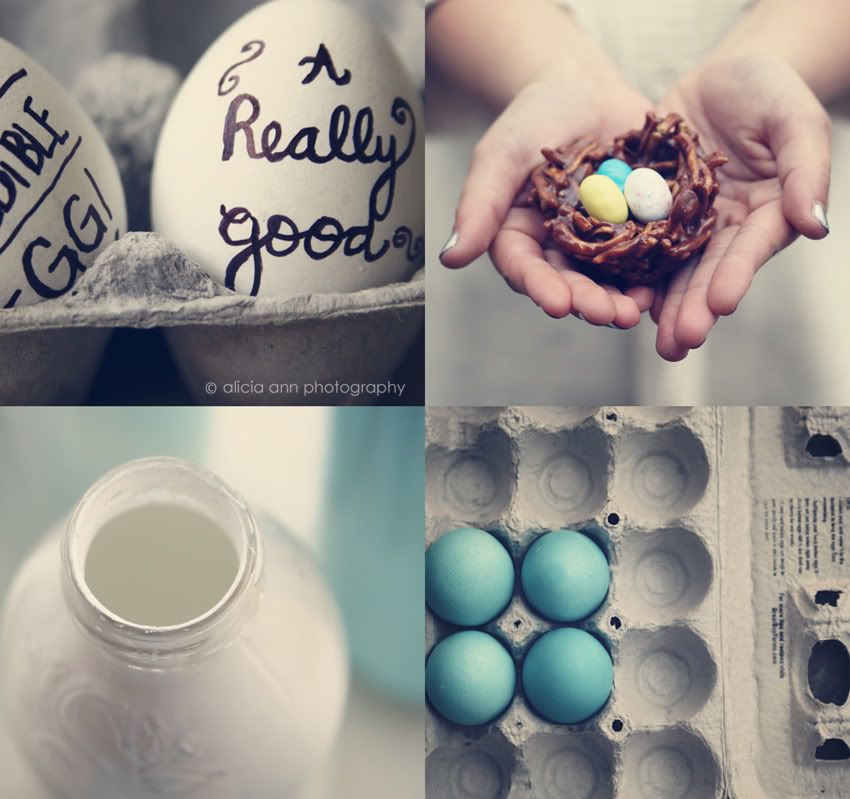 Inspiration for the wordy eggs was found on
pinterest
. You can see more of my finds from talented folks all over the world on my
easter board
. See above for painted glass or robin's eggs instructions.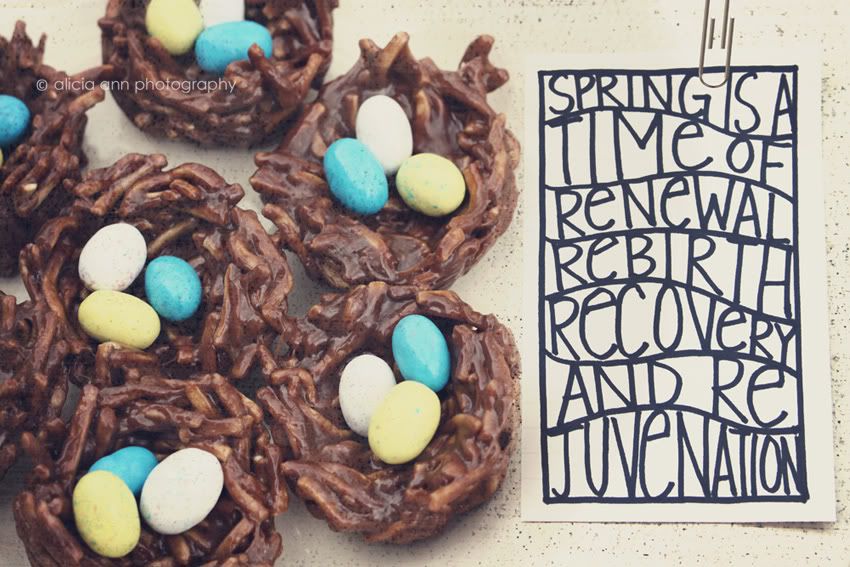 The quote and design are my own, done on a sheet of scratch paper. It took me back to predigital, pre-blogging, pre-mommy days when I use to practice different writing techniques for hours on end.
I photographed it on an antique table top and then added it to the photo of the robin's nests in PSE 10. I applied the multiply blending mode, lowered the opacity and erased out some of the texture over the nests. I then added the paperclip. If you've never done digital clips, check out
this video
. See below for further instructions on double exposures.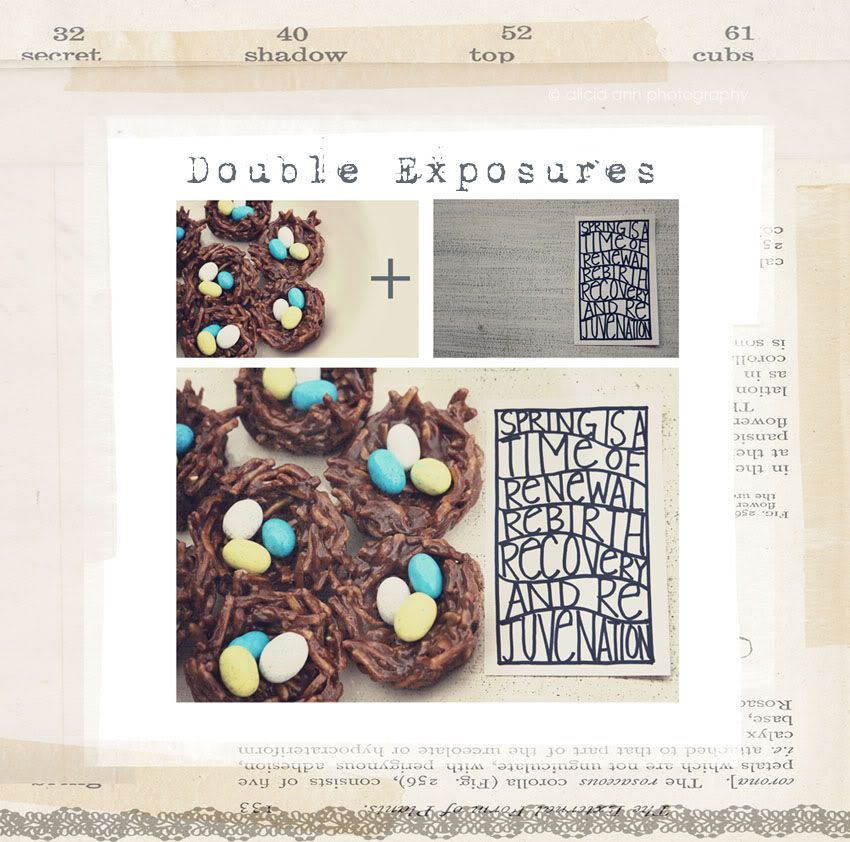 The
"taped together frame"
border and
fringe
(also found in my header) is by Katie Pertiet of Designer Digitals.
Double Exposures
. This is a technique that adds texture and visual interest to any ordinary photo. You may remember
my photo from Calm Week
of the
Poetic Winter Challenge
, combining a rain photo with one of my reflection. It's a simple process of superimposing two photos into a single image. It's become more popular with the ease of programs like Photoshop or PSE. Ashley of
Ramblings and Photos
and Sarah of
Naptime Momtog
are teaming up to bring you weekly challenges and this week just so happens to be on
double exposures
, so stop by and check out their easy tutorial and then give it a try. Their linky is still open for a few more days. Oh, and btw- there's also a double exposure iphone app called
DXP
. It's free and combines multiple images with the click of a button. Way fun! You can see
a sampling of mine here
.
Ironically enough,
all of these blues make my heart happy
. They symbolize the essence of spring and the reawakening of my creative spirit. I hope that one of my projects here inspires you to create something beautiful.
Not experiencing spring in your part of the world? No problem. All are invited regardless of geographic location.
Two prompts to choose from each week! Share your favorite images inspired by one of our weekly prompts. Or both. It's totally up to you.
The linky will remain open from 9am Friday – 9am Thursday CST.
Leap Into Spring!
blog post or Flickr photo, not your blog's home page or Flickr photostream. Feel free to share your photos in our
Leap Into Spring! Flickr Group
as well.
We love Instagram just as much as you do! We'll be on the lookout for your lovely spring photos, so be sure to use the #leapintospring hashtag.
Last, but not least, don't forget to grab our lovely button!