Today I'm sharing the
vintage school shoot
I mentioned last week
, taken last year at Usher's Ferry in Iowa. A few of these are never before seen images from that shoot. It almost makes me homesick for the Midwest. Almost.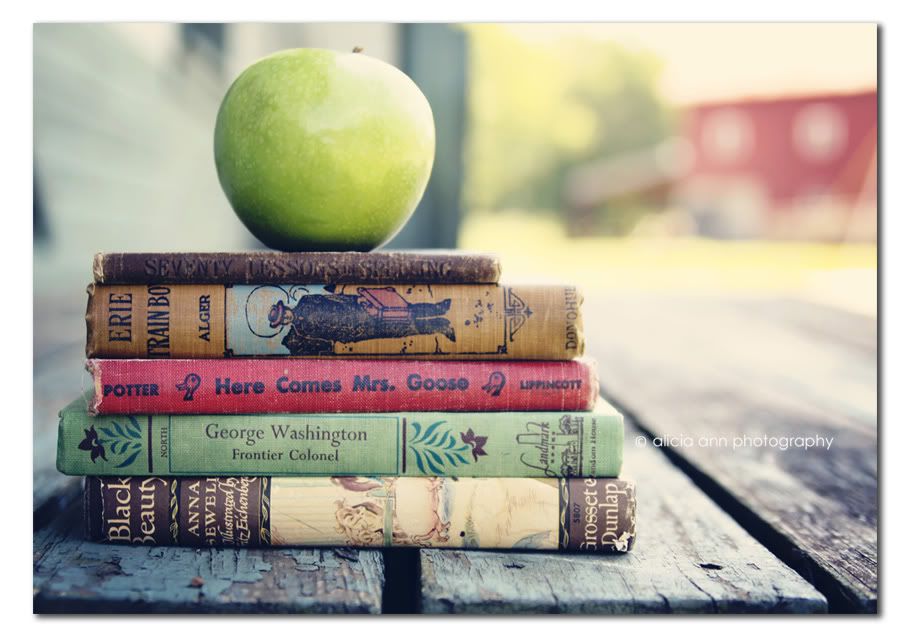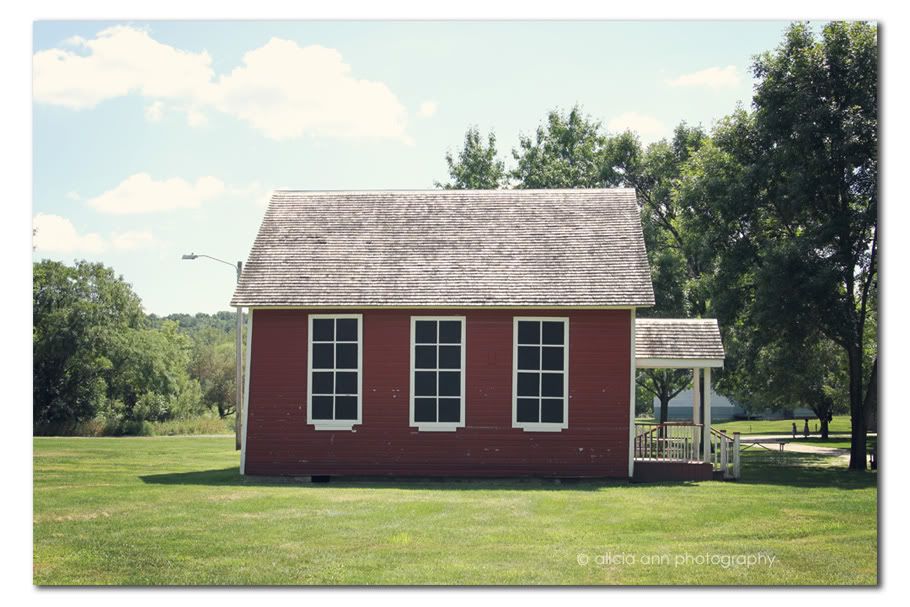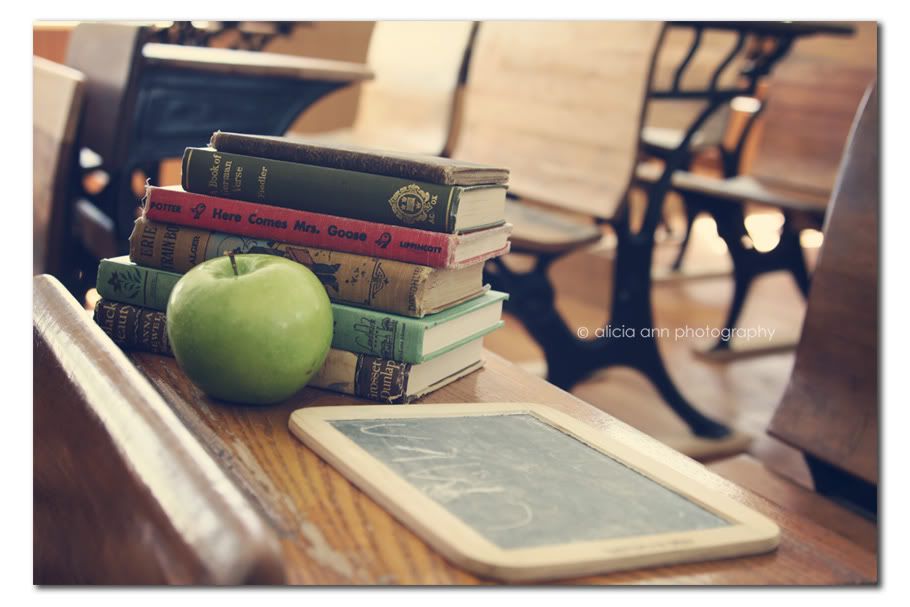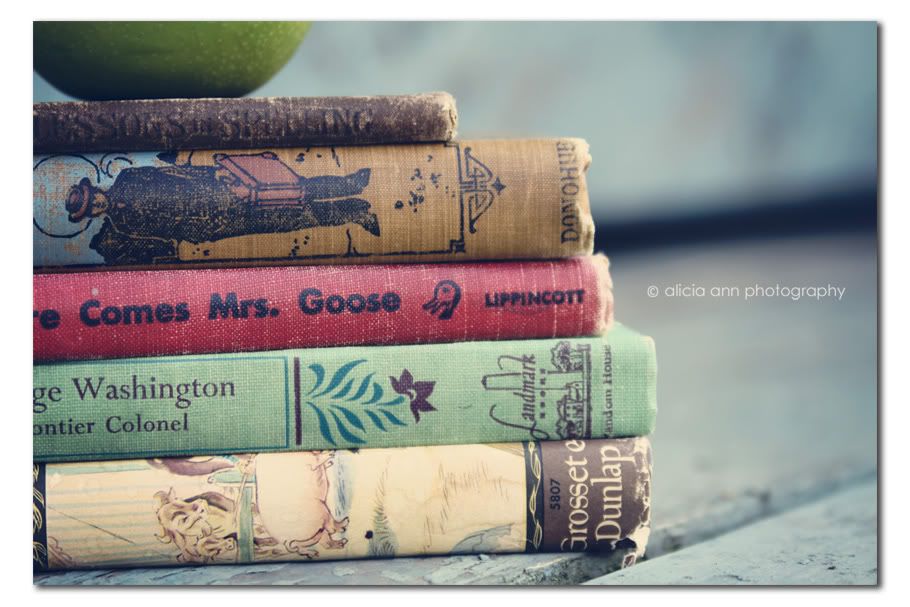 I had the opportunity to try a couple sets of
Life-n-Reflection's
wallet templates
and one of them just so happens to be
"school days"
which couldn't have been more fitting for this set of photos. These would be the perfect gift for a teacher. Wouldn't they look great hanging in a classroom?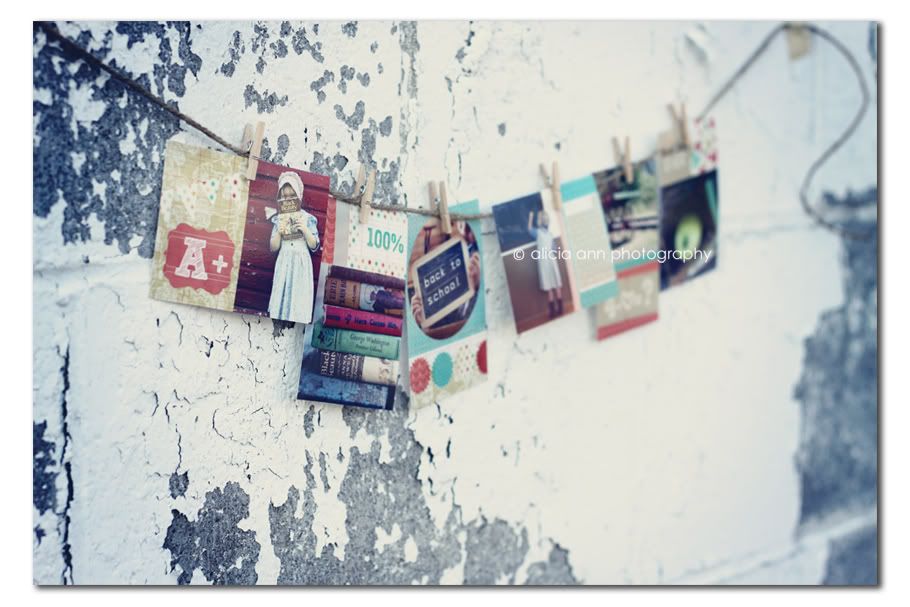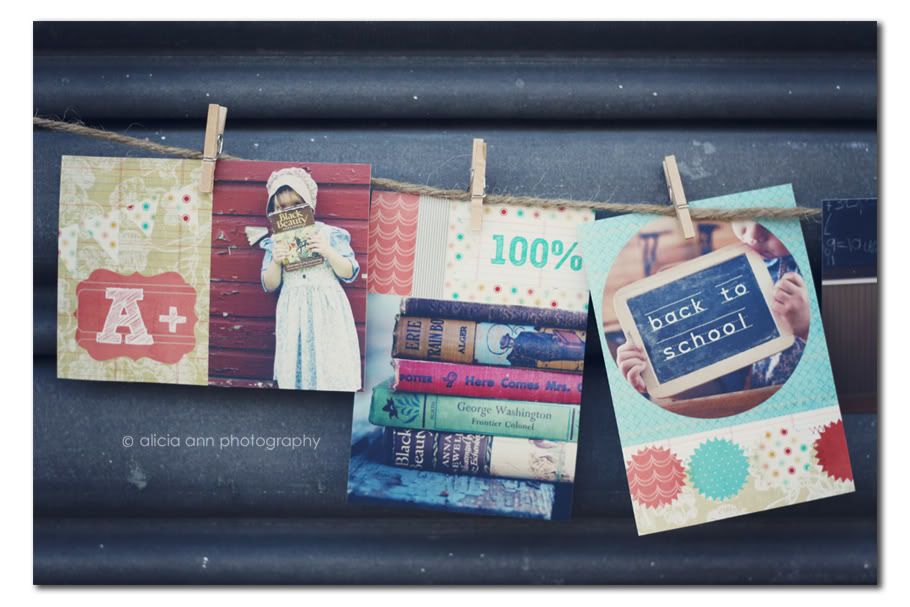 Or on a book bag. Just pick up some vertical badge holders- these 2.5x3.5 inch wallets fit perfectly. Add a ring and you have yourself a nifty tag.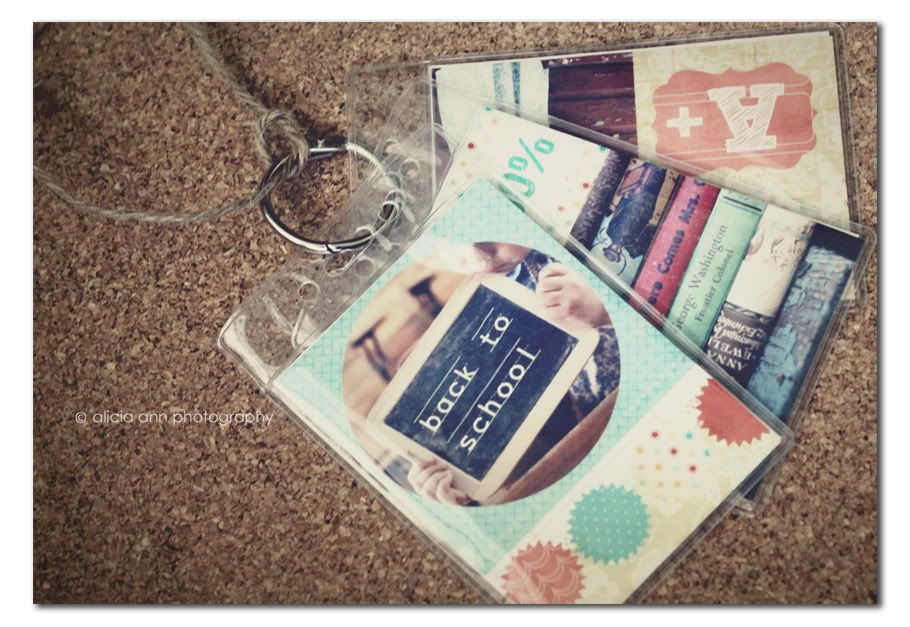 If you want more personalized tags, dig up some favorite photos. I decided to use some of my favorite beach images. For this project I used both the
"school days"
and
"parisian"
wallet sets from
Life-n-Reflection
. Her templates are so easy to use and come as PSD files which allows me to adjust the layers to my liking and add photos easily. If you've never used masks before, Kristy has a wonderful
video tutorial
that makes even the novice feel like a pro.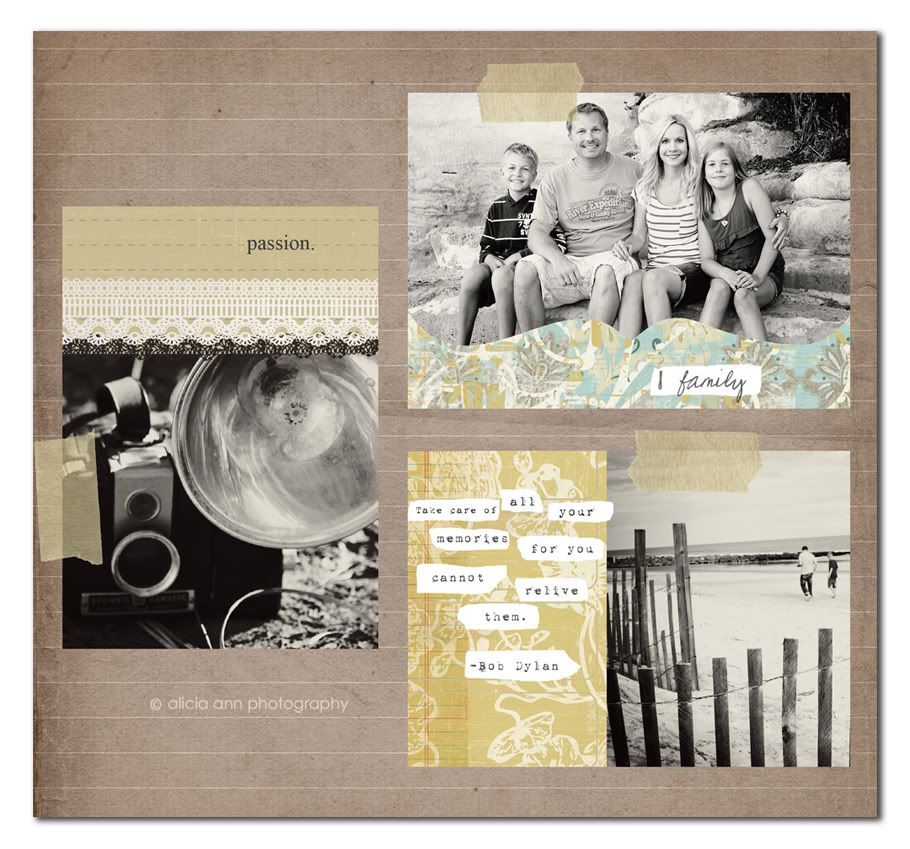 I was also able to add additional elements digitally to a few to give them a little Alicia pzazz. White
Lace Set from Friendly Scrap
and black
fringe
(also found in my header) is by Katie Pertiet of Designer Digitals. The word strips were made in Photoshop Elements.
Once you have your wallets embellished, you're just minutes away from customized tags.
There's just 5 easy steps.
1. Compile wallets on an 8.5x11 canvas in photo editing program, print on photo paper and cut out.
2. Trace templates onto the back of your wallets and then cut the pattern.
(I was inspired by
these vintage gift tags
I saw on pinterest, but you could design them any way you'd like. I actually hand drew the template and then scanned it into my computer. It's a little rough, but you are welcome to it. Click on the image below to get the download.)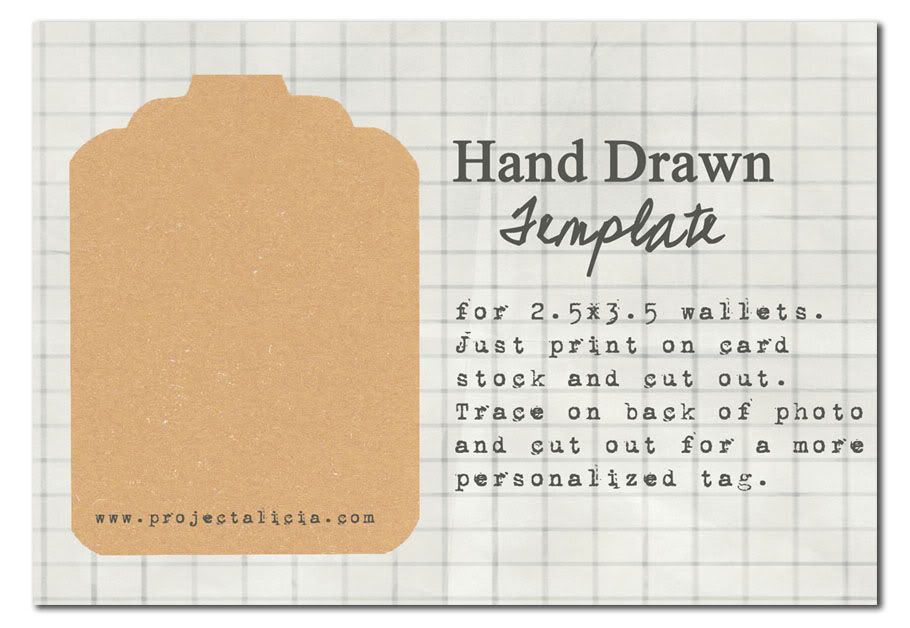 If you have a rounded punch you may get a more precise corner, but it's certainly not required.
3. Punch a hole at the top of the wallets and then laminate.
I found these 4x6 self-sealing laminating pouches that fit two wallets perfectly. Any laminating sheet or thermal machine would do.
4. Cut the laminating sheets around the seal
as to leave a small edge. If you cut too close to the photo it may come undone.
5. Punch a hole through the laminating paper and then add your twine or ribbon of choice.
This is a super simple project that has endless uses... luggage, backpacks, lunch boxes, camera bags, purses, laptop totes, gift tags, key chains, or party favors to name a few. You're only limited by your own imagination.
Fellow photogs, share a sampling of your favorite images. Moms, add a family photo with your child's name on it for the book bag. Or print some for
your inspiration board
. The sky's the limit!
Kristy's
wallet templates
take the photos from drab to fab in a matter of minutes. The PSD files work with Photoshop, Elements or
Gimp (which is a free program).
And she has tons to choose from.
Go take a peek
at all of the fun choices! I'm totally in love with the
"dreamer"
set!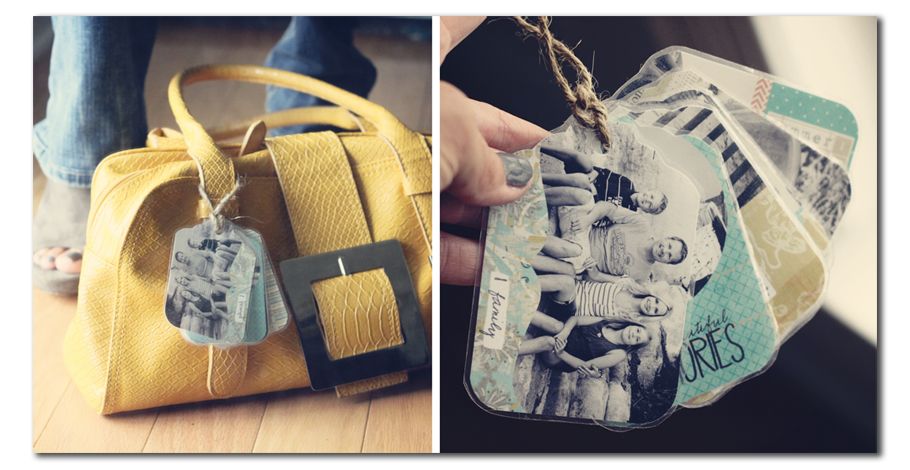 And just a head's up. Grandparent's Day is Sept 9th. Wink, wink. Wouldn't this make a fun gift for Grammy?
Kristy of
Life-n-Reflection
is currently offering a special on these
wallet templates through 8/31/12.
Buy 1 Get 1 Free Coupon Code: backtoschoolB1G1
. Hurry. Only a few days left! Don't wait. And remember to check out her handy
How To Video
for Photoshop.
*Disclosure: Thank you to Life-n-Reflection for sponsoring my post and for providing me with these beautiful Wallet Templates. I genuinely love Life-n-Reflection's products. All opinions are mine.
-------------------------------------

For those who are new here, this is Wordless Wednesday, a place to share a photo and connect with an entire community of others. Being me, I couldn't keep it wordless, so Wordful or Not So Wordless posts are always welcome here at Project Alicia.

You can grab my button in my sidebar if you'd like, but it's not required to participate.



Just grab a photo and link up below! And if you'd like to connect with other WW participants, click HERE or one of the thumbnails below. (These are just a few of my favs.)


Also linked to:
Feathered Nest Friday
,
36th Avenue
,
Show & Tell Friday
,
Create n Share
,
I'm Lovin It
, and
Get Your Craft On